I don't know a single girl that wouldn't enjoy a spa vacation, heck I even know a ton of guys that would be all for that. I was so lucky to get the opportunity to have a girls mini spa vacation a couple weeks ago at Hockley Valley Resort and it seriously could not have come at a more perfect time.  Having endured an extremely stressful moving day 3 days prior, and living basically out of a bunch of moving boxes at the time I was so ready to pack up and get the hell out of Toronto.. even if just for one night. It had been months since I had had the opportunity to travel anywhere, and it had been years since I had actually gone to a spa (I know, so sad right?) so my whole being was just screaming with desire for this trip. I was so excited to just sit back and relax for a good 48 hours without thinking once about my long to-do list or all the unpacking I had to do.. and let me tell you it was just as blissful as I imagined it would be!
Hockley Valley Resort is just shy of an hour outside of Toronto, making it the perfect destination for a mini getaway. We headed out early Sunday morning, beyond ready to spend the day getting pampered at the spa. The staff on arrival were incredibly friendly, and offered to watch our bags and bring them up to our room once it was ready (our spa appointments were starting at 10am so of course our rooms weren't quite ready then!). After checking in and dropping our bags off at the front we headed upstairs to the spa…
The Spa
Upon arriving in the spa we immediately felt a sense of relaxation wash over us. It was extremely quiet, serene and warmly decorated. The lush spa robes were extremely comfortable, and the waiting room had free coffee, tea, water, juice, and homemade organic granola bars. Although it was cold outside the fire was roaring inside, and we were happy and toasty beyond belief.
We each got the "Just For You" facials which were slightly customized to cater to our skin types. This included a cleanse (chamomile milk cleanse), toner (lavender honey toner), exfoliation (oat cleansing polish), eye care (Vitamin K eye gel), serum (C15 serum), mask (aloe gel mask) and a sweet cherry enzyme peel (my favorite – This one smelled DIVINE) along with an extremely relaxing neck and head massage. I left the facial feeling relaxed and renewed, and my skin couldn't have been happier. We finished our spa treatments with massages, melting away all our tension, stress, and allowing us to relax into total bliss.
The Oasis Cafe:
After finishing our spa treatments we walked over to the Oasis cafe and had the most delicious light lunch while still in our bathrobes. Honestly, I can't think of anything better than eating in a bathrobe, and the fact that you can do just that at the Oasis Cafe is just divine. Something about being able to eat in a full service restaurant while in a bathrobe just feels so luxurious.
For lunch we both had the Roasted Squash Salad and shared the house cut chips. The salads had roasted squash, Ontario buffalo mozzarella crema, organic arugula, toasted pine nuts, fried beet chips and a cider & Adama Estate maple syrup vinaigrette. The chips were served with a dusting of parmigiano and chives, and served with a side of truffle aoli.
The Grounds
After our relaxing morning at the spa and our delicious lunch at the Oasis Cafe we headed outside to explore the grounds at Hockley Valley. Hockley Valley has a 18 hole golf course that's open during the Spring/Summer/Fall months and a ski hill that's open in winter. Unfortunately we visited in between seasons so neither were open, but it was still fun to explore the grounds regardless! I would love to come back to Hockley Valley during the winter… The resort is conveniently just steps away from the ski hill and it would be a great place to getaway in the winter! There's also a winery that you can take a short shuttle bus to, so it really is the perfect place to escape to for a short weekend trip! Wine, skiing (or golf) & a spa? Sounds like an amazing getaway to me.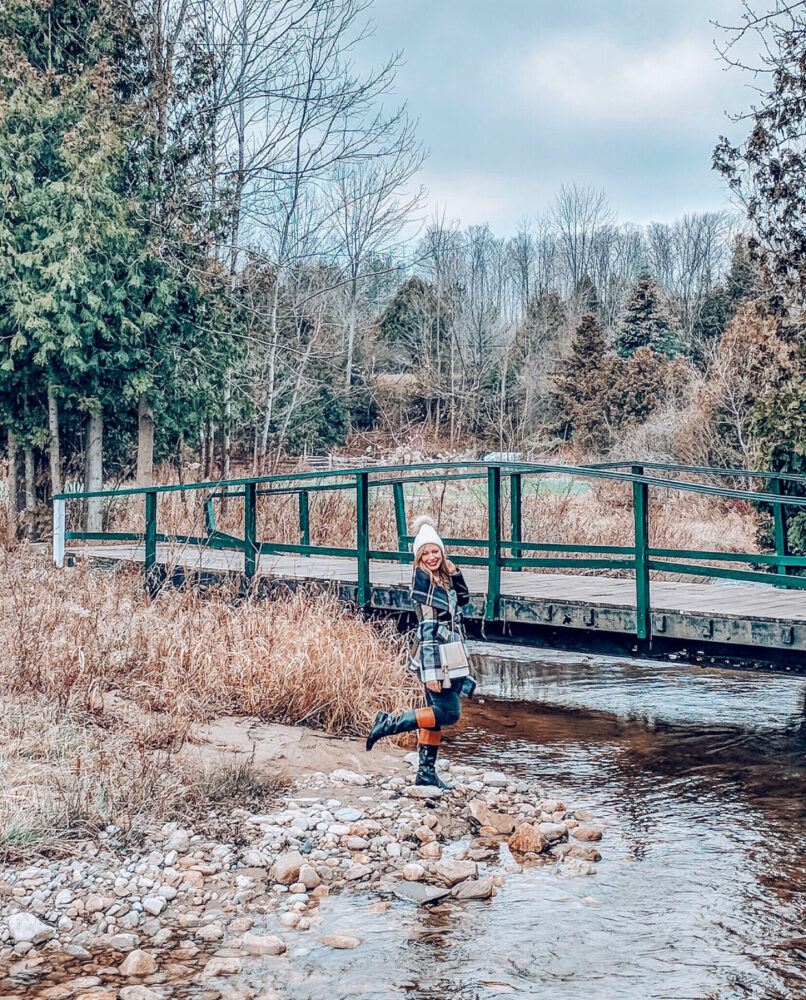 Dining at Cabin
Cabin is the beautiful restaurant we had the pleasure of dining in during our stay at Hockley Valley. Named in honour of the first structure that was every build on the property, cabin draws its inspiration from the picturesque and romantic countryside in the Hills of Headwaters region. Cabin combines rustic and modern decor elements, including reclaimed hardwood floors, wooden beams from old barns, and a 16 foot steel and glass chandelier.
Beyond the stunning decor of the restaurant, the food was unbelievable. Cabin defines their menu by following a farm-to-table philosophy on food, and many of the ingredients come from the resort's own two-acre fruit and vegetable garden (which you can actually visit!), seasonal preserves, and ingredients from local farmers and suppliers. I've always been big on farm-to-table, I love the idea of quality ingredients and supporting small farms, so I was really happy to see the effort they put in at Cabin to do just that.
The food was sooo good. We started by sharing the Beet salad with smoked goat cheese, shaved brussel sprouts, beet crema, roasted grapes, Adamo Estate maple syrup & mustard vinaigrette, organic arugula and pecans. It was such a refreshing and tasty salad, and we enjoyed it with the homemade bread they served with a white bean and fennel spread. Between the appetizers and entrees we were served a homemade lemon sorbet to cleanse our palette, which was so good Brittany ended up asking for more for dessert.. it was honestly so tasty and refreshingly lemony.
For our entrees I had the vegetarian plate which varies day to day. It had maple sunchokes, saba roasted brussel sprouts, roasted grape and fennel salad, grilled broccoli, and sautéed mushrooms served on bread. I was a little concerned when I first ordered this because it didn't seem like it would be very substantial but it was the only vegetarian entree. Boy was I wrong. The entire platter was so delicious, satisfying, and filling. Every portion I tasted was better than the next, but I think the sautéed mushroom toast was the most decadent and my favorite. Brittany had the braised lamb shank with root vegetables, creamy polenta and horseradish gremolata. Both of us finished our dinner feeling full and incredibly satisfied.
We weren't expecting to have dessert at all but the team brought out a dessert platter to taste us on two of their most popular desserts. The Budhino was a dark chocolate mocha budino with genose sponse and sour cherry sorbet.. and the Oreo cheesecake which needs zero explanation. Both of the desserts were so good, I don't even think I could pick a favorite.
The Rooms
After dinner we were so full and so relaxed from an amazing dinner and spa treatments earlier that we went to bed at 9:30pm. The rooms were spacious, the beds comfortable, and it was a matter of seconds before we both relaxed deep under the covers with our bellies full. We finished the night by enjoying wine in bed and watching a Christmas movie before falling into a deep sleep… It was honestly the perfect end to a perfectly relaxing day.
Amenities
Beyond having a ski hill in the winter and golf course in the spring/summer, Hockley Valley has numerous amenities that make it the perfect one stop shop for an amazing and relaxing getaway. The Adamo Estate Winery is just minutes away from the resort and offers tours & tastings throughout the day. The pool offers a beautiful view of the hotel grounds.. and the gym has everything you need to get in a good workout (should you decide to forfeit complete relaxation in favor of a good sweat sesh). The on-site organic farm, a two-acre fruit and vegetable farm supplies 80 percent of the produce for the resort's restaurants with fresh, seasonal produce. They even have a bocce court and ropes course in the summer! And of course, the main reason for our stay: a beautiful spa that's the perfect escape from the real world.
Saying Goodbye
We had such an time at Hockley Valley Resort. Although it was only a quick 1 night stay, it was just enough time for us to really relax and feel like we had gotten that much needed break we both wanted so bad. We left feeling relaxed, rejuvenated, and ready to take on the week. Between the beautiful spa, amazing food at Cabin, winery just down the street, affordable pricing, and the relaxing atmosphere of the hotel, I couldn't think of a better place to escape for a girls getaway. I will surely head back to Hockley Valley sometime soon, the only question is when!
xoxo

Although this stay was provided by Hockley Valley Resort, all thoughts & opinions are my own.