After what feels like weeks since I shared my last travel post, I'm so excited to finally share with you the next leg of my European journey! The second stop of my trip was Vienna, Austria. I fell in love with Vienna the moment I stepped foot in it. From the beautiful architecture, to the delicious food, and it's amazing culture, Vienna truly is a city I will never forget. The birthplace of classical music, Vienna was home to numerous musical geniuses from Mozart to Beethoven, and was even the stomping grounds of intellectuals like Sigmund Freud. Walking through the streets you can just feel the artistic soul of the city.
Since we were only in Vienna for 2.5 short days, there is still so much to this beautiful city that we didn't get the opportunity to see.. but here is a little snapshot of some of the things I found most memorable <3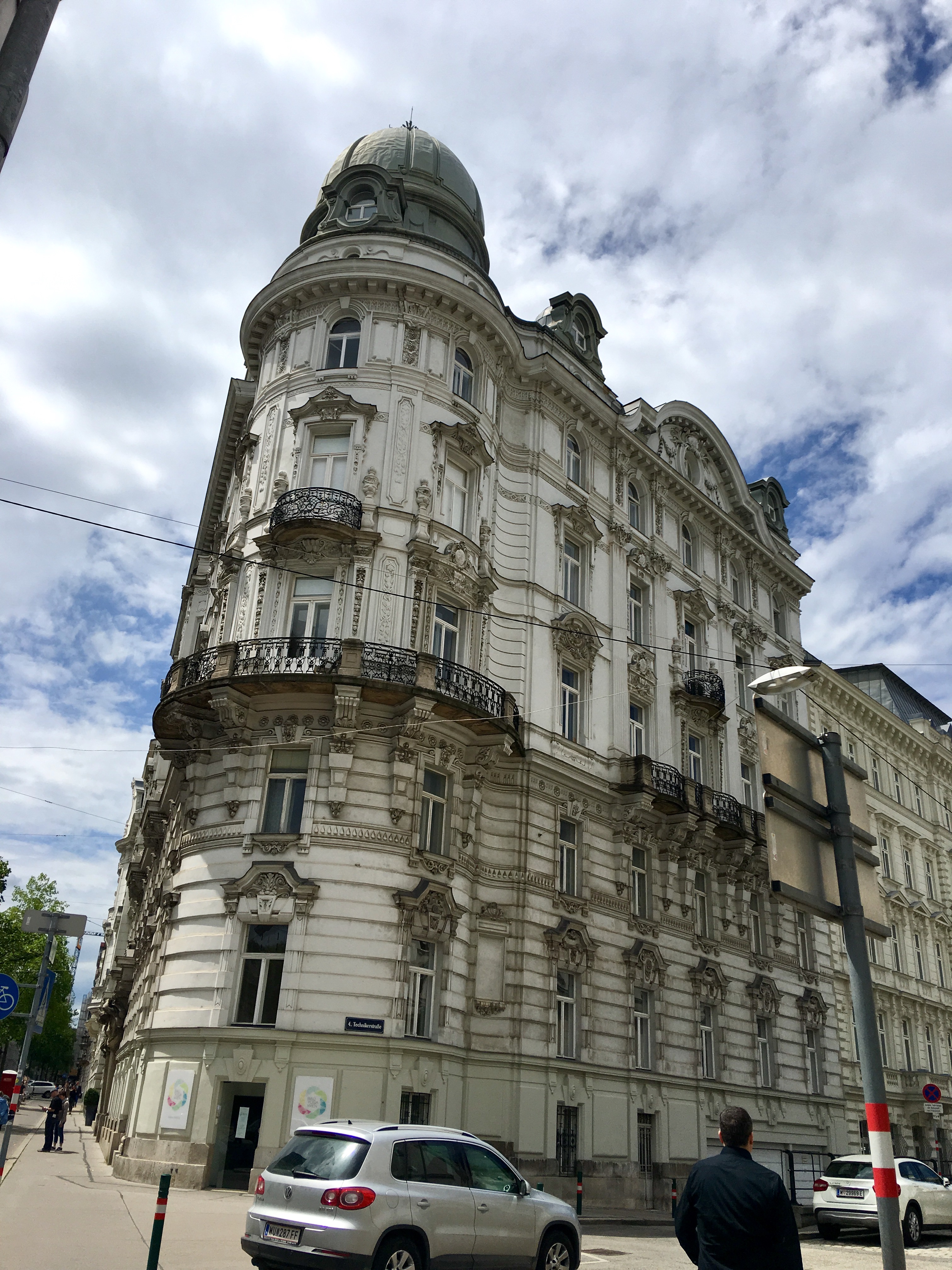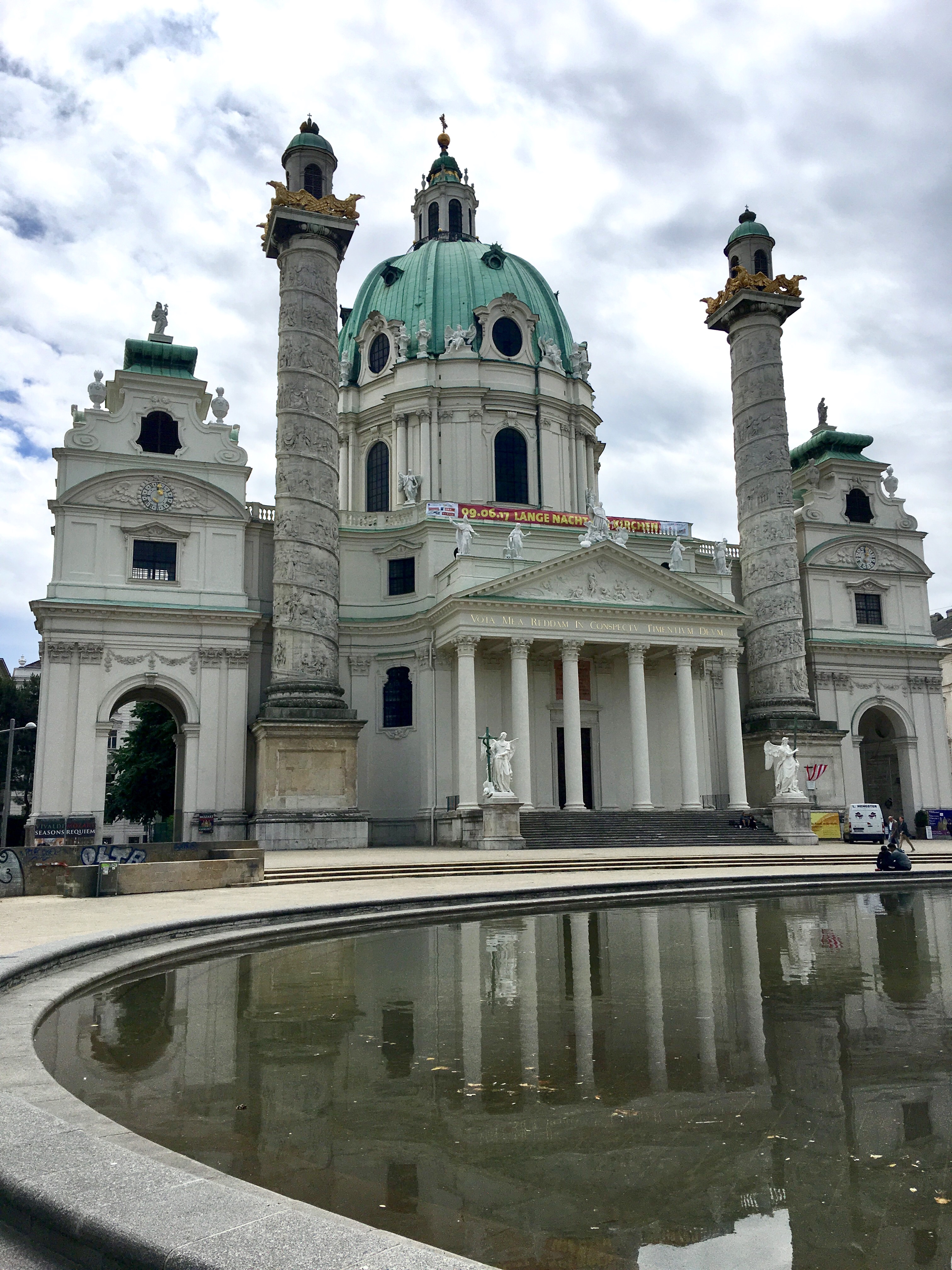 What to See: Karlskirche
Karlskirche, located near Karlsplatz, is widely considered Vienna's most outstanding baroque church. Although we didn't get a chance to check out the interior, it's absolutely stunning from the outside. I can just never get enough of buildings with dome roofs, they look so elegant and sophisticated!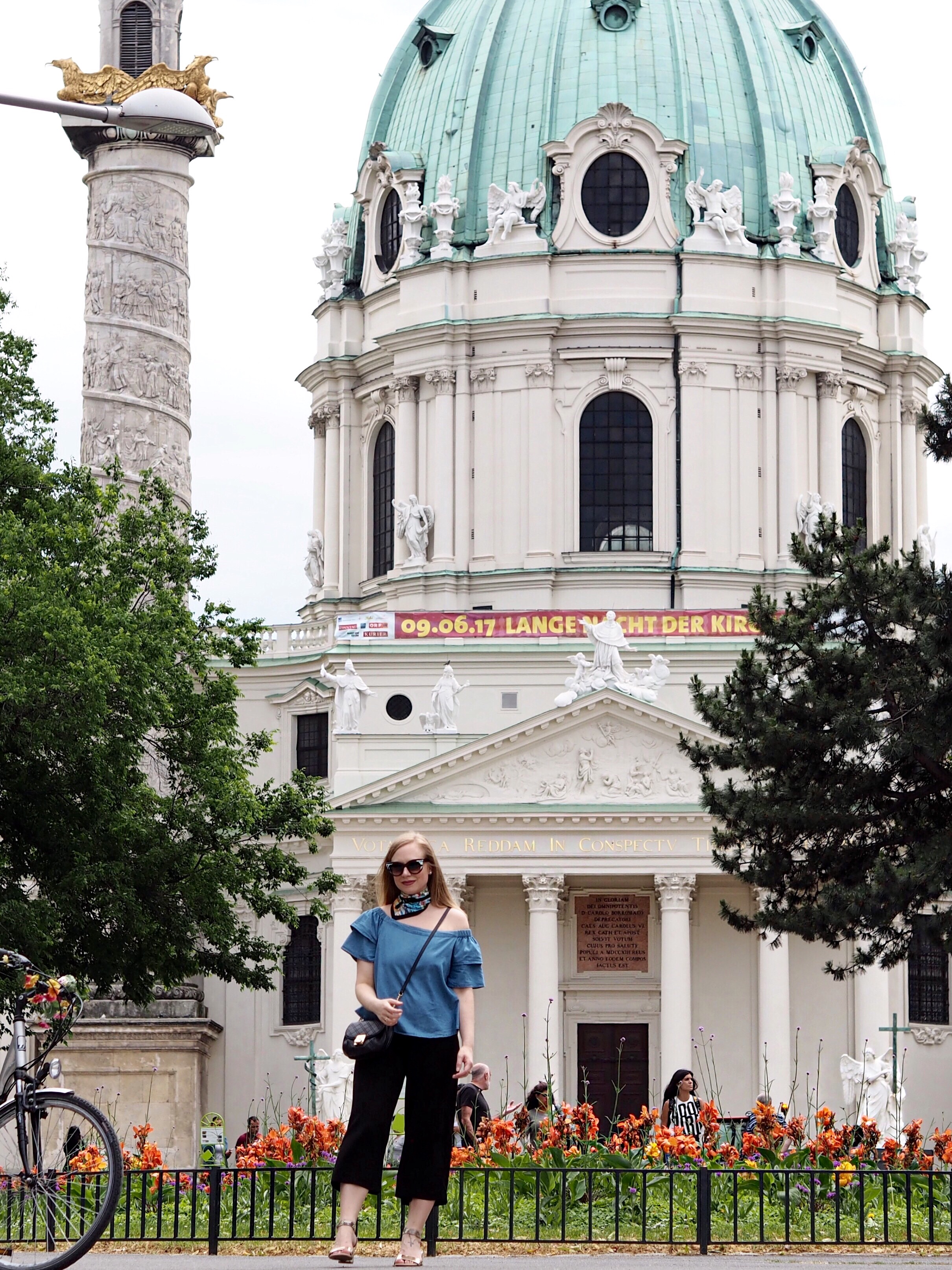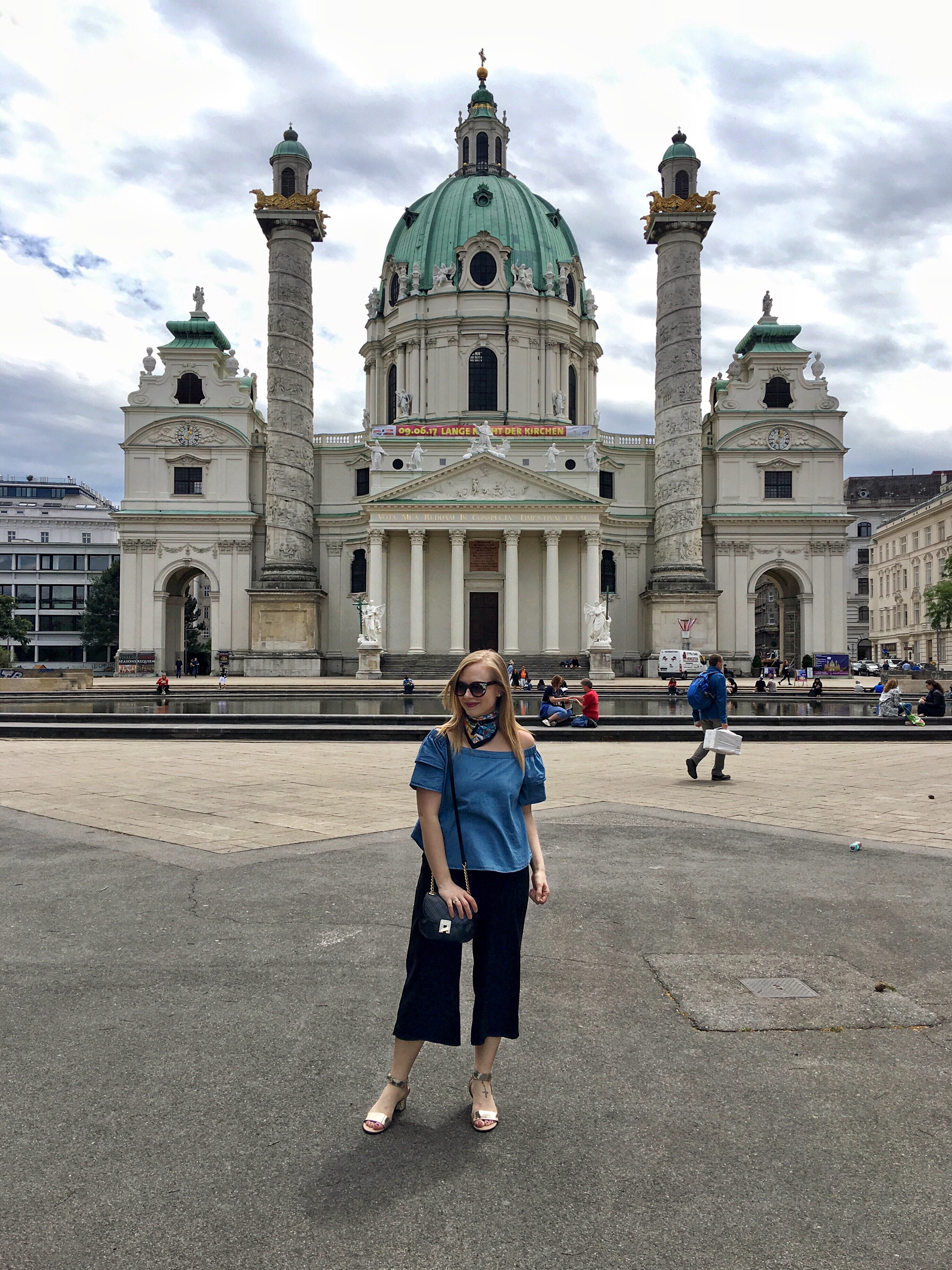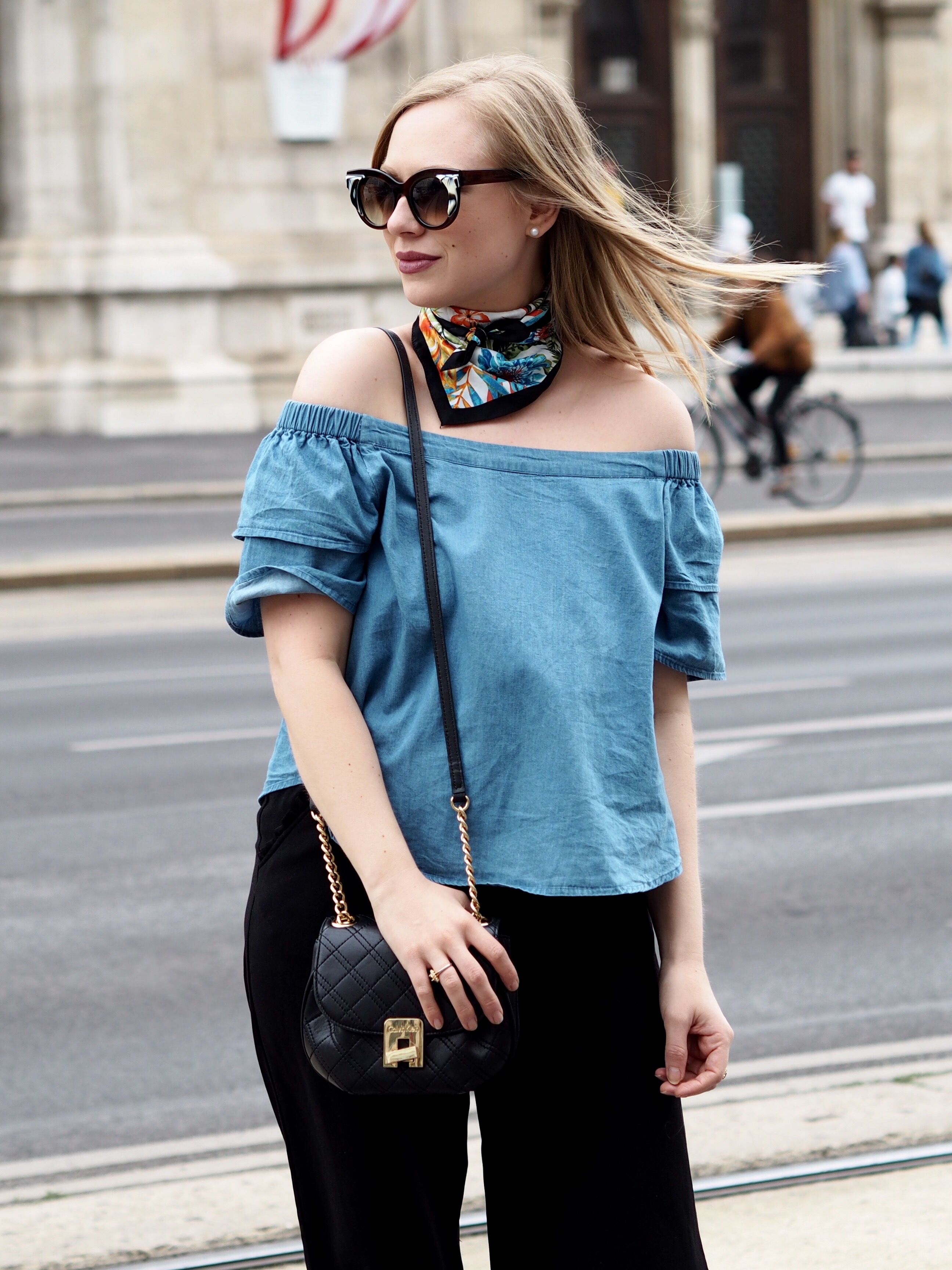 The Architecture in Vienna was absolutely stunning. Everywhere you turned there were buildings with elaborate statues, gold gilding, and the iconic domes I quickly fell in love with.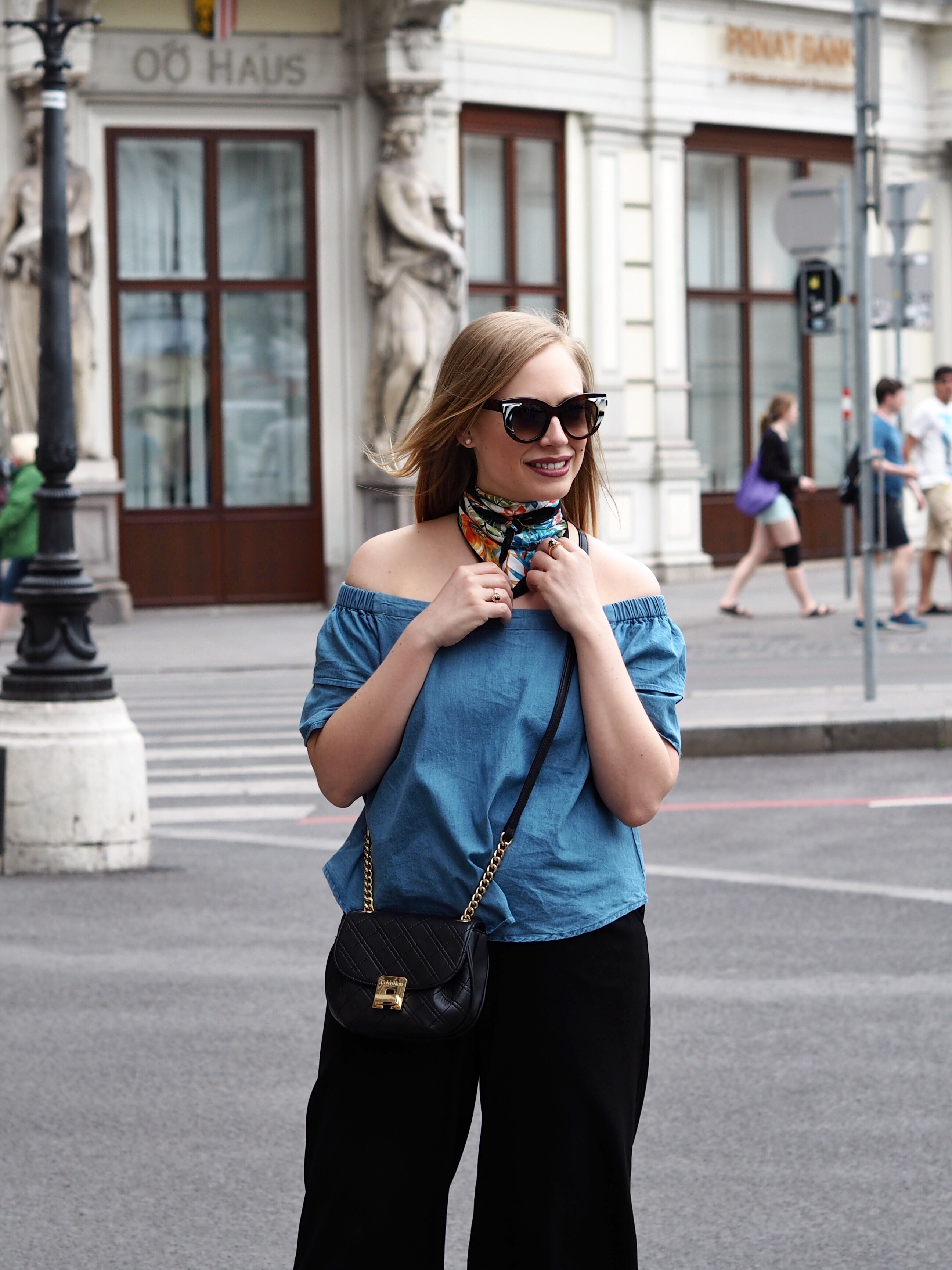 What I Wore Day 1 in Vienna:
Culottes – H&M // Top – Urban Planet // Sandals – Expressions (Old – But also love these) // Bag – Calvin Klein // Sunglasses – Thierry Lasry // Scarf – Zara
Where to Eat: Huber's Essen & Trinken
We were lucky to have stumbled upon Huber's because it was located near our airbnb, right across from the Belvedere Palace. Although we had two absolutely amazing dinners in Vienna,  the most memorable for me was definitely Huber's. Huber's is a delightfully tiny restaurant & bar owned by a man who runs the front of house (serving, running the food, and bartending), and his wife who works alone in the kitchen. It's just a two person show, and yet the food is beyond unreal. We sat out on the terrace next to street overlooking Belvedere Palace and had truly an exceptional experience.
Where to Eat: Gmoakeller
If you want traditional Viennese food that's a step above your neighborhood pub, Gmoakeller is the place to go. Rated #50 of 3400 restaurants in Vienna, it's the kind of place that the locals love and isn't teaming with tourists. Just across the street from the Konzert Hause, it's a great place to pop into after a show for a delicous meal that isn't too pricey. I had the trout, and it was one of the best meals I had my entire trip!
So what is traditional Viennese food?
Some of the most popular and common Viennese dishes are (of course) Wiener Schnitzel (breaded and fried veal escalope), Tafelspitz (boiled beef which is extremely tender and delicious), Sachertorte (more about this one later!), and  Kaiserschmarren (a dessert prepared from pancake dough which after the Sachertorte is the second most popular dessert in Vienna!)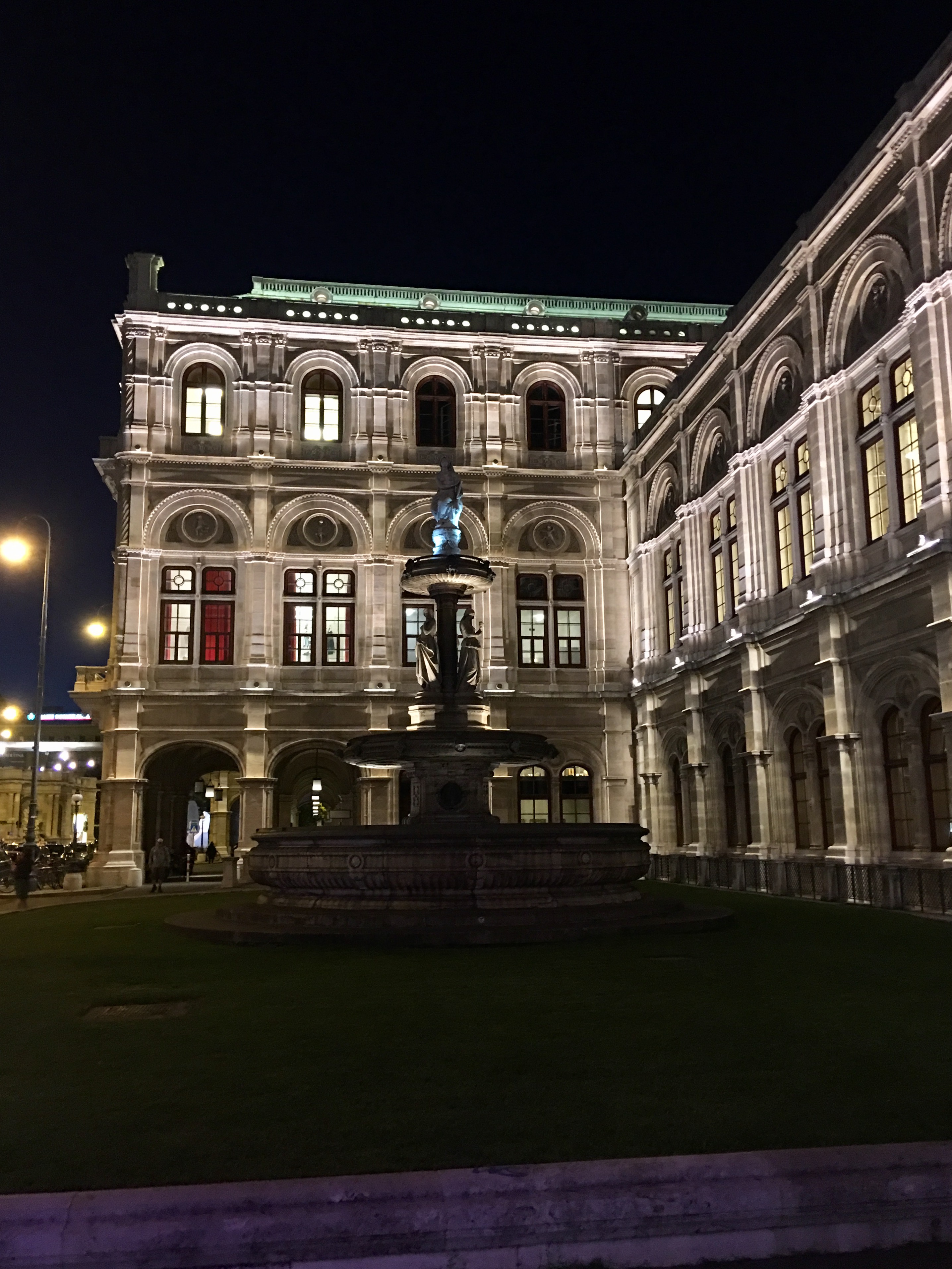 What To Do: Explore Vienna at Night and Catch an Outdoor Screening at the Vienna State Opera House
One of my favorite thing to do with my mom during our trip was to head off exploring each city after dinner. As we were walking around enjoying just how stunning Vienna looked at night, we accidentally discovered that the Opera House does live screenings of the ballet & opera shows on an outdoor screen right on the Opera grounds. You can sit on the grass, enjoy a glass of wine and watch one of the many ballets & operas that are being filmed live from inside. It was an absolutely amazing experience, and I only wish we had known about it sooner so we could have caught more than just the end of the show!
Where to Go: Schonbrunn Palace
If you haven't already caught on, I'm obsessed with palaces and castles, and Schonbrunn Palace was no exception. The grounds were incredibly large and absolutely beautiful and the inside was just as mesmerizing. We decided to do the self guided audio tours through the interior of the Palace rather than just walk around outside, and I'm so glad we did! Although we weren't allowed to snap any photos inside, it was not only absolutely gorgeous, but also very interesting and educational. I really enjoyed learning so much about not only the stylistic eras of the imperial monarchy, but the lives of the palace inhabitants who had more than their fair share of drama. Skip the guided tour and pick up an audio guide to move through the palace at your own pace, or even better – you can download the audio guides from i-Tunes ahead of time and follow along on your phone! How's that for convenience?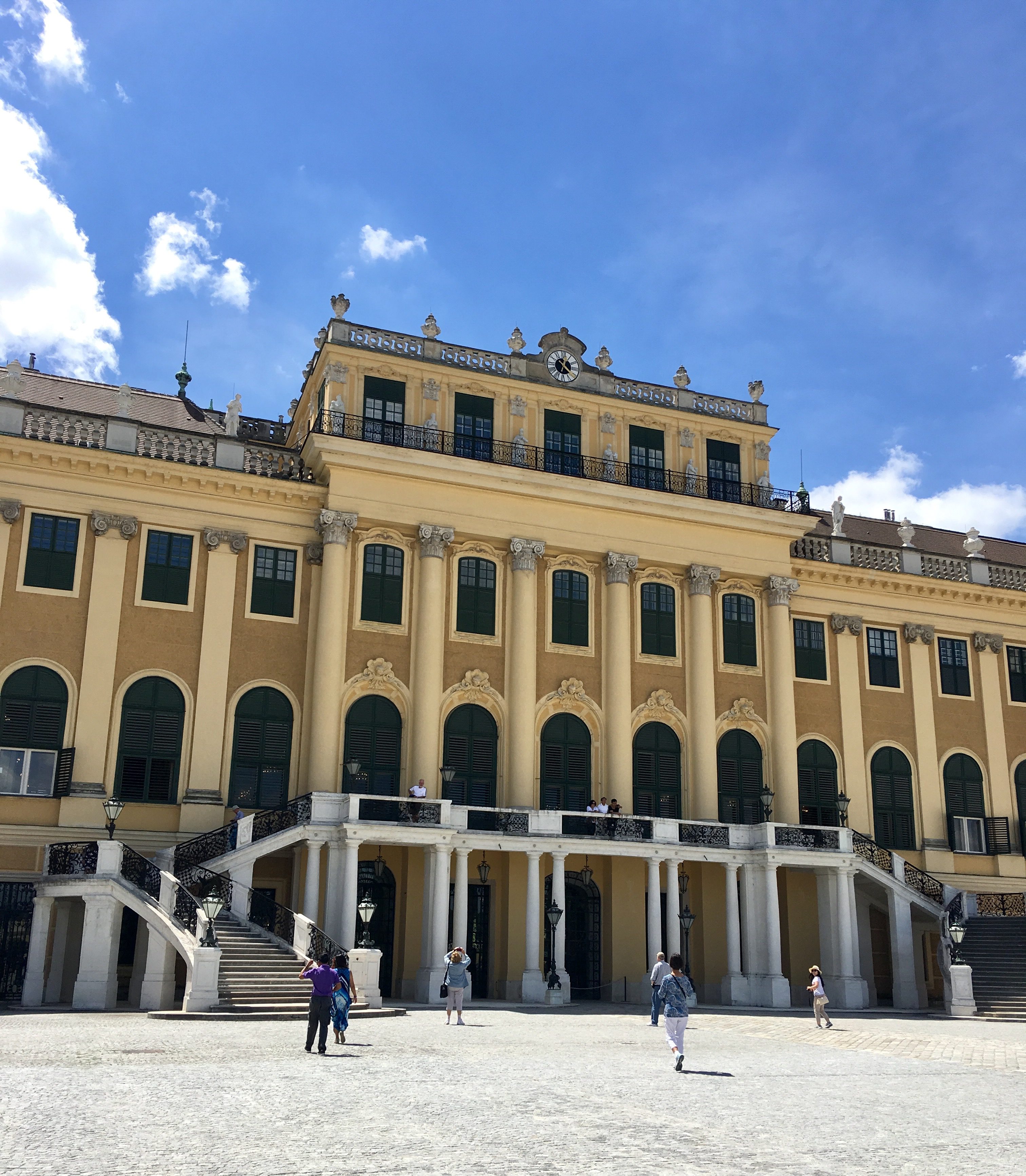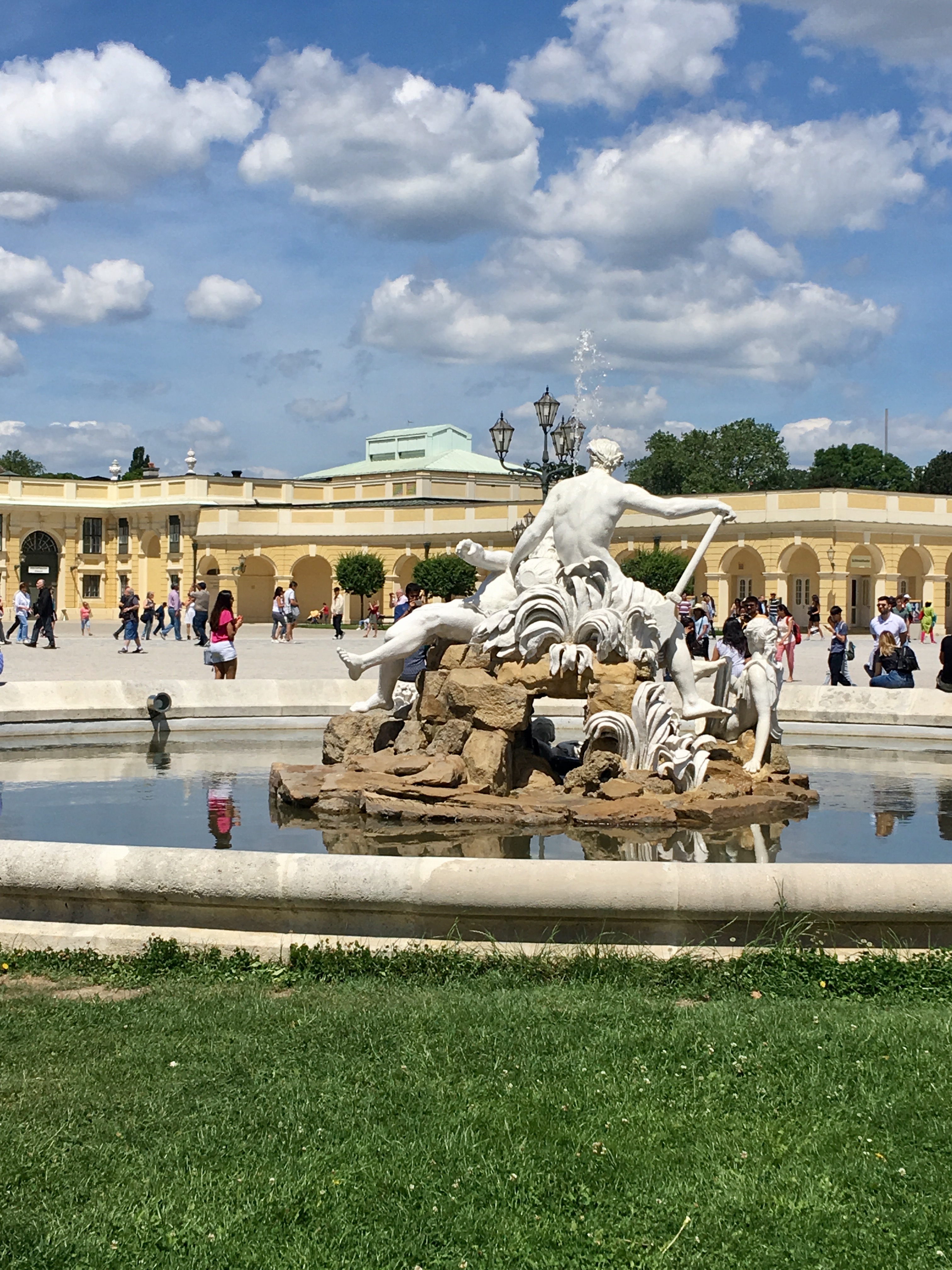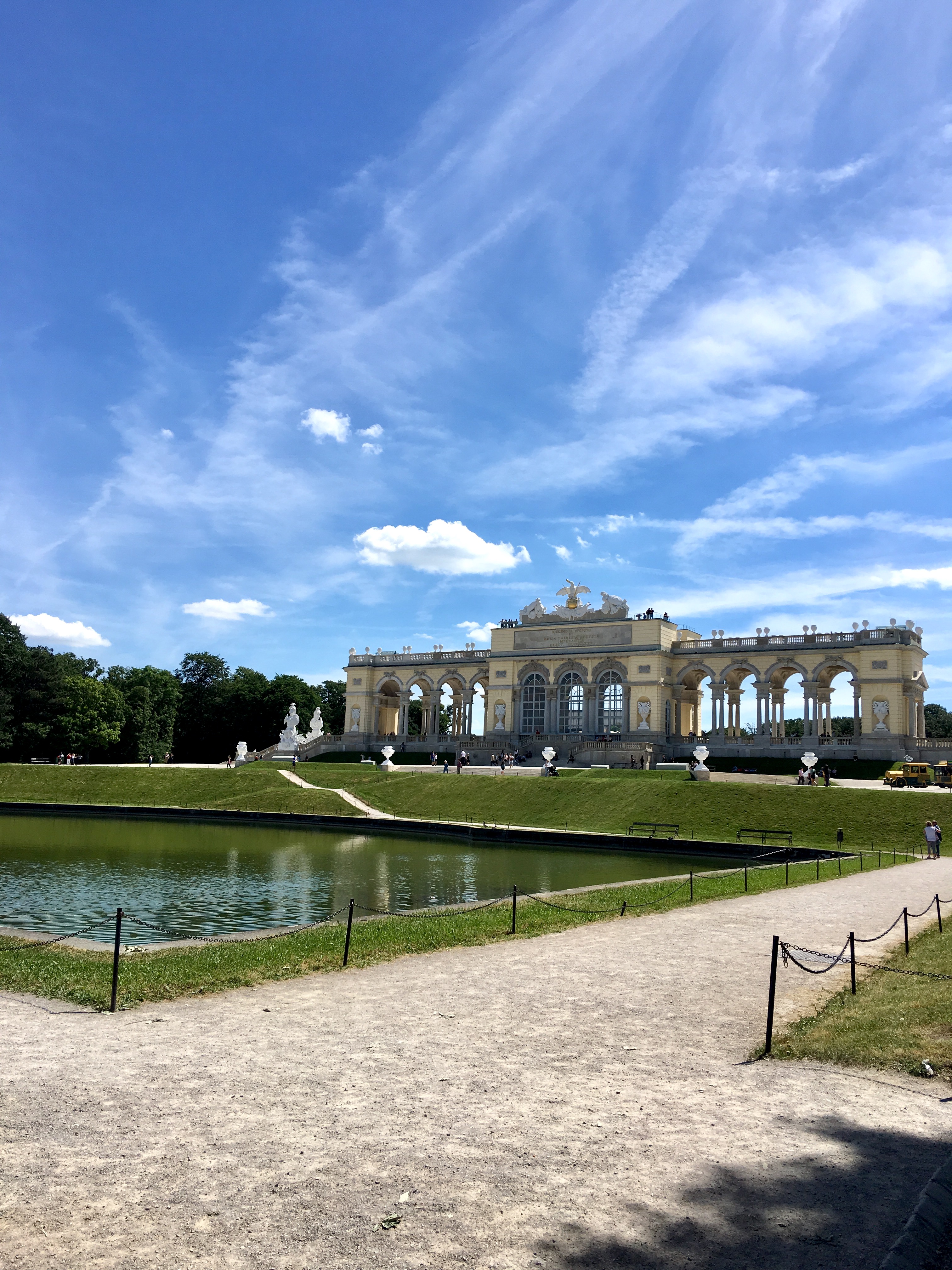 We could have walked the grounds at Schonbrunn Palace forever… There was just so much to see!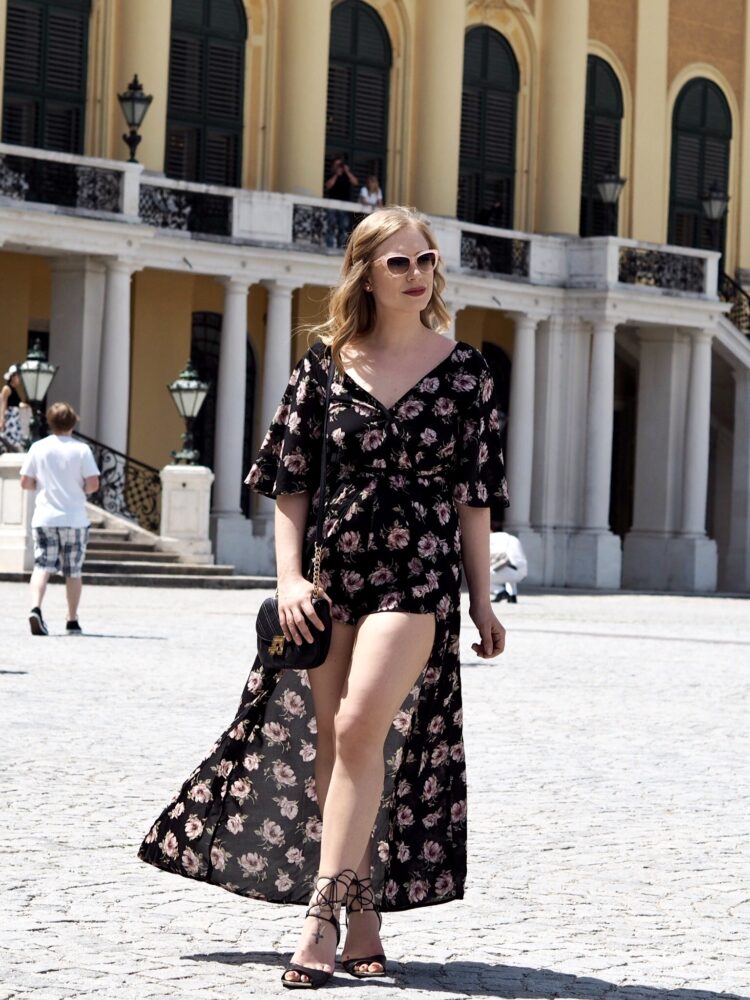 What I Wore Day 2 in Vienna:
Romper – Japna (from Winners) // Sunglasses – Kate Spade // Wedge Sandals – Aldo // Bag – Calvin Klein
Where to Go: Stadtpark
The Stadtpark (City Park) in Vienna is a municipal park that spreads across 28 acres right in the middle of the city. Scattered throughout the park are statues of famous Viennese artists, writers, and composers, and there are often jazz concerts playing on the outdoor terrace. Stadtpark is a beautiful escape for many of the locals from the bustling city, and you can see people scattered throughout having picnics, enjoying beers, playing music, or just catching some rays. Think of Statdpark as the Viennese version of Central Park, and take a break from the city and enjoy the greenery before carrying on with your day!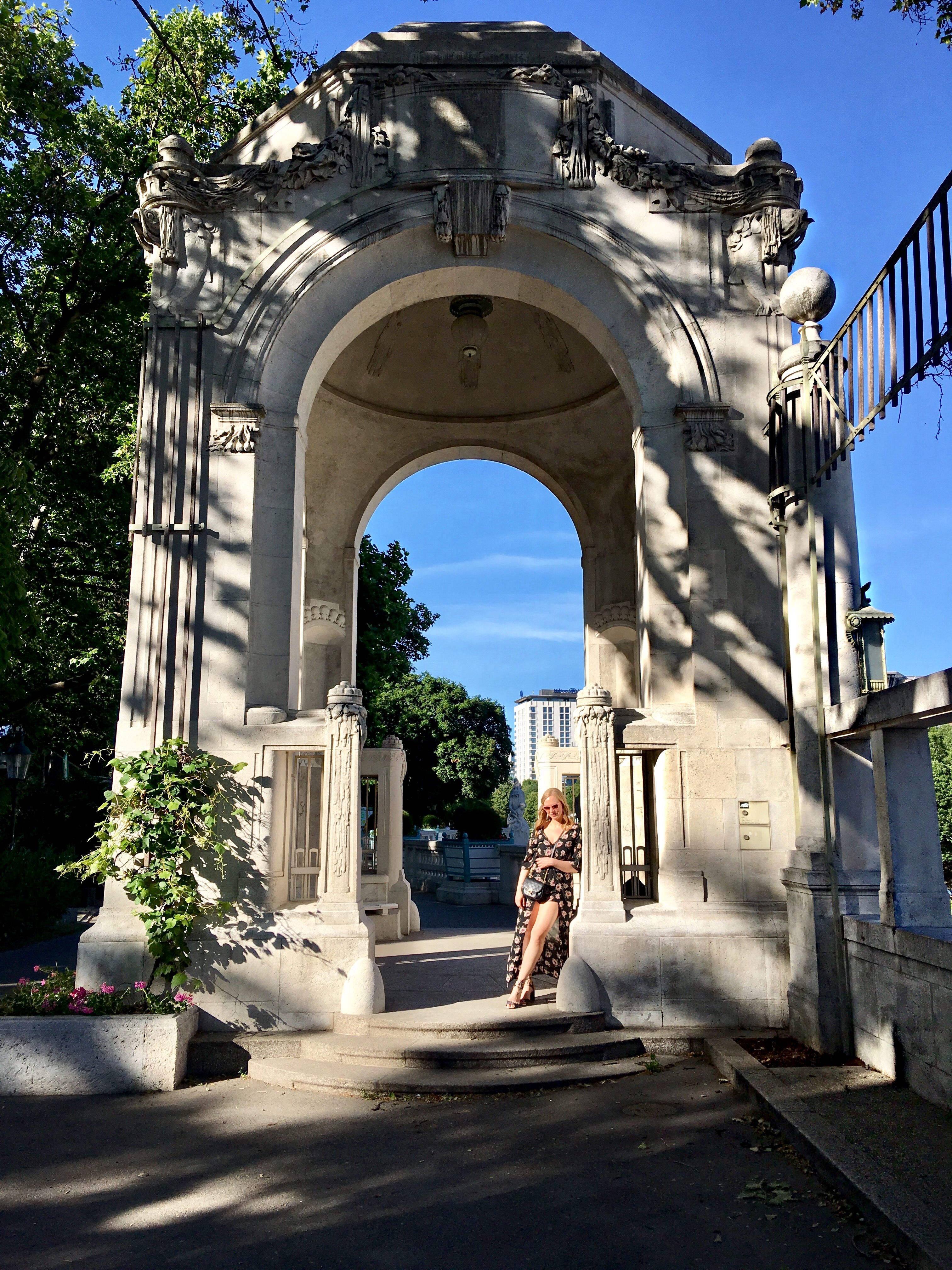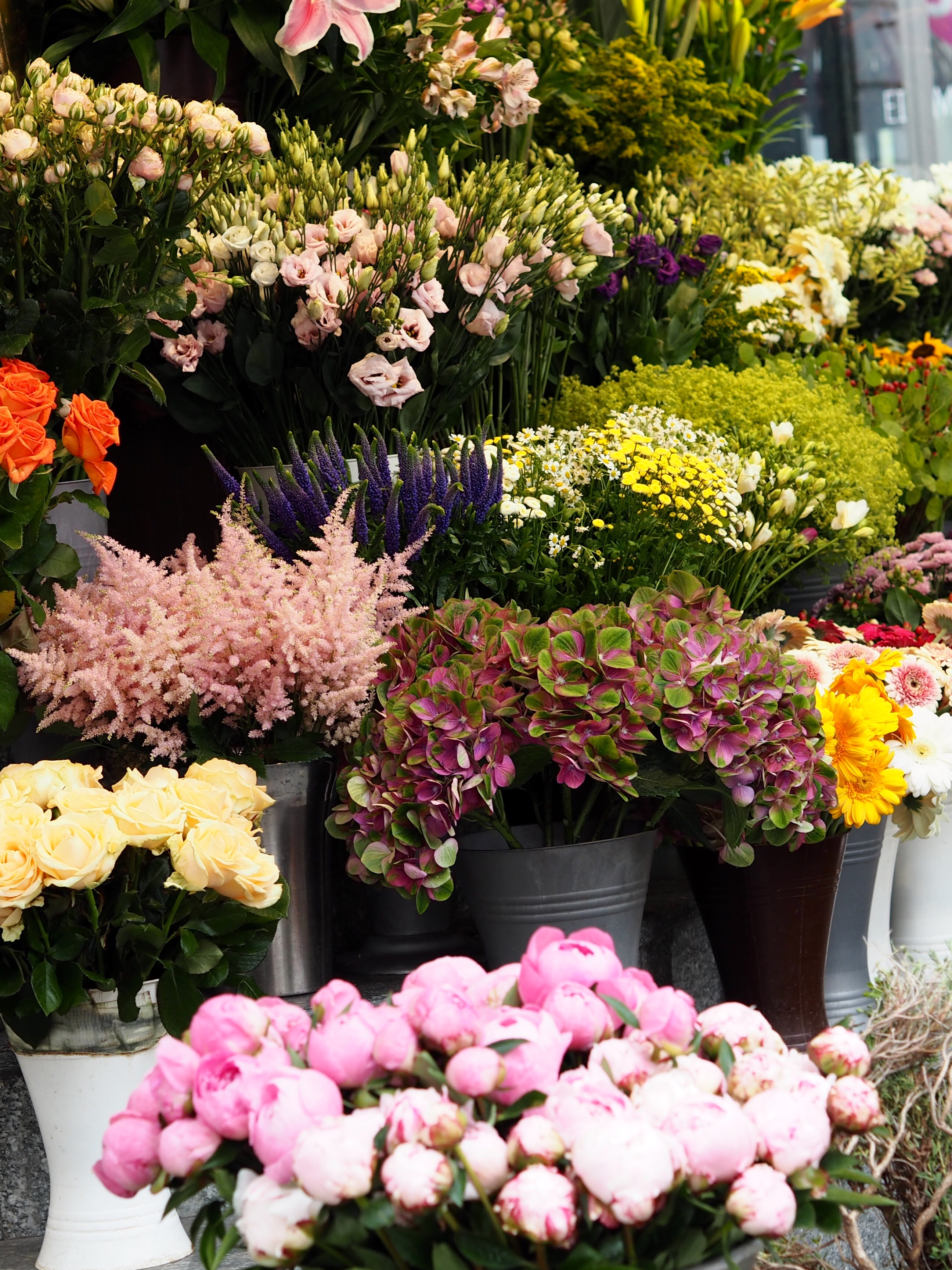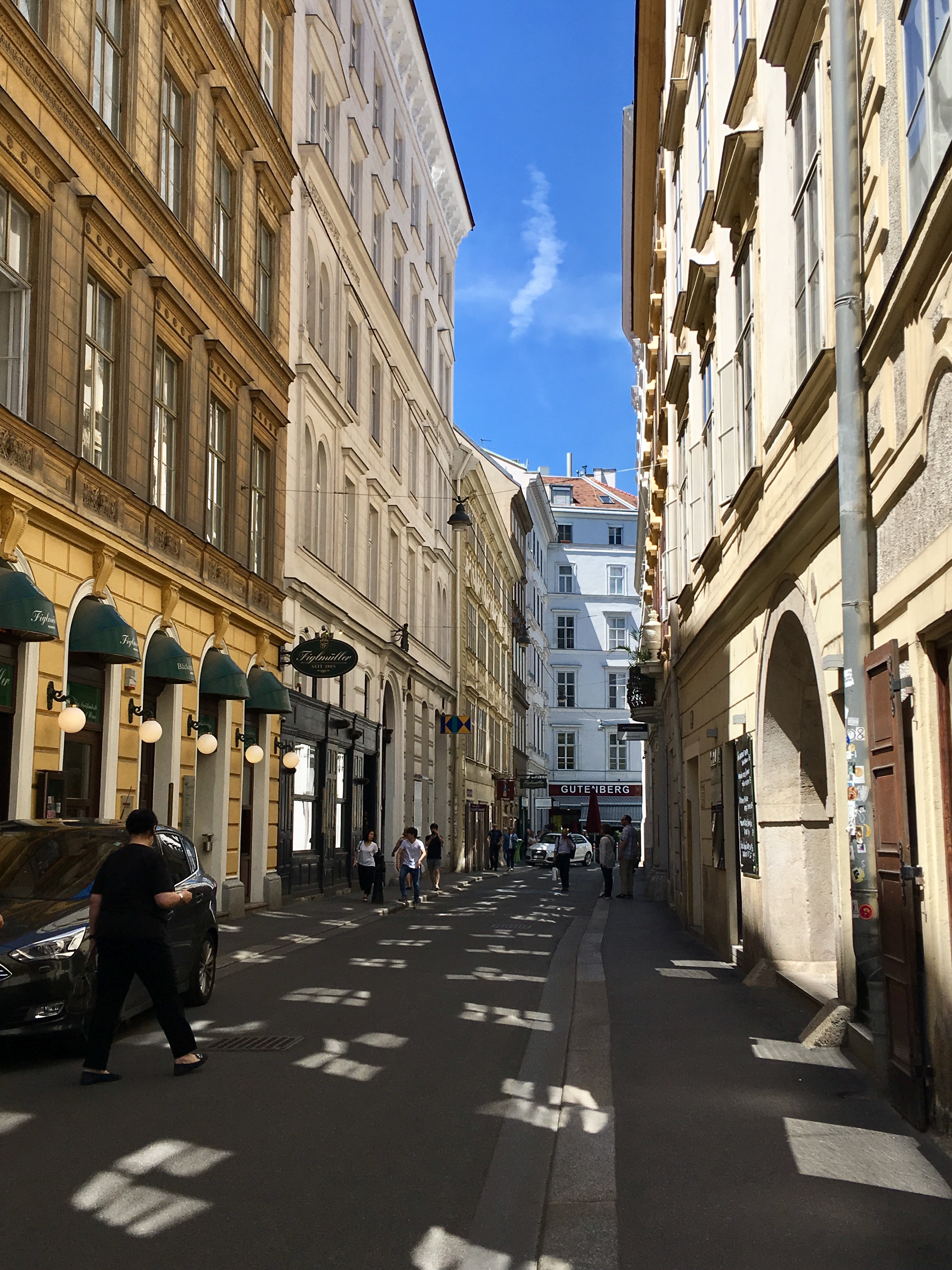 One thing I couldn't get enough of were the tiny narrow streets in Vienna, everything was just so charming.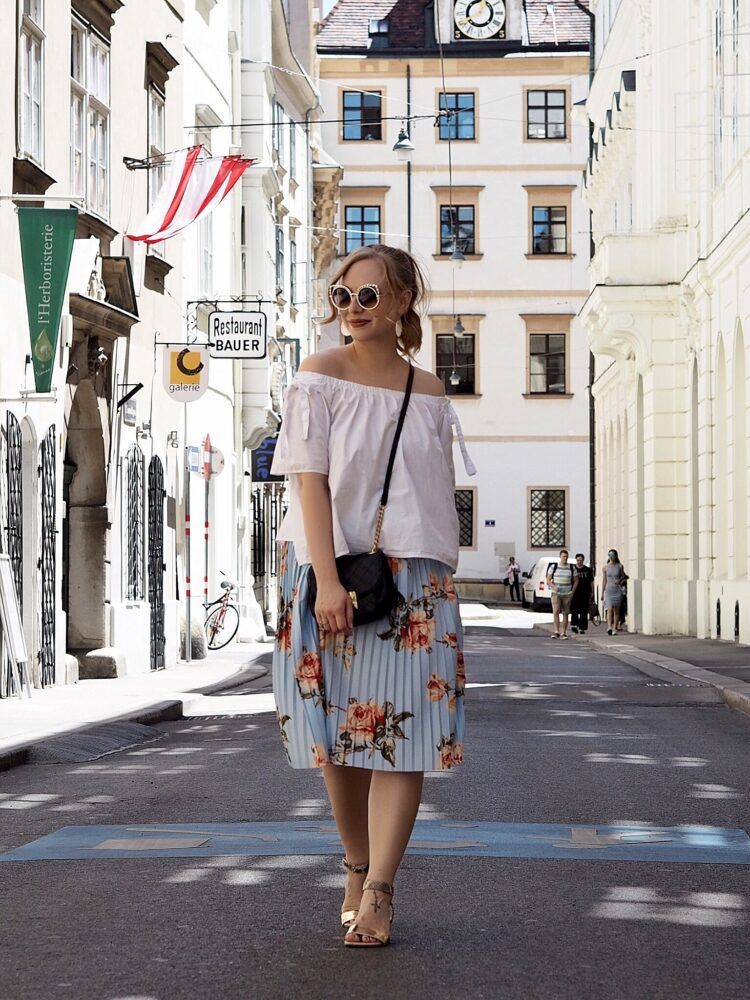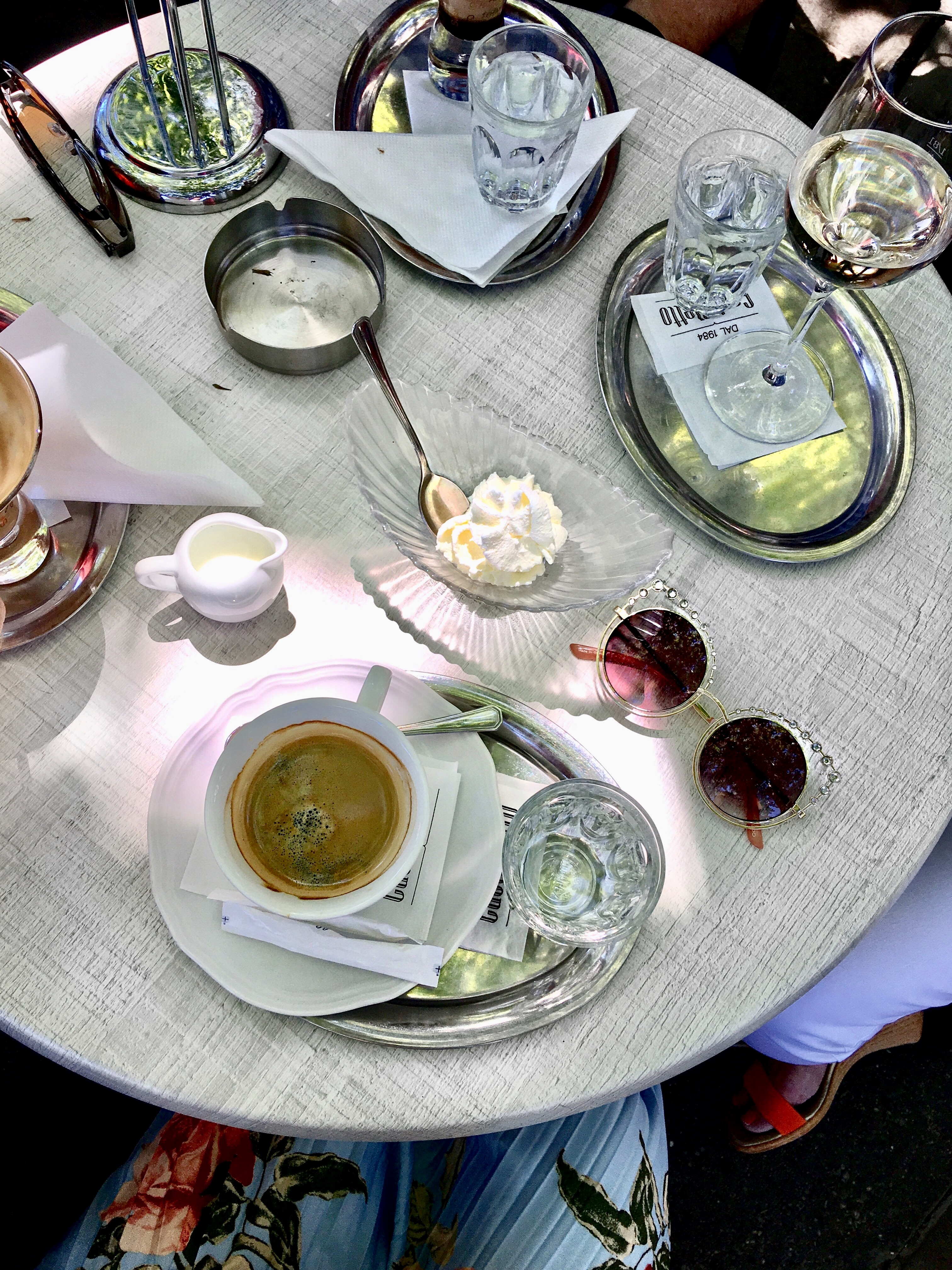 What to Drink: Viennese Coffee
With so many places to go and things to see in Vienna, it's almost guaranteed that your feet will need a break and you'll need a hit of caffeine mid-afternoon. While in Vienna you absolutely have to try a traditional Viennese coffee. Viennese Coffee is a cream-based coffee beverage made by preparing two shots of strong black espresso in a standard sized coffee cup, and infusing the coffee with whipped cream (rather than milk and sugar) until the cup is full. Decadent? Definitely. A must try? Absolutely.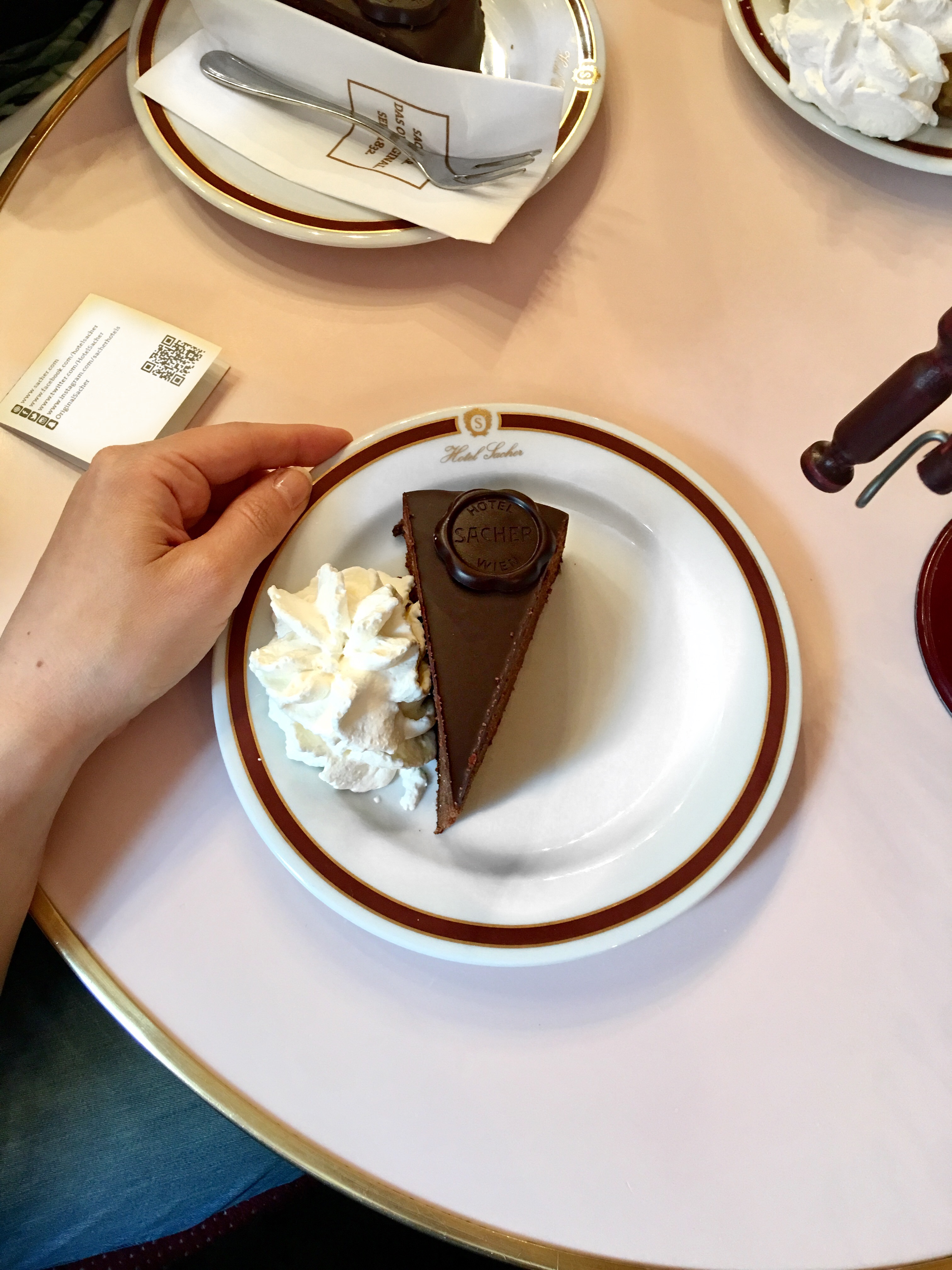 What To Eat: Sachertorte at Hotel Sacher
Of all the desserts in Vienna, the most famous is the Sachertorte. This chocolate sponge cake has a thin layer of apricot jam in the middle and is topped with a rich dark chocolate icing (can you say yum?!). Head to the Hotel Sacher while you're in Vienna for a slice of this famous cake, or stop in their bakery to buy a cake to bring home with you! (That is if it can make it out of your hotel room untouched..)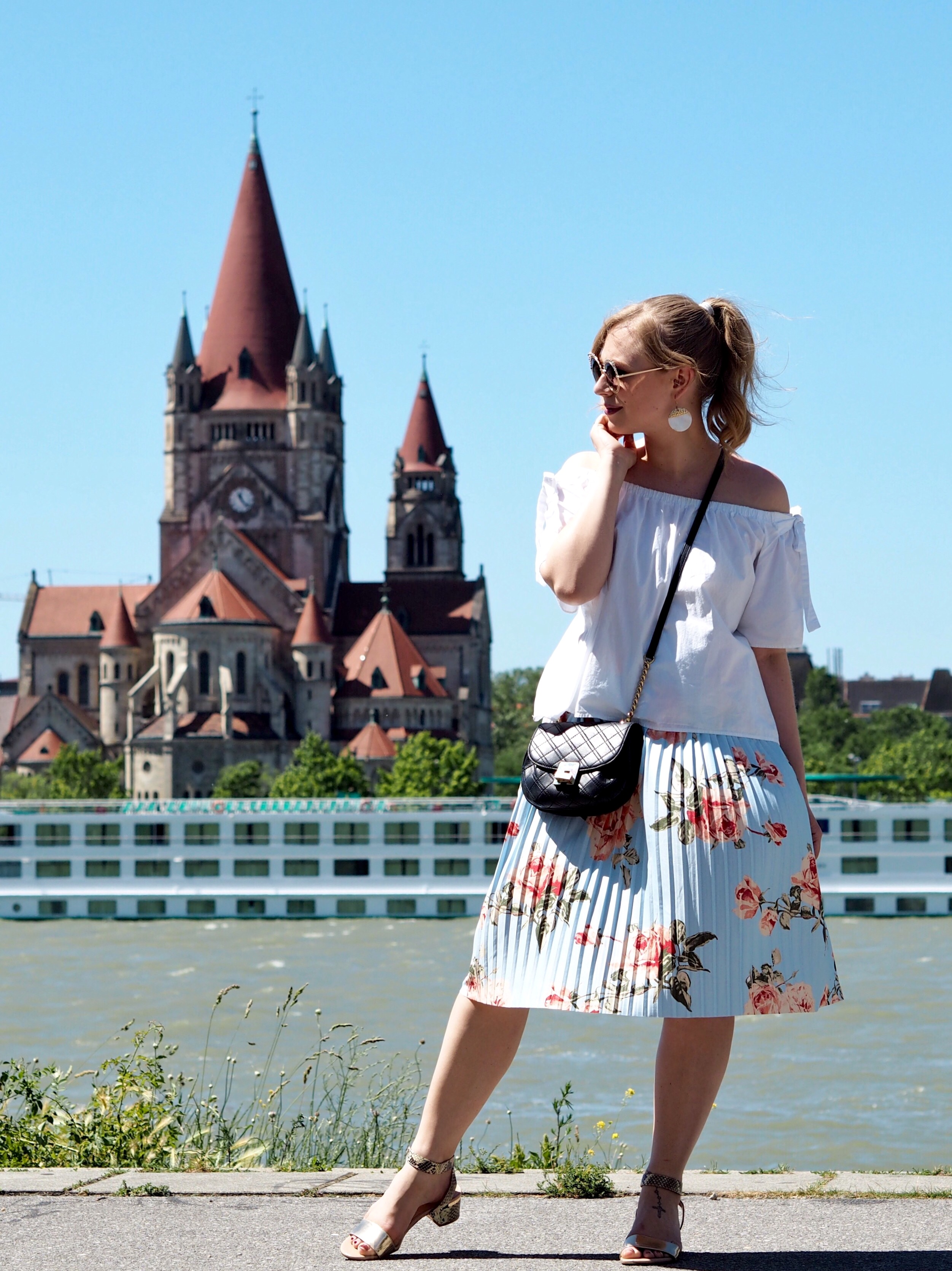 Where to Go: Danube Island
Just a couple of subway stops away is the beautiful Danube Island, a beach escape frequented by locals and tourists alike. There's tons of things to do on the island, which stretches over 42 kilometers of sand, gravel and grassy beaches on the banks of the New Danube. There are tons of bathing coves, places to play volleyball, running and cycling trails, places to hire boats, bikes and surfboards, and even nudist areas for those wanting to see more than just the sights (lol). If you're looking more to enjoy the great outdoors from a patio or lounger, there are tons of beach bars, cafes and restaurants at both Copa Cagrana and Sunken City, which turns into a beach club scene at night.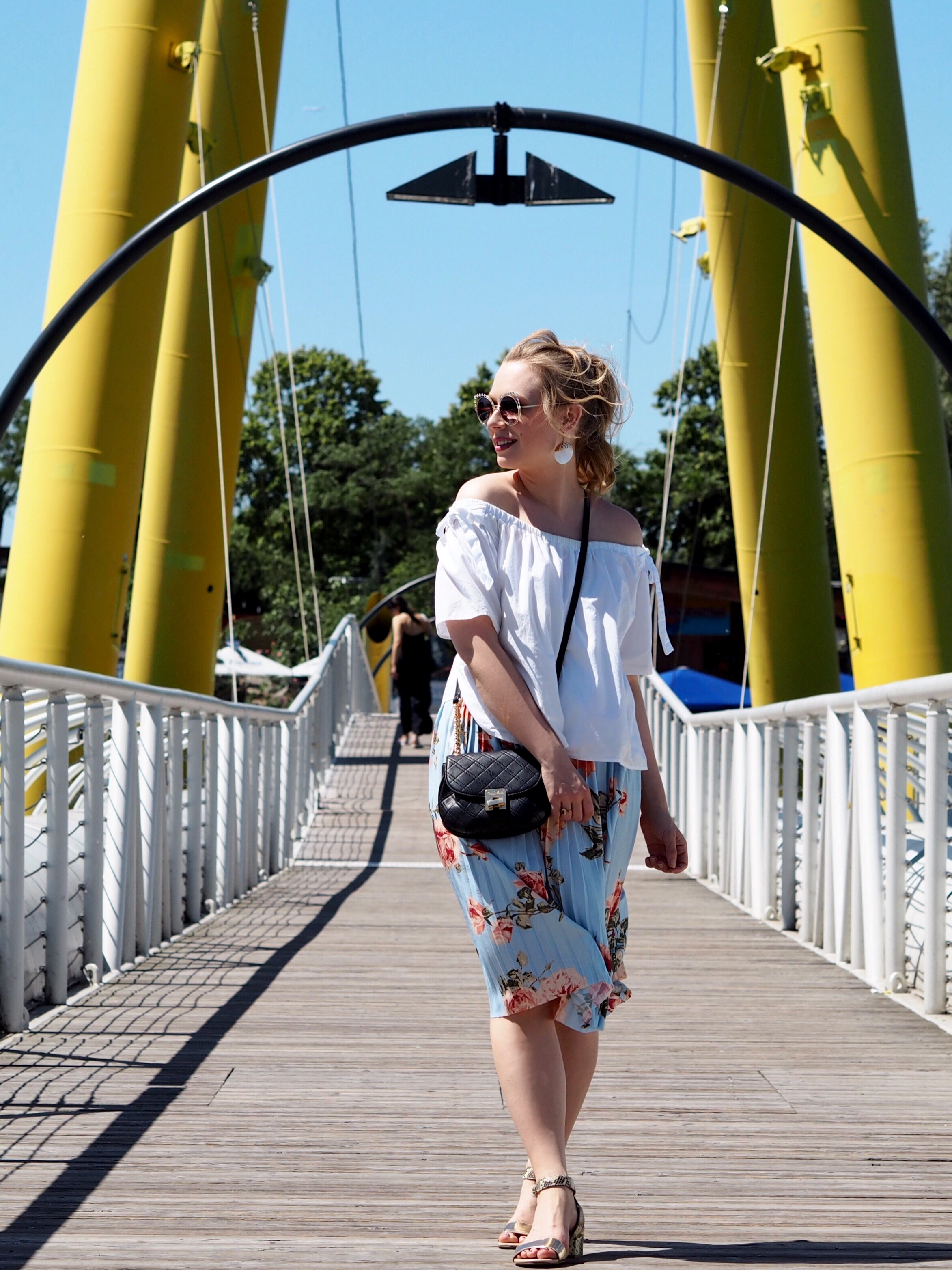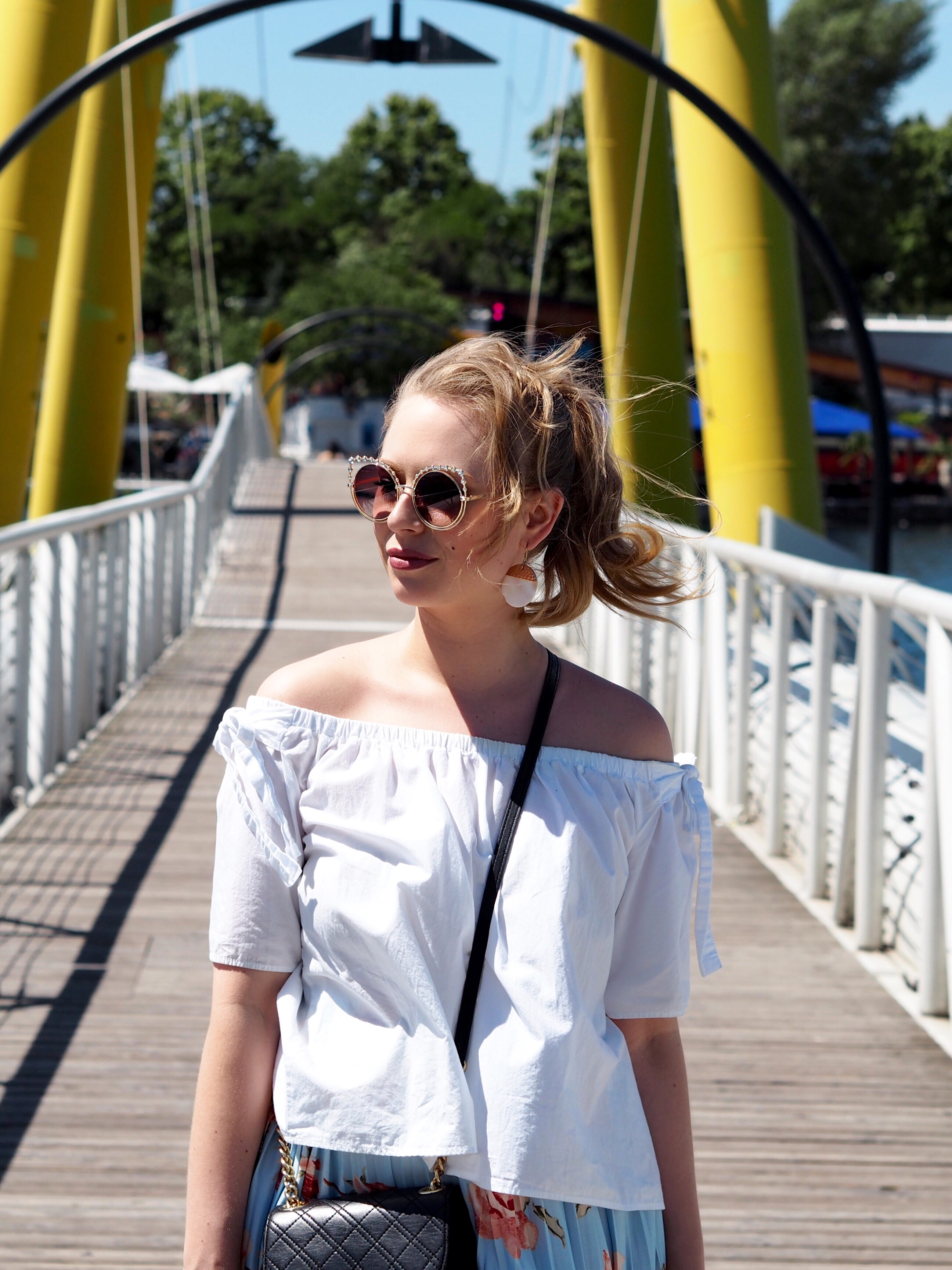 What I Wore Day 3 in Vienna:
Top – Zara // Skirt – Urban Planet // Sandals – Expressions (from Hudson's Bay) // Earrings – H&M // Sunglasses – Aldo (On sale now!) // Bag – Calvin Klein
.
On day 3 after exploring Danube Island and refuelling with Viennese Coffee, we boarded a train and said goodbye to this beautiful Austrian city. While I wish I could have spent so much longer than 2.5 day in Vienna, a little something tells me this won't be the last I'll be seeing of this wonderful city…
Next Stop: Budapest, Hungary
Stay tuned for my Budapest travel diary!
.
xoxo