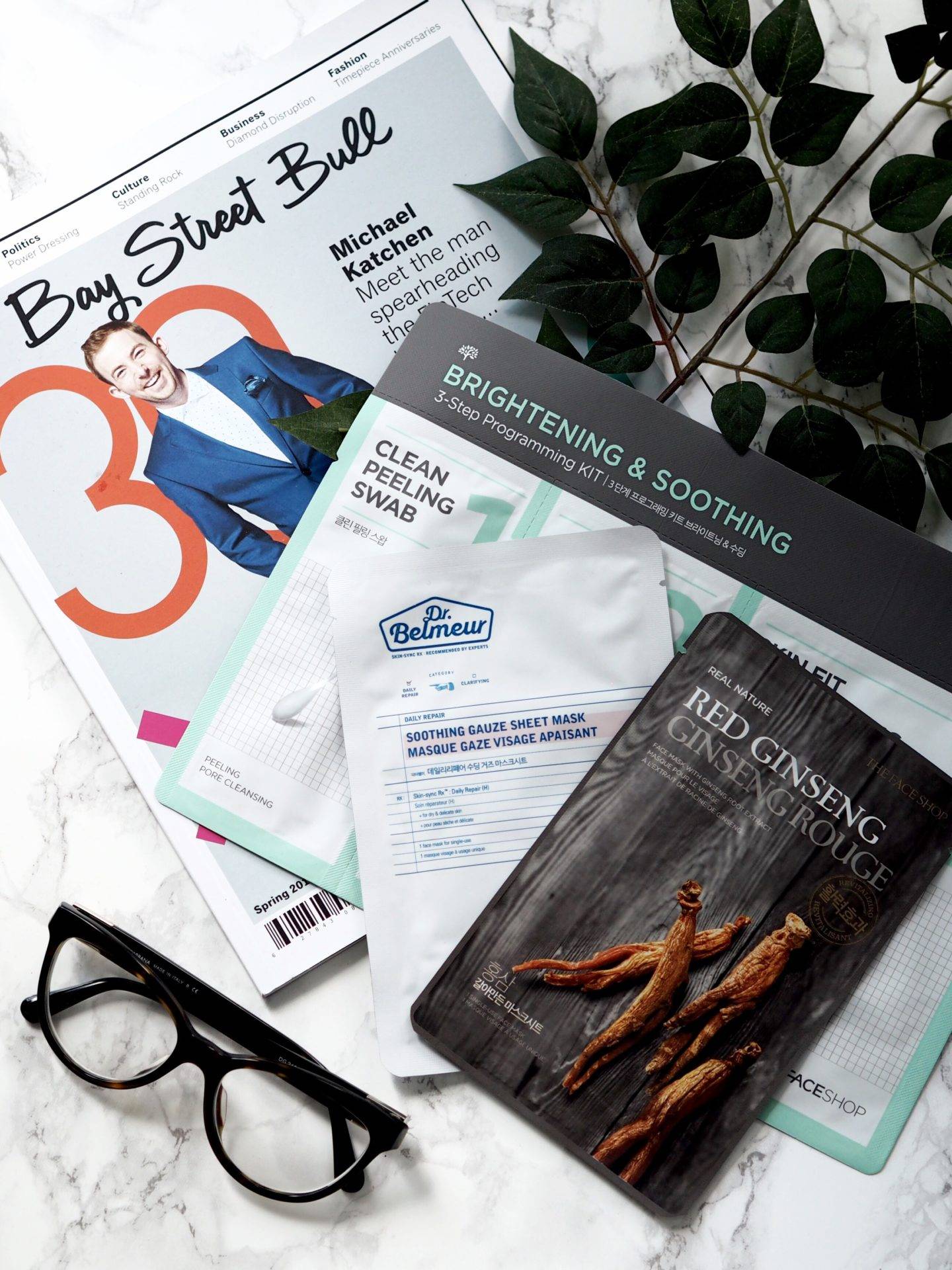 I know I've mentioned it in previous posts, but I used to have a horrible skincare regime that didn't extend past washing my face with regular soap & water, followed by slathering on a cheapie drugstore lotion. I never wore foundation or used eye creams, toners or serums… and I definitely didn't use face masks. I remember a couple times I received (as gifts) face masks when I was in my early teens. You know the typical spa-like gift bags you receive on your birthday from friends or relatives that usually includes a loofah, some nail polish, and a few individual bright colored clay masks for your next sleepover party. I remember I would always forget to use them and they would end up lost in the back of my bathroom cabinet, only to be discovered years later well past the expiry date.
When I moved to Toronto I really started to become more aware when it came to skincare, as I was immersed in the world of blogging and started taking note of all the different products my friends incorporated in their daily skincare routines. With my newfound knowledge, I made a concerted effort to up my skincare game. I started buying Charlotte Tilbury's Magic day & night creams, I started applying eye creams religiously, I even started washing my face with proper face wash (shocking I know). And I finally started using face masks. Fast forward to a year and a half later, and face masks are a huge part of my skincare routine. I use them at least once a week, and to be honest, I love it. On a Friday or Saturday night I would love nothing more than to be relaxing on the couch with a friend, a bottle of wine, Netflix, and some face masks. There's something so relaxing, rejuvenating, and healing about applying them, and I just love how my skin looks after.  I truly believe that regular use of face masks makes an unbelievable difference in not only how my skin looks, but also feels.
Of course, there are a wealth of amazing face masks out on the market, from anti-aging to collagen boosting, brightening to firming, and moisturizing to tightening… sometimes it's really hard to sort through them and pick the one that's best for you. We all have such different skin, and there really is no one stop product that caters to everyone, but I thought it would be fun to do a review on 3 different face masks that I tried from the Face Shop, and share with you my thoughts and experience. If you've tried any of these I would love to hear your thoughts in the comments below. xox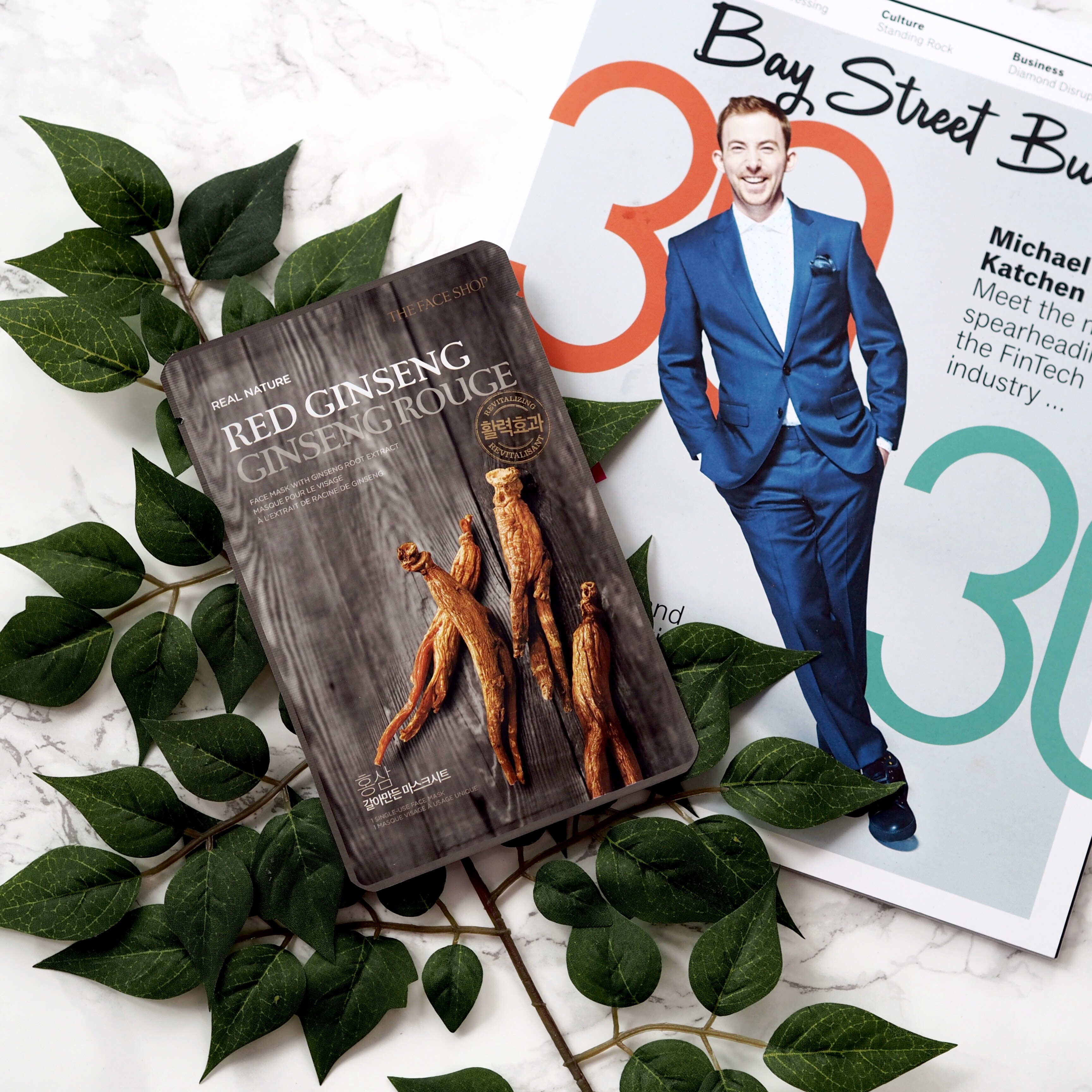 Real Nature Red Ginseng
What it is: A sheet mask drenched with emulsified moisturizing serum with revitalizing  Red Ginseng root extract which provides skin with a boost of energy and vitality. No added parabens.
Formula is without added parabens.
Use and Wear: Take out of package and apply to freshly cleansed and toned skin for 10-15 minutes. I had it on for 15 as I always feel the need to wear it the maximum amount of time, I guess I have this belief that it gives my skin more time to absorb all the nutrients!
Price: $3.00 – At only $3 a pop, this is the kind of face mask I wouldn't feel guilty using a few times a week
My thoughts: I actually really liked the herbal ginseng smell of this face mask, it had a very fresh aroma that wasn't too overpowering. What I wasn't expecting was for the sheet mask to actually be brown, and I quickly found out this was because of the redish brown tint of the serum. I definitely recommend not wearing light or white clothing when applying this sheet mask, as it does tend to drip. The package was loaded with lots of product which I always like because I apply it to my neck and upper chest area to allow them to reap the benefits as well. The sheet mask was easy to apply, and pretty standard compared to most masks I've used. It was more than big enough to fit my face, and it quickly started to air dry and stick to my face so I didn't have to worry about it constantly sliding down. After using the sheet mask my skin felt rejuvenated and awake. It almost had a sort of tingly, alive sensation. The serum is quite sticky, and I did notice my skin still felt sticky for quite a while after using it so I would say it's better to use at night rather than in the morning. Overall at only $3 a pop I would say this mask is a win. With the only downfalls being the stickiness and color of the serum, my skin felt fresh, rejuvenated, awake, and tighter.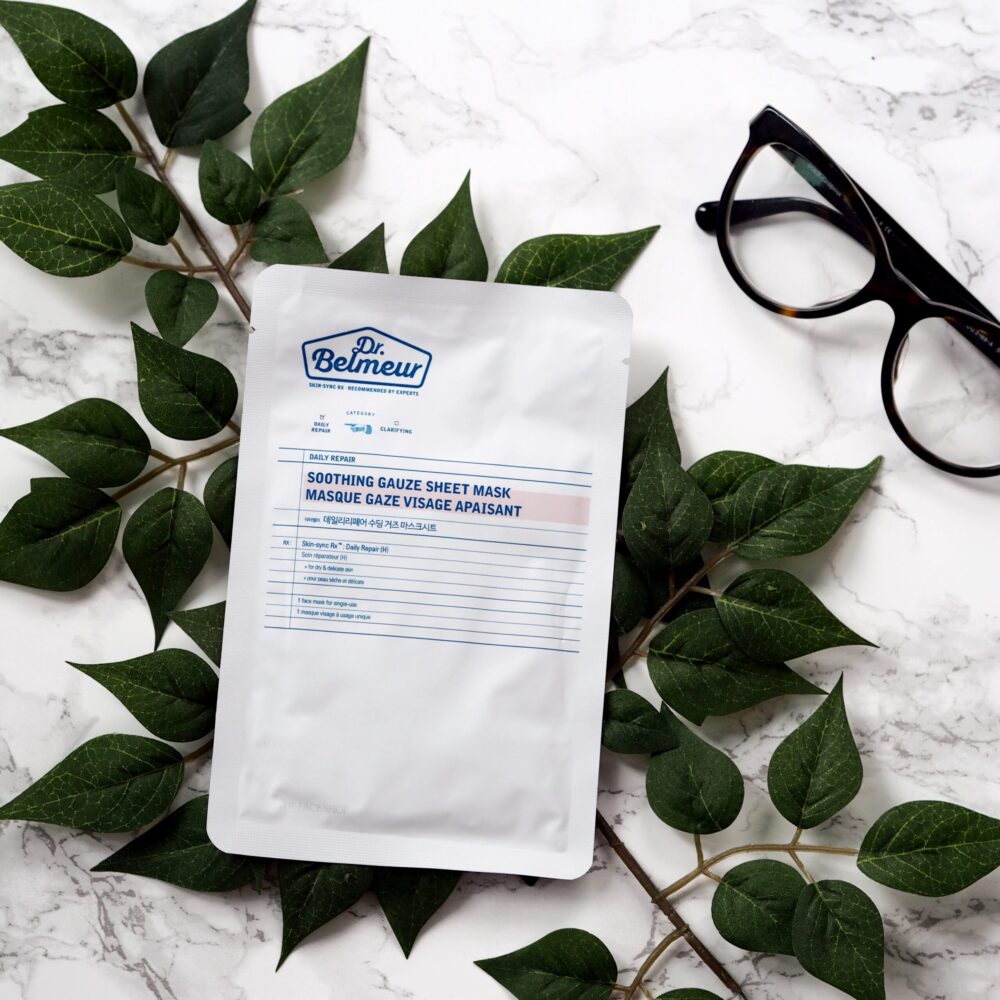 Dr. Belmeur Soothing Gauze Sheet Mask
What it is: A low-irritant calming and moisturizing sheet mask with Lanseal, an excellent moisturizer that keeps skin hydrated and cool for a long time.Contains phytoshpingosine, moroheiya, birch tree sap and Skin-sync Rx™ which helps form a moisture layer to calm dry skin. Great to target dry and delicate skin.
Use and Wear: 15-20 minutes.
Price Point: $6.00
My Thoughts: This was unlike any sheet mask I have done before. When I took the mask out of the packaging I noticed it was protected by a hard gauze exterior, which you apply (wet product side facing you) to the face. It was a little more difficult to put on because of this, but once in place you peel the exterior part off and the soft mask underneath stays in place. To be honest it kind of felt like applying a crest white strip to my face!  The product in this mask was very thick and almost goopy in nature. While there wasn't any extra product left in the pouch, there was plenty extra while applying to my face and I was able to slather it on my neck as well. My skin immediately felt a cooling, refreshing, and hydrating sensation. This mask didn't have an overpowering scent which is probably a plus for many but I actually prefer my sheet masks to have a nice smell to them. Throughout the wear my skin had a cool, tingling sensation, and once removed it felt super moisturized and refreshed.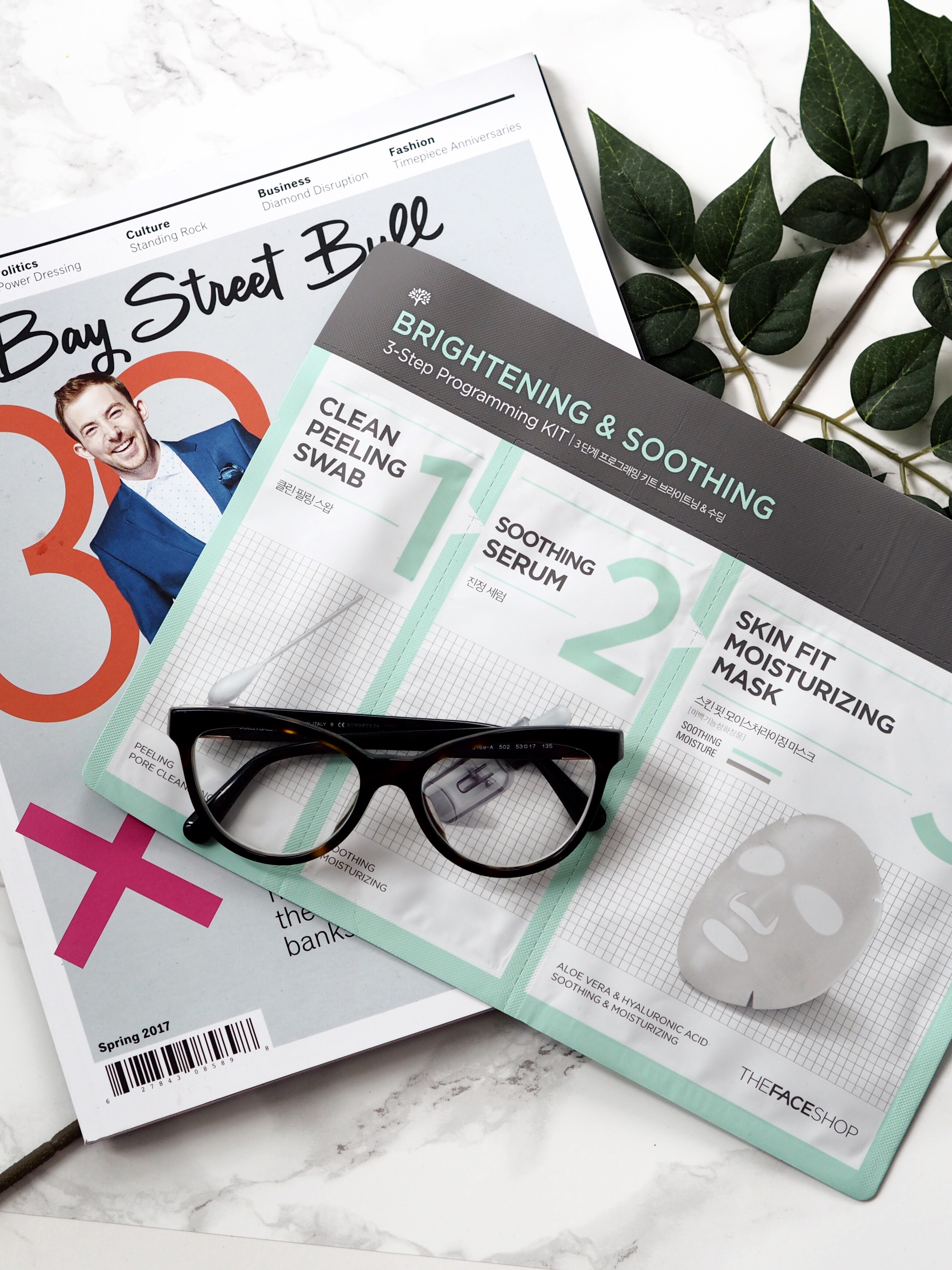 Brightening & Soothing 3-Step Programming Kit
This is the one I was the most excited to try. I've never tried anything more complicated than your typical sheet mask, so I was really looking forward to seeing what the benefits were of the added steps.
What it is: An at-home skincare program kit for clean, fresh skin that does it all from exfoliating and soothing to moisturizing.
Use and Wear: 

Step 1 Clean Skin Peel Cotton Swab ~ the jumbo cotton swab is soaked with Alpha Hydroxy Acid (AHA) to exfoliate and remove dead skin cells. Lightly pat or wipe the entire face or problem areas to remove accumulated dead skin cells and reveal smooth, clear skin. 
Step 2 Soothing Serum ~ Formulated with Madecassic Acid, Asiaticoside and Aloe Vera Leaf Extract, this soothing serum instantly calms sensitive skin after the peeling process. 
Step 3 Skin-Fit Moisture Mask ~ This finishing skincare sheet mask replenishes skin with rich, moisturizing ingredients. The Skin-Fit Facial Mask hugs skin tightly to effectively deliver moisture. Aloe Vera and Hyaluronic Acid leave skin looking healthy and radiant. 

Price Point: $5 .00
My Thoughts: I almost didn't get around to testing this sheet mask out before I left for Europe. The night before I left I didn't finish work till midnight, and the last thing I wanted to do when I got home was test out a face mask at 12:30 at night. I'm SO glad I forced myself to though. I absolutely loved this 3 step face mask, and it was my first time trying one with multiple steps. The AHA soaked swab left my skin feeling clean and tingly. The serum, although difficult to get out of the packaging (I had to roll it up like an almost empty tube of toothpaste) left my skin feeling moisturized and fresh. Although it was difficult to get out of the packaging, there was more than enough to apply all over my face, neck and chest. Once the serum had dried I applied the sheet mask which was not any different than your typical sheet mask. It was loaded with product which was a nice plus, and my skin immediately felt a calming and cooling sensation. The sheet mask left me feeling rejuvenated and completely relaxed, it was such a perfect way to unwind at the end of a long shift. My skin felt refreshed, cool, moisturized, and had a bright youthful glow to it.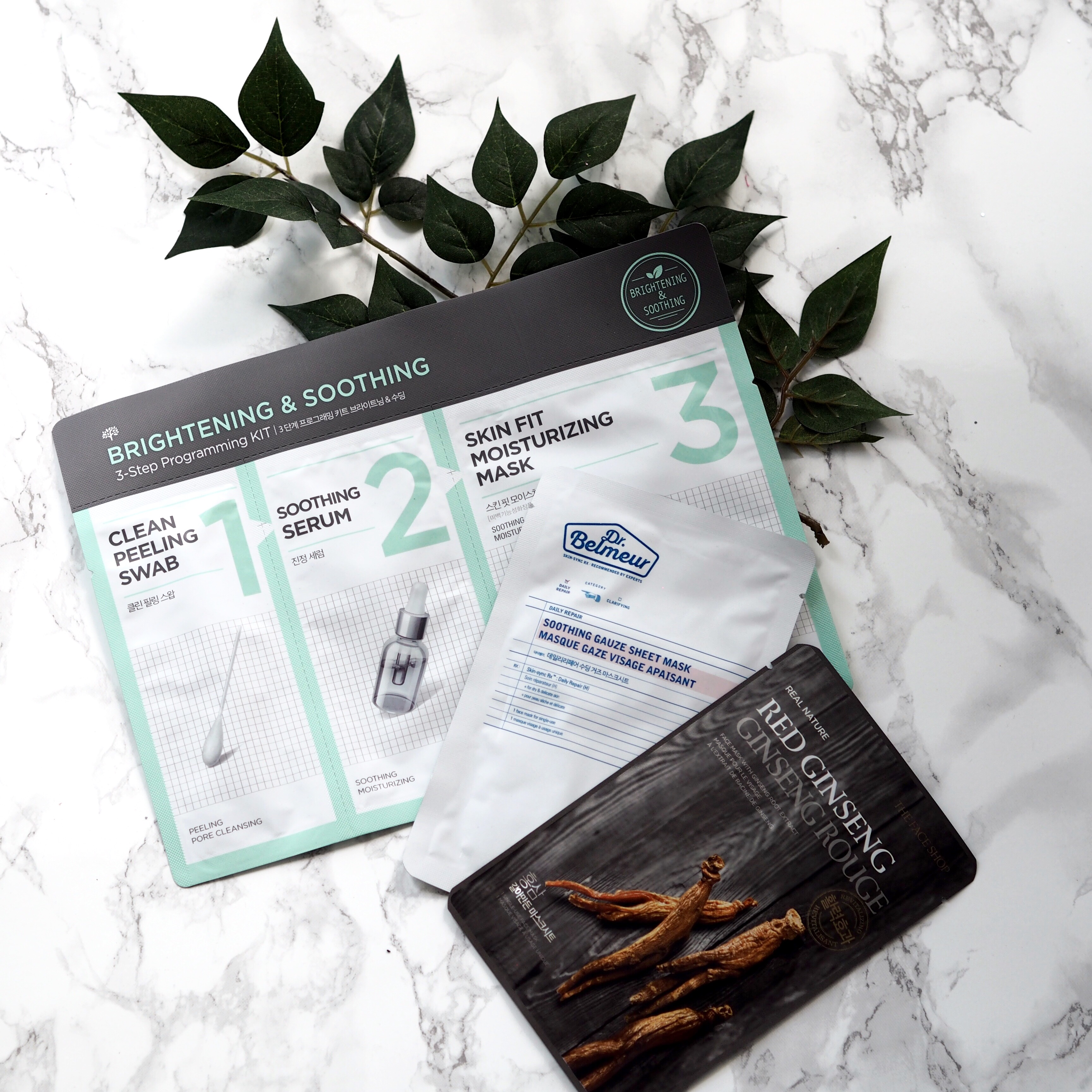 The Final Verdict?
My favourite sheet mask of the three? This is a tough one. I honestly really liked all of the sheet masks, they each had their own benefits and left my skin feeling amazing. If you're looking for a quick fix I would say the Dr. Belmeur Soothing Sheet Mask would be a great go-to. Although a little more difficult to apply, it did wonders for my skin. If you happen to have an extra half an hour kicking around, I highly recommend giving the Brightening and Soothing 3 Step Programming Kit a try. It was totally worth the extra time and effort it takes to do all 3 steps, and my skin never looked better!
What are some of your favourite sheet masks?
xoxo