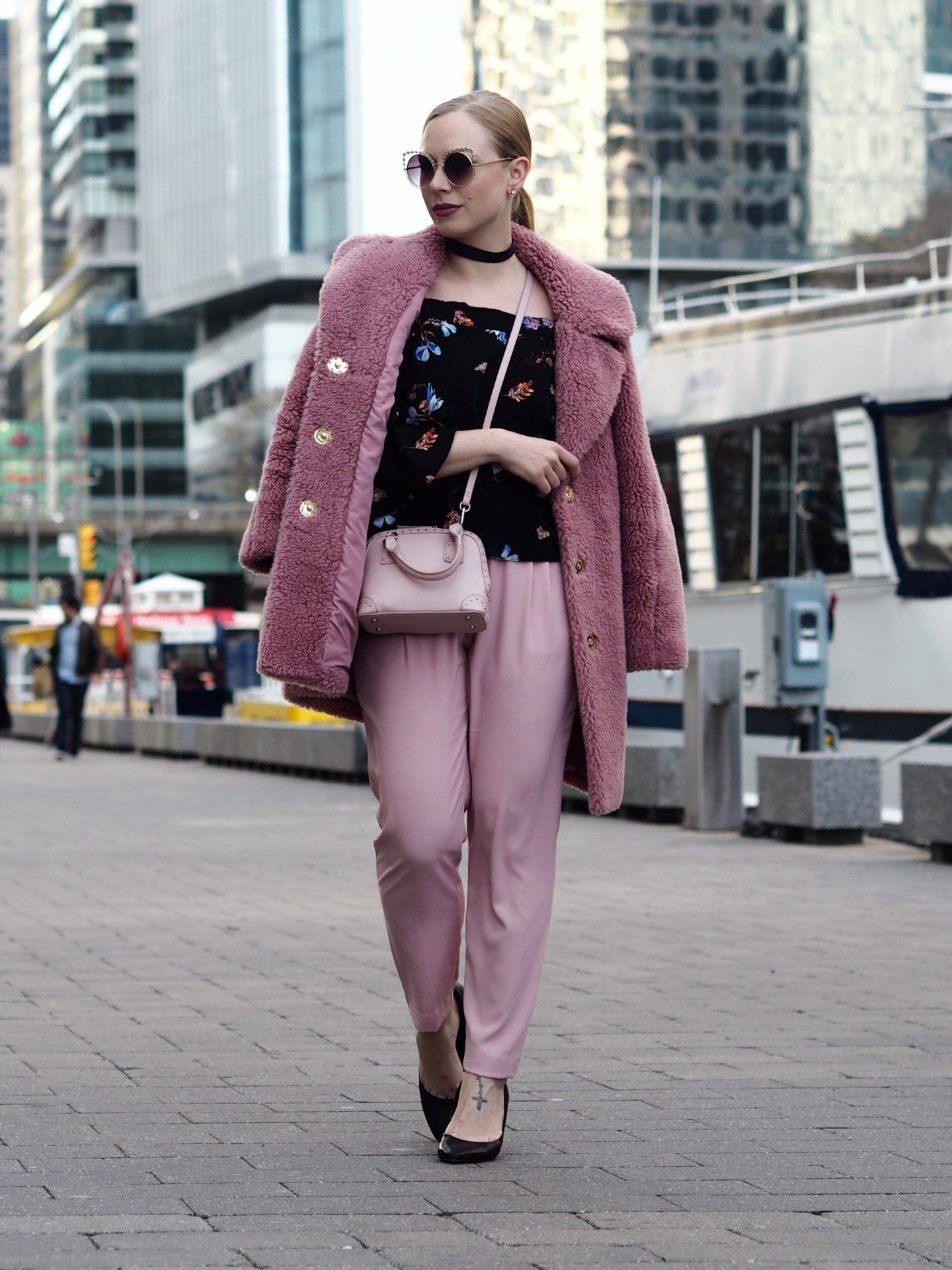 When it comes to what I wear, I tend to go through phases. I'll wear whatever trend or color I'm in love with the most at the time over and over, until one day I'm finally over it and have moved onto the next. Last summer I was obsessed with everything off the shoulder, this Winter I couldn't get enough of turtlenecks, and color wise for the last few years I loved red more than anything. But right now I'm most definitely on a pink kick.
I've always loved the color pink, which probably dates back to my early years when I was obsessed (and I mean OBSESSED) with everything Barbie. This trickled into Jr. High and High School where I was definitely one of those girls with the bleach blonde hair, dark tan, and who wore tons of bubblegum pink (cringe). Since those Barbie girl days, as I started to grow up, mature, and my style started to change… I noticed I gradually started to shy away from wearing the color pink. Whether it was some sort of inner need to no longer feed into the stereotype of all girls loving pink, or that l just felt like there was a stigma around blonde girls who wear pink and how they must be trying to look like barbies (circa my cringeworthy jr.high days), or a combination of the two. I just felt the need to distance myself from it. Regardless of what the reason, I locked away my love of pink for quite a few years, only letting it show up here and there in the form of a subtle lipstick or my bathrobe at home that no one would see.
When I moved to Toronto, something happened to me. This probably started the years leading up to my move, but the move was really a defining moment where I noticed a change. I stopped caring what people think, or how everything I did looked to those around me. I stopped worrying about pleasing others with my appearance, and started worrying more about what made me feel good and what made me happy. I stopped worrying about whether pink made me one of those "typical girls" or slotted me in the same category as the once overly tanned Barbie girls (myself once included). I started buying pink things again, here and there, and next thing I knew, without even really realizing it, half the decor in my bedroom ended up pink. It was then, looking around at my extremely girly pink room that I realized I had to just accept that hey, I guess I just love the color. While pink was still a sparse color in my closet, I was surrounded by it at home. And it made me happy.
Fast forward a year and a half, with a little help from blush being the color of the season and literally everywhere you turn… I now can't get enough of it. And you know what? It feels good.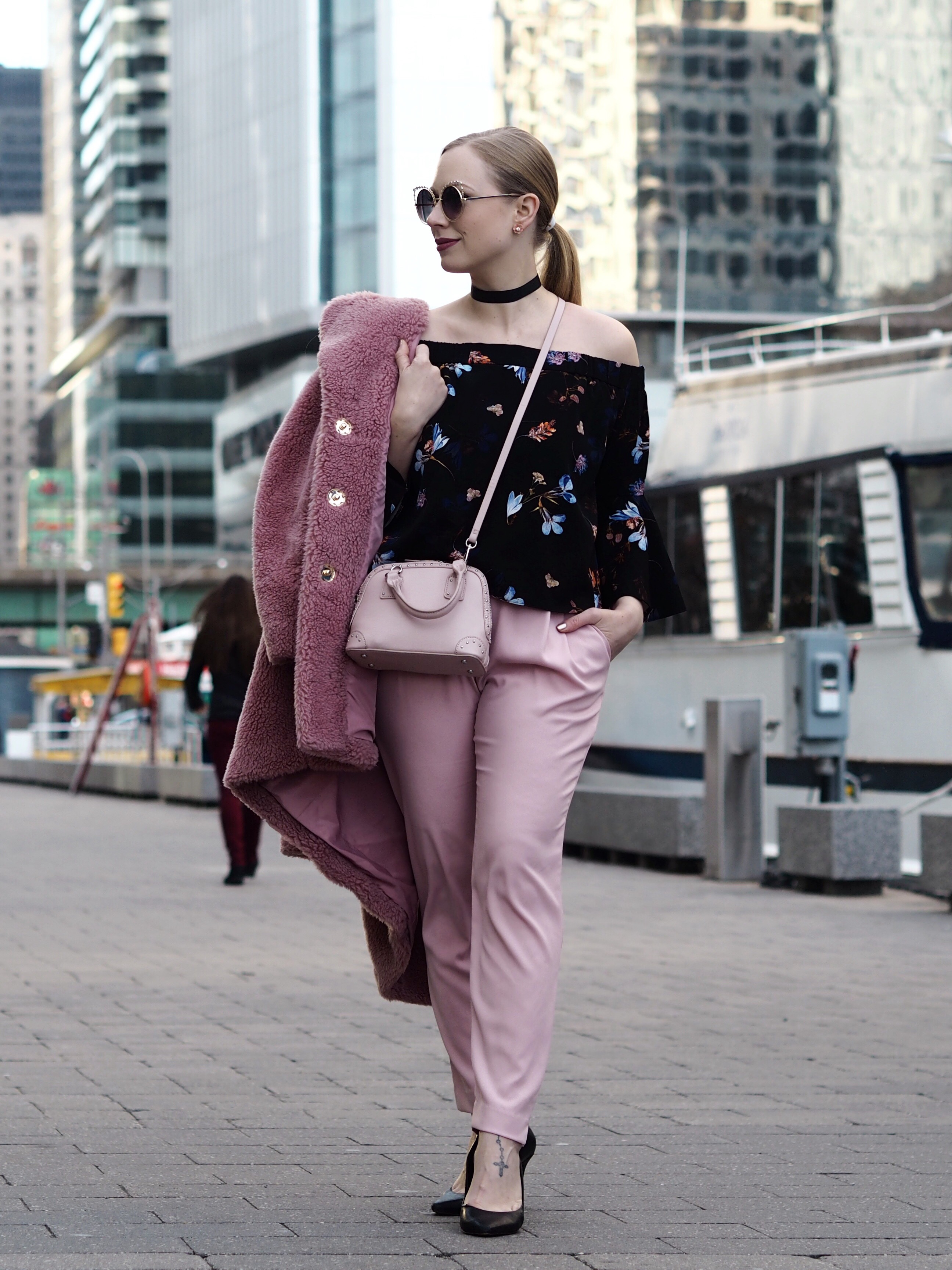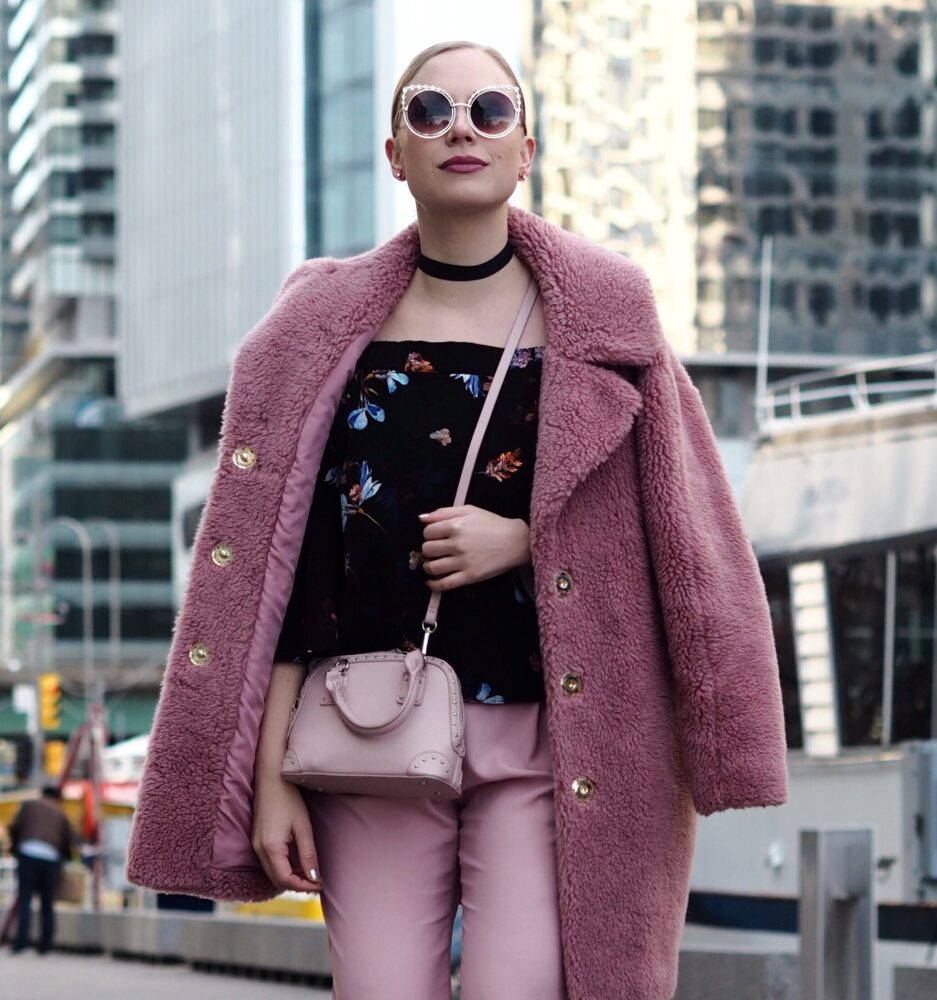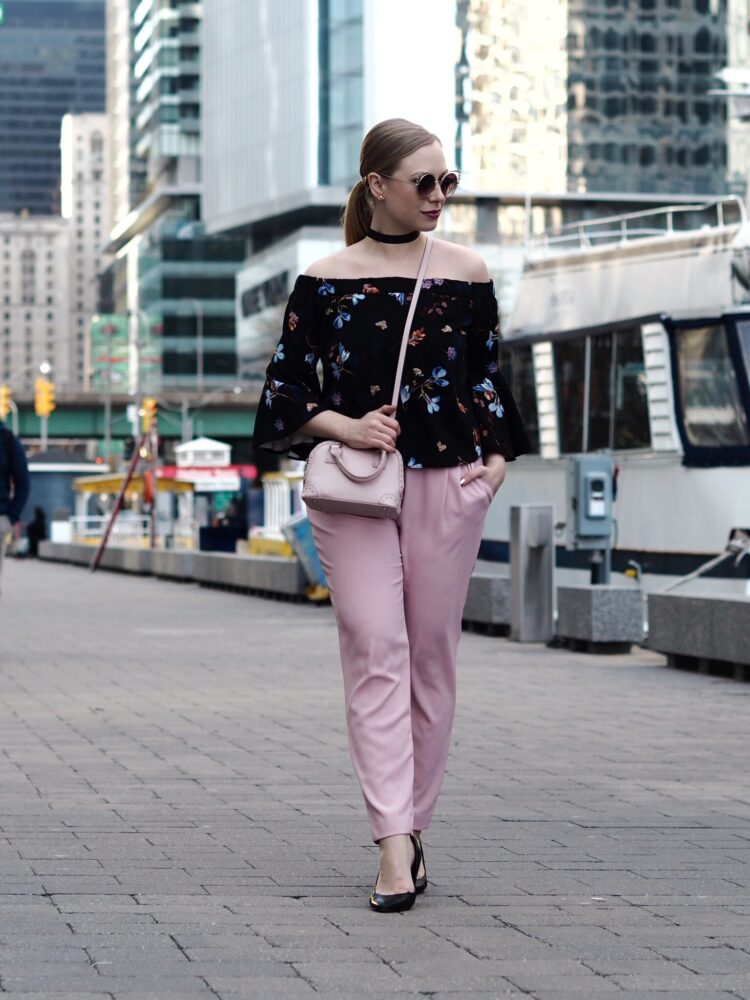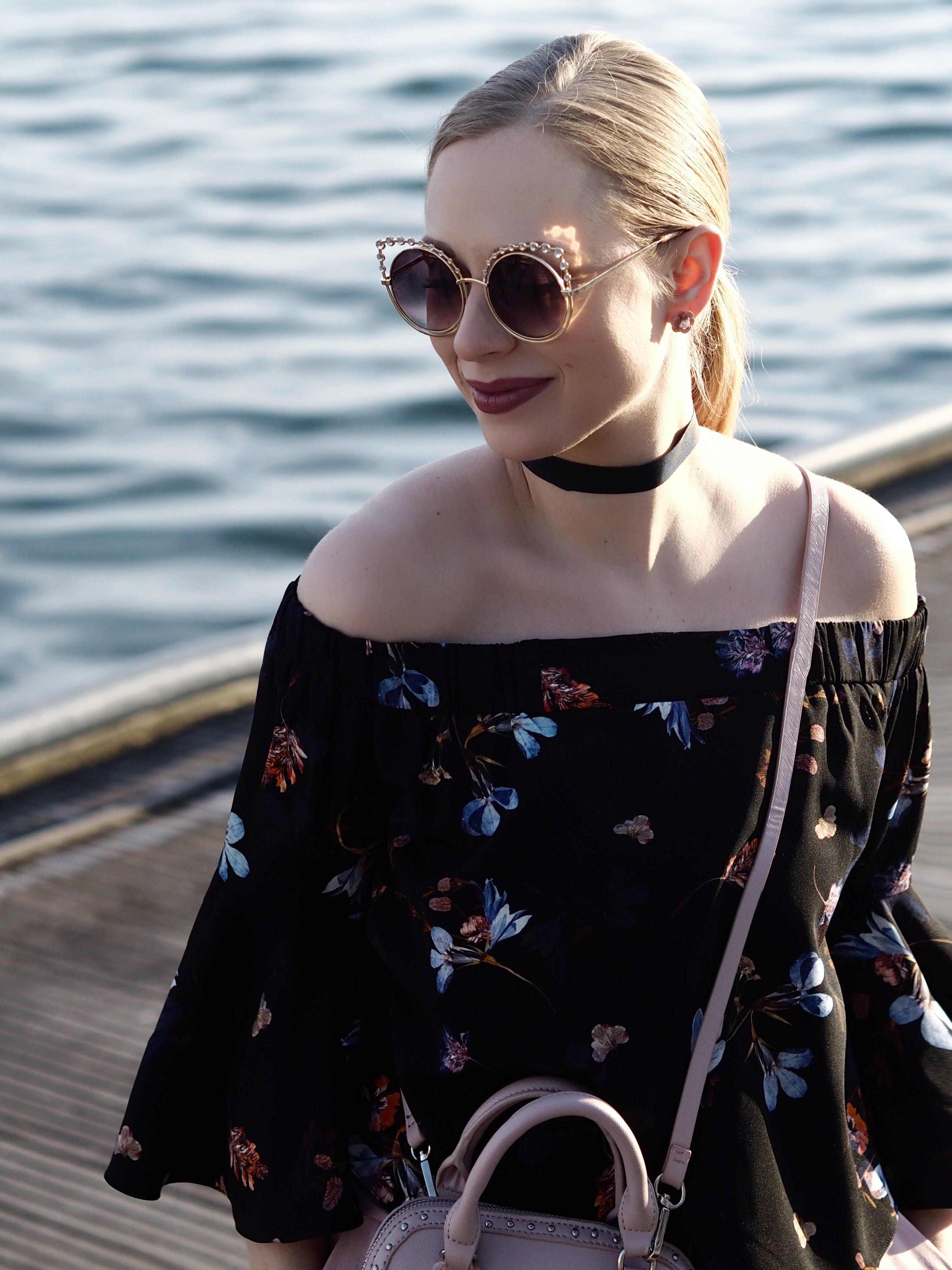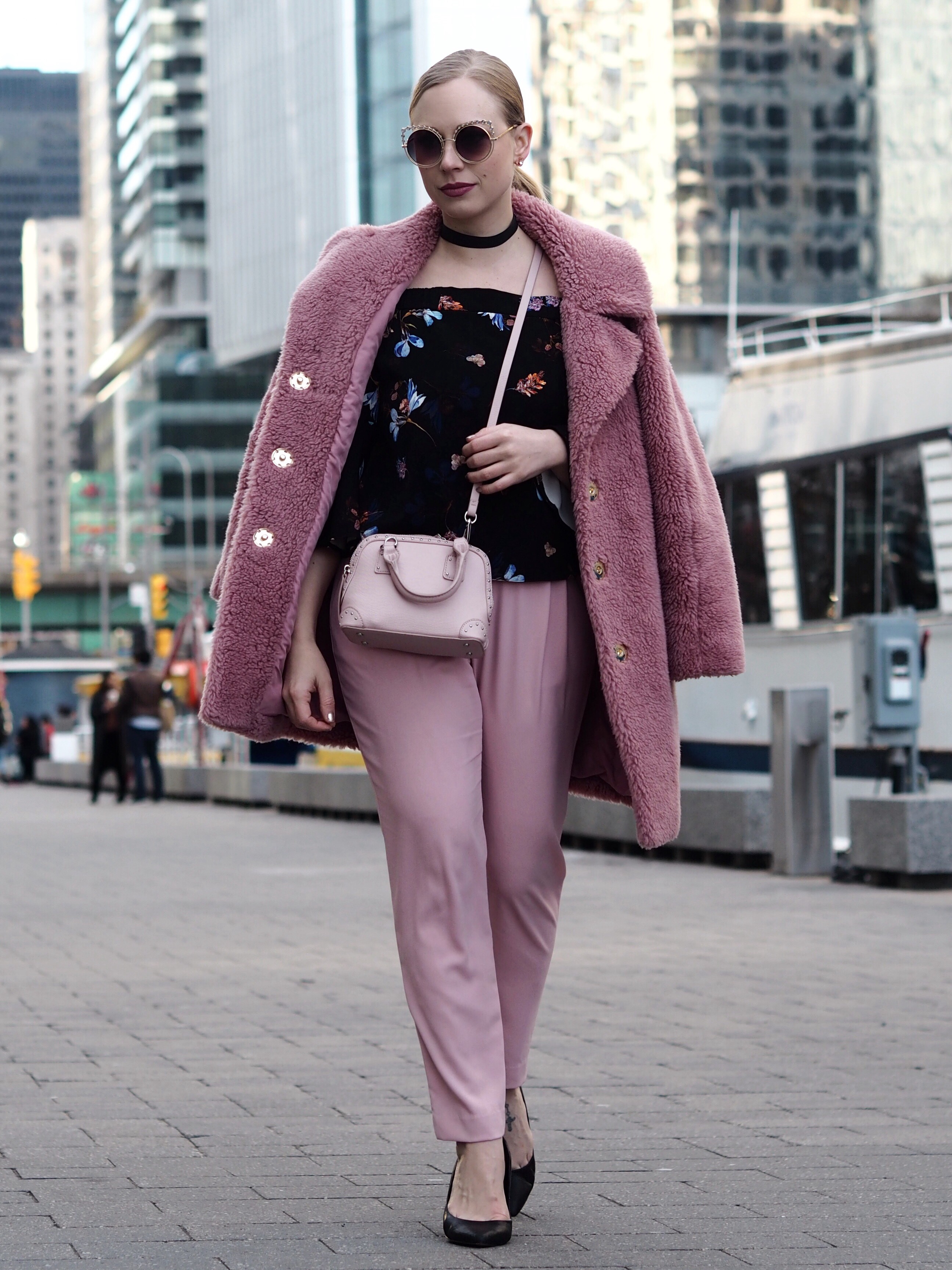 By the way can I also point out just how much I LOVE a good sale? There's nothing like finding something you love for a fraction of the price. I'm honestly so in love with this outfit and almost the whole thing was either on sale, or already really well priced items. I love shopping the end of season sales because you can find so many great things for amazing prices. I snagged this pink coat at Topshop for $90, and although I won't get to wear it too much this year, It's always exciting knowing you have a new coat just waiting in the closet to break out next Winter. The off the shoulder top I also snagged at Topshop, and I got it for an unbelievable $10. I couldn't believe it when I saw the price tag.. although it's from their winter line to me this top screams Spring!
What I Wore:
Coat – Topshop // Top – Topshop (Same top in blush still available) // Pants – Zara (Only $35!) // Pumps – Nine West // Choker – Aldo // Earrings – Aldo // Sunglasses – Aldo // Bag – Winners
.
Wishing you all a happy Tuesday!
.
xoxo