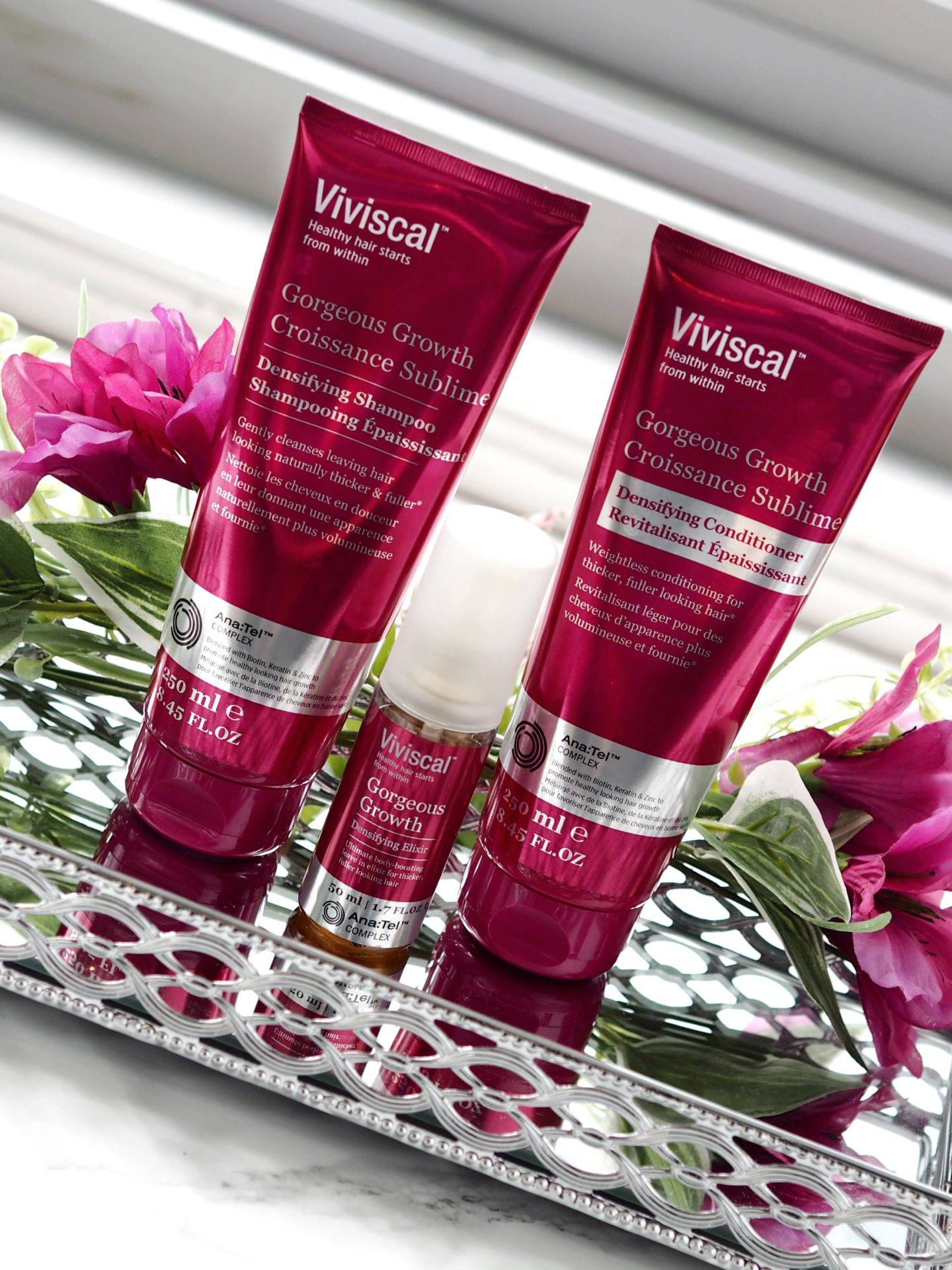 My hair growth journey has been anything but easy. In fact if I could use a couple adjectives to describe it they would be something along the lines of long, gruelling, frustrating, painfully slow. I started really trying to put effort into growing my hair about 2 years ago, after I realized that even though I hadn't  gotten my hair cut in years, my hair had grown a startling zero inches. Ok, I guess it's a bit of a lie when I say it didn't grow, all hair grows.. but as much as the roots were doing their part, the ends were putting up a feisty battle and the length didn't change AT ALL. For over 2 YEARS. Being a natural blonde, my hair tends to err on the more dry, fragile, and brittle end of the spectrum, meaning even though my hair was growing, the ends were constantly breaking off. One day I finally said enough is enough, and promised myself that I would take the steps necessary to finally get my hair to grow to the length I had always dreamed of it being.
The Beginning
The first step to my hair growth journey was to (CRINGE) start getting regular hair cuts. I know we all hear how important it is to get your hair cut every 6-8 weeks if you want it to grow, but this is something I just never believed in. How on earth would my hair grow if I kept cutting it, when it wouldn't grow when I wasn't cutting it?! How does that even make sense?! Well, I quickly learned that it makes a whack load of sense. As soon as I started getting my hair trimmed regularly the growth started happening because the ends of my hair were much healthier, less brittle, and less likely to break. All of a sudden I felt like I should have been listening to my hairdresser all along.
Beyond getting my hair trimmed regularly, I made commitments to do everything I could do to help move the process along. When it comes to committing myself to a goal, I go all in. I'm a very impatient person, and being someone who has always wanted long hair, I was willing to put in all the effort I could in order to get quicker results. At the suggestion of my hairdresser, I stopped using hot tools except for a blow dryer (I used to curl or straighten my hair every single day, which most certainly caused a lot of breakage) and I drastically reduced how much I wash my hair every week. These two steps were incredibly hard for me, not only did I have to learn how to like my hair more naturally (no more curls, no more stick straight do, hello natural frizz), but then I had to deal with greasy hair as I tried to "train" my hair to go longer between washes.
The process of training your hair to last longer between washes isn't pretty, it involved lots of ponytails and slicked back buns, but eventually I noticed a huge change in my hair's overall healthiness, and it was totally worth it. I used to only be able to wear my hair down for one day before it looked greasy and had to be put up. I can now easily go 3-4 days with my hair down before washing it because my hair is now used to not being washed as often. I've managed to train my hair to be fine on 1-2 washes per week, and my hair is less greasy, much healthier, and takes a hell of a lot less time to do. I've started using hot tools again but only a couple times a week, and I'm very careful to always use a heat protectant spray. I can honestly say that with the regular trims, reducing the amount of washes, and cutting down the use of hot tools my hair has finally started growing and is so much healthier. I've gotten at least a good 5-6 inches since I started, and although that might not seem a lot to most people for someone with hair that has never been long, this has been a big milestone for me.
So what does Viviscal have to do with this?
After finally achieving some hair growth and having the longest hair I've ever naturally had, I'm ready to take things up a notch and kick my hair growth journey into high gear. After getting introduced to Viviscal's line of hair growth supplements and products at a recent event here in Toronto, I was immediately intrigued and knew I had to try them out.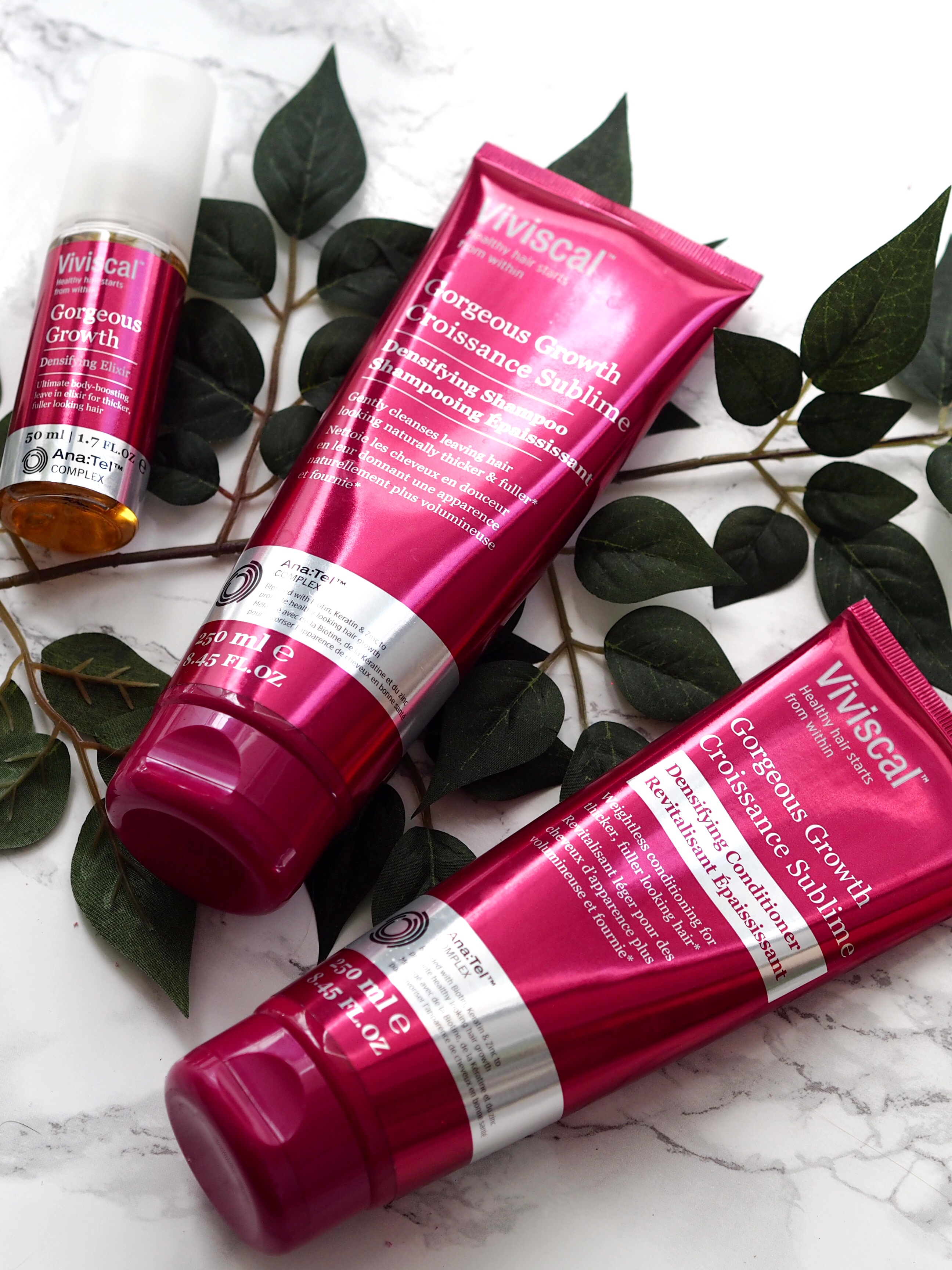 Viviscal is a hair nourishment system that aims to help you achieve the longest, fullest, healthiest looking hair you've ever had. The supplements promote hair growth from the inside, by providing your body with the vitamins it needs for optimum hair growth. Recently Viviscal has expanded and introduced a brand new Gorgeous Growth Densifying hair care range to help nourish hair from the outside. While the supplements take 3-6 months to really start showing the results, the haircare range boasts shorter term benefits. Together, the Gorgeous Growth Range works with Viviscal's hair growth supplements as a unique dual-action system, so you can achieve healthy hair growth from the inside, and thicker looking hair on the outside. I'm so excited to have had the opportunity to try all of these products and share my experience with you. Read on for my thoughts on the Gorgeous Growth Densifying Hair Care Range, and check back in 3 months for my review on the supplements and how they've helped me with my hair growth journey!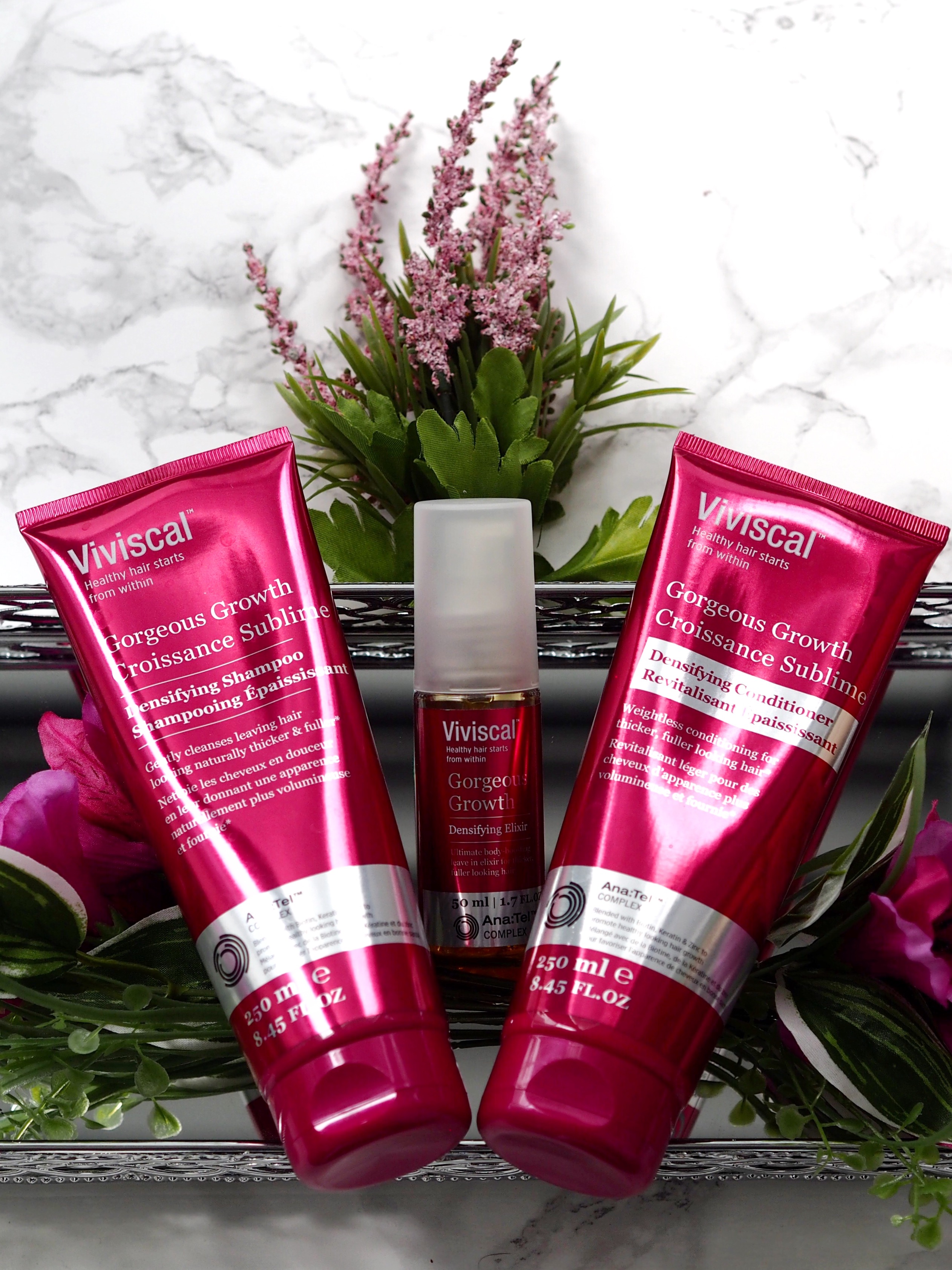 What I Thought: Viviscal's Gorgeous Growth Densifying Hair Care Range
Being all about hair growth and healthy hair I was so excited to get to try out Viviscal's new Gorgeous Growth Densifying Hair Care range. At first look, of course I loved the bright fuchsia packaging, and once I opened the bottles to smell them I fell in love with the scent too. All the products are not overly fragrant, and have a subtle fresh but floral scent to them. I actually really like the smell, I've even caught myself numerous times smelling my hair during the day. With some other products, I find you wash your hair with a shampoo and the smell quickly leaves your hair, whereas I found I could still smell Viviscal on my hair a couple days later.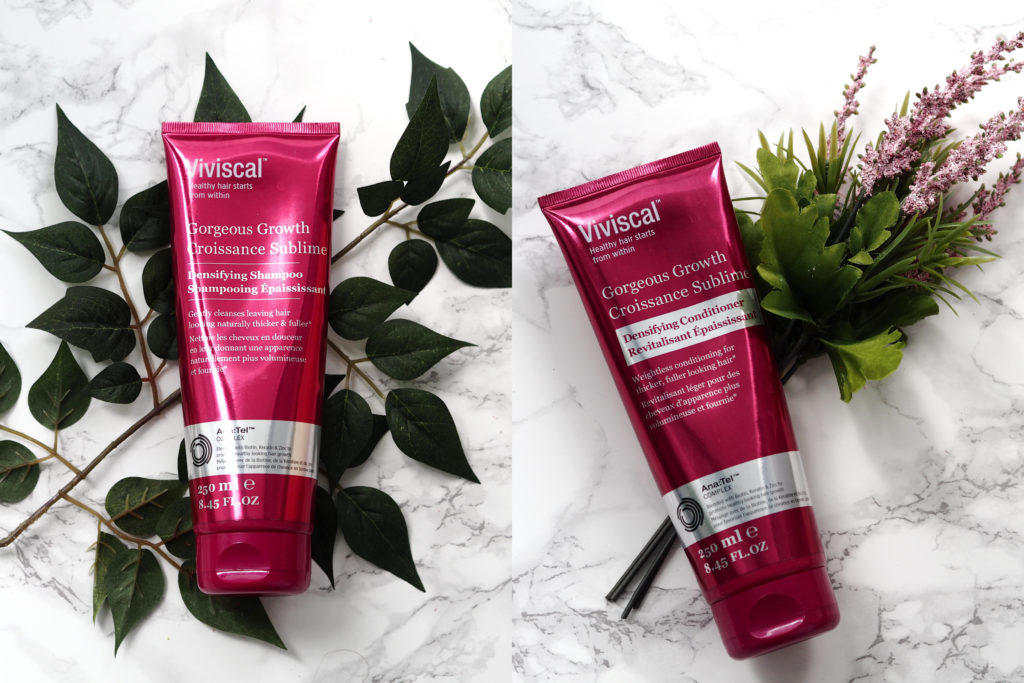 After using both the shampoo and conditioner, I towel dried my hair before applying the Elixir. The Elixir is a lightweight, body-boosting leave-in treatment for thicker looking hair. Unlike most serums, this one doesn't leave your hair feeling greasy at all and you can actually apply it to the roots rather than just on the ends. I always apply 2-3 pumps and disperse throughout my hair, both the roots and the tips, so that all of my hair reaps the benefits. The first time I blow dried my hair after using all three products I absolutely loved the way my hair looked and felt. Not only does it add volume, but my hair felt lighter, less frizzy, and just looked healthier. I felt absolutely no need to flat iron or fix flyaways, I was able to just blow dry and go.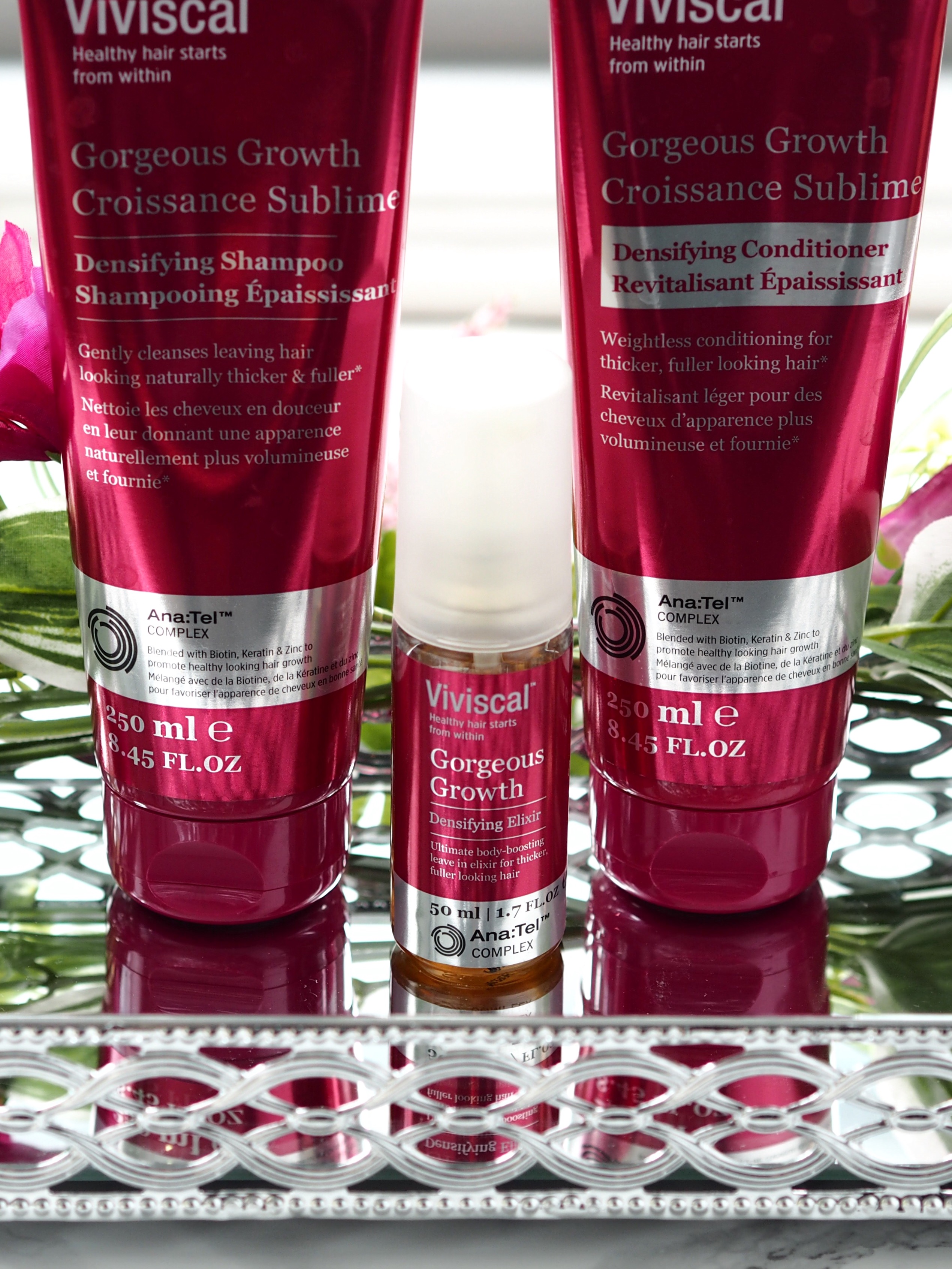 The Verdict? I love them. I love how healthy my hair has been looking, and I've definitely noticed a change in thickness and volume. From someone who has been regularly using luxury hair products (I have been hooked on Kerastase Chronologiste since I first had the opportunity to try it out), Viviscal may just give them a run for their money. And at $19.99 for the Shampoo & Conditioners, and $29.99 for the Elixir, these products are practically a steal for the benefits they give you. What's even better is that these are all available at Shoppers. I can't wait to see how my hair continues to grow, change, and get even healthier over the next few months as I continue to use these with the supplements.
Stay tuned in 3 months for my review on the supplements <3
xoxo