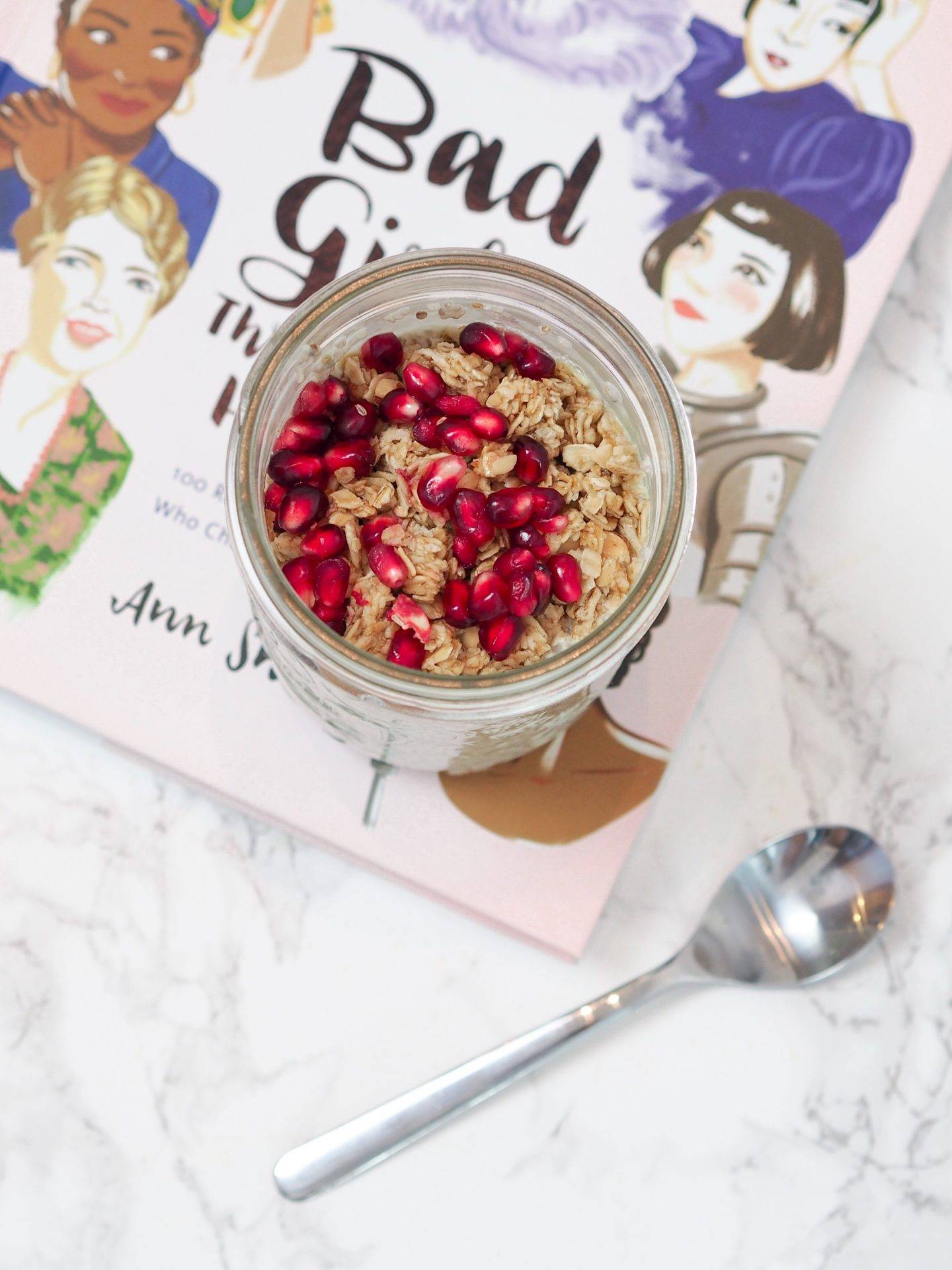 When I first heard about Raw Juice Guru through Instagram my curiosity was immediately piqued. I've always been one to eat super healthy… My diet has typically consisted of protein, vegetables, with minimal carbs and very low sugar. I generally avoid dessert, I rarely drink, and I can't remember the last time I ate anything deep fried. I know I know, sounds fun right? But for someone who struggles with an underactive thyroid and hyperactive adrenal glands, I have no choice but to eat the healthiest I possibly can in the quest to cure my body. In the past 6 months I've been working with a naturopath (and now an acupuncturist) to get my HPA system and hormones in check, but curing the thyroid and adrenals naturally is not a quick process. Through the direction of my naturopath I had been eating a paleo diet, with an emphasis on those foods that are "Whole 30 approved", and while I enjoyed eating this way it still felt like something was missing. I felt fine and my energy levels were generally pretty good, but I didn't feel like things were really moving in the way they should. Although these things take time, I'm impatient as hell and always on the hunt to try anything and everything I can that will benefit my body and push it in the right direction. Enter Raw Juice Guru.
I have always been curious about eating vegetarian, and even more curious about living a vegan/plant-based lifestyle… but meats and proteins have definitely been the centre of my diet for as long as I can remember. One day a little while ago I had my blood analyzed through a live blood analysis (totally recommend this by the way – it's honestly the COOLEST thing ever and you can learn all about what's going on in your body) and learned (among other things) that I was Type A. Apparently Type A Blood types (if you follow a blood type based diet) thrive off of vegetarian diets, and should be avoiding animal proteins. Of course this fed even more into my curiosity and I decided it was time to give it a whirl in the best and easiest way possible… through Raw Juice Guru's Artisan 90 program (or the raw food cleanse). I knew this was going to be the easiest and best way to try out a plant-based diet because: 1. It wouldn't be a long term commitment, 2. Starting a new diet is VERY difficult, and Raw Juice Guru takes the guess work out of having to try and figure out menu planning on a new diet AND 3. detoxes themselves have numerous benefits for the body.
So What Exactly is the Raw Food Cleanse (aka the Artisan 90)
The Artisan90 Raw food cleanse is an advanced program designed for gentler cleansing that will help you avoid unpleasant detoxification symptoms, yet still allowing you to detox and cleanse your body from toxins, sludge and chemicals. It is recommended for those that are already on fairly clean diets and are able to easily metabolize raw food. If you're eating a lot of junky processed foods, it's beneficial to start off with a juice cleanse first to unclog your system before progressing to a raw vegan food cleanse. Each day includes a mix of organic raw juices, smoothies and elixirs, 2 gourmet raw food meals, plus desserts and snacks (which were hands down the best part). Your Raw food cleanse is tailored customized to your health, ailments and goals. Plus if you hate certain fruits or vegetables Raw Juice Guru will make sure not to include those in your program!
How it Works
Honestly this program is so easy there are ZERO excuses. Once you fill out a form that delves a little deeper into your health & concerns, and pick how long you want to be on the cleanse (anywhere from 1 to 30 days!), Raw Juice Guru will tailor a program for you. This means they make the entire food and juice plan and you just have to sit back and wait for it. Every night between midnight and 9am (or earlier if you start work earlier) your entire menu for that day is dropped off outside your door. This was probably one of my FAVOURITE parts of the program.. I am so incredibly busy that I really do find it difficult to find the time to meal plan and cook during the week. My schedule is all over the map and sometimes I leave before the sun comes up and get home way after the sun goes down. Raw Juice Guru made it so easy for me by delivering all my food and juices to me already made… all I had to do was open my front door in the morning!
Okay, but why RAW?
Raw foods help to reduce the burden on your body and create an internal environment that is geared towards healing. When we eat processed, non-organic, low nutrient foods we create a very acidic, inflamed, low-oxygen, toxic and nutrient deficient environment that doesn't support health and healing. The body than becomes so busy working on trying to repair and clear toxins that it cannot focus on deeper healing. The result of poor nutrition is low energy, a weakened immune system, chronic and degenerative disease, inflammation and premature aging.
Scientific proof has shown that cooking not only destroys nutrition and enzymes but chemically changes foods from the substances needed for health into acid-forming toxins, free-radicals and poisons that destroy our health. By cooking food we are reducing the nutritional value in foods, and we are no longer getting those nutrients that they provide when they are in their whole form.
What 5 days of Raw Food Cleansing Looked Like for Me:
When I first started the Raw Food Cleanse I was a little nervous. Was I going to like this food? Was I going to feel satisfied without all the protein I'm used to? Was I going to be hungry? I can tell you that it honestly only took one day on this program for me to realize I was absolutely going to like the food, I was never going to feel hungry, and I was going to feel more than satisfied. With all the juices, smoothies, snacks, desserts, and meals you get on the raw food cleanse there's absolutely no way you could be hungry which makes it such an appealing way to cleanse your body. I felt like I was eating more food on the cleanse than I was eating before, and the snacks (energy balls) and desserts were something I looked forward to every day. I seriously wondered how the heck I could be cleansing while eating such delicious food! Here's a look at what I ate (and drank) over the first 5 days of my cleanse: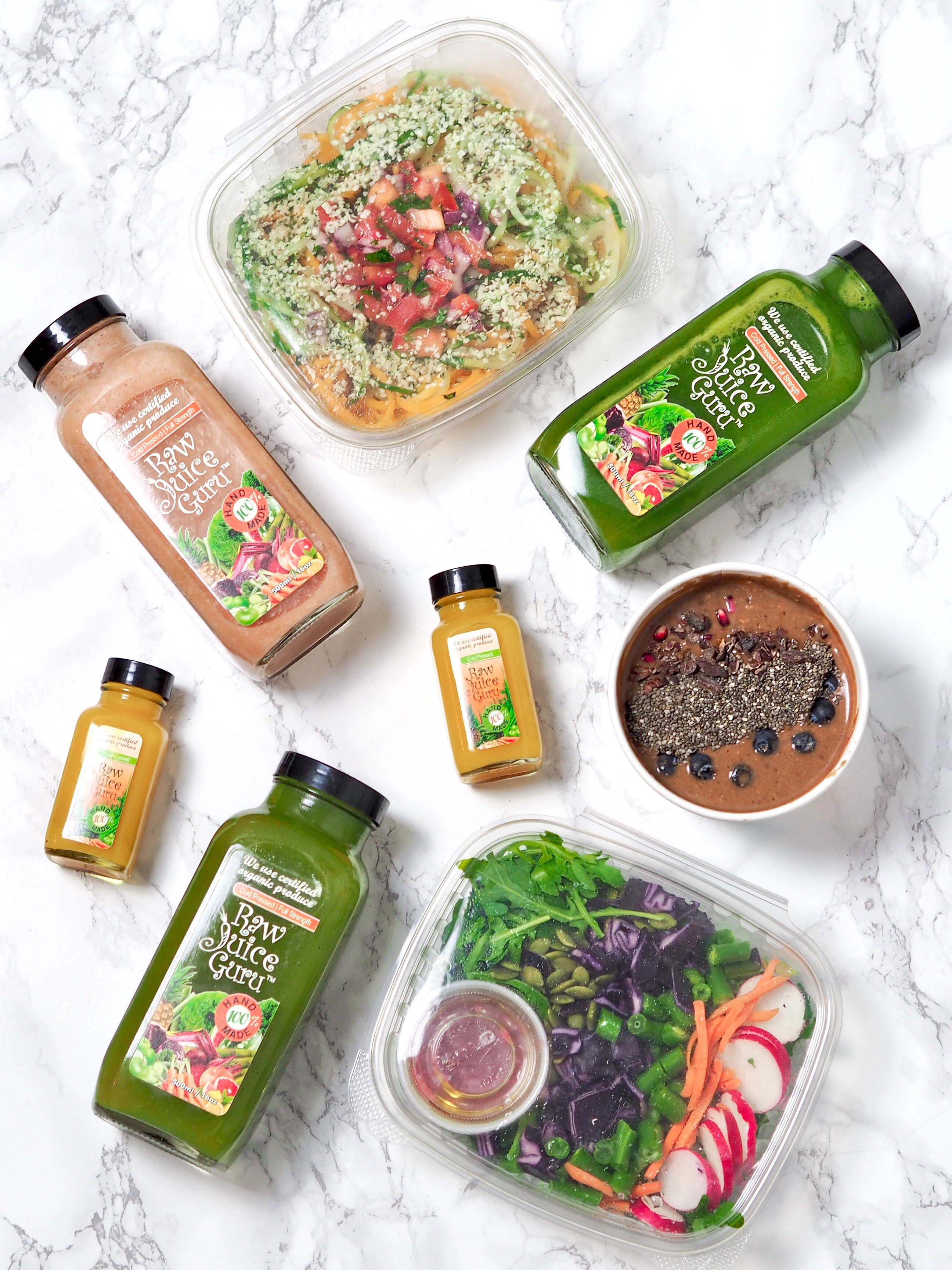 Day 1:
Smoothie Bowl – Sunwarrior Chocolate Protein, Raw Cacao, Hazelnuts, Banana, Coconut Milk, Sea Salt
Juice 1: Cilantro, Kale, Parsley, Celery, Cucumber, Lemon, Romaine, Apple
Smoothie: Strawberry, Pineapple, Lemon, Maca, Vanilla Bean, Coconut Oil, Himalayan Salt
Lunch: Salad with arugula, red cabbage, green beans, pumpkin seeds and a raspberry vinaigrette
Juice 2: Turmeric, Lemon, Ginger, Pineapple
Juice 3: Kale, Spinach, Chard, Romaine, Watercress, Cucumber, Apple, Lemon, Ginger
Dinner: Butternut squash and cucumber pasta with tomato salsa and hemp seeds
Juice 4: Turmeric, Lemon, ginger, Pineapple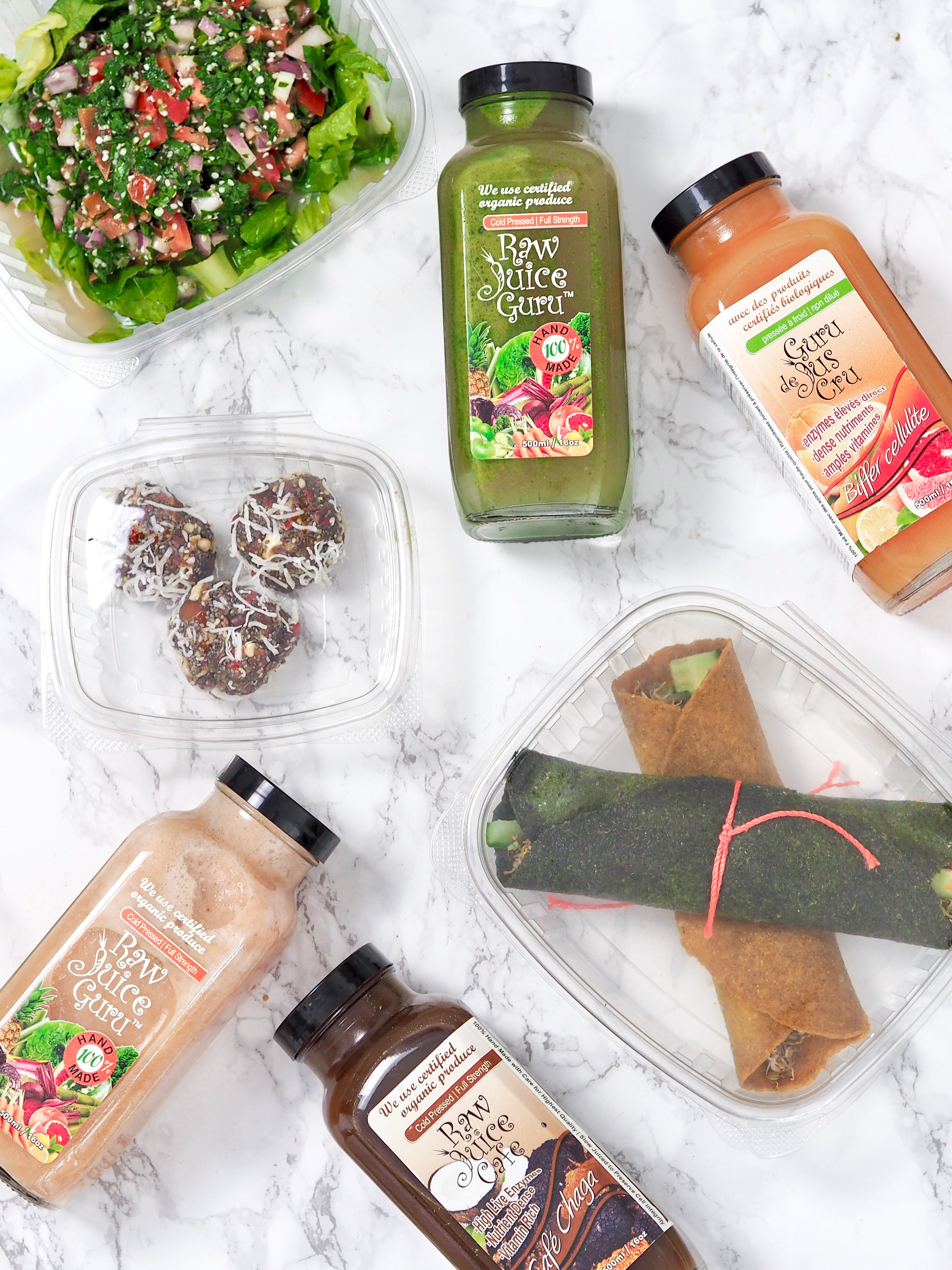 Day 2:
Juice 1: Cilantro, kale, parsley, chard, spinach, bok choy, celery, cucumber, lemon, romaine, apple
Juice 2: Cafe Chaga: Chaga mushroom, raw sugar cane juice, coconut milk
Lunch: Green wrap and turmeric wrap with sprouts, kale pesto, pepper, cucumber, avocado and alfalfa sprouts
Juice 3: Smoothie with strawberry, pineapple, lemon, Maca, vanilla bean, coconut oil himalayan salt
Snack: Power balls made with medjool dates, goji berries, chia seeds and cashews
Juice 4: Grapefruit
Dinner: Fall in Kale salad with kale, cranberries, avocado, hemp seeds, lemon and olive oil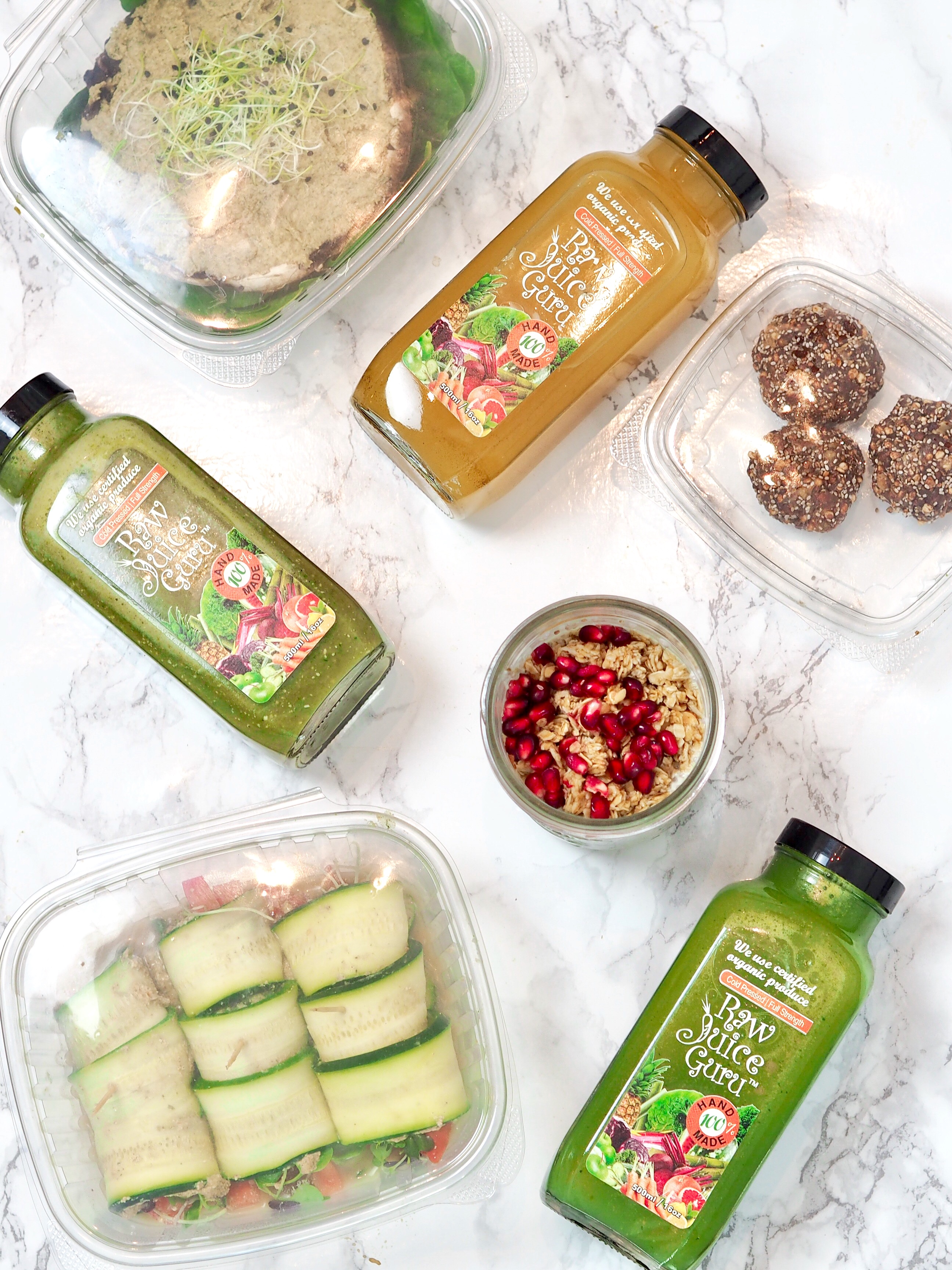 Day 3:
Breakfast: Chia pudding in a mason jar with chia seeds, matcha, coconut milk and granola
Juice 1: Parsley, kale, pea sprouts, sunflower sprouts, cucumber, celery, lemon, apple, ginger
Juice 2: Smoothie with coconut water, hemp seeds, vanilla sunwarrior protein, banana and spinach
Lunch: Zuchini cannaloni: Zuchini stuffed with pumplin cheese pate, tomato and mixed sprouts
Snack: Sweet and salty chocolate energy balls with medjool dates, walnuts, cinnamon, raw cacao, quinoa, raw almond butter and himalayan salt.
Juice 3: Honeydew and cantaloupe
Dinner: Portobello mushrooms stuffed with mock tuna (walnuts, sunflower seeds, celery, green onion, lemon and dill) with spinach and mixed sprouts.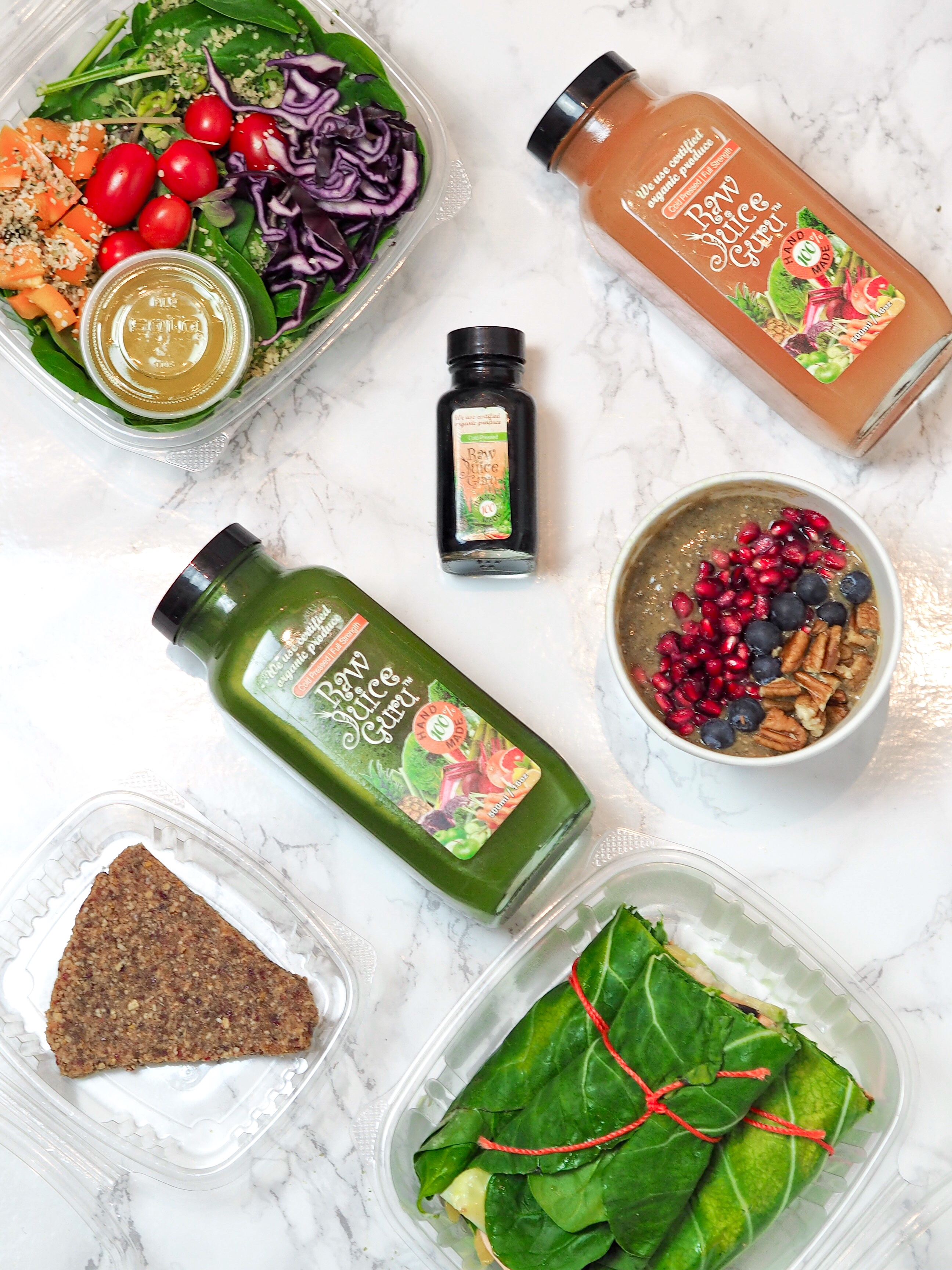 Day 4: 
Smoothie Bowl: Strawberry, banana, mango, maca, chia seeds, green food mix (alfalfa, wheatgrass, oat grass, barley grass), topped with pecans, pomegranates and blueberries
Juice 1: Kale, romaine, watercress, chard, spinach, cucumber, lemon, apple
Juice 2: Pineapple, cranberry, celery, blueberry, coconut water, strawberry
Lunch: Collar wraps with portobello mushroom, cucumber, avocado, hummus, spinach and sweet potato
Snack: Raw scone made with medjool dates, gluten free oats, walnuts, cranberries and orange zest
Dinner: Salad with spinach, pepper, sprouts, cabbage, hemp seeds, olive oil and apple cider vinaigrette.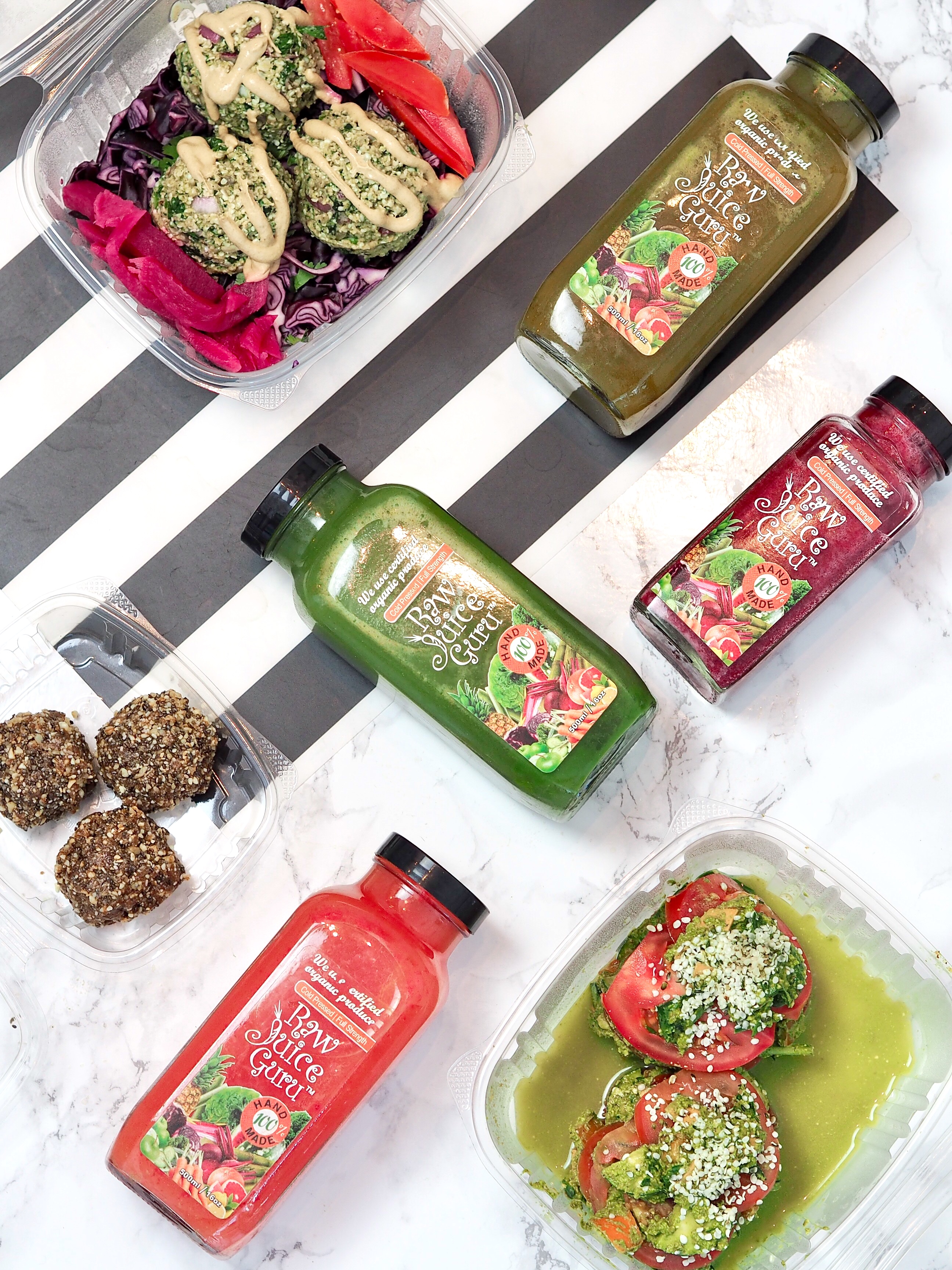 Day 5:
Juice 1: Kale, spinach, green cabbage, broccoli, parsley, cucumber, celery, lemon, apple
Juice 2: Carrot, turmeric, apple, lemon, spinach, parsley
Lunch: The Zuc falafel balls with cabbage, turnip, tomato and a tahiti dijon sauce
Juice 3: Watermelon, lemon
Snack: Walnut energy balls
Juice 4: Smoothie with berries, berries and more berries! If it's a berry it was in this smoothie!
Dinner: Tomato stack with a filling made of pistachios, spinach, sweet potato, carrot, basil, olive oil, zucchini, yellow pepper, and hemp seeds.
Doesn't that sound like a yummy 5 days? Who could have thought a cleanse could taste this good!
So What did I Learn after 5 Days of Raw Food Cleansing?
I learned that my body was absolutely loving eating this way! Although some people get quite sluggish in the beginning when they're detoxing I didn't get that at all, I wasn't hungry and I found it so easy to stick to the program. The only downside I had was I had a headache the first night which carried into the 2nd morning. After that the headache was gone and I had NO negative symptoms. From there on out I felt on top of the world. Even though I was constantly either eating or drinking something (I mean just look at all the tasty things I got to consume each day) I felt lighter, my digestion was working great, I was going a lot more regularly (you knew that was bound to come up on a post about a cleanse!), and I was sleeping great! A couple days in and I was waking up feeling much more energized in the morning even without my coffee, and I just felt GOOD. I felt healthy, I felt lighter, and I felt HAPPIER. It's amazing what doing good for your body does to your mind, you just feel great.
If you live in the Toronto area and want to try your own Raw Food Cleanse/Artisan90 Program with Raw Juice Guru, send them an email and mention my name for 10% off your program!
Have you ever tried a raw food cleanse? Would love to hear your experiences in the comments below!
xoxo