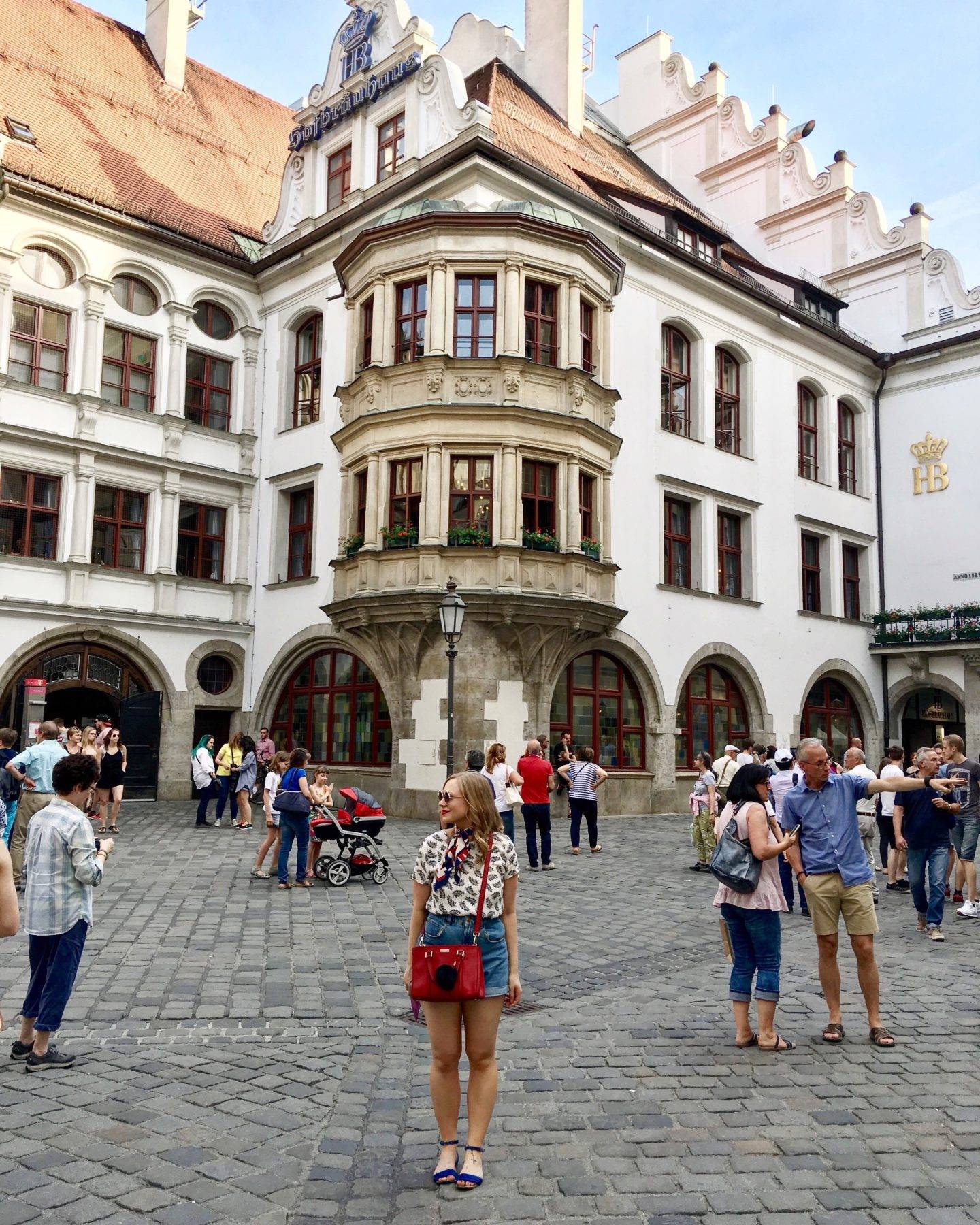 As many of you already know I just got back last week from an amazing trip to Europe with my family. In the span of 2.5 weeks we visited 5 different cities, we immersed ourselves in their culture, saw all the sights we could, tried as many different authentic dishes as possible, and enjoyed plenty of treats and glasses of wine along the way. I had an amazing time and while I'm no expert, I wanted to share with you some suggestions for what to see, do, eat and drink while in each of these 5 cities based on my experience this trip!
The first stop of our trip was Munich, Germany. I hadn't been to Germany since I was just a baby, and so I was really excited to finally get to experience a culture that makes up half of my background. The city was beautiful, the breads, sausages, and beer were abundant, and it was a great start to my European adventure!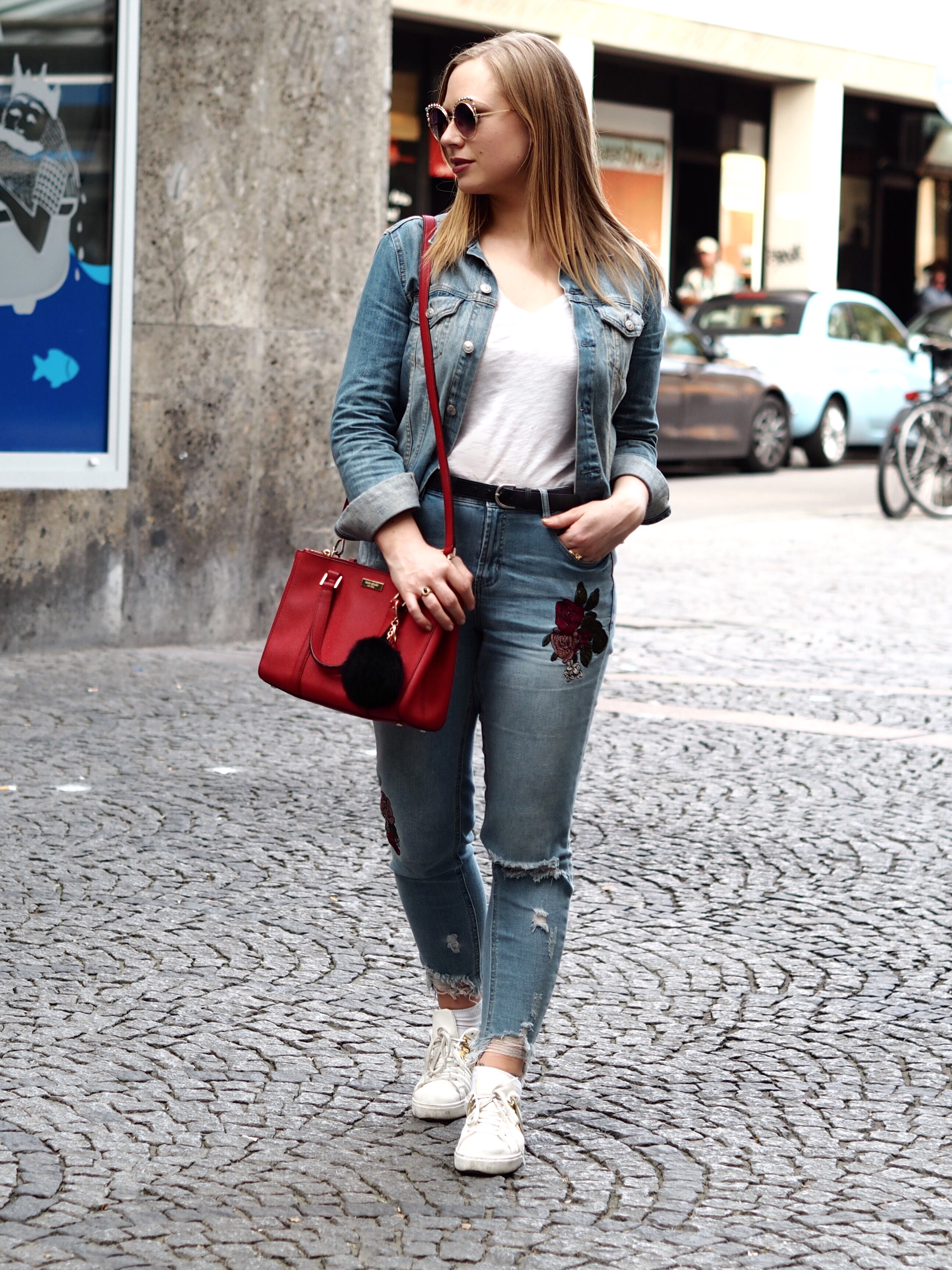 Like a true Canadian, I arrived in Munich in my Canadian Tuxedo
Denim Jacket – H&M // T-shirt – Garage // Jeans – Urban Planet // Sneakers – Topshop (Similar Here) // Sunglasses – Aldo (On sale for $5.99!) // Bag – Kate Spade
And thank God for sunglasses because after getting a measly 1.5 hour sleep on the plane, I was feeling less than rested to put it lightly.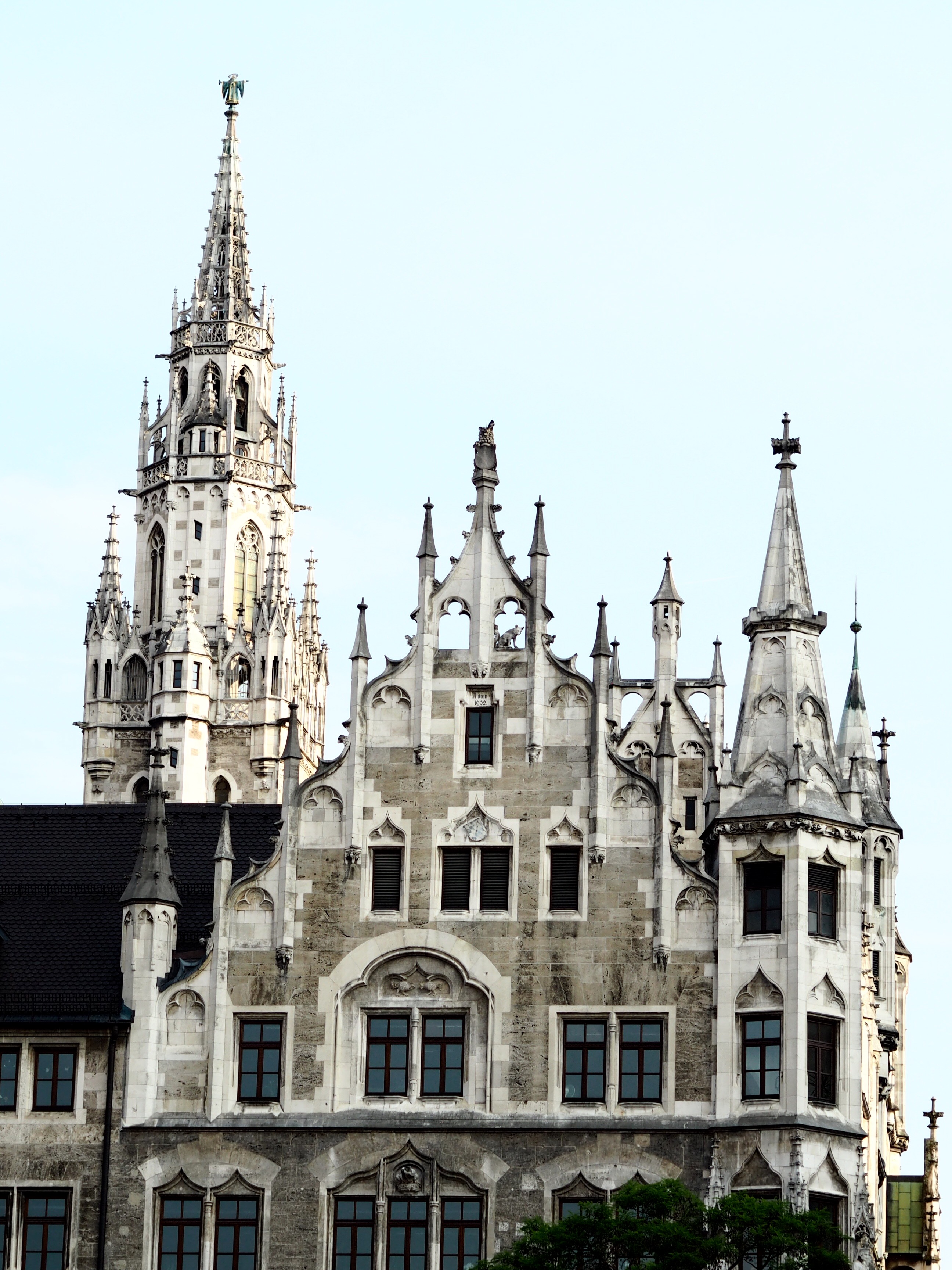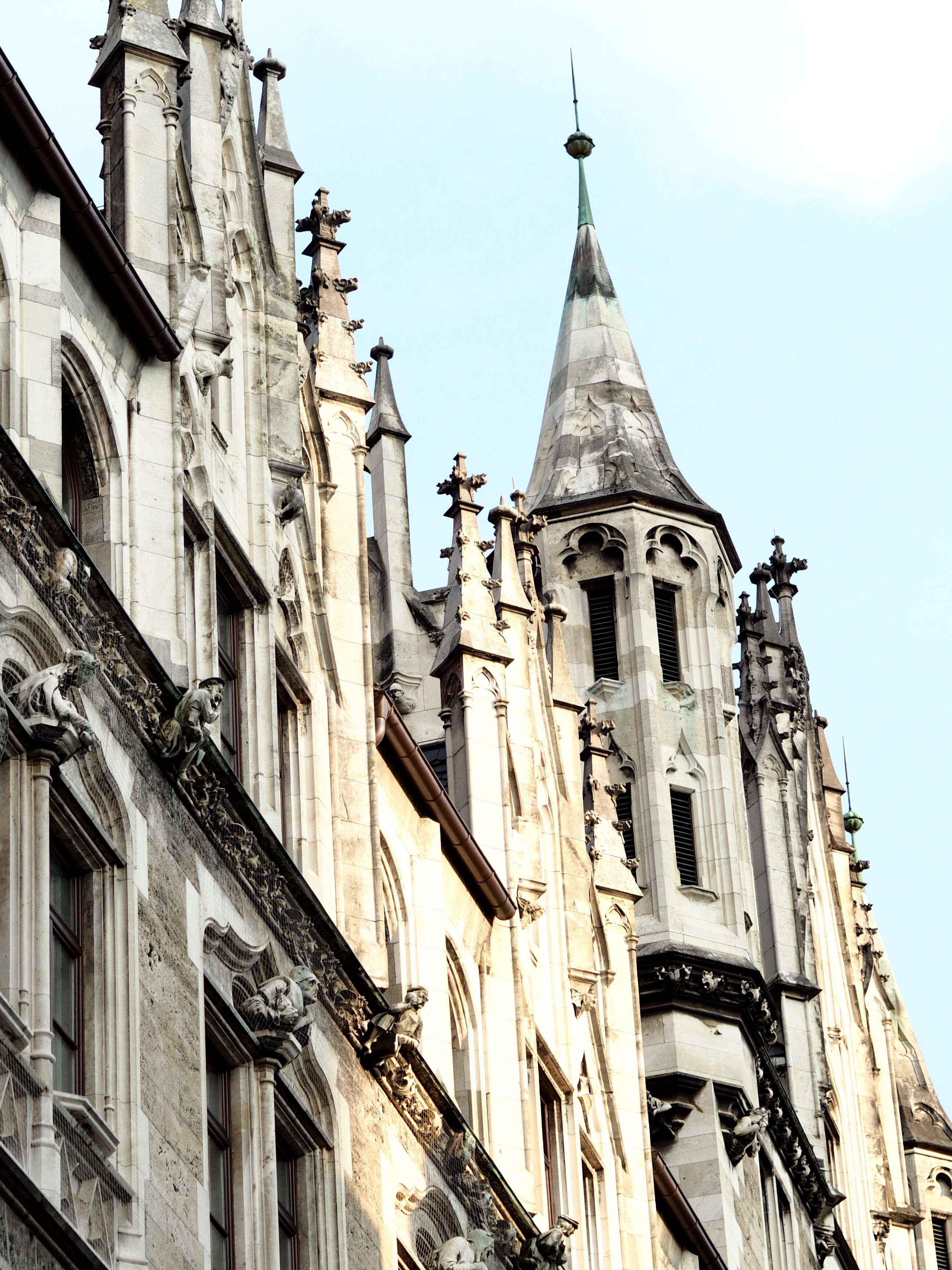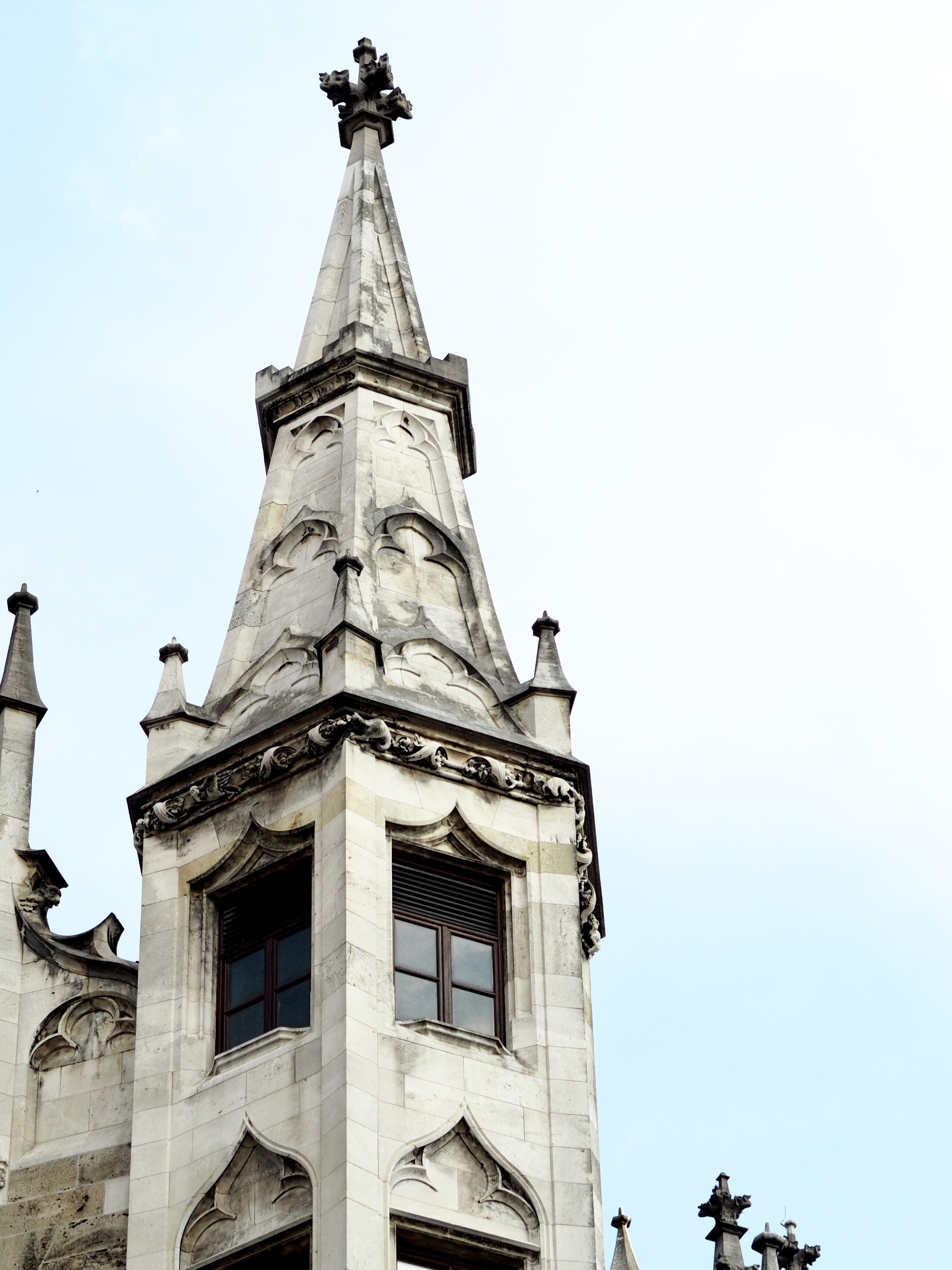 Where to Go : Marienplatz
Marienplatz has been the city of Munich's main square since 1158 and is a major hub and tourist central. There is lots to see, do, and eat around this area including visiting both the new and old Town Halls of Munich, St. Peter's Church, and of course numerous restaurants and beer halls. If you want to avoid huge crowds go early in the morning or late at night! Munich it seems (like Vegas) is also a major destination for stags and stagettes, and you're certain to see all sorts of groups frolicking around Marienplatz in the most interesting of outfits.. we certainly did!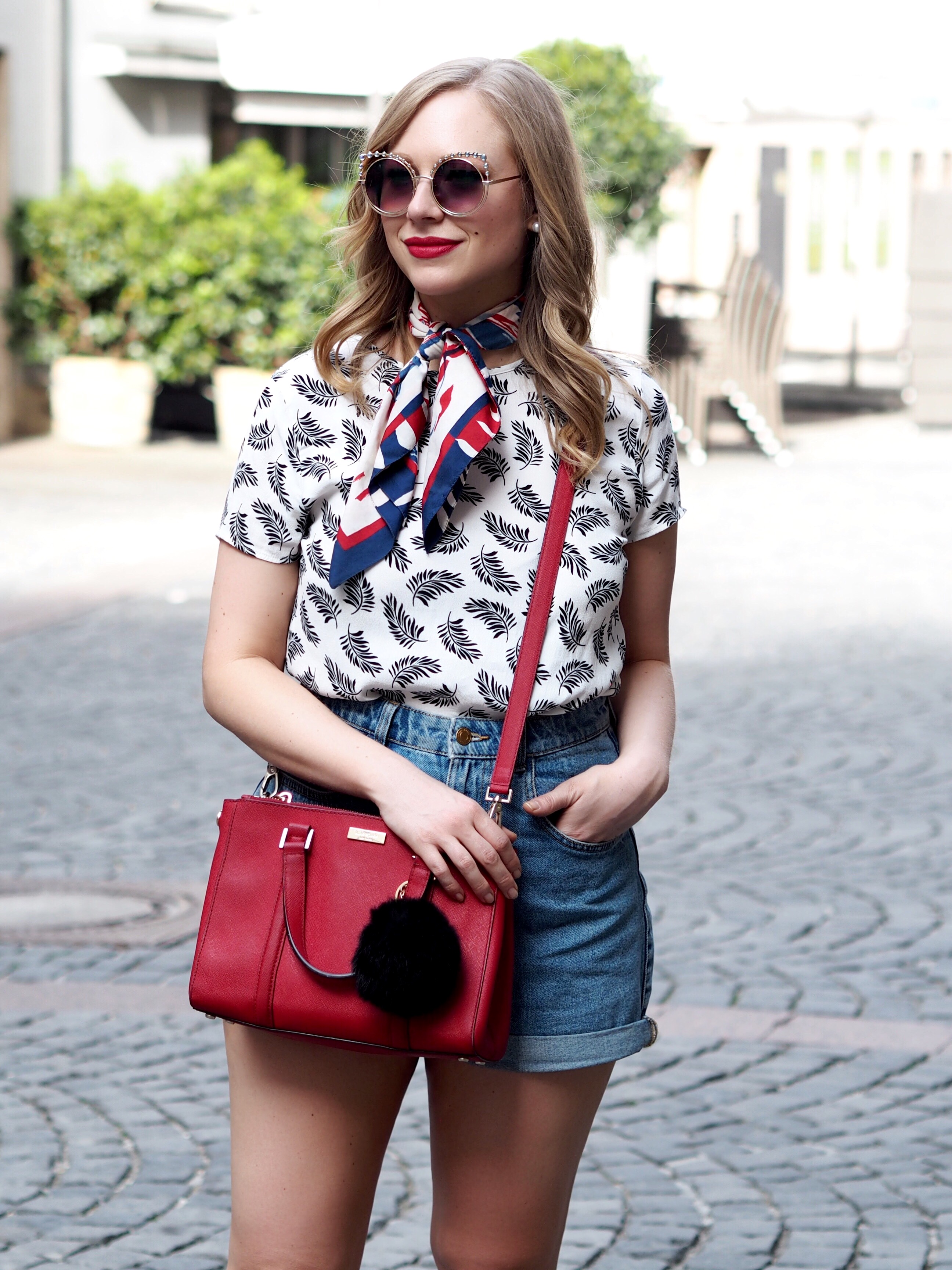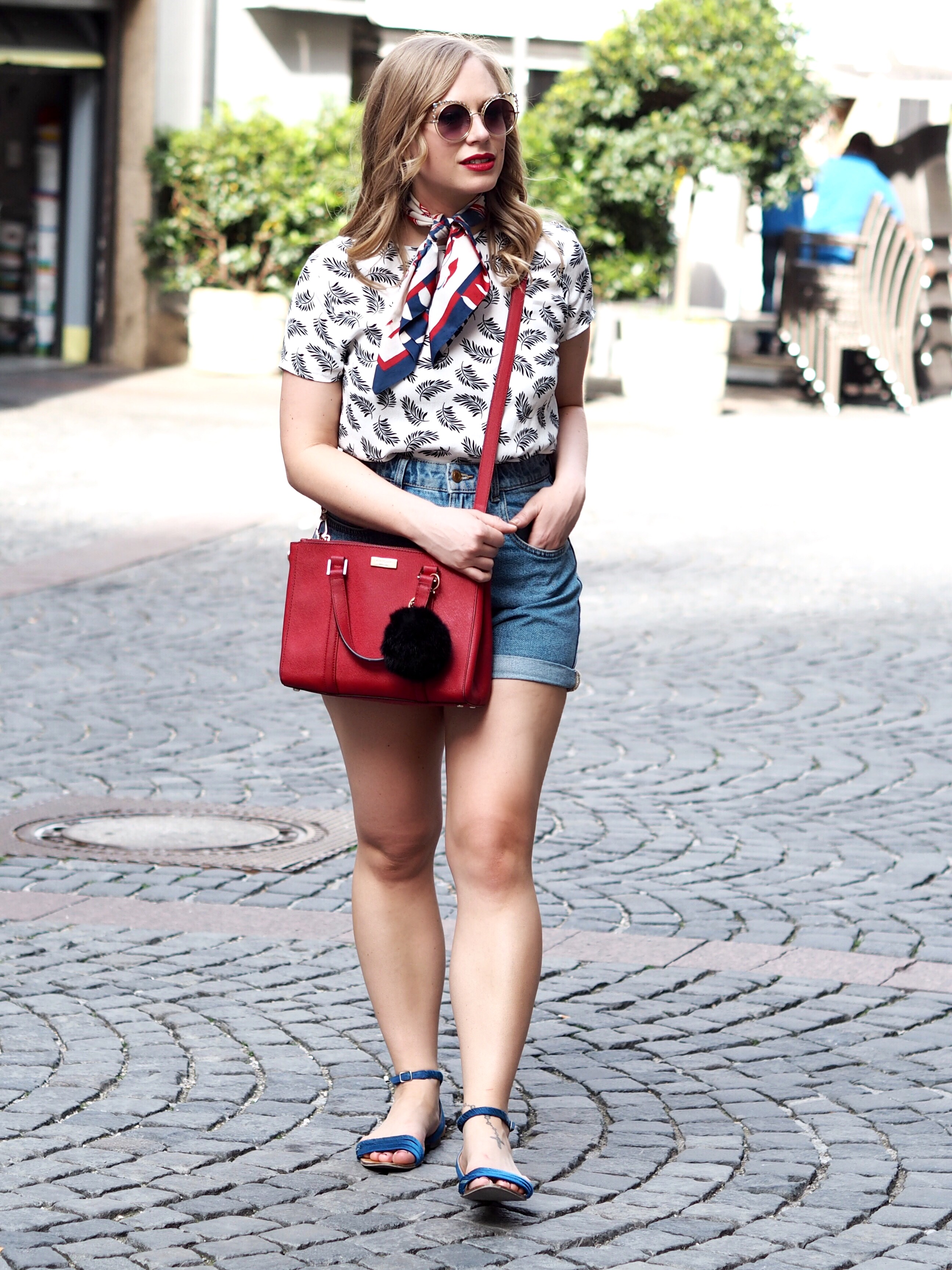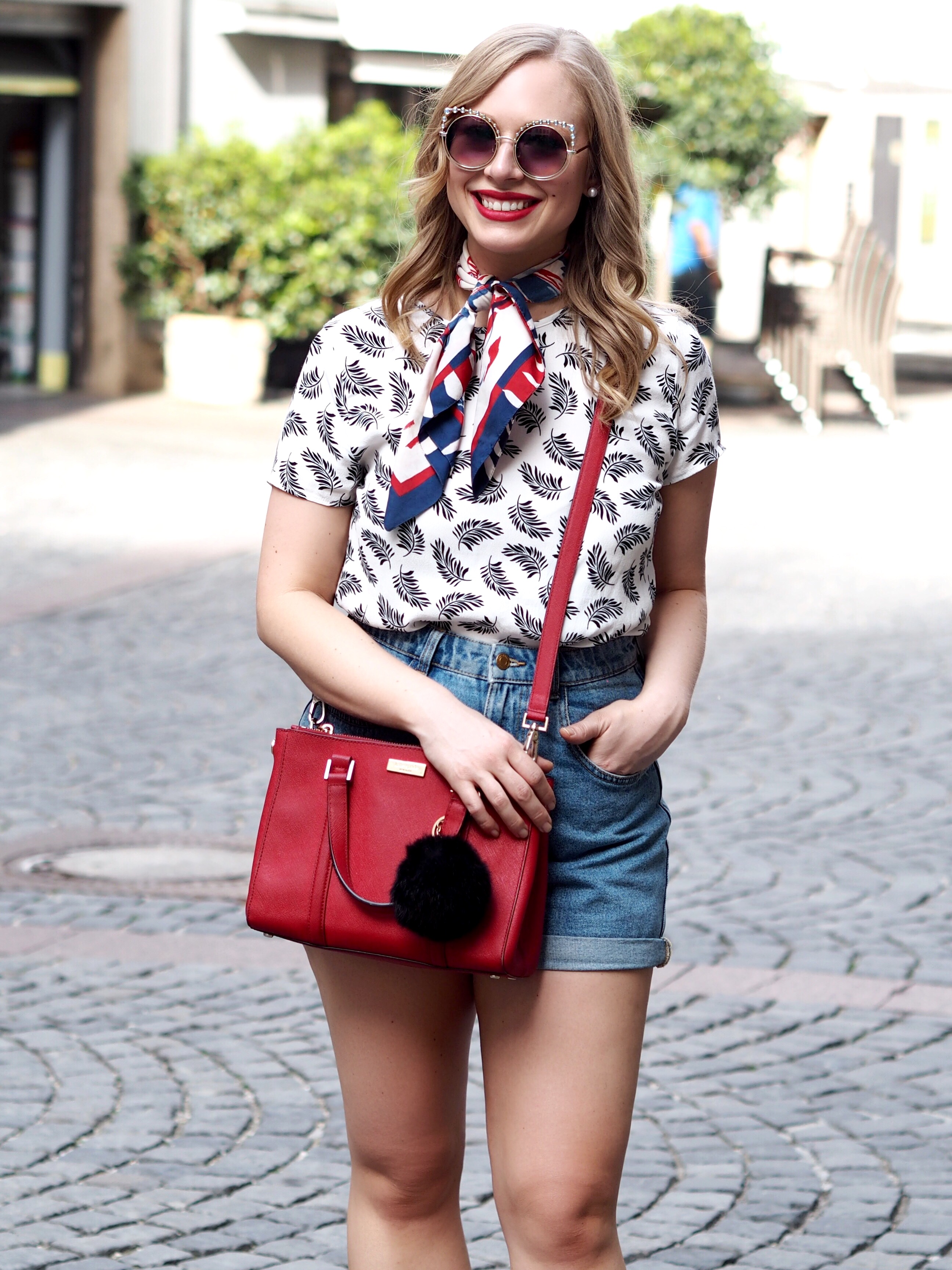 What I Wore: Day 1 in Munich:
Top – H&M // Jean shorts – Zara // Silk Scarf – Vintage // Sandals – Zara // Bag – Kate Spade // Sunglasses – Aldo (On sale now for $5.99!)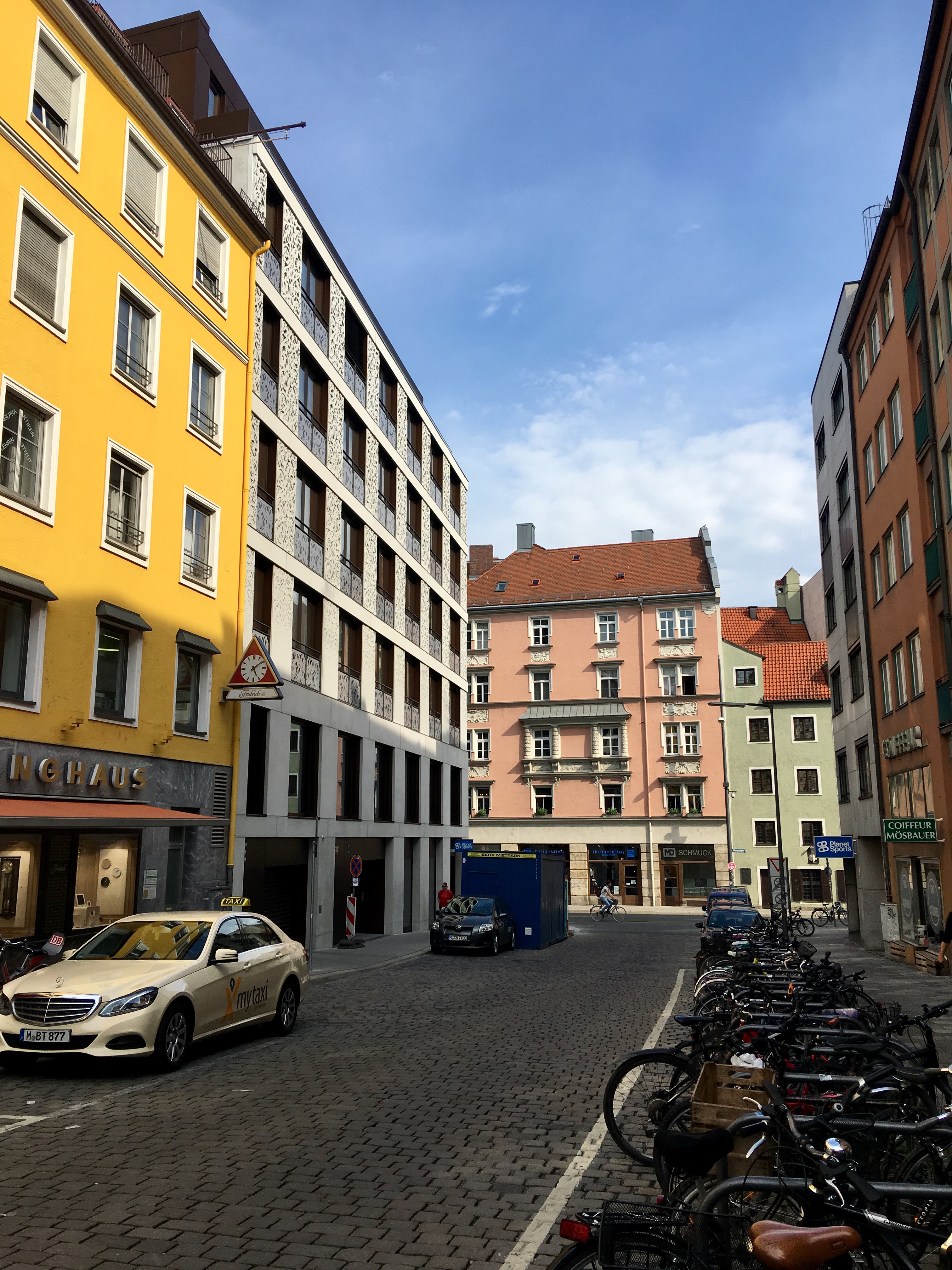 I fell in love with the pastel buildings in Munich, and can you blame me?
I'm still trying to figure out why we don't have pink buildings like this in Toronto.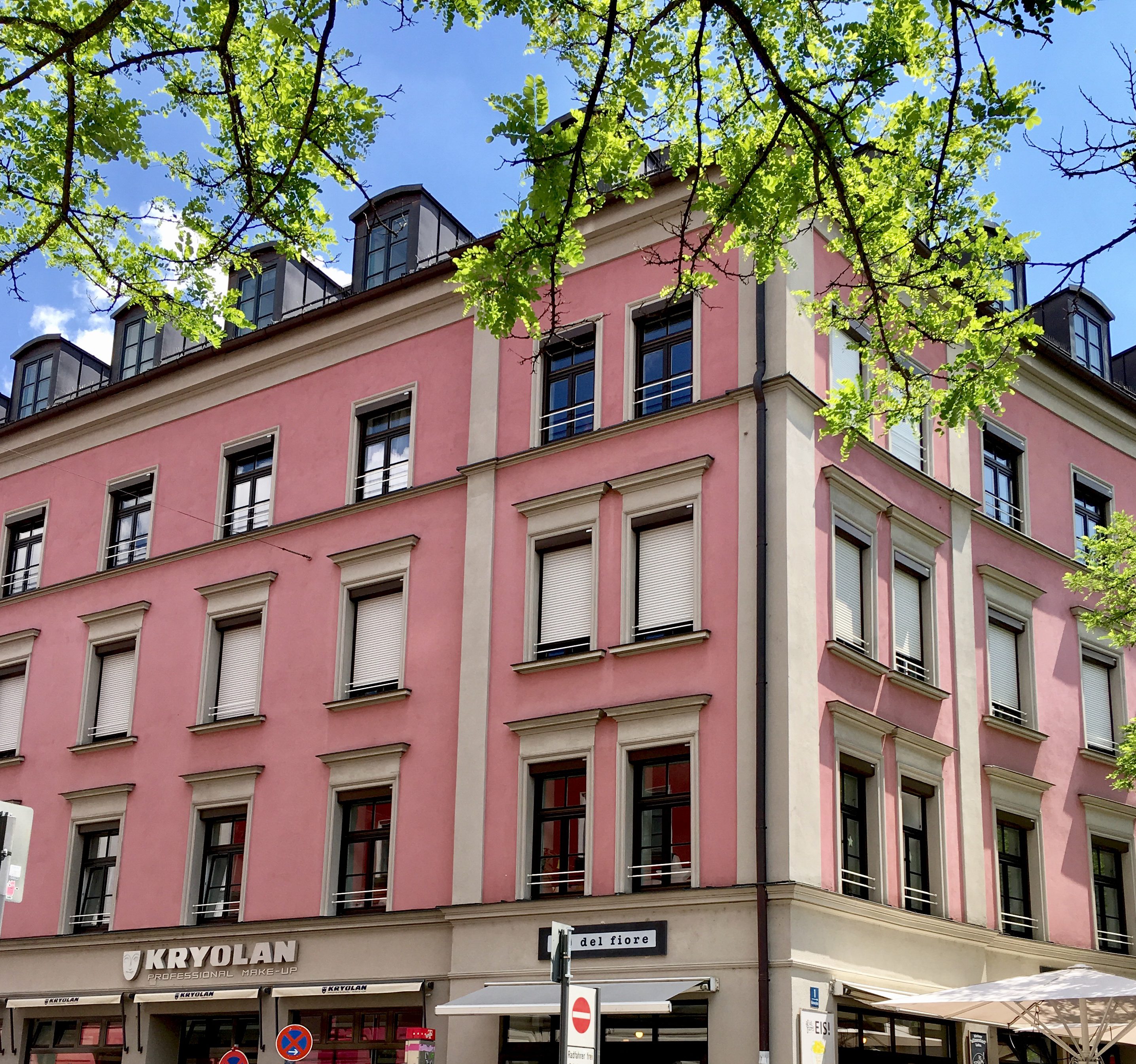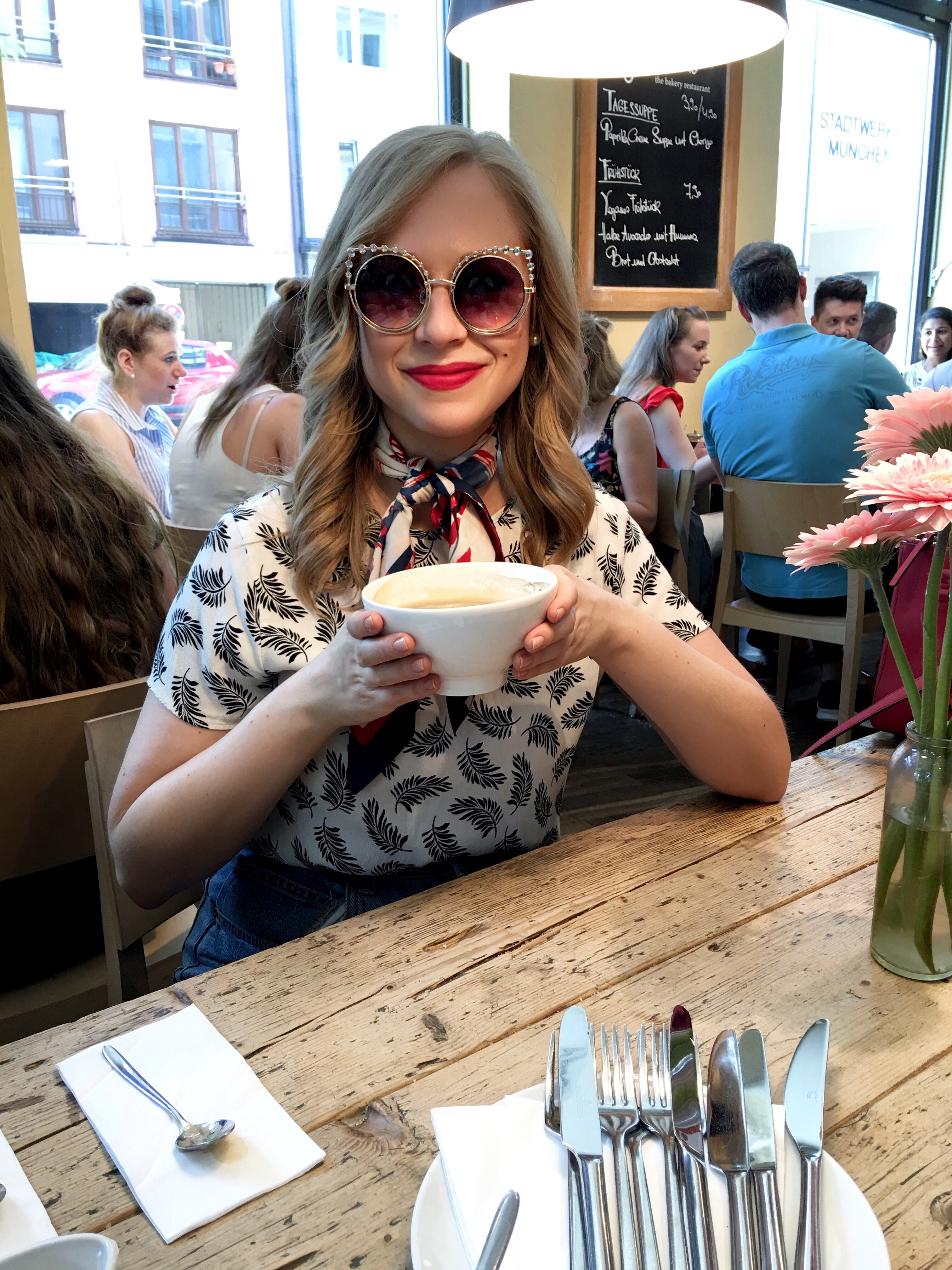 Where to Brunch: Cotidiano in Gartnerplatz
This quickly became our go-to spot not only for brunch, but also for afternoon coffees and pastries. It was a great little spot with excellent options for breakfast & brunch that touched both on local fare, and more traditional north american style breakfasts. My absolute favorite was the scrambled eggs with Sopprasata and chili oil, served alongside a simple salad and with a bowl of fresh fruit. Even more notable: their coffee cups were the size of soup bowls, which you know is right up my alley!
Speaking of food, what are some absolute must-try's while in Munich? You can't visit Munich without trying the fresh baked pretzels, Apfelstrudel (apple struddel!), Saurkraut, Sausages, and of course local Beer! 
What to See : Dachau Concentration Camp
If there is one thing that I had always been nervous to do, but knew was something I had to do it's visiting a concentration camp. Even though my family is half German, my dad's parents never supported the Nazi regime and were on the run and in hiding throughout World War 2. As difficult of a subject as it is to discuss, I think it's so important to not only pay your respects, but to take the time to really get a better understanding of what sort of atrocities these places were. It was an extremely eye opening experience. Skip the guided tour and pick up an audio guide to explore the camp at your own pace.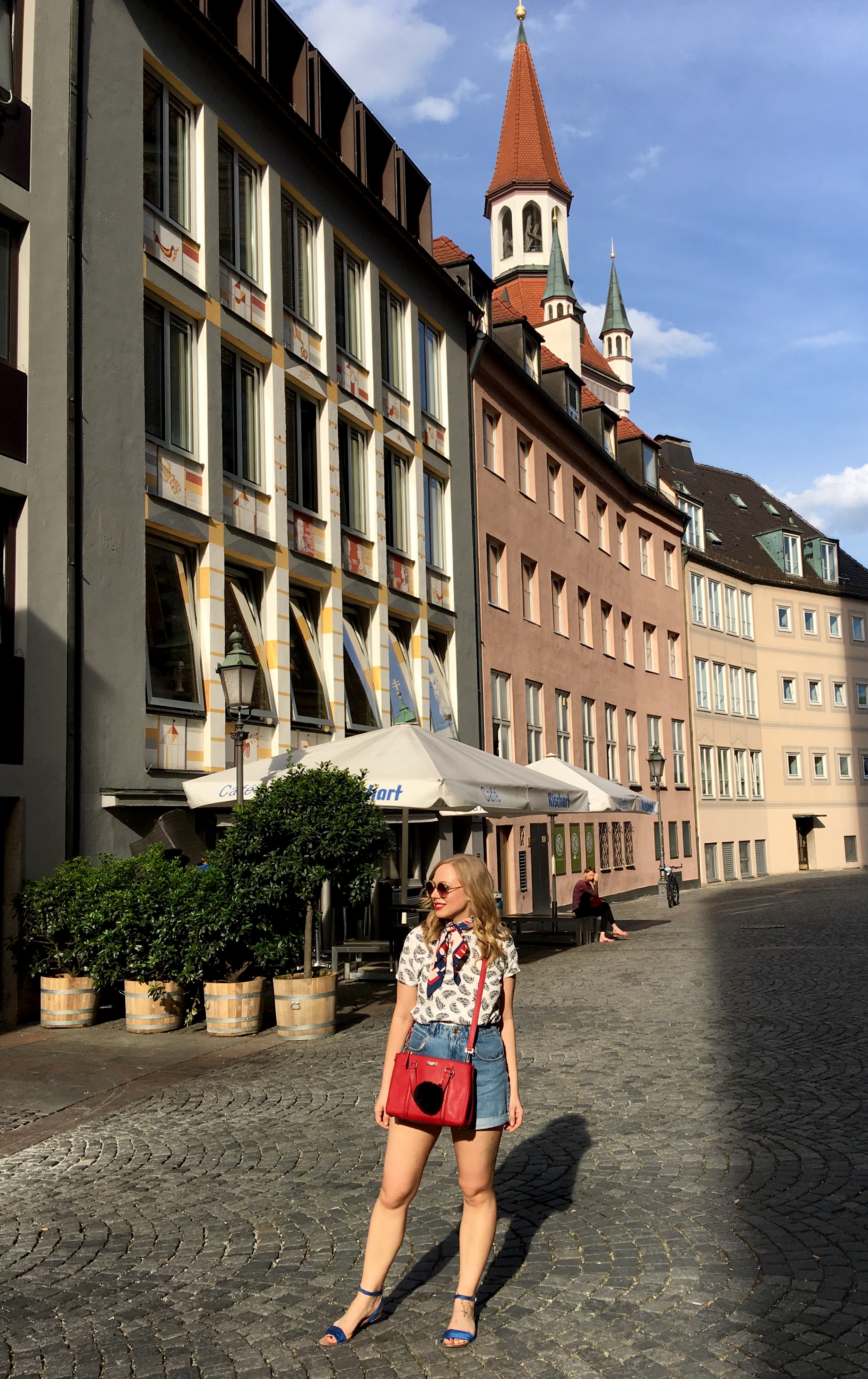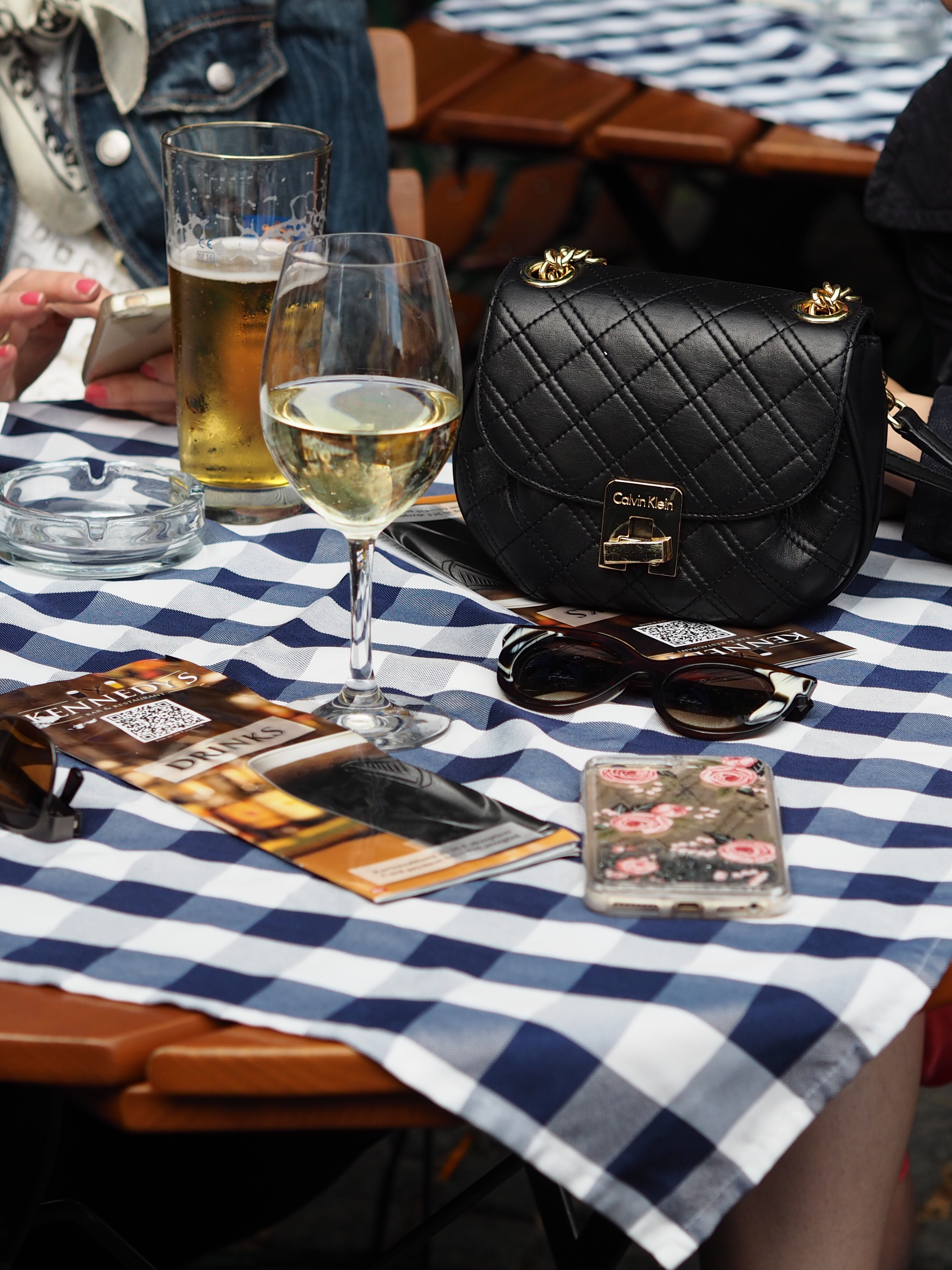 Where to Drink: Hofbräuhaus & Augustiner-Keller
My favourite part of each day (other than my morning coffee) was always stopping for a drink in the early afternoon after hours of wandering through the city. Even though I'm not a fan of beer, it's so important to experience some of the many traditional beer halls in Munich. Servers are all in the traditional german dirndl and lederhosen, fresh pretzels are on all the tables (just note that unlike the bread in North America, the pretzels aren't free and you pay for what you eat), the beer is flowing, and the experience really is like no other. The wine is also never very expensive, so even if you don't drink beer you'll enjoy yourself. Two of the most notable beer halls we visited were Hofbräuhaus and Augustiner-Keller, which are landmark restaurants known for their massive beer gardens & halls, and their traditional Bavarian food.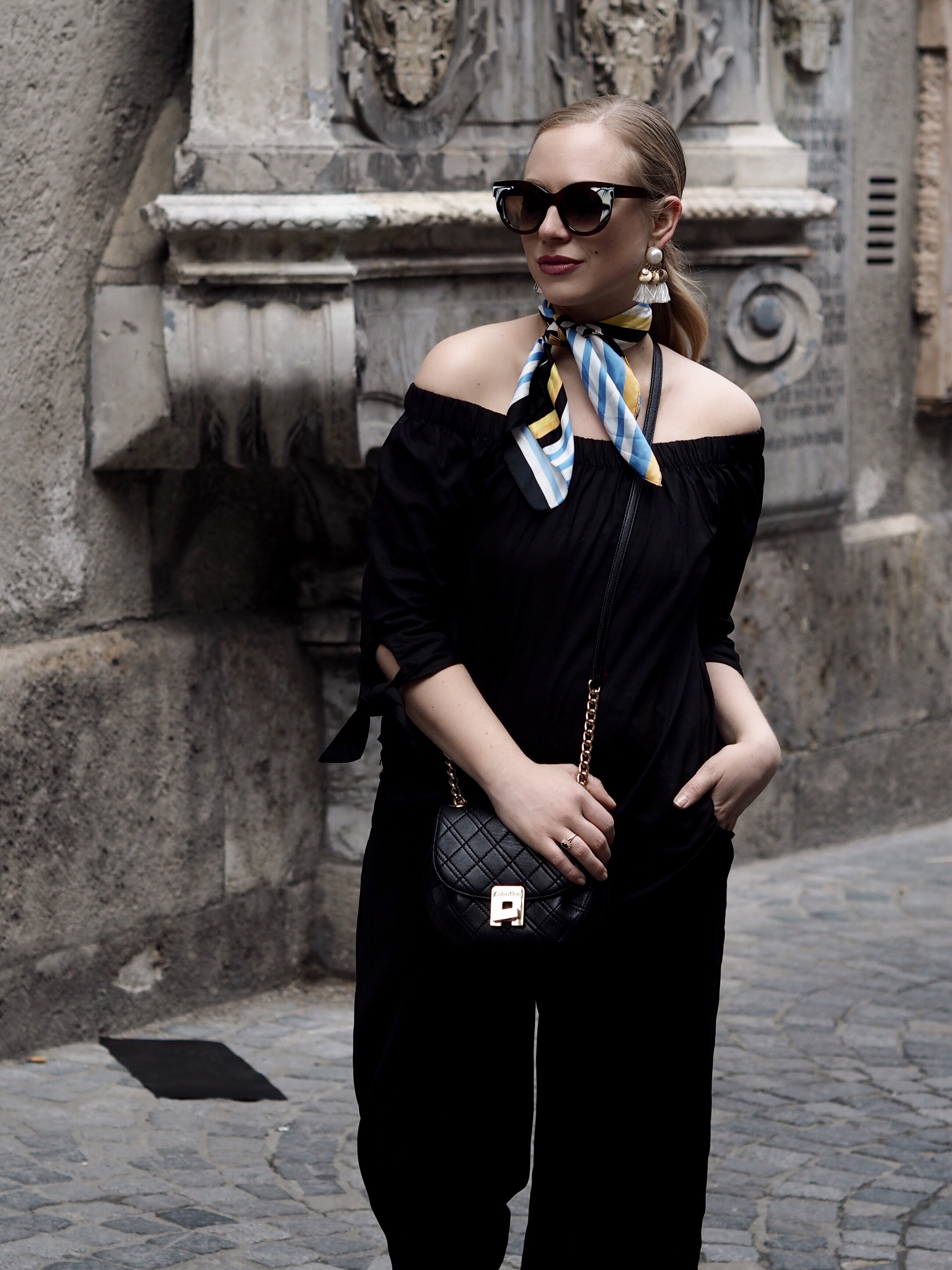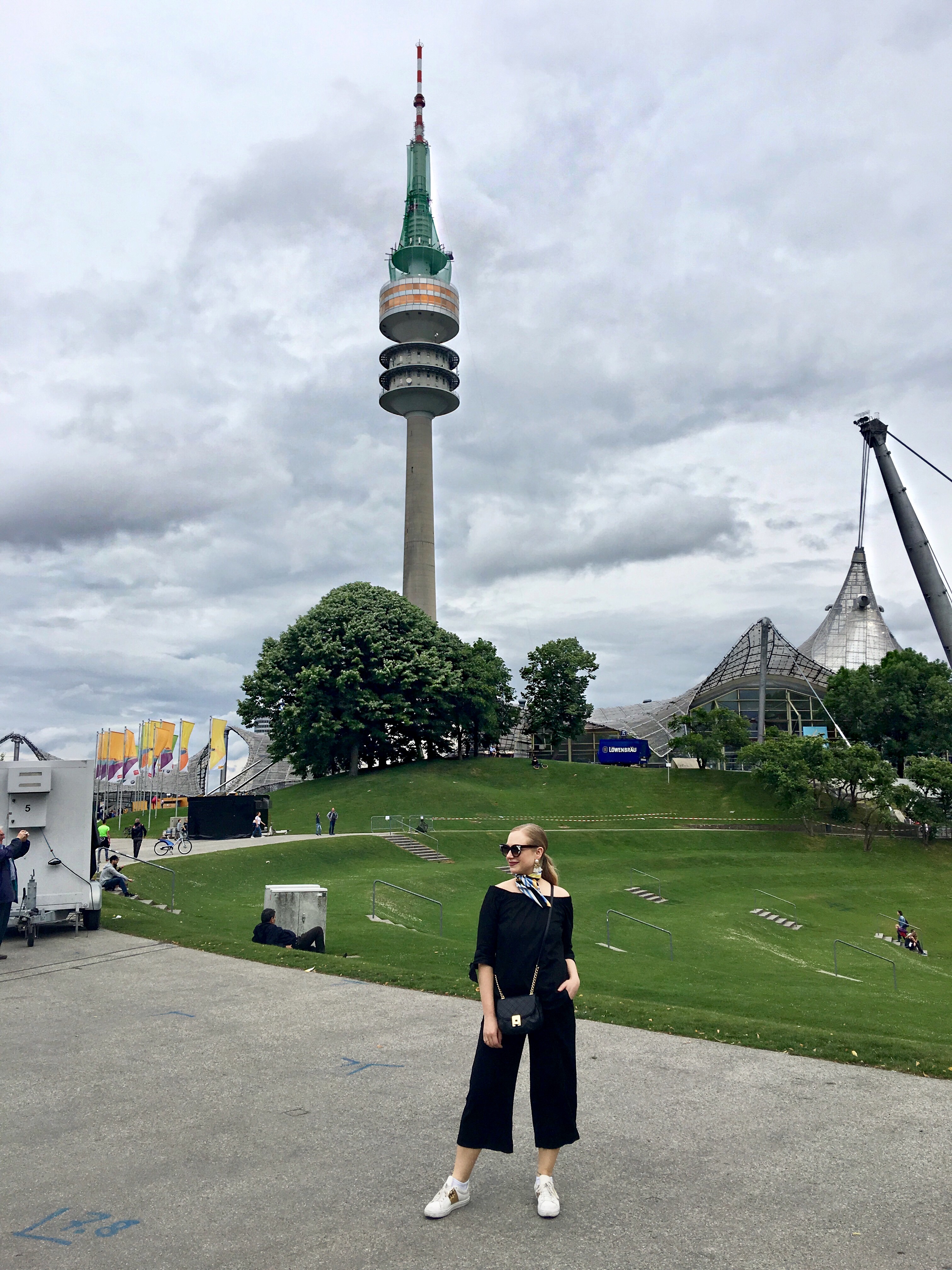 What to See: Olympiapark
If you need a break from the city and are looking for a little more greenery, the Olympic Park is the perfect place to head to. This park was constructed for the 1972 Summer Olympics and today, the park continues to be used as a venue for cultural, social and religious events. Bonus points if you like cars because there's a BMW Museum right on the grounds. And if you're not into cars like me, they have wifi so sit down, have a coffee and catch up on some emails (or youtube videos).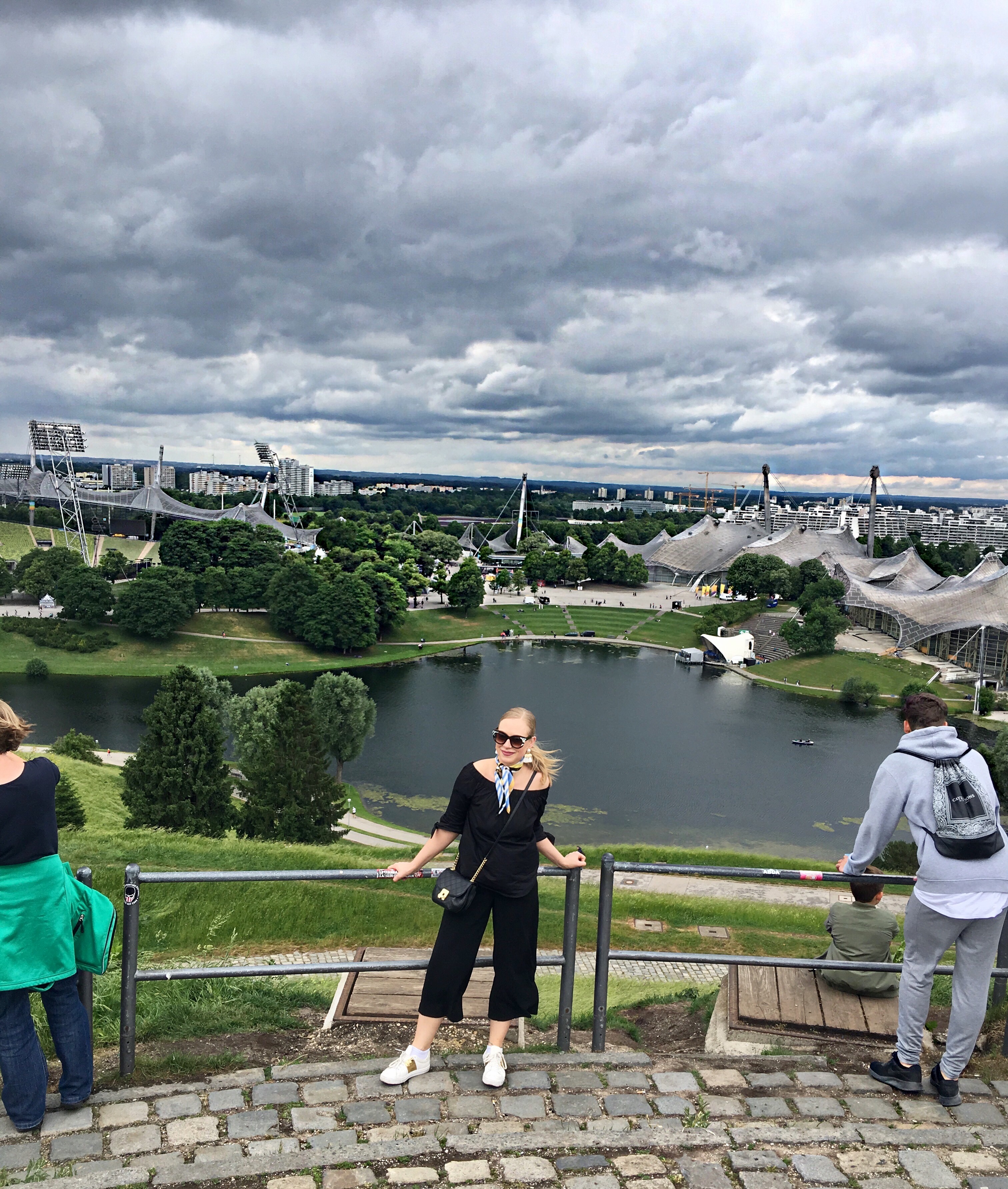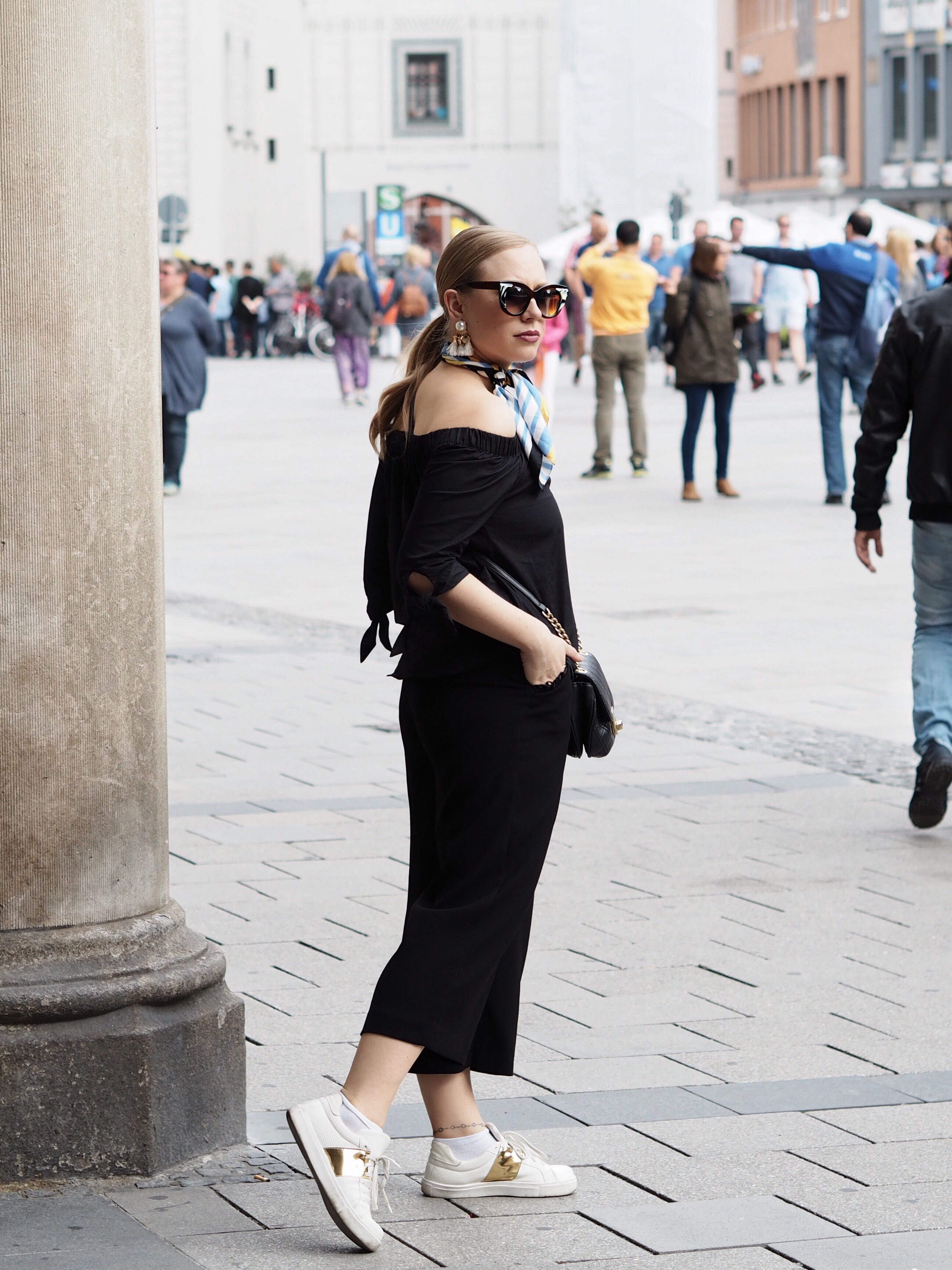 What I Wore Day 2 in Munich:
Culottes – H&M // Top – Urban Planet // Sneakers – Topshop (Similar Here) // Neck Scarf – Zara // Earrings – H&M (Also love these) // Bag – Calvin Klein // Sunglasses – Thierry Lasry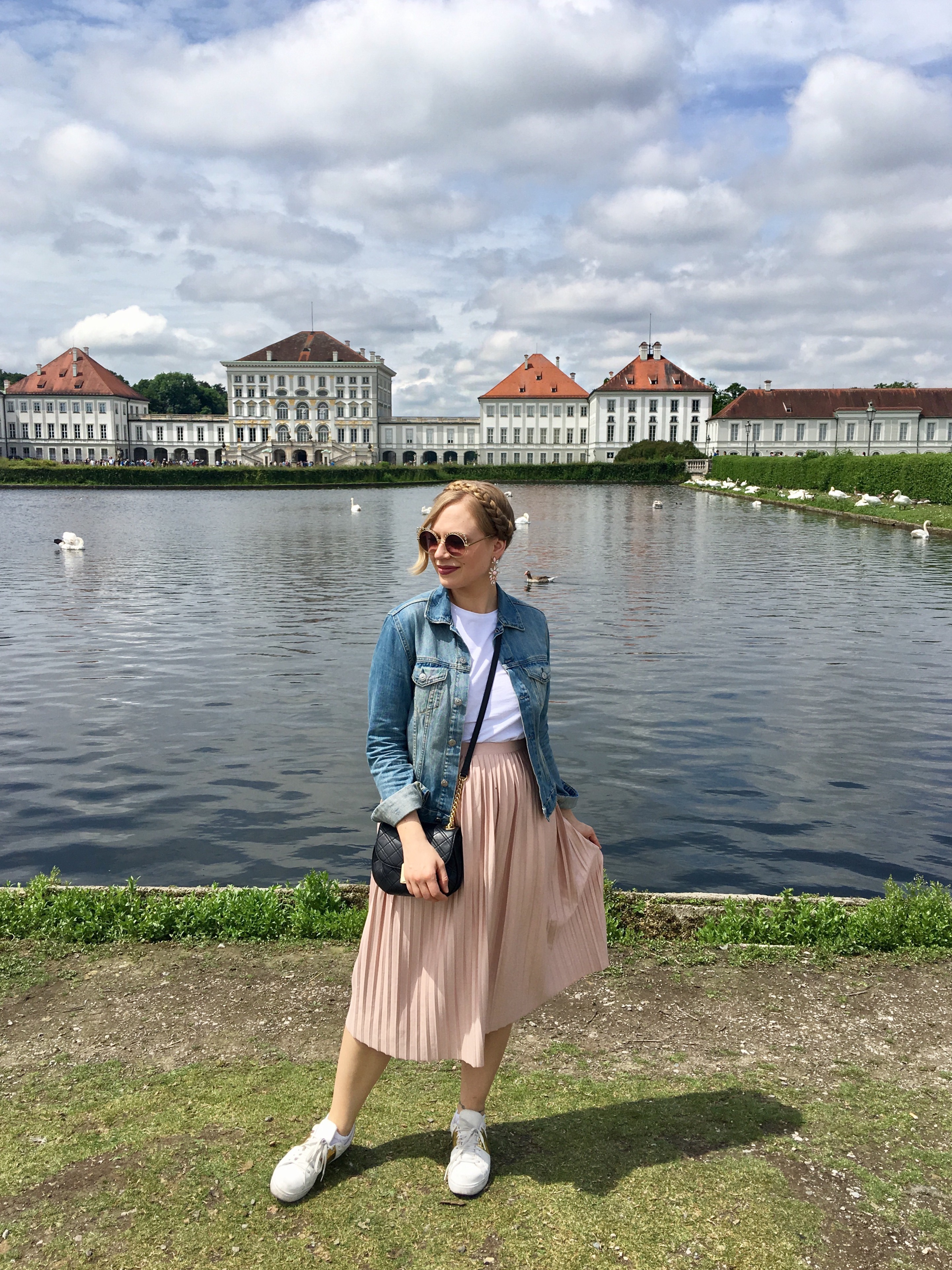 What to See: Schloss Nymphenburg (Nymphenburg Palace)
If there's one thing I always love checking out no matter the city, it's palaces and castles. I've been in love with fairy tales since I was a little girl, and I still find there's something so magical about them. From their stunning architecture, to the beautifully decorated interiors, and of course the pristinely kept gardens. I could spend hours exploring every palace I stumble upon! Nymphenburg Palace (Castle of the Nymph) is a beautiful Baroque palace in Munich, and was the main Summer residence of the former rulers of Bavaria of the House of Wittelsbach. For only 4.50 Euros you can explore the botanical gardens, which I highly recommend!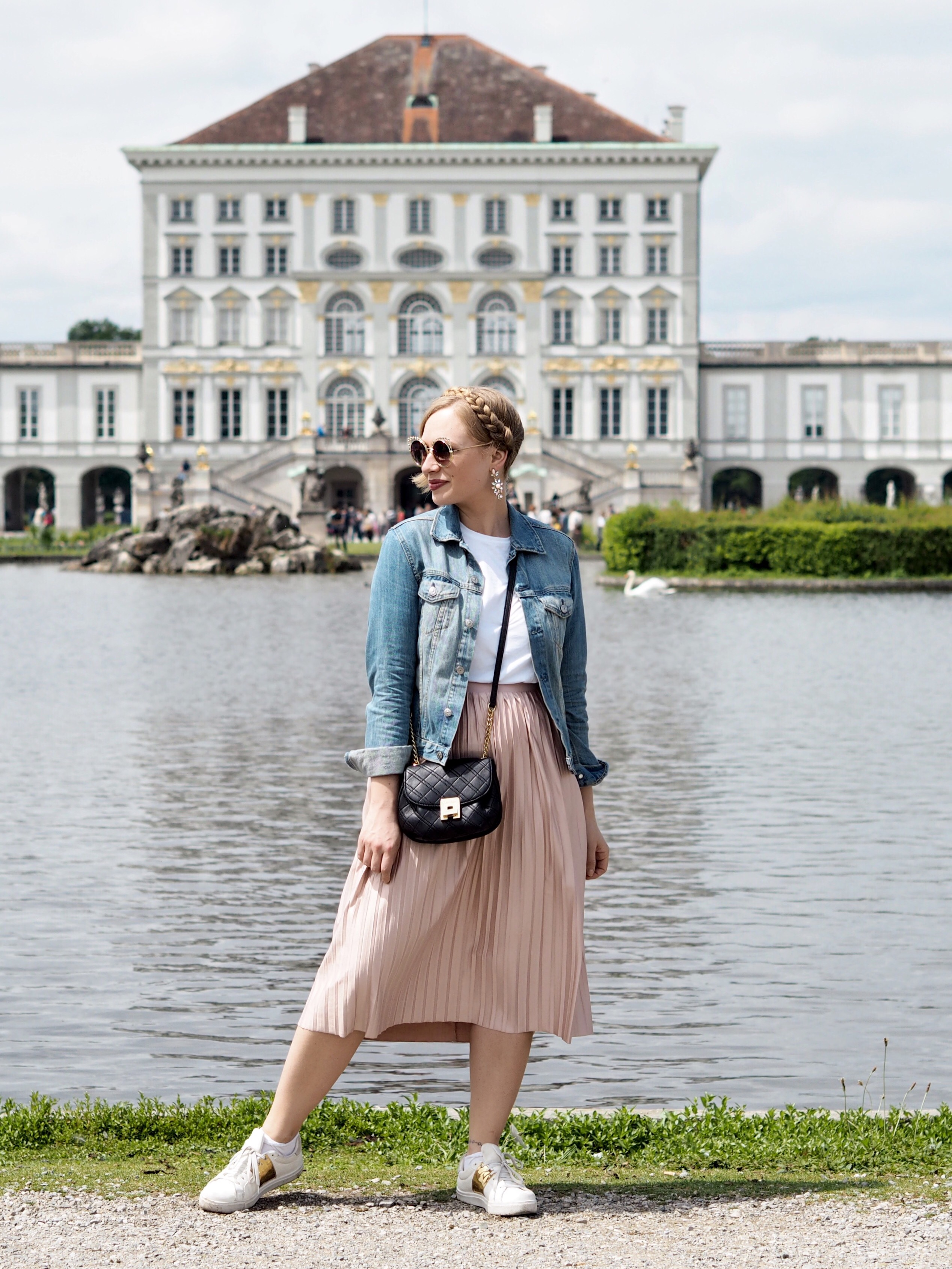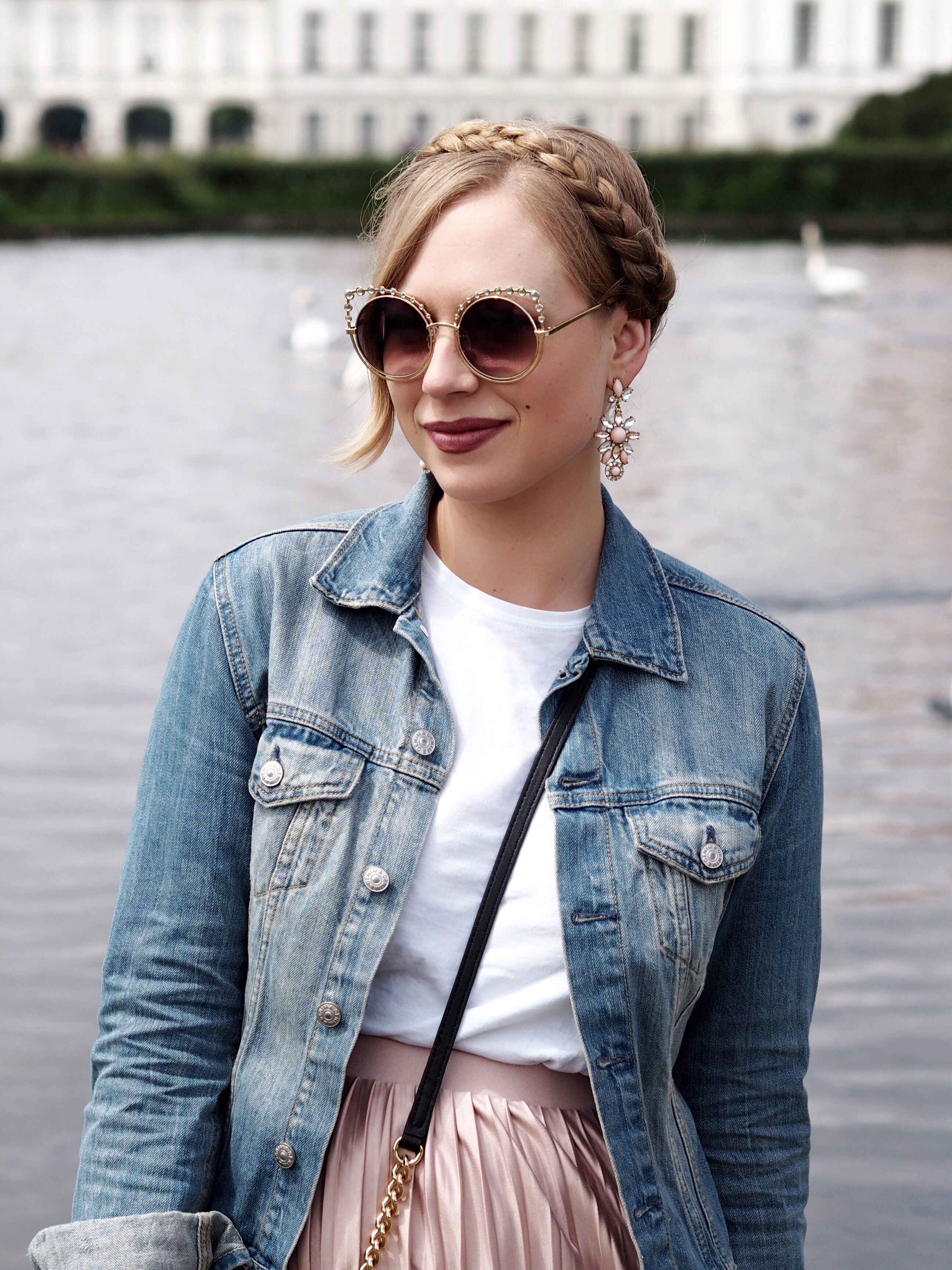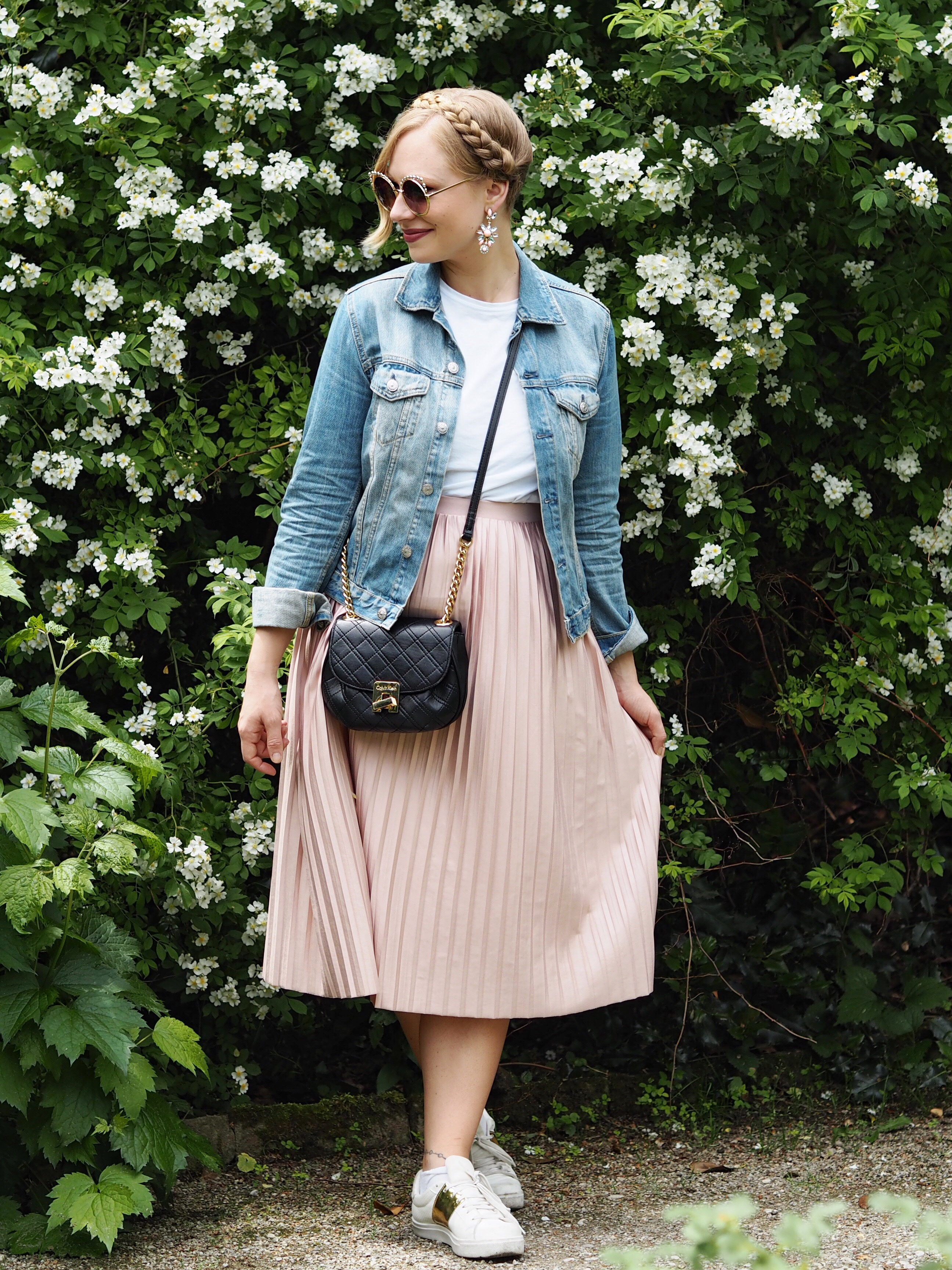 What I Wore Day 3 in Munich:
Skirt – Topshop (Old – Love this one)// T-shirt – Zara // Jean Jacket – H&M // Sunglasses – Aldo (On sale now for $5.99!) // Sneakers – Topshop (Similar Here) // Purse – Calvin Klein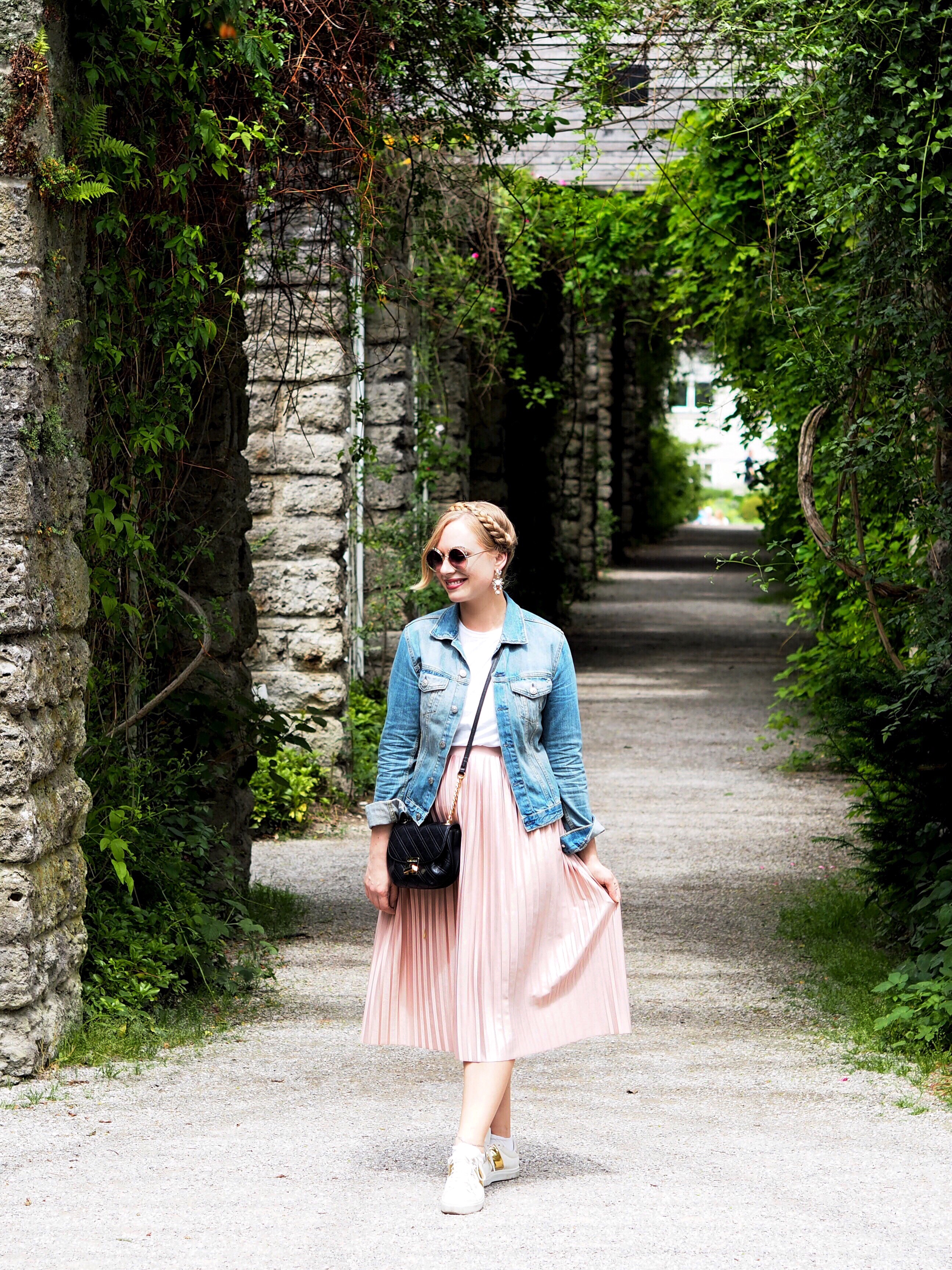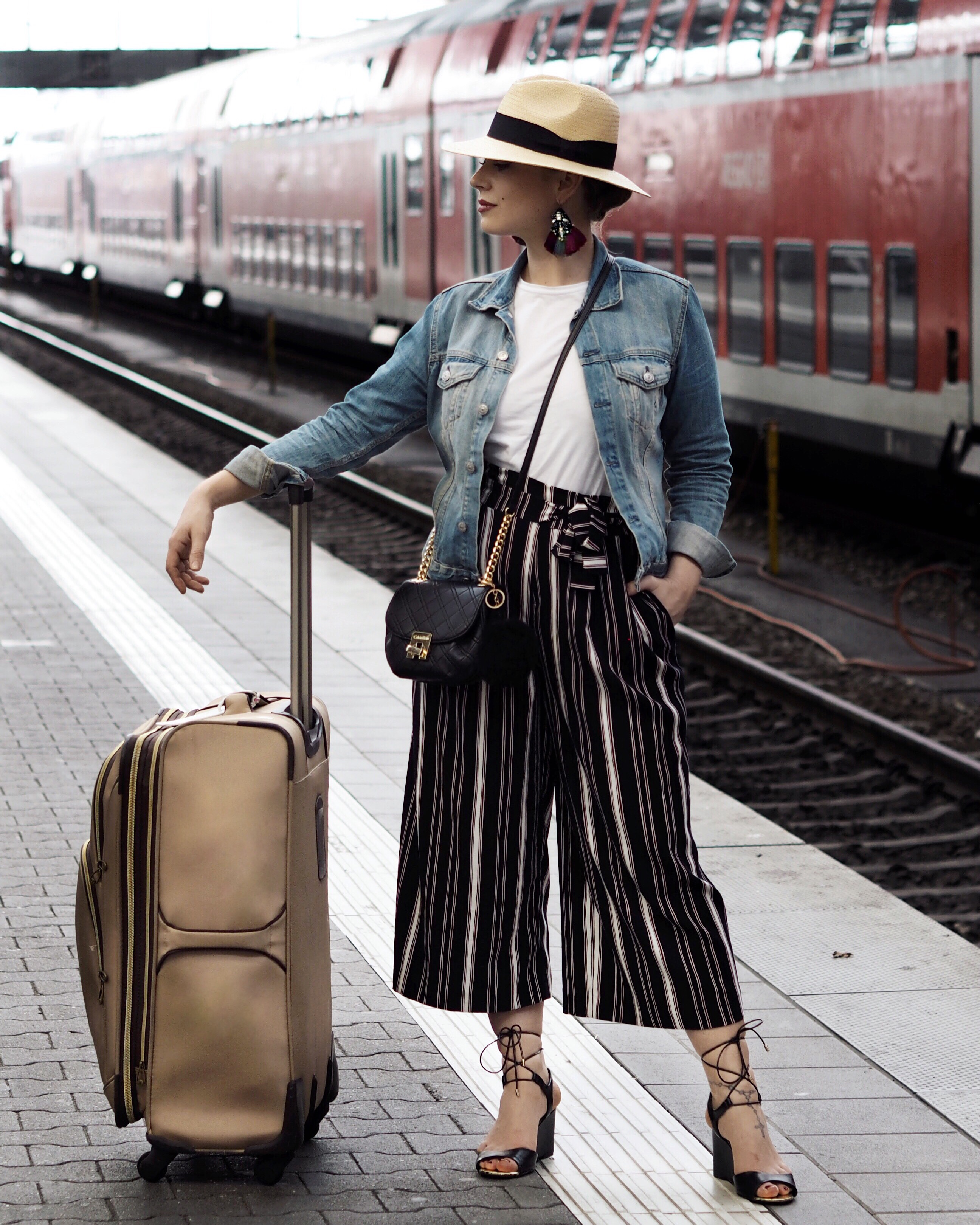 On day 4 we got up early, packed our bags, headed for one last brunch at our favourite little brunch spot and then boarded a train to our next destination…
.
Next Stop: Vienna, Austria
What I Wore
T-Shirt – Zara // Jean Jacket – H&M // Culottes – Zara (On sale for $25.99!) // Wedge Sandals – Aldo // Bag – Calvin Klein // Earrings – Banana Republic // Hat – H&M
Stay tuned for my Vienna travel diary!
.
xoxo

.