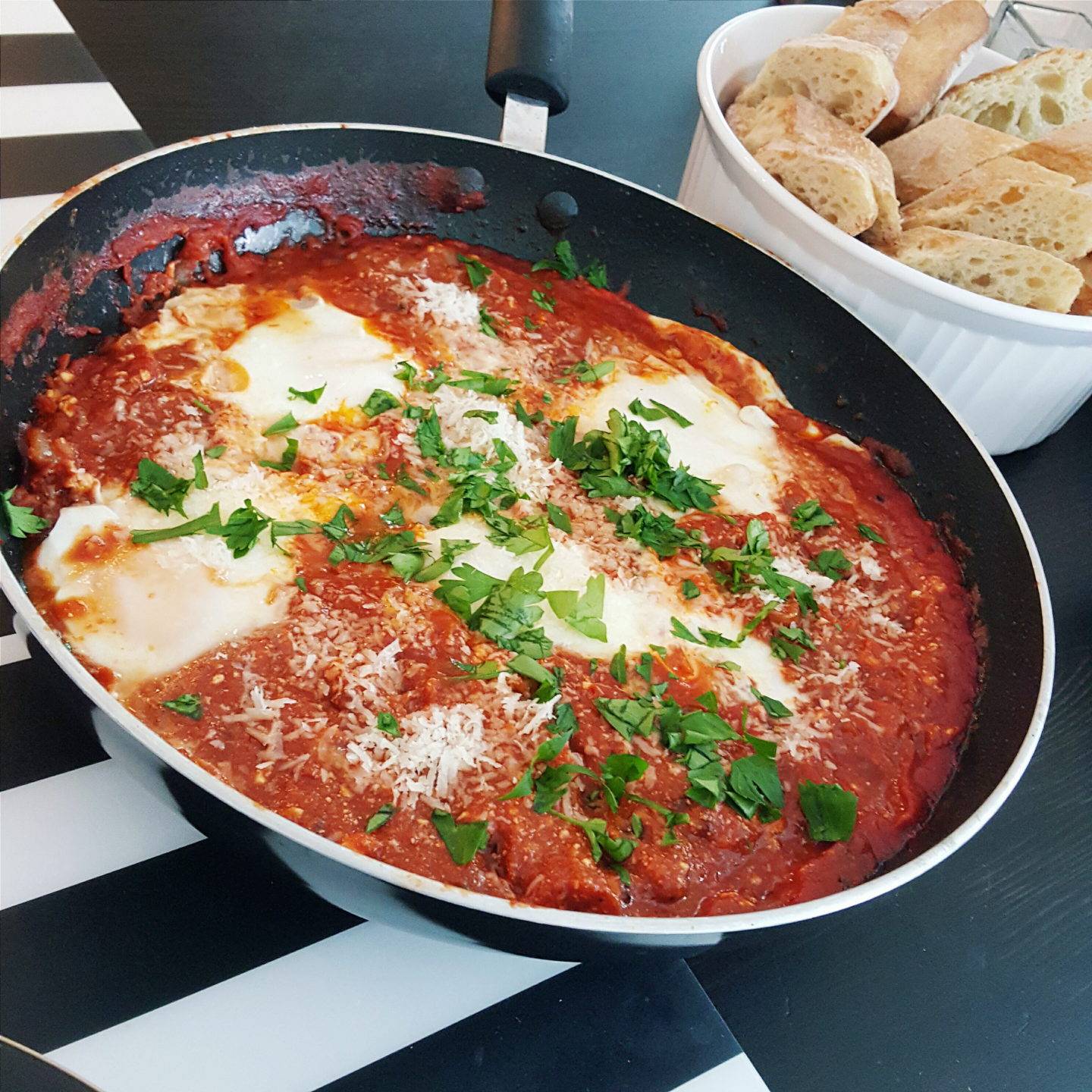 I have a thing for spicy food. I also have a thing for Italian food. And I love combining the two even more.  A while back I took a workshop on Italian breakfasts and learned all about how the Italians like to do my favourite meal of the day. Apparently, in reverse of what we do here in North America, Italians like to start their breakfast with sweet and end it with salty. We learned how to make biscotti, which we ate with delicious frothy cappuccinos and croissants with Nutella (YUM!). We then followed that up with mini prosciutto sandwiches and learning how to make a signature Italian dish "Uova in Purgatorio" which literally means "Eggs in Purgatory". Eggs cooked in a fiery hell of delicious, bubbling tomato sauce, served with baguette to sop up all the extra sauce. Can we say delicious? Hell ya.
There are more than a few variations on this masterpiece of a meal, some using basil not parsley(which I use in this recipe), some using prosciutto or omitting the meat completely. Some vary in the cheeses they use, and some aren't even spicy but more of your typical marinara type tomato sauce. A Middle Eastern version of the dish, known as "Shakshuka" is always spicy and served with feta cheese, chili peppers and onions. Being that I absolutely love spicy food, I can promise you that this recipe has a kick to it. This recipe combines some of the elements of both the traditional Italian Eggs in Purgatorio, as well as some elements Shakshuka, to make one amazingly scrumptious breakfast.
I first made this meal for my brother and sister-in-law while they were visiting and I was hooked right away. My brother loved it, my sister-in-law felt like her mouth was on fire. That being said, if you don't like spicy food this variation is not for you (although I highly recommend looking into other recipes!). I loved how it turned out so much that I cooked it again a few days later when I had friends over for brunch. That day I baked homemade carrot muffins with cream cheese icing, a fruit salad with honey & lime drizzle, a berry, banana & chocolate chip oatmeal bake, and served croissants with nutella. But there is  absolutely no denying the star of the meal was the eggs in purgatory, which all my friends loved and wanted the recipe for. So here it is friends… my recipe for spicy eggs in purgatory :).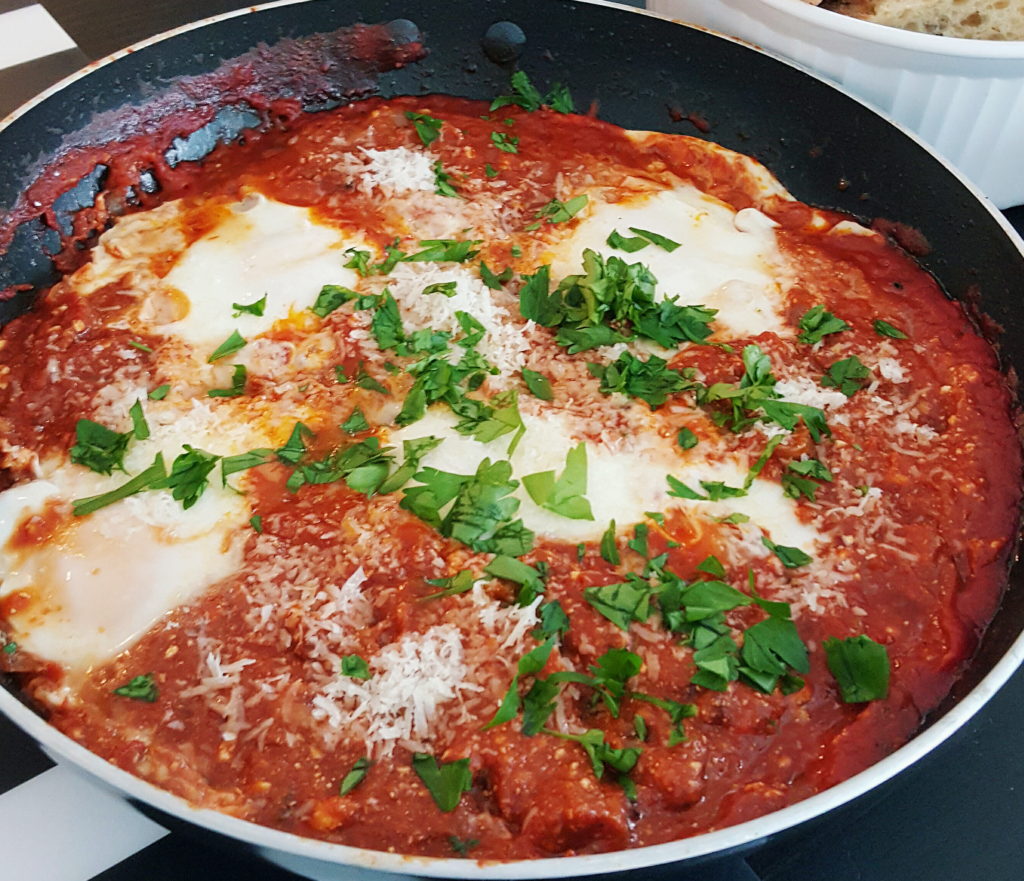 Spicy Eggs in Purgatory
Serves 2-4 people (Can serve more if you separate the sauce into 2 pans and cook more eggs)
Ingredients
1/2 cup diced Pancetta
1-2 tablespoon extra virgin olive oil
1/2 large onion, chopped
3 cloves minced garlic
1 teaspoon cumin
1 teaspoon paprika
1 teaspoon crushed red pepper flakes
14 oz can of diced tomatoes
14 oz can crushed tomatoes
1 tablespoon sugar
Salt & pepper to taste
1/4 cup ricotta cheese
4 eggs
1/3 cup grated Parmesan
chopped fresh parsley for garnish
Sliced baguette
Cooking Instructions:
In a large skillet or frying pan (that has a lid), cook pancetta over medium-high heat until most of the fat is rendered.
Add enough olive oil to the pan to equal approximately 2 tablespoons of oil total. If using pancetta that is already cooked (which I did) you will need to add 2 tablespoons of olive oil.
Toss in the chopped opinions and cook until softened, about 4-5 minutes, stirring occasionally.
Add the garlic, cumin, paprika and red pepper flakes. Cook a minute or two until spices are fragrant.
Add the diced tomatoes, crushed tomatoes, and sugar. Bring to a simmer for about 10-15 minutes or until sauce.
Season with salt and pepper to taste.
Stir in the ricotta cheese and cook for 1-2 minutes
Once the sauce is ready, lower the heat to reduce bubbles so as not to "break" the eggs. Using a spoon, either scoop some sauce out or push the sauce aside to form a hole and crack an egg into it. Repeat this for all 4 eggs. Poach eggs until desired softness/hardness is reached with the lid on.
Garnish with grated parmesan and chopped parsley
Serve immediately with sliced baguette
Bon Appétit! 
xoxo