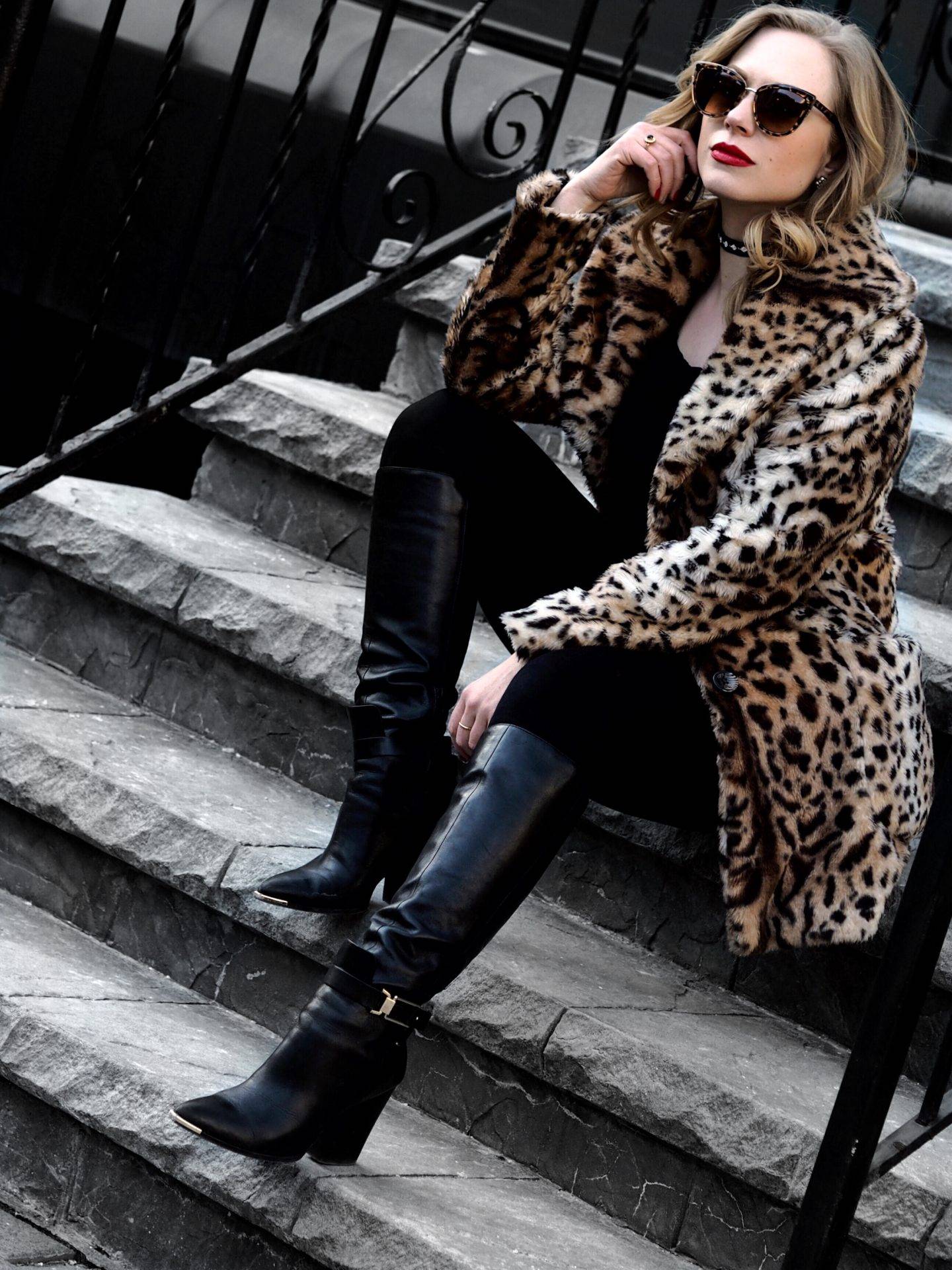 If I could have my way everything would be machine washable. There would be none of this "hand wash only" crap, or even worse.. the dreaded "dry clean only". I'm the worst when it comes to clothes that are supposed to be dry clean only. I don't know if it's the fact that I can't justify spending $20 just to clean a blazer (wait a second, I already spent $200 on this and now I have to spend $20 every few months to clean it?), or the fact that I have to actually go out of my way to not only drop off but also pick up my dry cleaning (or at least get it ready for pick up).. or maybe it's that I just prefer the instant gratification of not having to wait a couple days for something to be cleaned when I want it clean NOW. Most likely it's probably a combination of all three that has me avoiding dry cleaning like the plague. Needless to say, over the years my clothes that are "dry clean only" have either been tossed in the washing machine on gentle cycle with fingers crossed hoping they make it out alive, or they haven't been dry cleaned nearly enough (or not at all, let's be honest). Most of my dry clean only garments have made it through the gentle cycle no problem, washed on cold or lukewarm and hung up to dry they look brand new. In fact, it's been a pretty seamless process… until last night when I attempted to wash my winter coats on my own..
I know. Apparently coats are the one item that you definitely should be getting dry cleaned, I learned that last night from a friend as I frantically scrambled around trying to figure out how to rescue my down winter coat (this one to be exact). See the thing is, I didn't realize that the whole down thing was an issue. I didn't realize that you couldn't just hang a down filled coat up to dry.. which is exactly what I do with all my "dry clean only" clothes. I didn't realize that when a down filled coat dries the feathers get all matted up and dry into little hard clumps, and that the only way to prevent that from happening was to dry them in the dryer with tennis balls to fluff them up. Had I known this, I would not have washed my down filled coat that has a non removable FAUX FUR TRIMMED HOOD. Anyone who has accidentally thrown something with faux fur in the dryer knows exactly why this is a problem. Faux fur in the dryer melts and becomes this nasty, clumpy, basically unfixable mess. So what the heck was I going to do with a wet down filled coat that would dry all clumpy and gross if I didn't put it in the dryer, but I couldn't put it in the dryer because the hood would get completely and utterly destroyed? Well first of all, panic. Panic and curse for myself for being stupid enough to think that I could get away with not dry cleaning anything. Then google. Of course, google didn't help because apparently there was absolutely no way to fix this issue.. one part of the coat needed the dryer, the other part of the coat could absolutely not touch the dryer.
So naturally I decided I had literally no choice but to try putting it in the dryer on the lowest setting. I waited until the fur portion had air dried, then I stuck the coat in the dryer with tennis balls on the lowest setting and waited 5 minutes before opening the dryer, pulling the coat out to make sure the fur wasn't melting, fluff it up a bit, and throw it back in. And I repeated this about 40 times to ensure that not only was the dryer not getting too hot and the fur not melting, but that I was able to fluff and de-clump the down lining as it dried. I'm happy to announce that I did manage to save my winter coat (hallelujah!), but I also lost a heck of a lot more time trying to save it than I would have lost if I had just taken it to the dry cleaners. Lesson learned? Maybe. Moral of the story? Sometimes when the label says "dry clean only", you really should just dry clean only.
Wouldn't the world be that much better if everything were machine washable?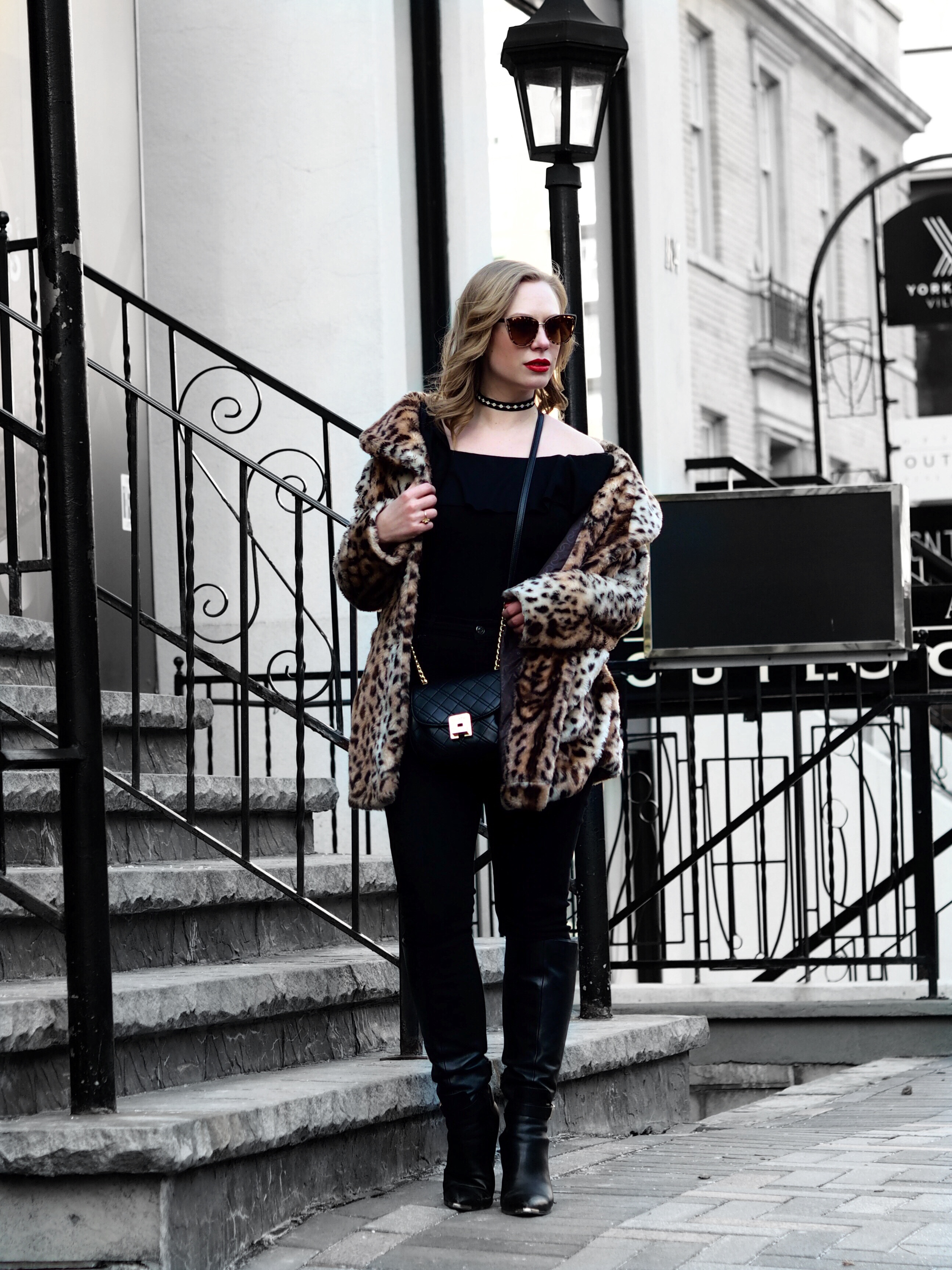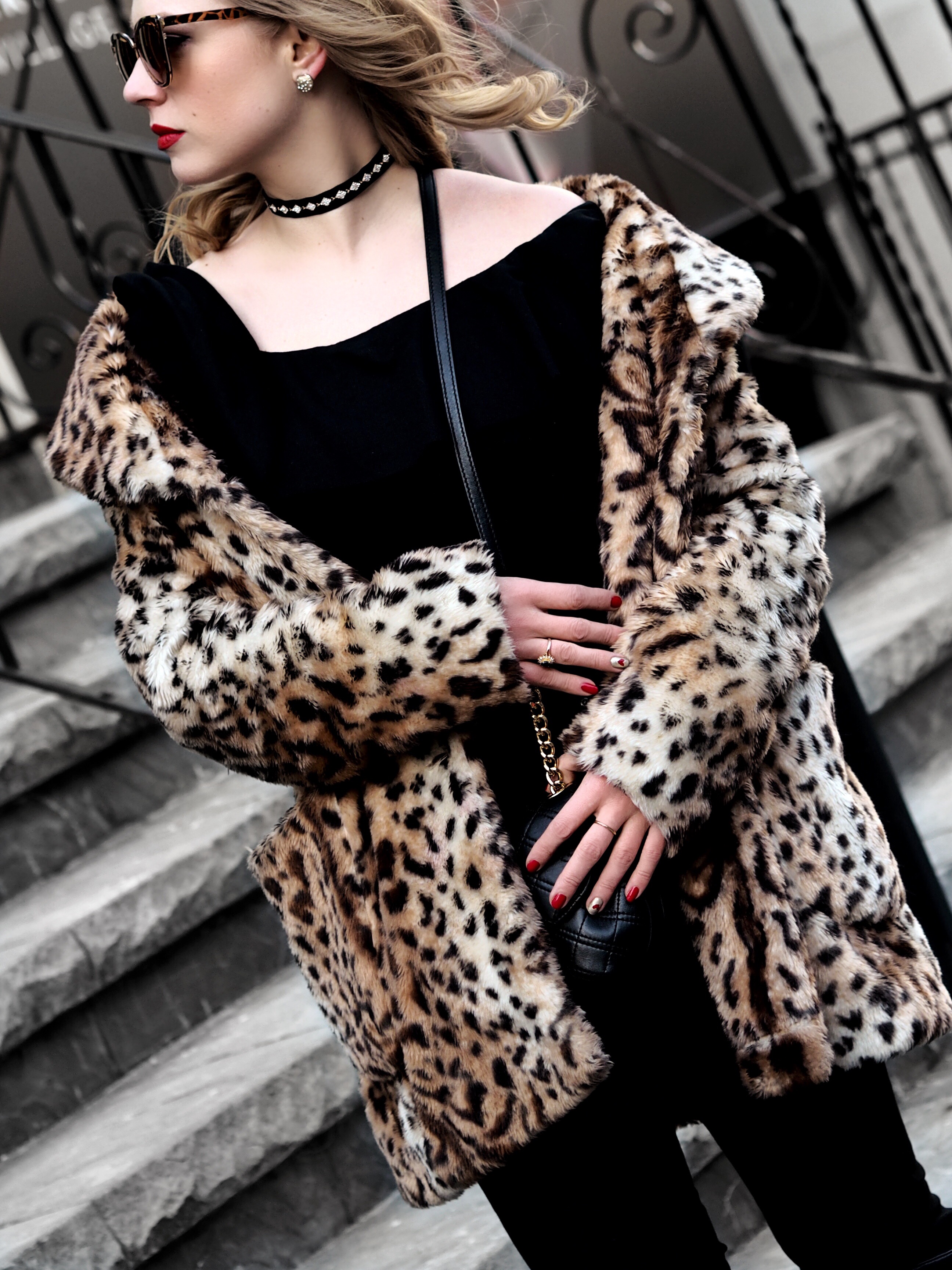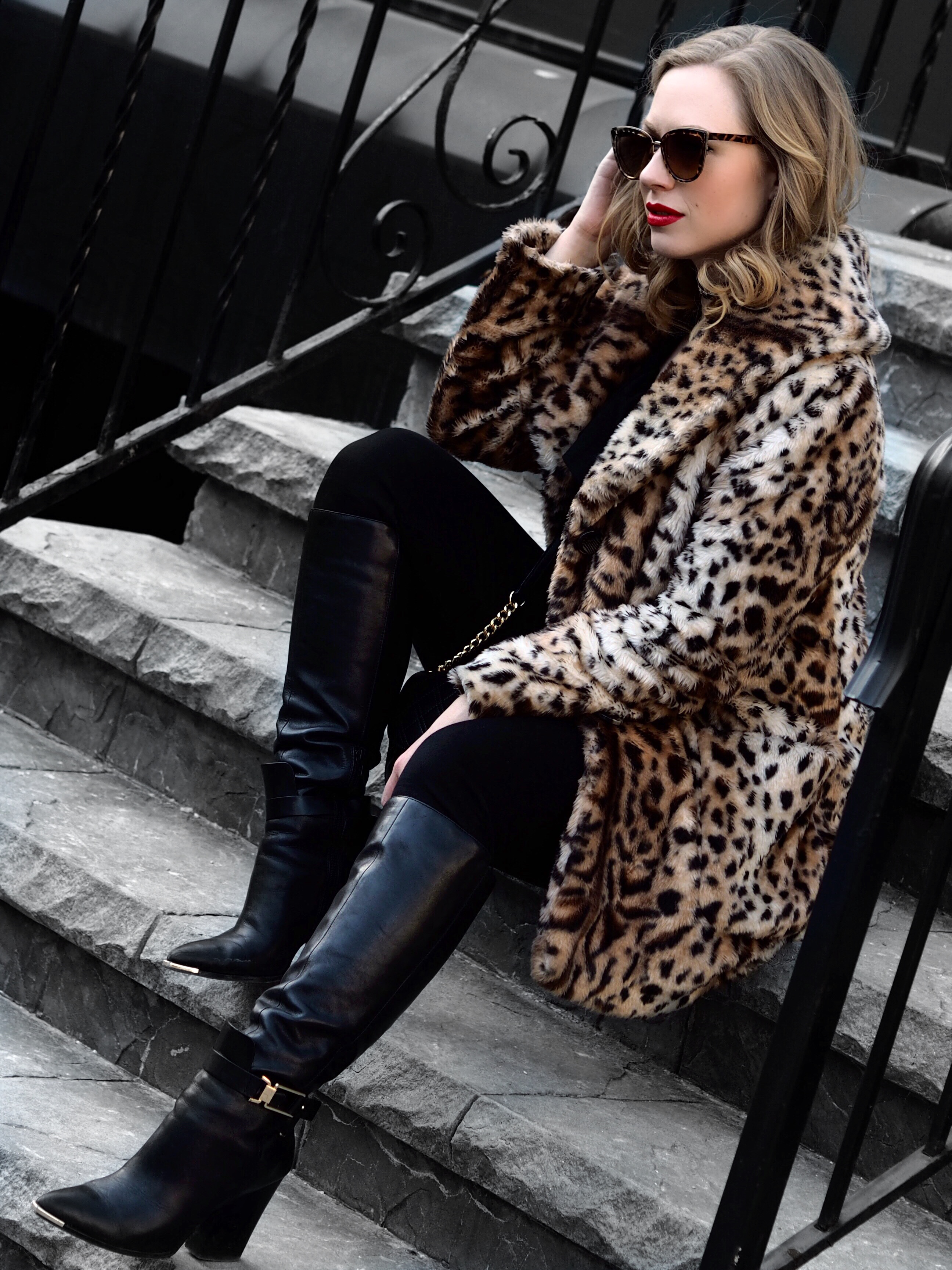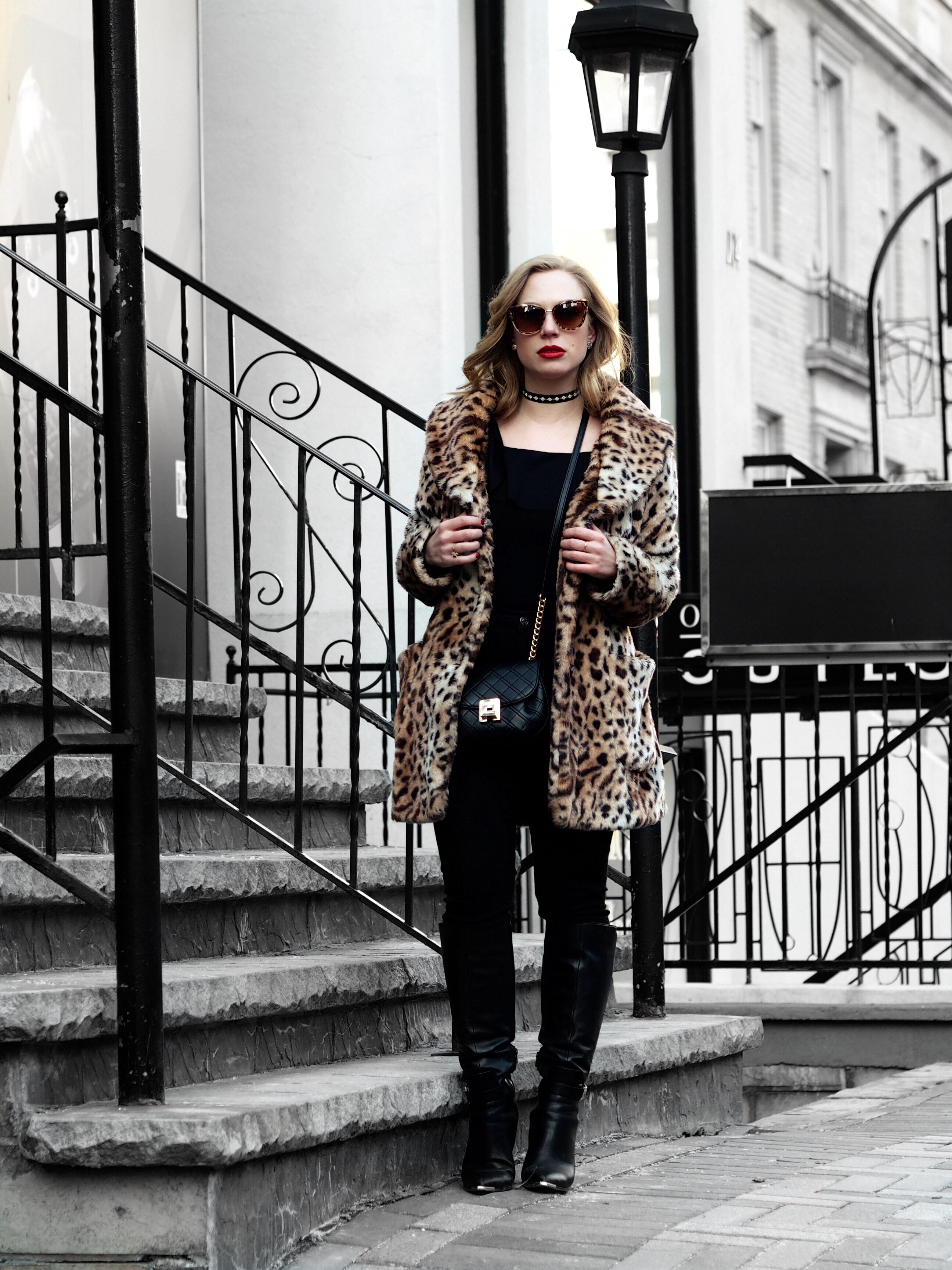 Thank God this leopard print coat which I also threw in the wash last night fared much better, while I could survive without my winter parka I would be pretty devastated if I had ruined this coat! Even though it also says dry clean only it made it out alive, and hung to dry it looks brand new… why can't they all be like that?
.
What I Wore:
Coat – Guess (Old – Similar Here) // Bodysuit – ASOS // Pants – Topshop // Boots – Aldo // Bag – Calvin Klein // Sunglasses – Forever 21 // Choker – Forever 21
.
Wishing you all an amazing weekend
xoxo