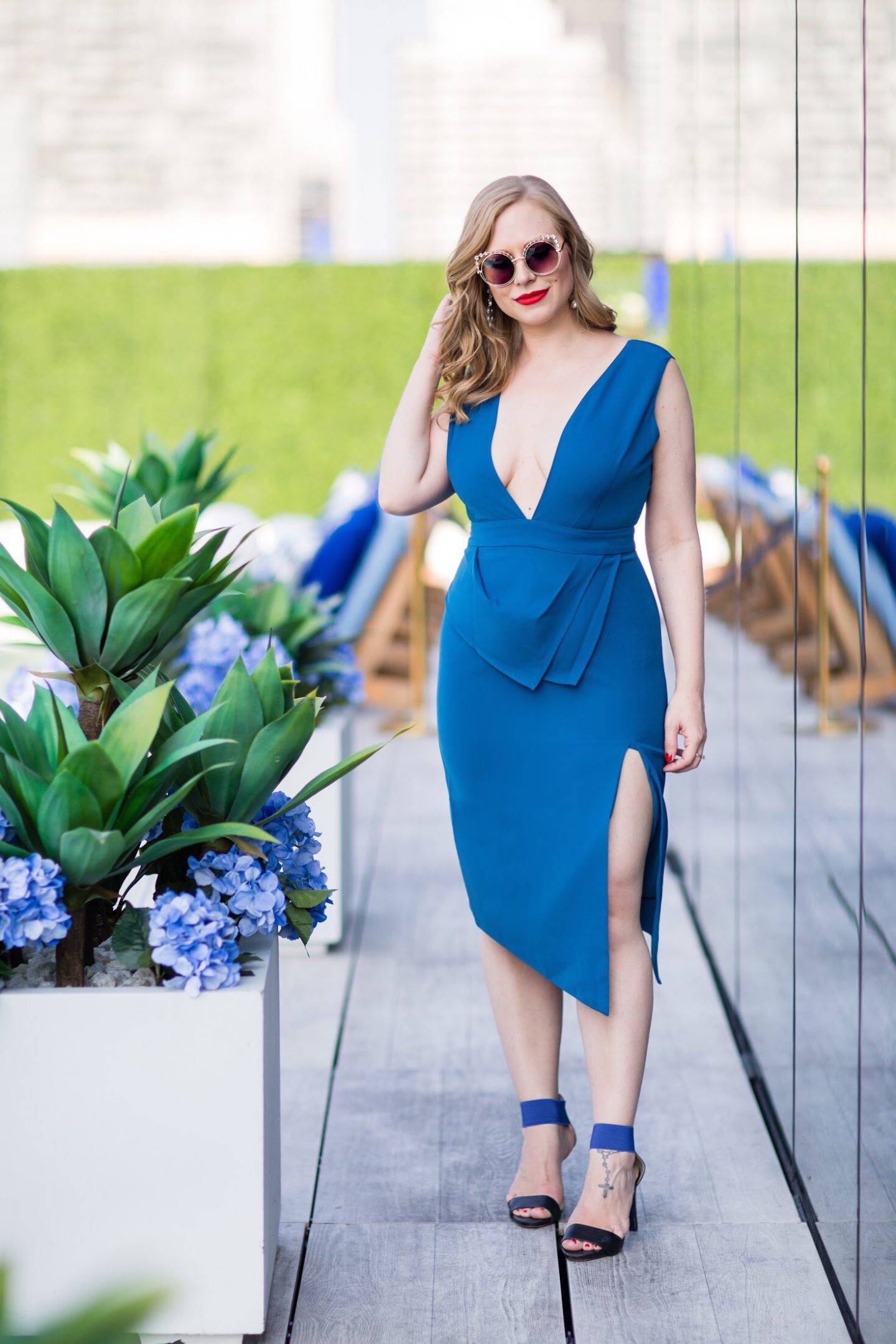 For the last 2 years in Toronto I've been working as as server. I know… an actor working in a restaurant? What a shocker. It's pretty cliche but there's a reason behind it. Working in a restaurant is (supposed to be) the easiest job to hold as an actor because your schedule is fairly flexible and it's easy to get time off should you book a role or get an audition. What I quickly learned over the last two years, is that that actually isn't the case. Unless you have a pocket full of four leaf clovers and a horseshoe hanging around your neck, it's really not that easy to even hold down a restaurant job while pursuing an acting career. As much as restaurant management likes to pretend they support you and your dreams, when it comes down to it they really want employees who are willing to make the restaurant their end all be all. They want reliable staff who are going to be available at their beck and call, and the last thing they want is someone who's going to not show up because they got an audition. Unless you work at a big corporate restaurant (like Cactus Club or Earls) where there are a bajillion staff on the schedule and it's as easy as snapping your fingers to get shifts covered, it's actually really not that easy.
I was working in a small restaurant/bar here in Toronto that had a staff of about 8 servers. This meant when we had a busy day, every single one of us were scheduled to work. What that meant was should I happen to get an audition, I was screwed. Well, the restaurant was screwed because they would be short staffed, and I was screwed because I would be out the job. Restaurants want reliable staff, and that's totally fair! No one wants to hire someone they can't rely on. And the trouble with being an actor, is that acting will always be your number one. When companies or restaurants hire you, they know that. They know they come second, and that can really make things difficult for you. Whether it means getting scheduled less shifts than others who are always available, getting punished when you do need shifts covered for auditions, or what have you.
But it wasn't even just the fact that the logistics behind holding down a serving job while pursuing an acting career were difficult, I started to realize over the last couple months that I had just fallen out of love with serving. In fact, I think I fell out of love with it long before I moved to Toronto. Before I had even quit the service industry the first time and started working a full time time wine sales job in Edmonton. You might remember this post where I first started talking about my struggles with feeling like my serving job defined me. At the time I had convinced myself that I could start love serving as my side job… as a means to an end while I pursued my acting career. But after months and months of trying to convince myself I could be happy, I realized it just wasn't for me anymore.
It was fun serving when I was in my early twenties, I'm not going to lie. Back then I loved the culture, I loved the people I worked with, I loved the after work drinks, and I thought the work was easy. But at 29 I was oh so tired of it and it was making me really (REALLY) bitter. I was tired of dealing with people. I was tired of the stupid questions customers ask. I was tired of the repetitiveness that serving is… because let's be honest, it's the same thing day after day after day. I realized I wanted to step away and not only have more control of my time build my own schedule, but I needed to not be doing the same thing over and over. There's a reason why I can't hold an office job or work a regular 9-5. I need constant stimulation, new challenges, new working environments… I need change. That's why I love acting so much. No day is the same when it comes to acting, you're constantly playing different characters, experiencing different emotions, put in different situations, and sometimes even in different worlds!
So I quit my serving job. 
To be honest, I was terrified when I made this move. I had no idea whether I was going to be able to get enough work on the side to support myself financially, and I knew I was taking a big risk. Sure, I wasn't getting tons of hours at the restaurant I was working at… and I certainly wasn't making enough money to live in such an expensive city, but at least I knew I had a guaranteed few shifts a week. What if once I left I couldn't get any work at all? Was I going to have to go back to the restaurant with my tail between my legs and beg for my job back? I thought about it for a long time, and I realized that if I never took the risk I would never be happy.
Well, I'm happy to say that it's been just over 2 weeks since my last day at the restaurant… and although I was worried things wouldn't work out I've been busier than ever since. I'm now in charge of my own schedule and I'm working way more than I ever did before.  I pick up brand ambassador work and side gigs whenever I am available, and I spend my free time working on my blog and studying acting. I love that I no longer rely on the stress of waiting for a schedule to come out, I can take off any days I want, and I have complete control over what kind of work I do. I have to hustle a hell of a lot more, but I no longer have to stress about what happens if I book a role (I just don't pick up work!) or need to book time off for travel. I'm always working in new environments, with new people, and doing different types of roles all the time. But the biggest change I've noticed, is how much this has affected my overall happiness. When you no longer dread going into work every day, you're just happier. There was something about the service industry that was eating away at my soul, I felt trapped. And since I left, I've never felt freer.
So I guess from now on when someone asks me what do I do as an actor to make money, I no longer have to look ashamed and mumble serving. I'm a freelancer now, and I kind of like the way that sounds :).
**This is in no way an insult to any one who has or currently does work in the service industry. Serving is just something I grew out of and no longer felt comfortable or happy doing. If you are also an actor and have been struggling with working a serving job you hate, feel free to reach out to me by email, I would love to discuss my experience so far further with you!**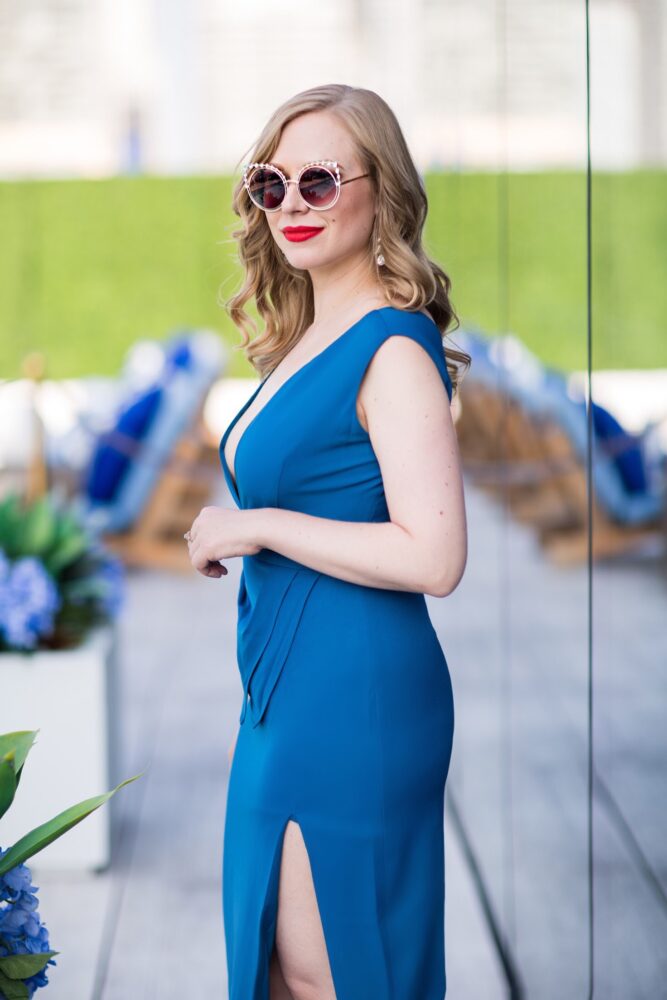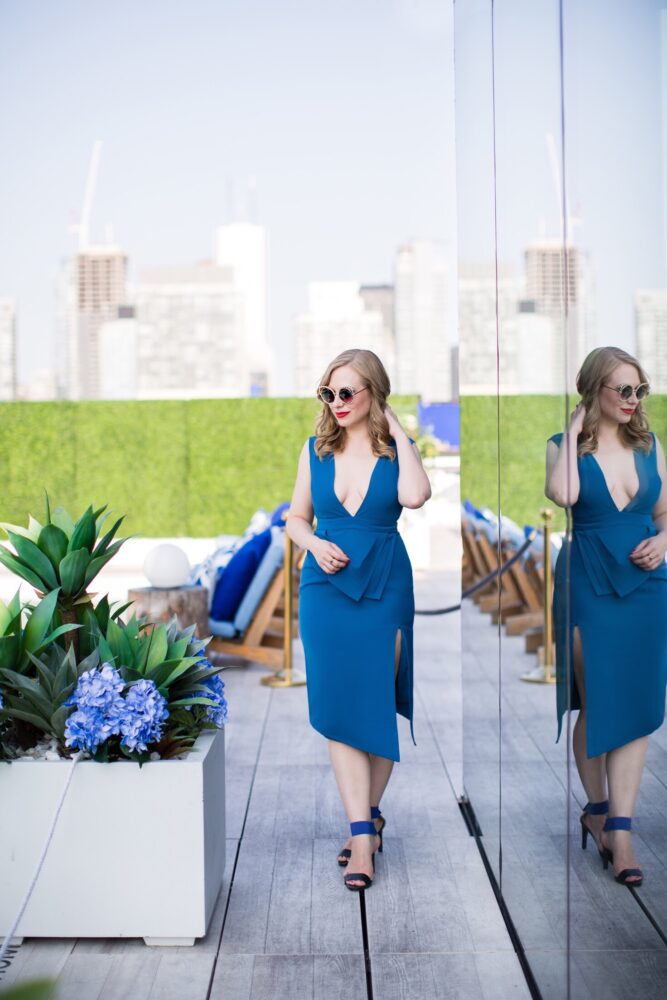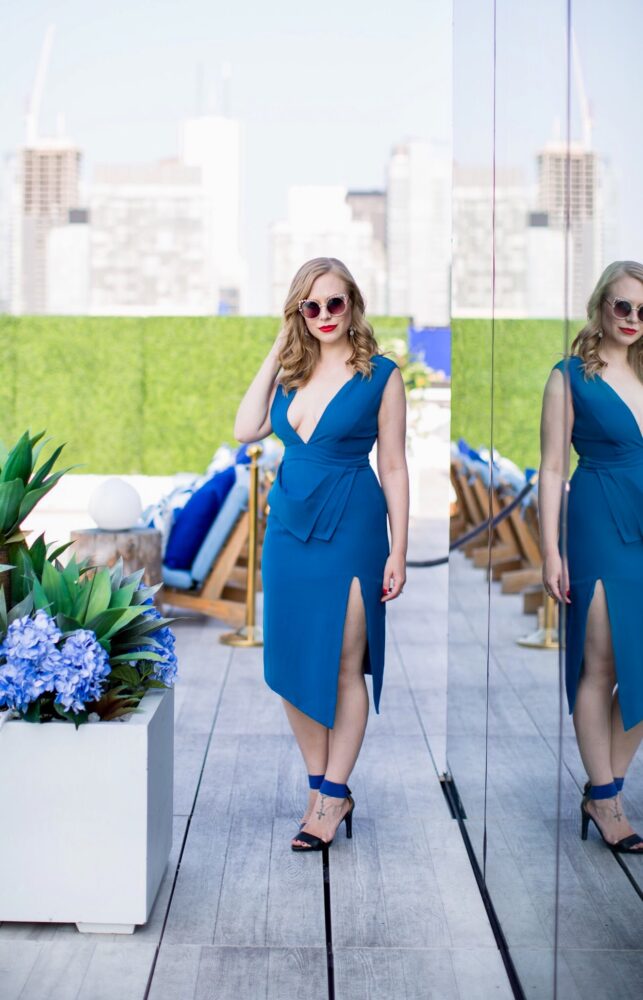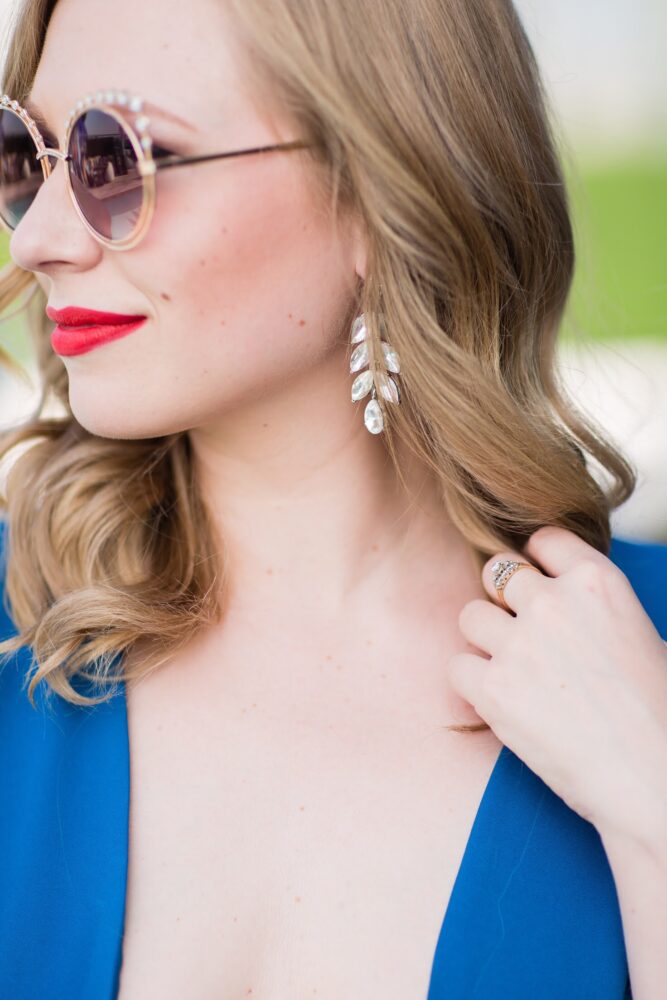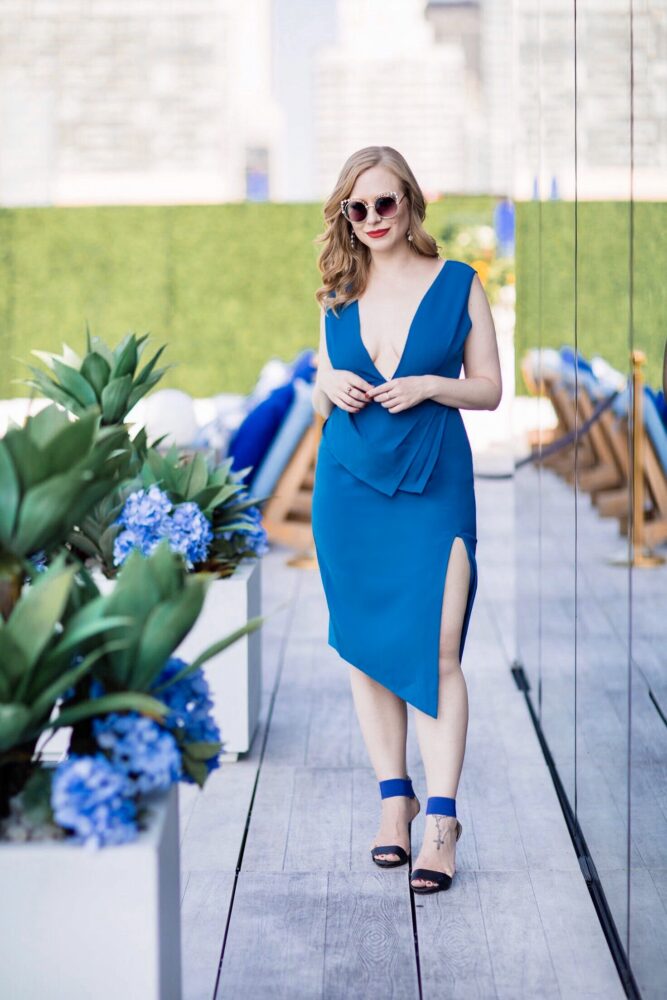 By the way if you're wondering what this post has to do with this outfit, the answer is not much really… But there's something about this gorgeous (and much more risqué than I'm used to) dress that makes me feel like a boss lady.. just like my new employment status. Even better is that it's by a boss lady owned local (Toronto) brand, Neroli Anonyme. I love supporting local and they have tons of beautiful pieces, so I definitely recommend checking them out!
What I Wore:
Dress – c/o Neroli Anonyme // Heels – Expressions (Hudson's Bay) // Earrings – Aldo // Sunglasses – Aldo
.
xoxo

All photography by Eryn Shea Photography, and special thanks to Lavelle for letting us use your beautiful location to shoot!