Sunglasses – Jacques Marie Mage (Available exclusively in Toronto at Kalten Bock) // Earrings – H&M // Dress – H&M // Jacket – Calvin Klein // Heels – BCBG // Clutch – Steve Madden
My day 4 outfit for World Mastercard Fashion week (but really only my second look as I had to miss day 2 & 3) was by far my favourite. I couldn't help but feeling great wearing these statement Jacques Marie Mage sunglasses from Kalten Bock. They were a far cry from any sunglasses I have ever owned (or even worn for that matter).  There's something about wearing a really eye catching pair of sunnies that just makes you feel on top of the world. And these sunglasses in particular scream "LOOK AT ME!".
When sunglasses shopping I always find myself leaning towards a classic cat eye shape. I find they  look really chic on just about anyone, and have ended up being my go-to staple for eyewear. When I first saw these I was immediately drawn to them because of the shape. They're available in numerous colours from your basic black to forest green and many others. There was something about these electric pink and blue ones though that really caught my eye and I knew right away they were going to be the perfect sunglasses for this outfit. In the end I'm so glad I went with them! Something tells me this will just be the start of a newfound obsession for statement eyewear.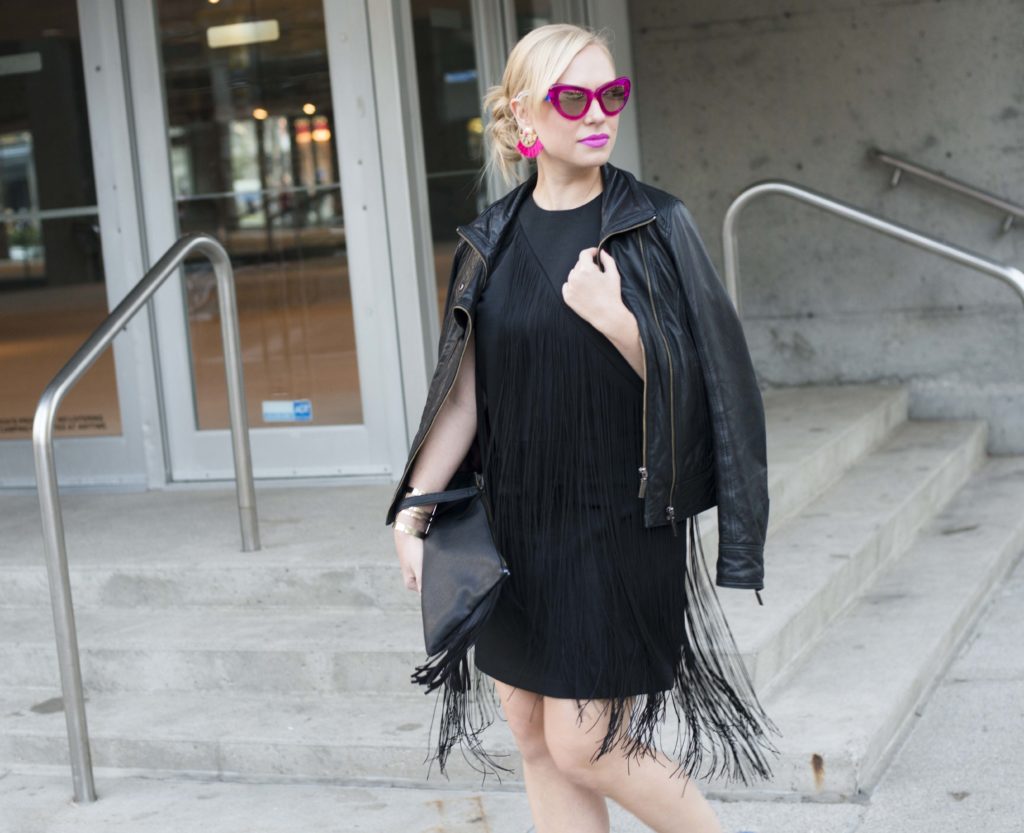 The earrings, which I by the way found at H&M for an incredible $10 (don't they look like they would be more expensive?) were a perfect match for the sunglasses. A lot of people were coming up to me and asking me where I got the earrings (and sunglasses of course) and it just goes to show that you really don't have to break the bank for statement pieces. I'll definitely wear these earrings again and it's great knowing they were such a guilt free and easy on the wallet purchase.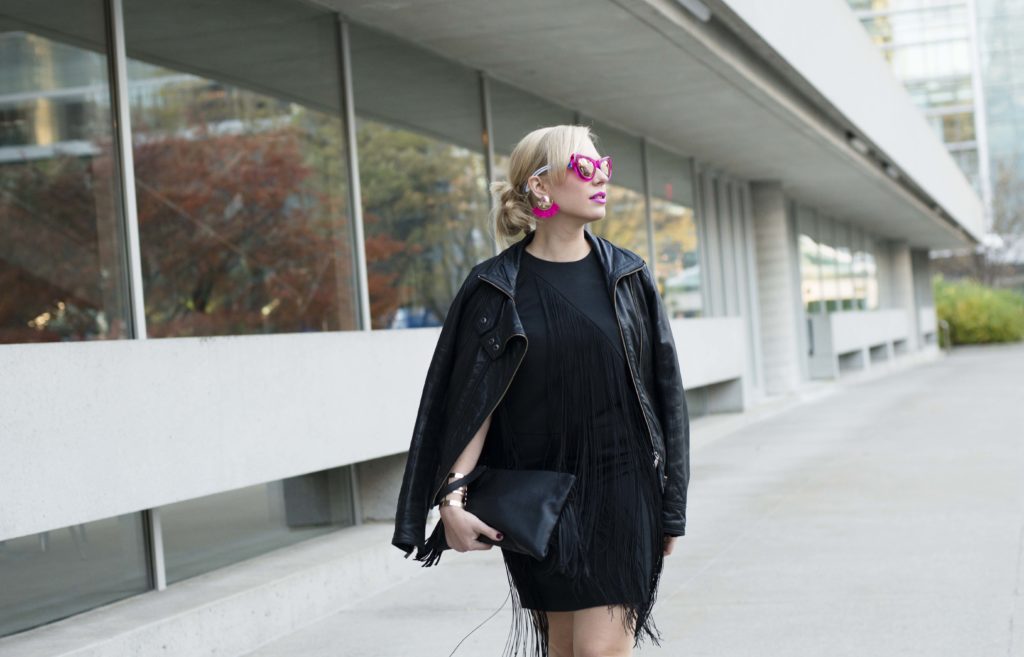 Because the sunglasses and earrings were such statement pieces and ultimately the focal point of my outfit, I wanted to keep the rest fairly minimal. I chose a simple black fringe dress which was also from H&M. I've really been pleasantly surprised by some of the stuff I have found there lately. I finished it off with my trusty Calvin Klein leather jacket (because it's been damn cold lately!) and a pair of electric blue BCBG pumps to tie in the blue from the sunglasses.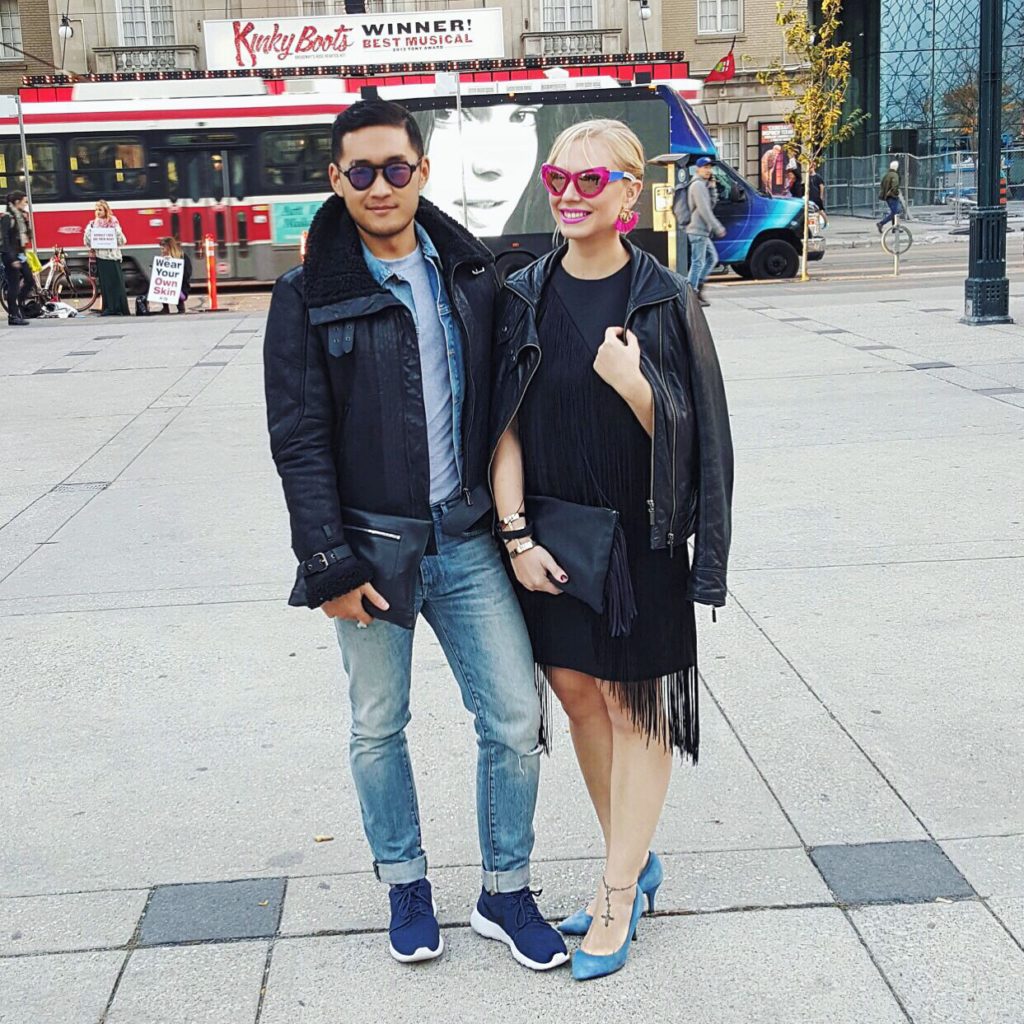 Hope you all enjoyed this post and the outfit as much as I did. And how cute is the above group photo of my fashion week fam?! Till next time!