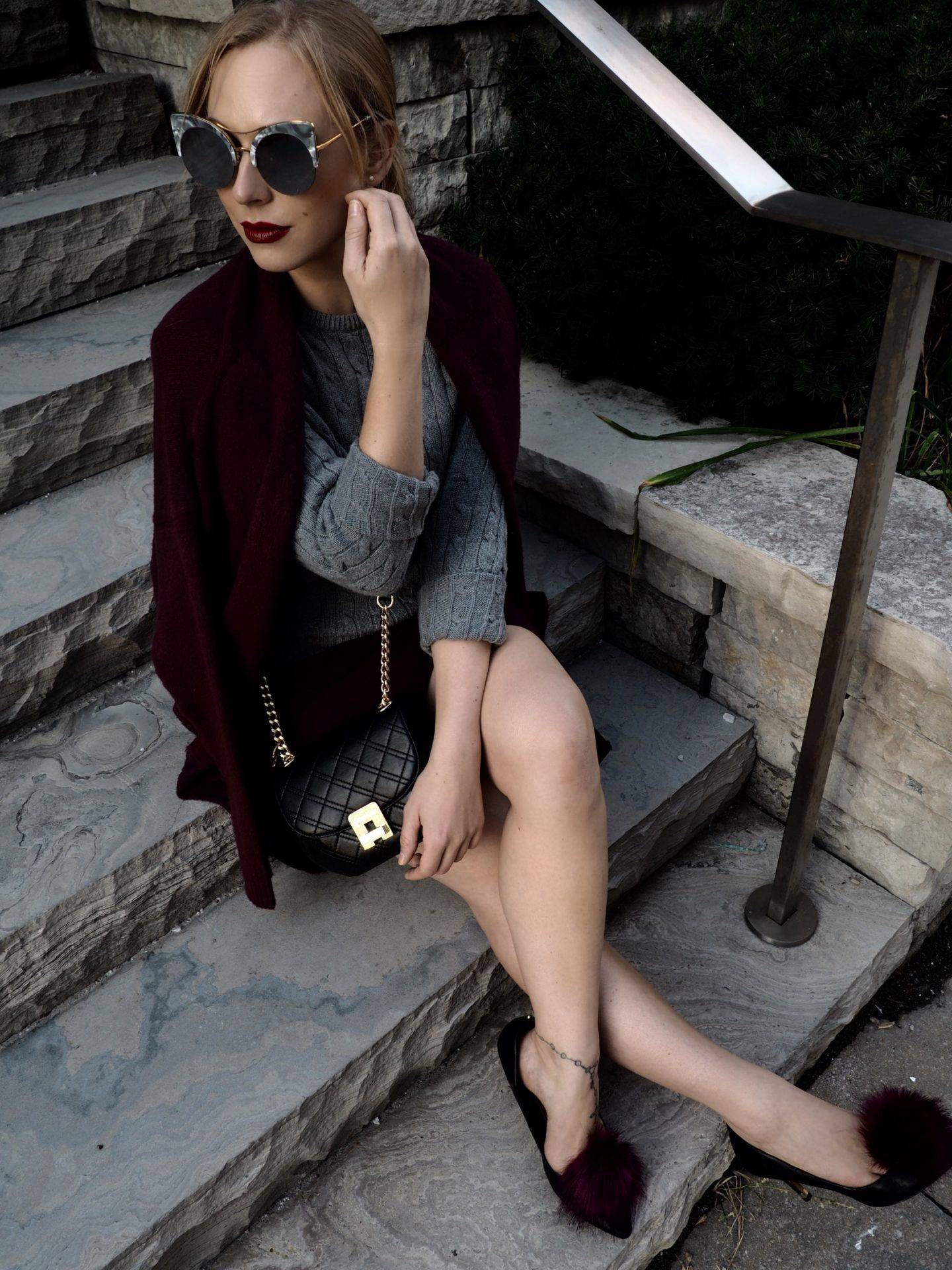 It's no secret that I like to refer to myself as a starving artist. If you've been following my blog over the course of the past year you've definitely heard me use the term a handful of times. And while I'm not really starving per se.. (I like to believe that I actually live quite comfortably) I think the main reason for that is due to a little thing we call budgeting. With the high cost of living here in Toronto, and no longer having the comfortable income of full time employment.. budgeting is something that I had to learn quickly if I wanted to stay financially afloat. And while it often means I'm having to pass up a pair of designer shoes I'm drooling over in lieu of this month's rent.. It is something I have learned to live with and adapt to. While I have not (and could not) nix designer purchases completely (something you will find out soon when you see what I came home with from my recent trip to New York!) the frequency of my buys has steadily declined and tends to lean more heavily towards the needs than the wants (SIGH).
With a smaller budget to spend on clothes, this means I've had to get a little crafty when it comes to spicing up my wardrobe. I'm slowly learning how to rework pieces in my wardrobe that I already own, shop at stores I wouldn't normally have looked in (but with a much more creative eye), thrift shop, and even sometimes raid my friends closets and steal clothes they never wear. While not all of my outfits are as budget savvy as this one, I am really excited to share with you a look I pulled together for $80. The only thing not included is the bag, and even that I bought on sale!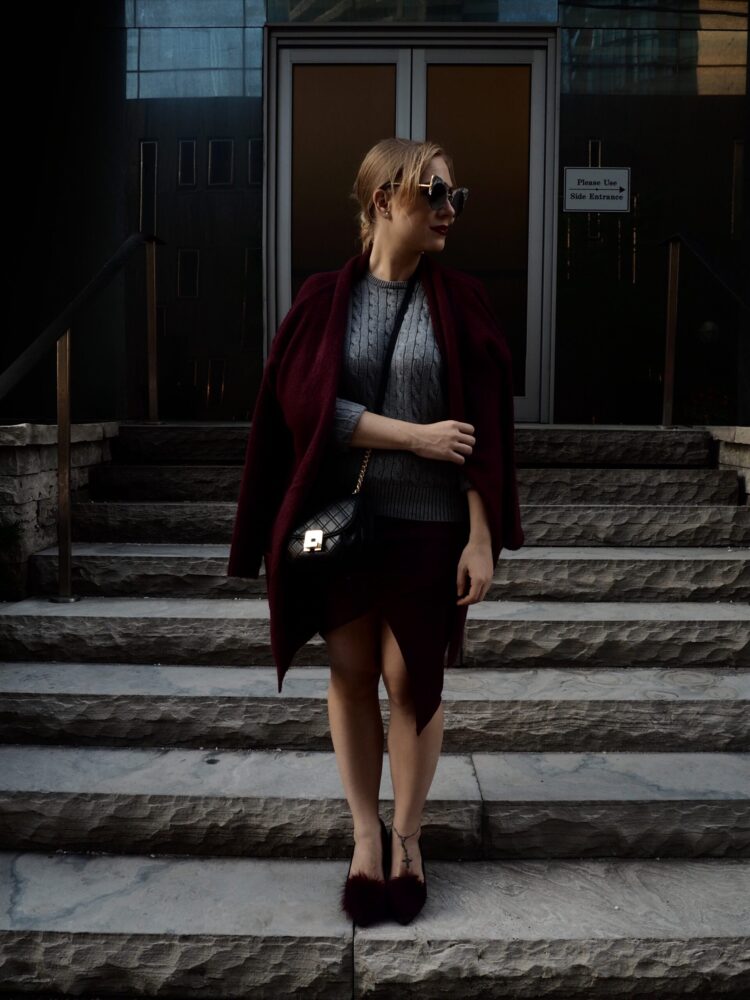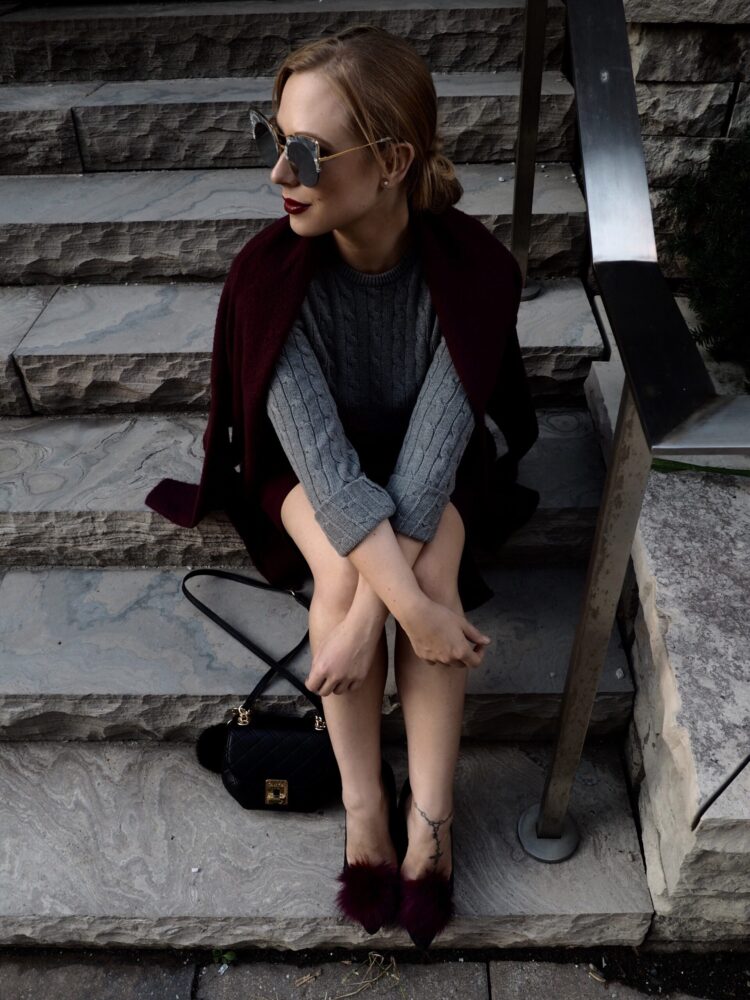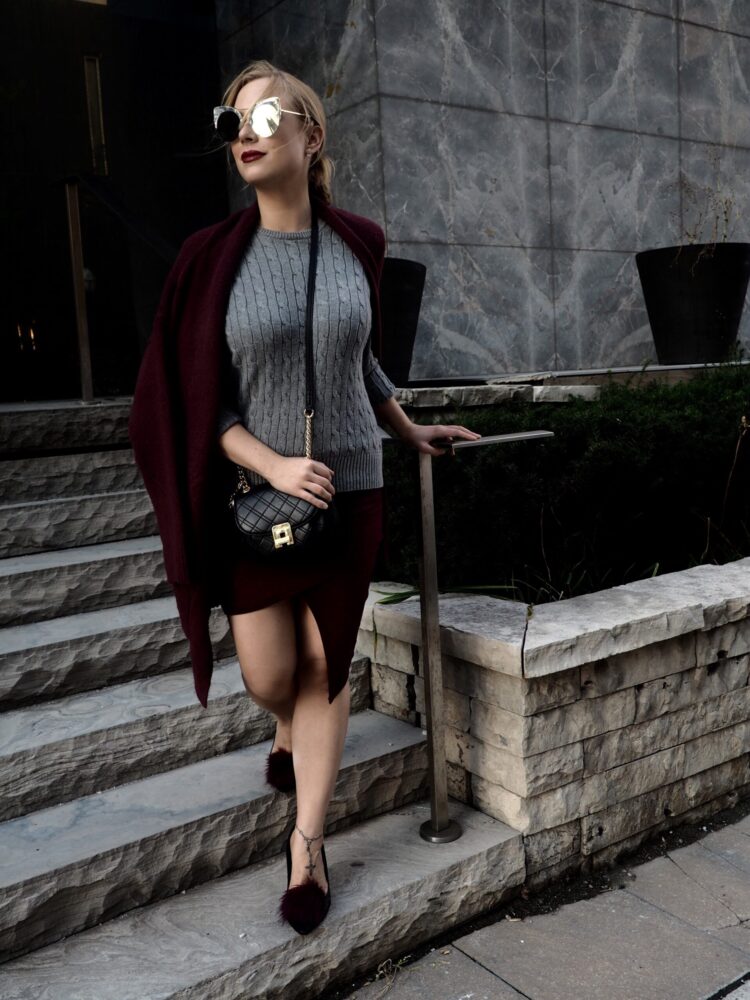 Let's start with the sweater. One of my close friends likes to purge his closet as often as I like to buy new things for mine. So when he told me recently after a (gruelling) cross fit class together that he (once again) had a massive pile of clothes at home ready to give away I figured why not have a quick look through it and see if there's anything I can work with? I saw this grey Gap sweater and instantly knew I would be taking it home. After all, can you really have enough classic sweaters? No you can't. And although the fit is a little looser, with the sleeves rolled up you could honestly never tell that this is a guys' sweater. So ladies… if your man, brother, or gay bff is about to throw away a sweater that you think you just might be able to wear, ask him to toss it your way instead.
The oxblood cardigan I'm wearing over my shoulders and the asymmetrical skirt were bought at Urban Planet for $25 and $17. While Urban Planet is not a store I would normally shop in, and half the stuff in there you wouldn't catch me dead wearing.. they do have some really great simple pieces for really affordable prices. I've learned to pick through stores and look for items that are similar to more expensive styles, but at much cheaper prices. I'm obsessed with oxblood right now, and I would be lying if I said I hadn't already worn this sweater a good ten or so times since I bought it. I've seen similar styles of sweaters in stores for close to $100 alone.. at $25 this just means I was able to buy the sweater, the skirt AND more :).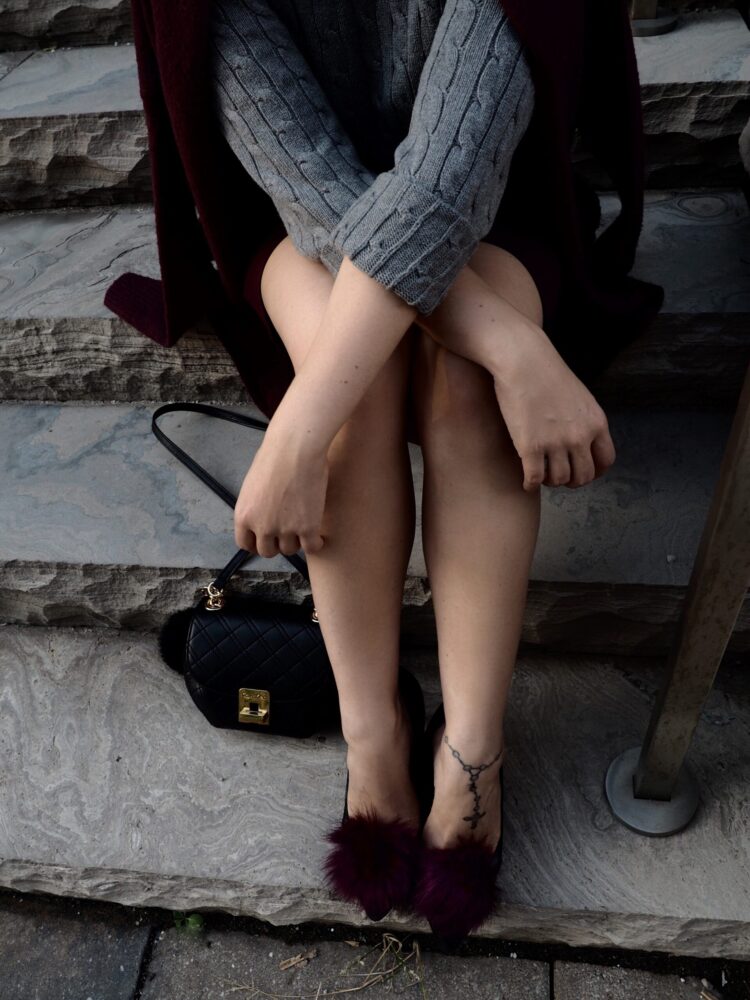 The last couple of items I want to point out for my chic on a budget look are these gorgeous statement sunglasses and the beautiful oxblood fur pouf heels. If you follow me on instagram you've seen these heels and sunglasses already because I'm currently OBSESSED with both of them. Fur poufs are so on trend right now, you can see flats, sneakers, and heels everywhere with fur detail and fur poufs.. often designer brands ranging in the hundreds or thousands of dollars. I absolutely love love love the trend, but can't afford the price especially for something that may only stay in style for a few seasons. Then I stumbled upon these oxblood fur pouf shoe clip ons at Aldo for $15 and fell in love. You can clip them on any shoes you already own to instantly transform them. I put the fur poufs on a pair of classic black pumps, and immediately felt like Carrie Bradshaw. I couldn't take these shoes off for half an hour after trying them on at home. Something about fur poufs on the end of your heels just makes you feel so fabulous! The statement sunglasses are also from Aldo and were $15. I wasn't looking for sunglasses when I found them, but how can you seriously pass up such a statement pair of sunglasses at such a great price? The amount of people that have stopped me on the streets while wearing them to ask me where I got them is insane.. and I'm always so happy to share what a great deal they are with anyone who asks!
Chic for Cheap Tally
Sunglasses – $15.00
Grey Sweater – Free
Pumps – Already owned (Who doesn't own a classic black pump already?!)
Fur Poufs – $15.00
Oxblood Sweater – $25.00
Asymmetrical Skirt – $17.00
Earrings – $8.00
Total = $80.00
(The bag I also got on sale at the Bay for $140. Meaning the entire outfit sits at $220 all in!)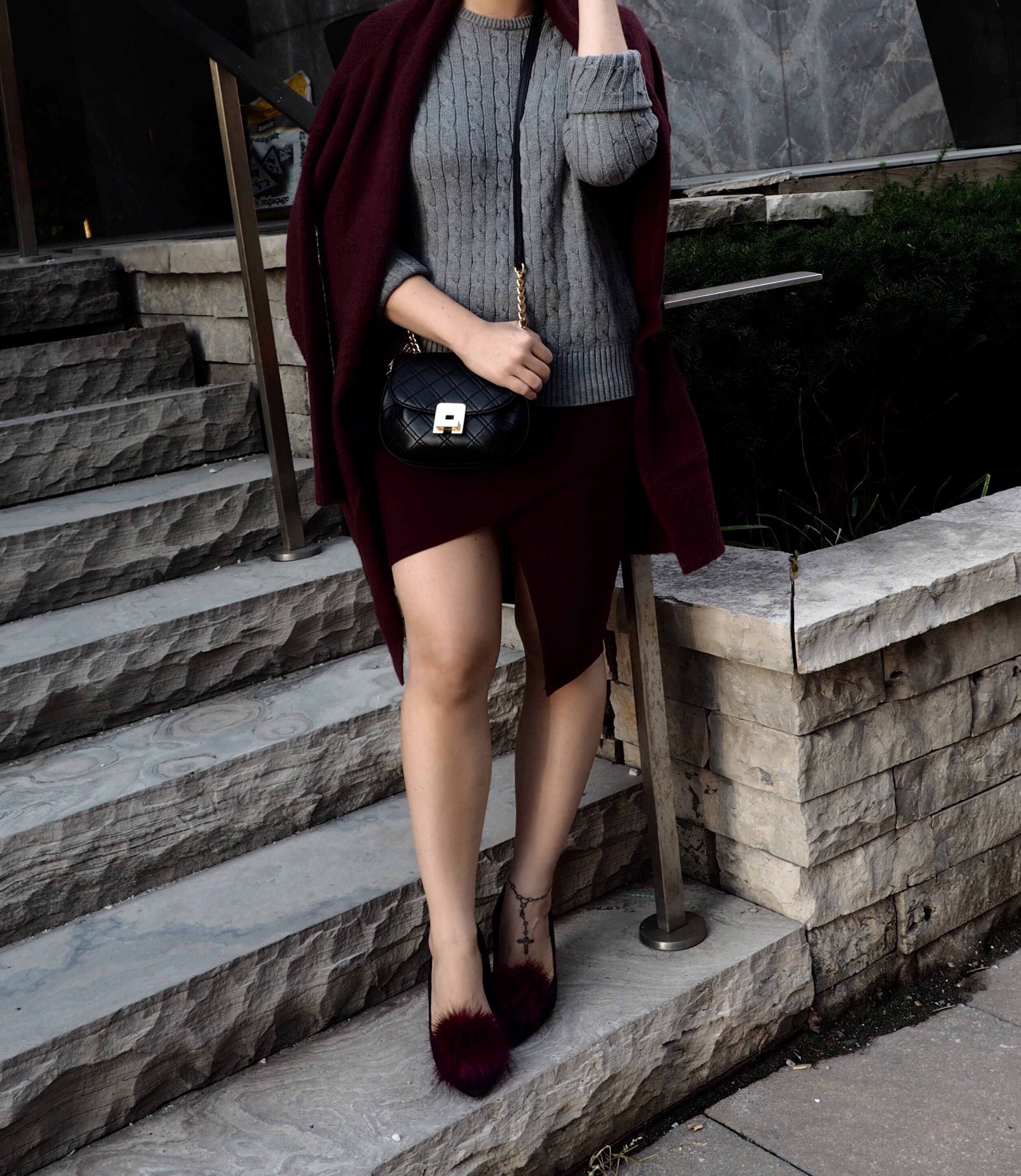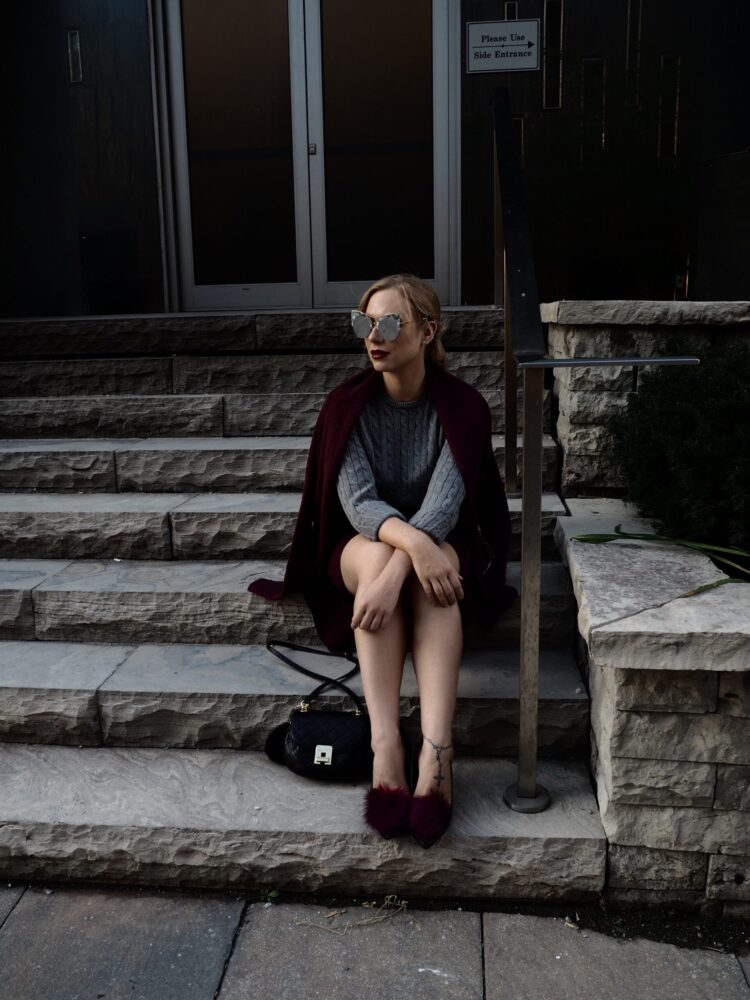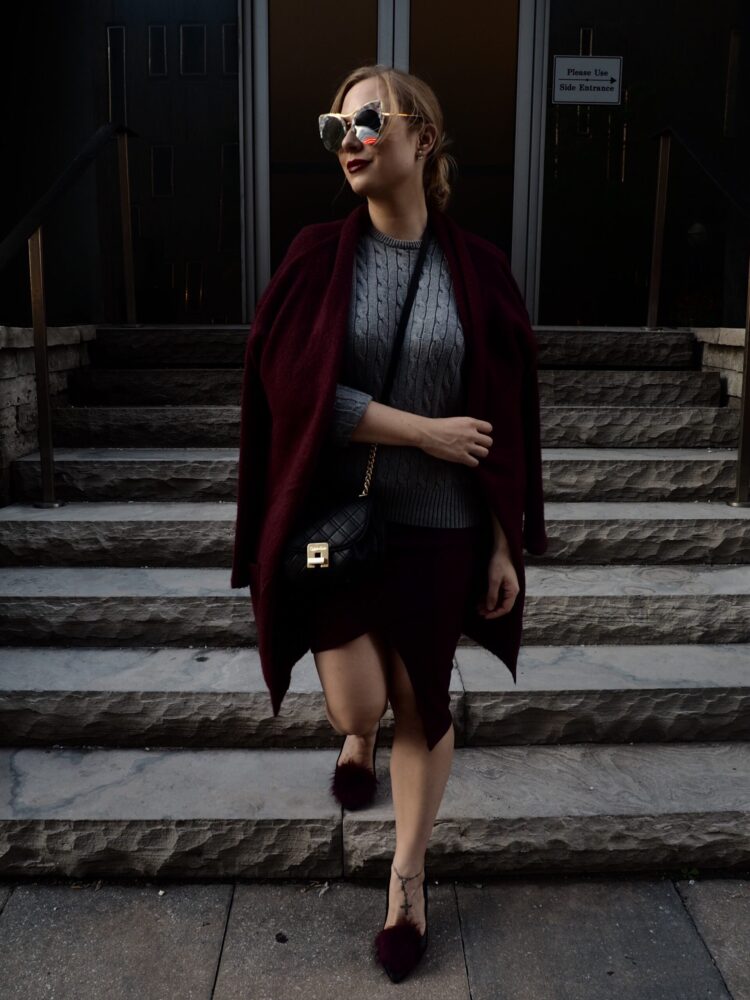 Looking at this outfit would you have guessed the total of everything I'm wearing would be under $100? What are some of your favourite recent chic on a budget purchases? Comment below!
.
What I Wore:
Grey Sweater – Gap Men // Oxblood Cardigan – Urban Planet (Similar Here) // Asymmetrical Skirt – Urban Planet (Similar Here) // Sunglasses – Aldo // Heels – Aldo (Similar Here) // Fur Poufs – Aldo // Earrings – Aldo // Purse – Calvin Klein (Also really like this one)
.
xoxo