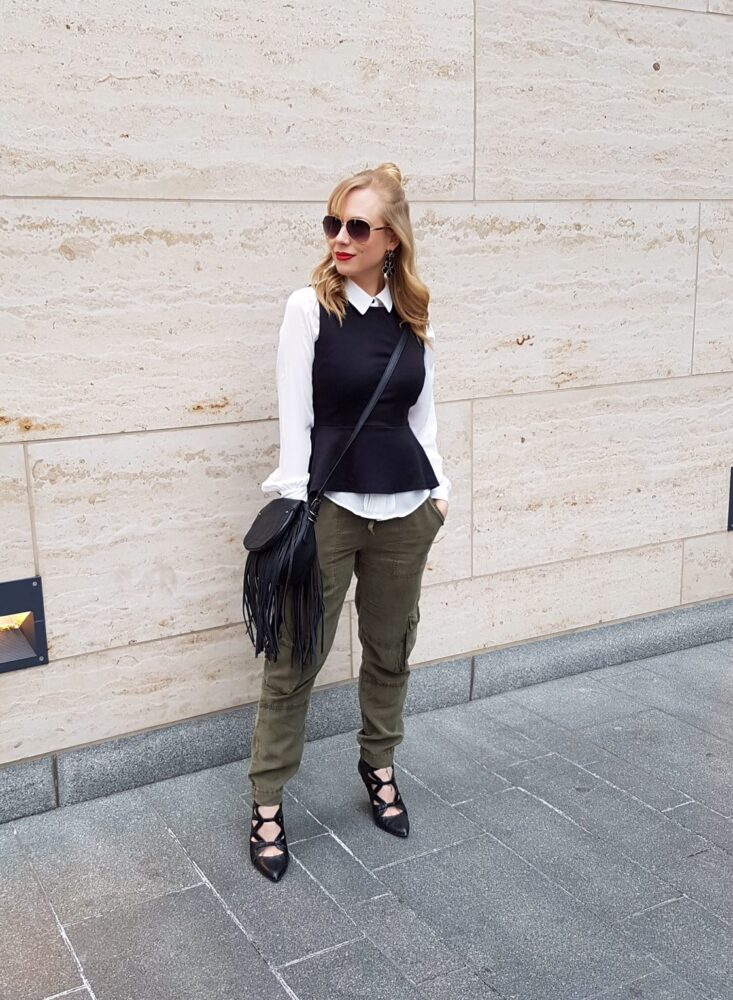 Can I rant about taxes for a second? What a nightmare. I don't think there has ever been anything that has stressed me out more in my entire life, than my taxes this year. Up until now I was lucky enough to have my parents doing my taxes every year. I know. A 27 year old woman who still has her parents do her taxes? Bah. grow up. But taxes are not something they teach you in school. In fact they aren't something they even teach you in BUSINESS school, which I attended by the way. So, I have absolutely no idea how to do them.
This year my parents were going to help me one last time before I begin the hunt for a Toronto based accountant who specializes in doing taxes for people in the entertainment industry. Except this year, with all my moving expenses (due to the fact I moved here for work) and being self employed (for some of the year) my taxes got to a whole new level of confusing. I'm talking quantum physics level of confusing. To the point where my mom and I were a) nearly in tears and b) about to rip each others heads off. Isn't tax season a wonderful time? In conclusion, I ended up having to find a Toronto accountant quicker than planned. We still aren't done my taxes (which apparently doesn't matter if you're self employed because you don't actually have to pay money owed till June 1st. News to me!), and I have like a million forms to fill out and numbers to calculate and send off. One day I'll finish. And hopefully then I won't have ripped out all my hair and won't owe the government my first born child. Booo taxes. End rant.
Enough about that depressing subject, how cute are these Banana Republic cargo pants?! I never thought I would ever wear cargos again after my brief stint with them in Jr. High… but these have to be the most comfortable pants I own. They're so soft I almost felt like I was wearing pyjamas, only much more appropriately worn in public. I paired my cargos with a white blouse (also seen here, and here, and also here) which I layered underneath a black peplum sleeveless top. I got the idea to wear a sleeveless top like a vest recently online and couldn't wait to try it out. I'm all for finding new ways to wear pieces that are already a part of my wardrobe. When you find a new way to wear something, I think it helps breath new life into an item that you may not be excited about anymore, and makes it feel new again. I can't wait to try this look out with some of my other sleeveless tops :).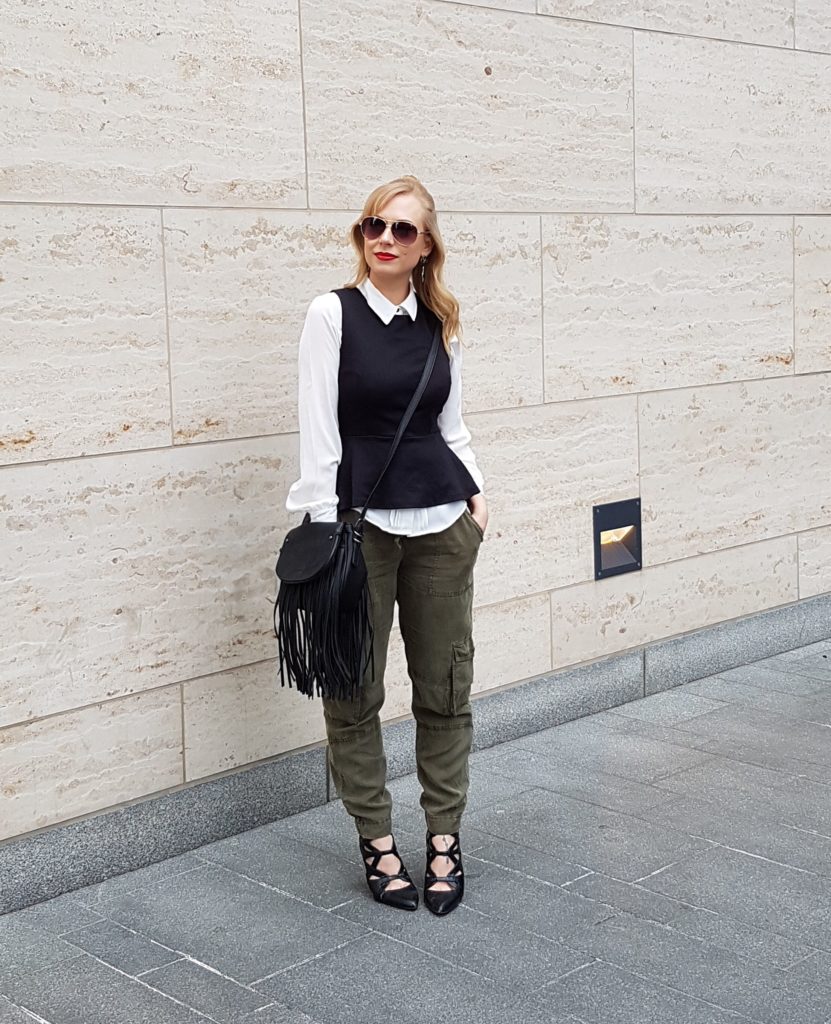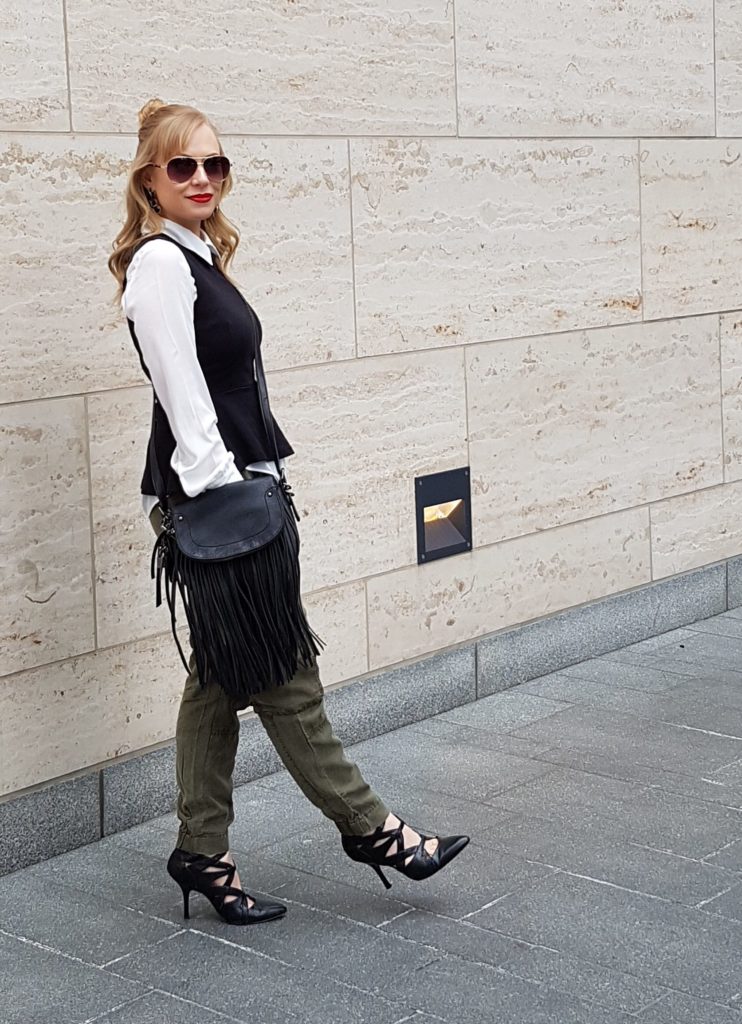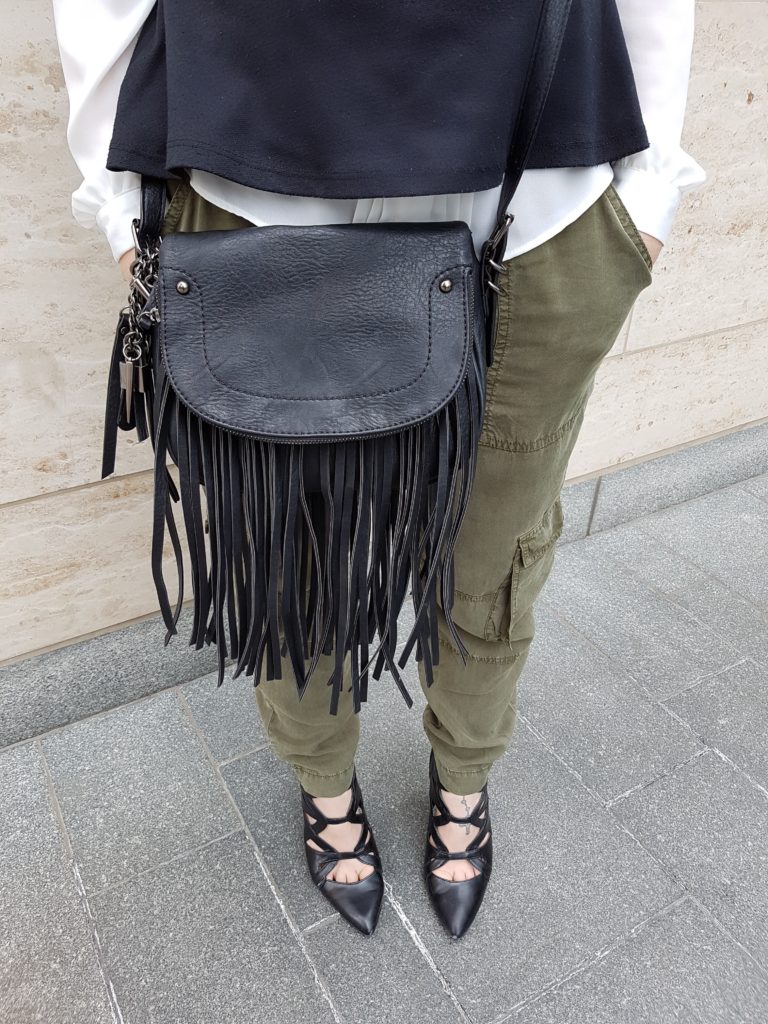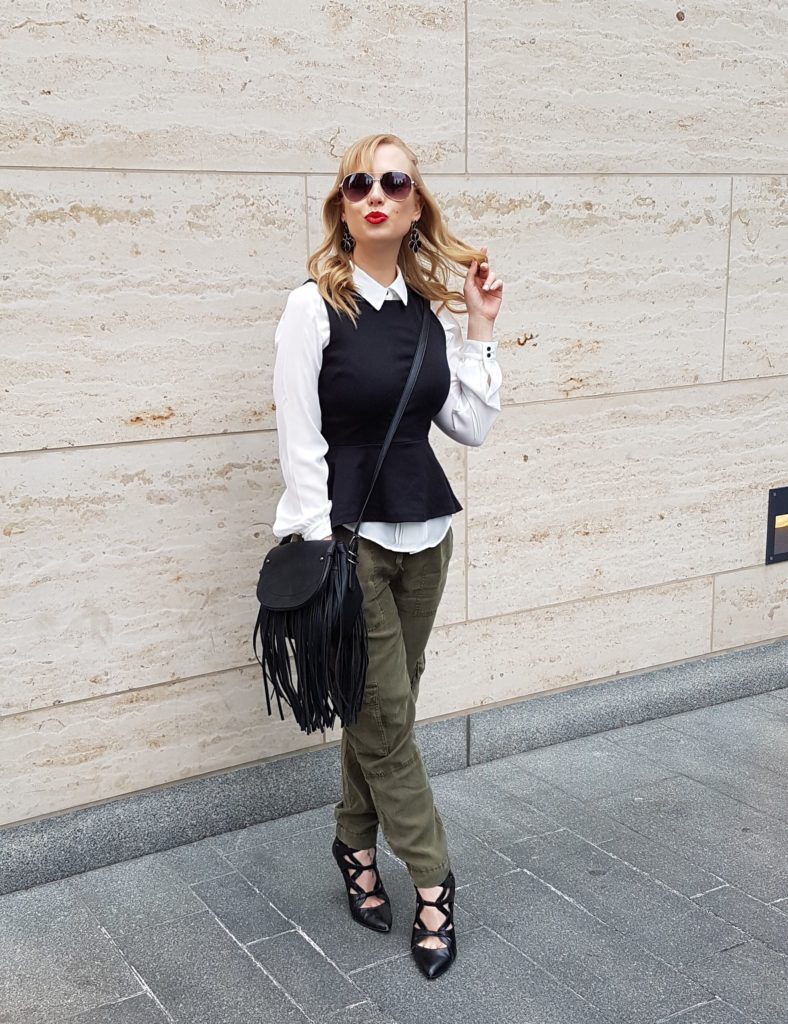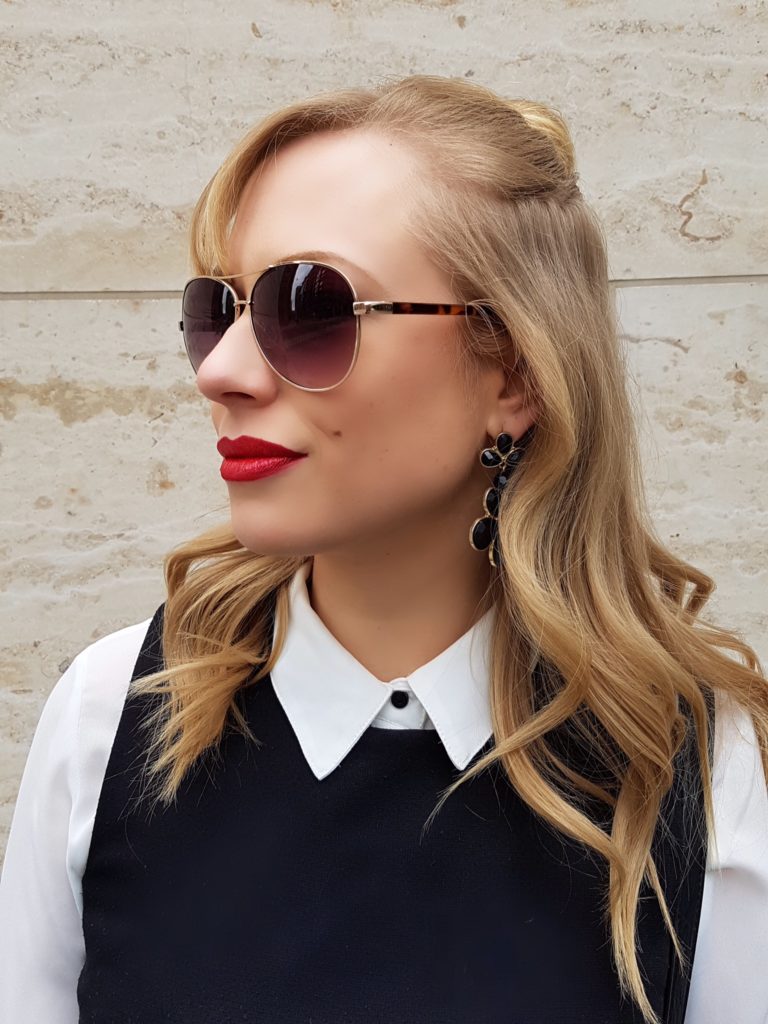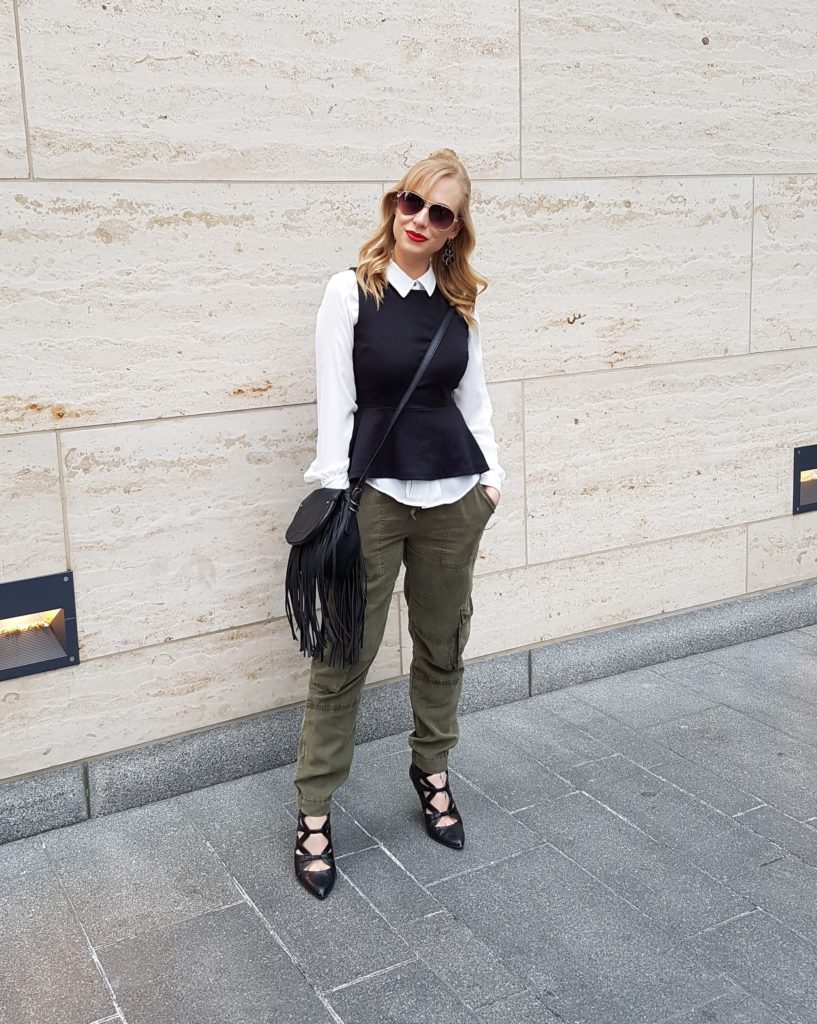 What I Wore:
Cargos – Banana Republic // Blouse – H&M // Peplum top – Simons // Heels – Nine West // Bag – Aldo // Sunglasses – Oscar de la Renta // Earrings – H&M
Hope you all made it through tax season safe and sound, and if you aren't quite done like me, may the rest of the process be stress-free!
xoxo