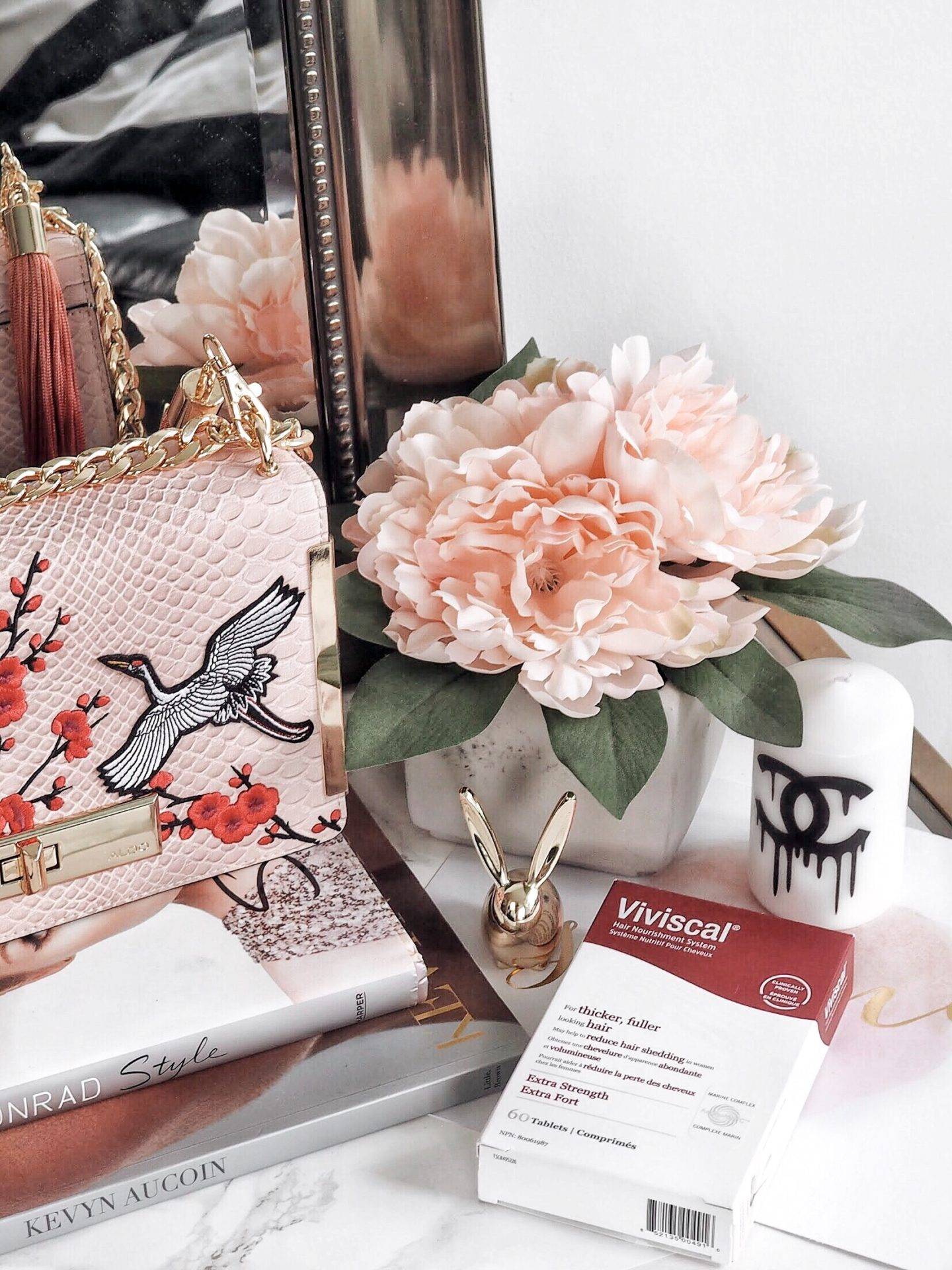 If there's one city that surprised me the most this summer, it was Budapest. If I'm completely honest, Hungary was just never really on the list of countries I wanted to see in Europe. Whenever I've thought of visiting Europe, places like Italy… Spain.. France.. or Greece are generally what has always come to mind. So when my family said we were going to Budapest, it was probably the city I was the least excited for.. but I couldn't have been more wrong.
Budapest is an absolutely breathtaking city. From the stunning architecture, to the interesting history, delicious traditional Hungarian food, and it's amazing wines.. Budapest is a city that you have to experience at some point in your life. I hope that through reading my Budapest Travel Diary you'll get just a little taste of what a wonderful city it is, and it will inspire you to take a trip there and see it all for yourself!
What to Explore: Buda Castle
The city of Budapest is actually two districts separated by the Danube river. A 19th Century chain bridge connects the hilly district of Buda with the flat district of Pest. If there's one thing you have to do while in Budapest is head over to the Buda side and walk up to Buda Castle just for the view. The Castle itself is a sight to see, but the view from the city at the top is just stunning. If you're not able to make the walk up the hill, there's a funicular that runs up Castle Hill to Buda's Old Town, and you can walk to the Castle from there.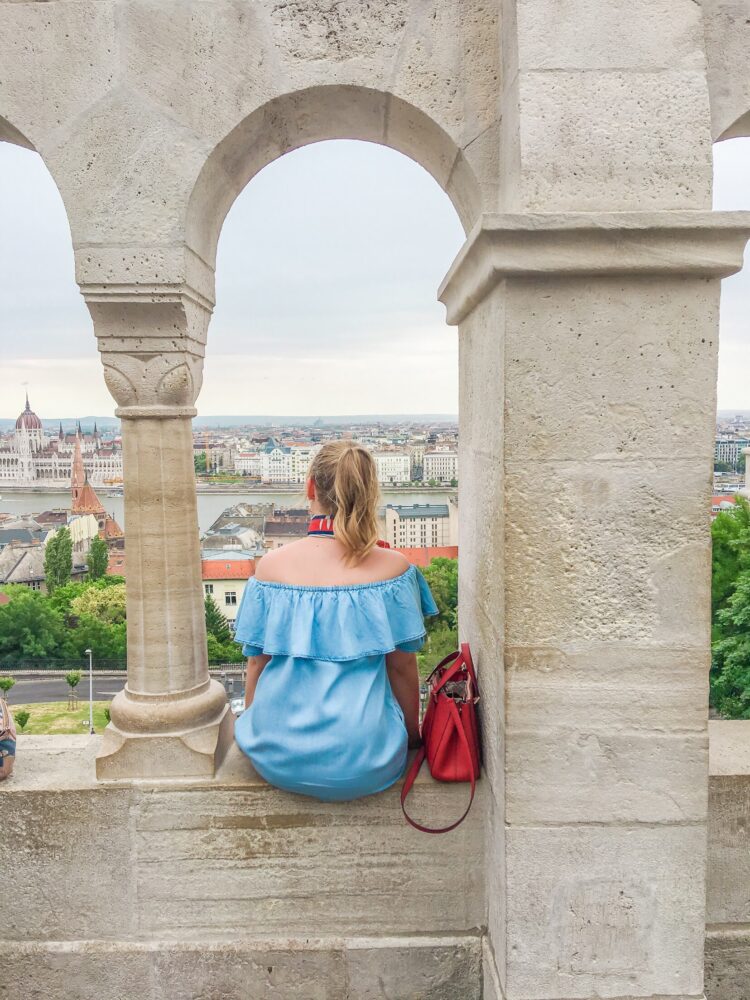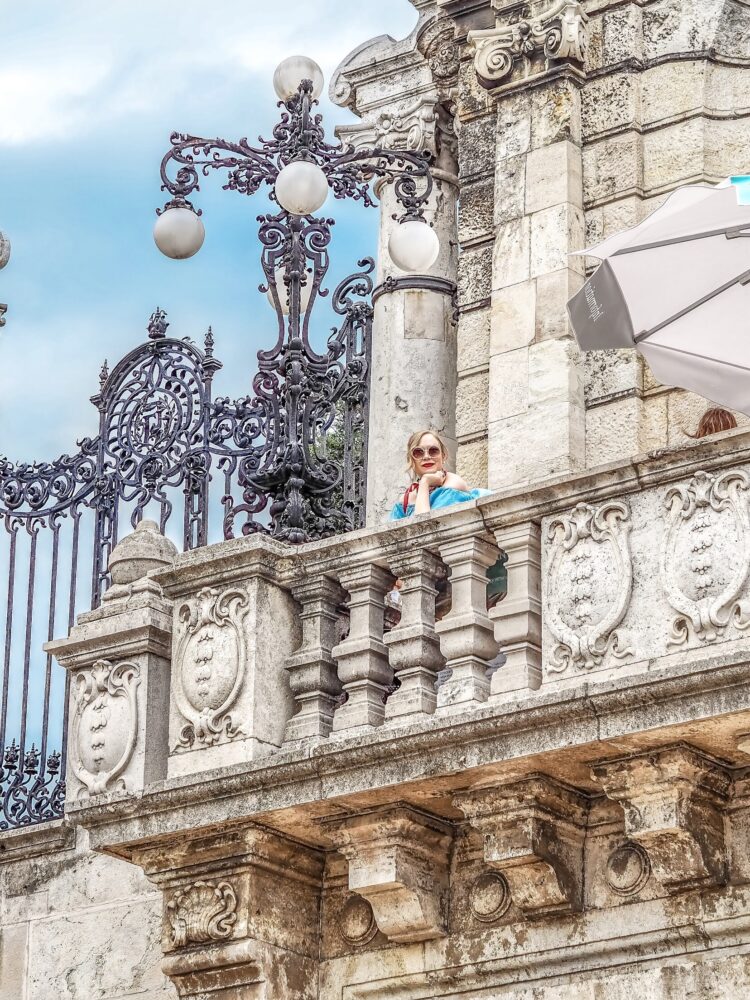 The Architecture of Buda Castle was just stunning, and I could have spent hours just exploring it alone…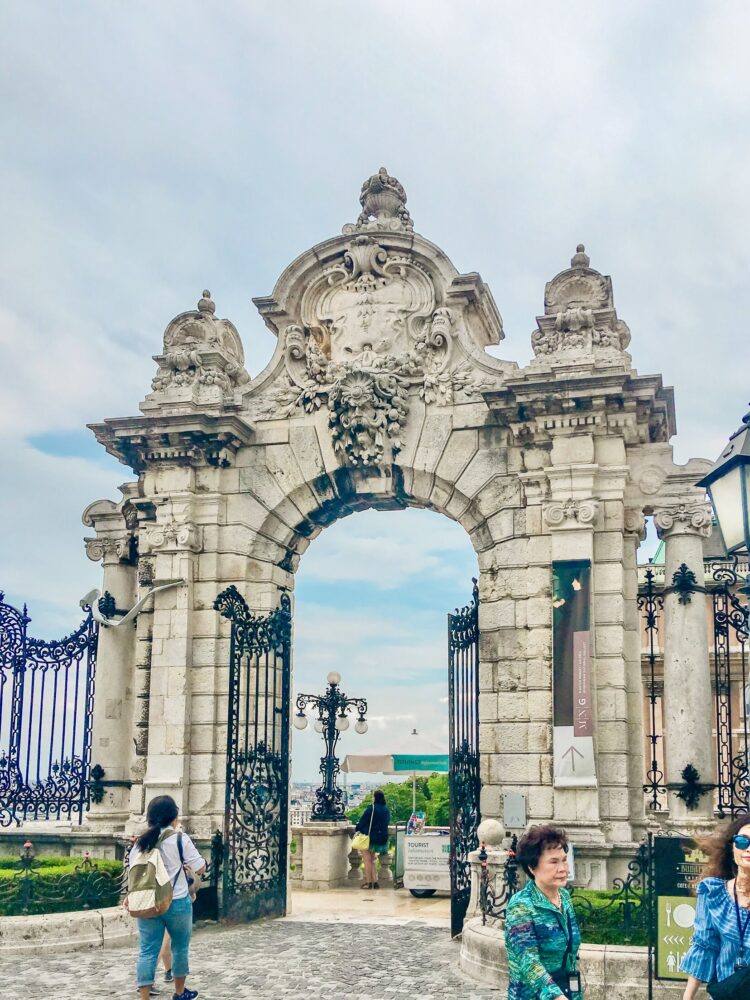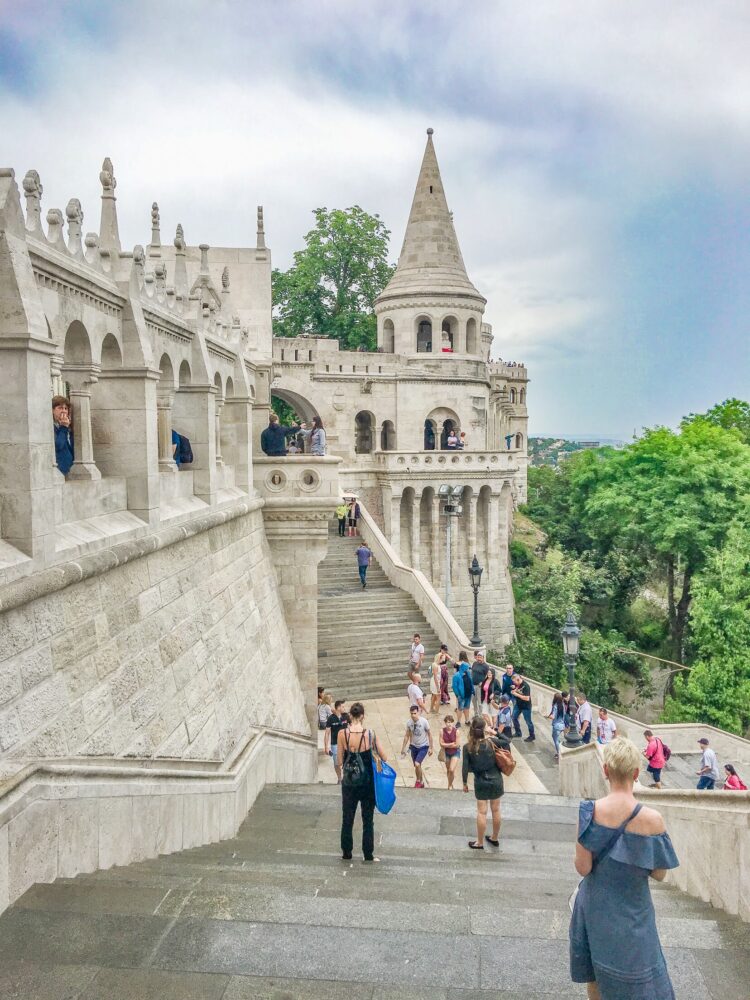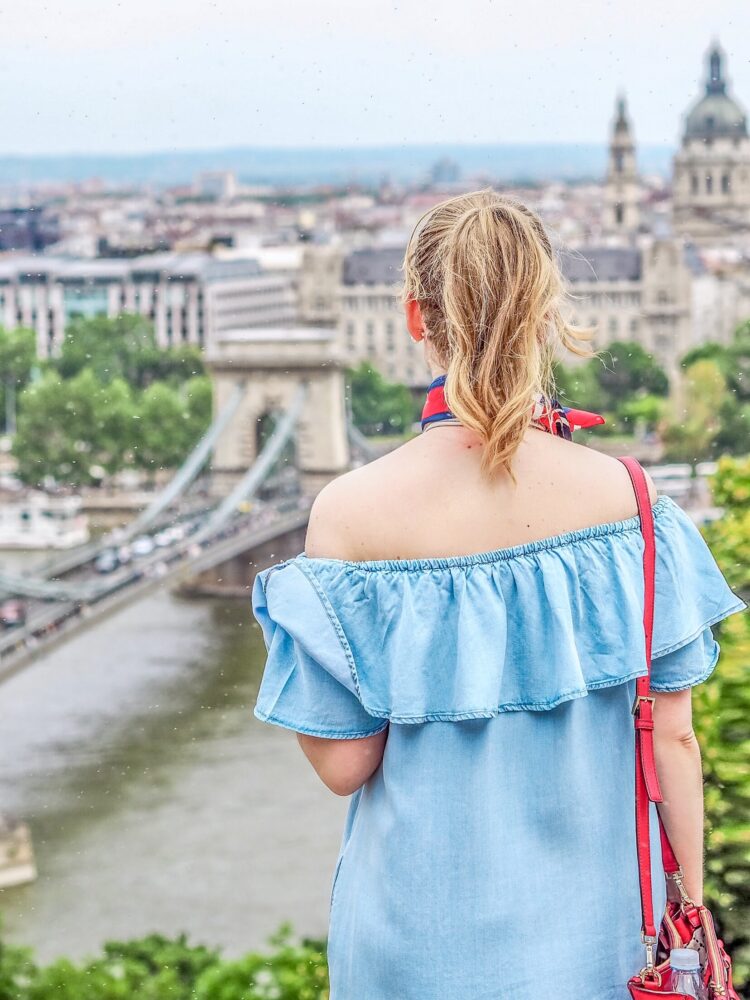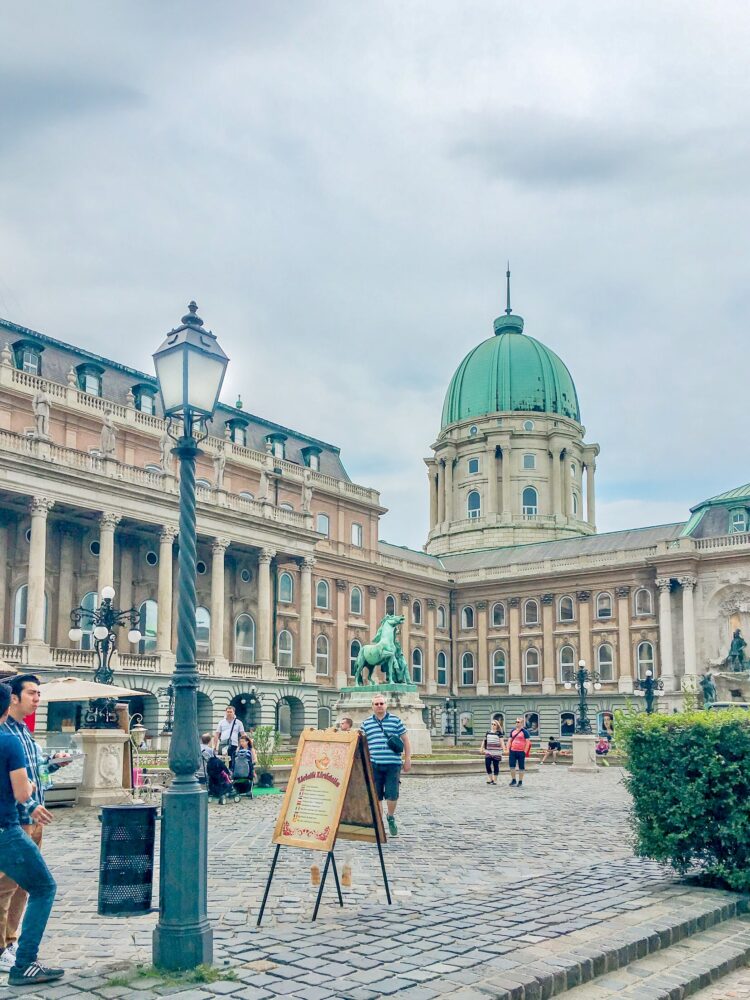 What to Eat: Stop for 
Kürtőskalács (Funnel Cake) 

in the Castle grounds

After hiking up the hill to Buda Castle and enjoying the stunning views and architecture, you've probably built up a decent appetite. It's the perfect time to enjoy a real traditional Hungarian treat. Kürtőskalács, or funnel cake, is made from strips of a sweet dough that's wrapped around a cone shaped baking spit, rolled in granulated sugar, and slowly cooked while basted with butter until it turns golden brown. While we do have a similar treat available in Canada, it's just nothing compared to the real deal in Hungary.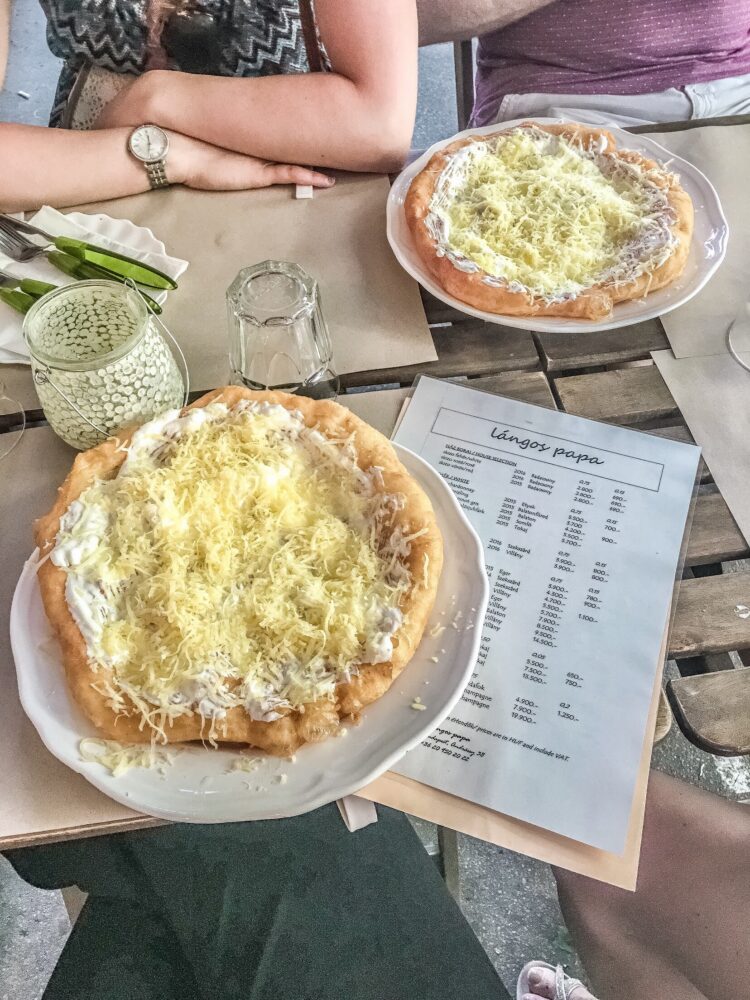 What to Eat: Langos
Another traditional Hungarian snack that you absolutely HAVE to try while in Hungary is Langos. Langos is a deep fried flatbread that's covered with all sorts of interesting toppings. It can be compared closest to Elephant Ears or Beaver Tails, however the big difference here is that the Hungarians traditionally enjoy Langos with savoury toppings. While you can find sweet ones, the real experience is to have it with sour cream and cheese. I would be lying if I said I wasn't skeptical about it before I tried it… but it was one of the best things I ate the whole time I was in Europe! I would go back to Budapest for the Langos alone.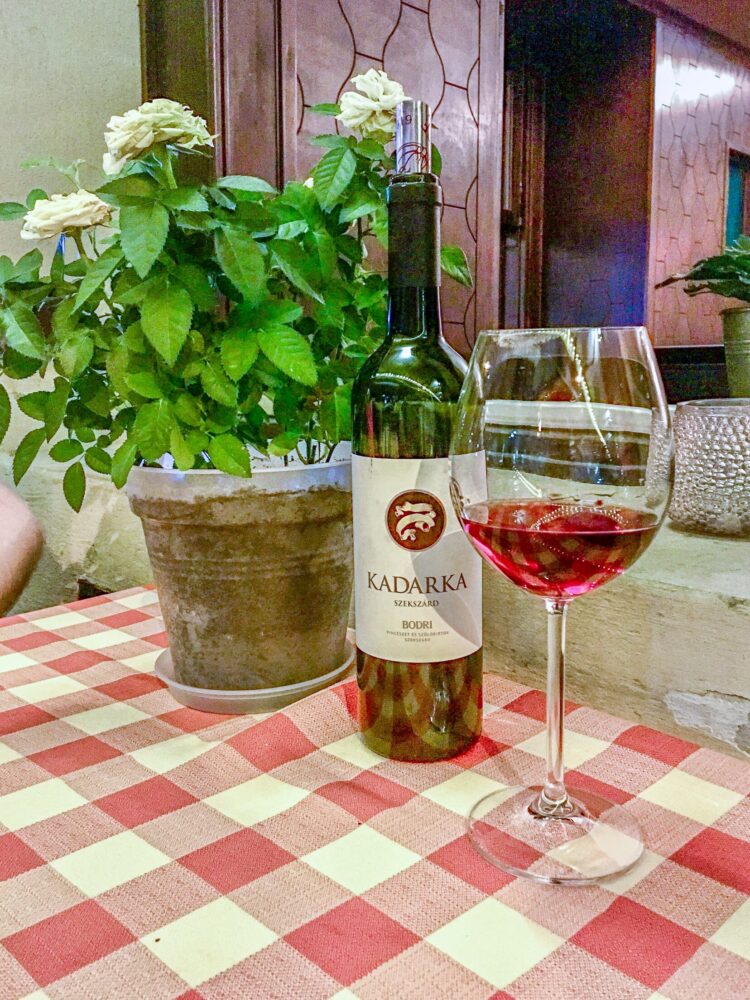 What to Drink: Hungarian Wine
I think anyone would agree with me that when you're in a new country one of the things you have to do is try the local wine (or beer if that's more your jam). Even though I have history as wine sales rep, I had never tried Hungarian wine so I was so excited to finally get to try it. Although Hungarians make a lot of wine (they have their own wine region which I would love to explore next time I'm in Hungary!), they keep the majority of it for themselves and only export a little… which is probably why we don't see a lot of it here in Canada! It was so interesting to learn all about different grape varieties I had never heard of, Hungarians have so many different wines that were completely foreign to me. Our first evening we went with a bottle of the Kadarka Szekszard Bodri.. it was smooth, easy to drink, and so delicious! It definitely opened my eyes to a whole new world of wines.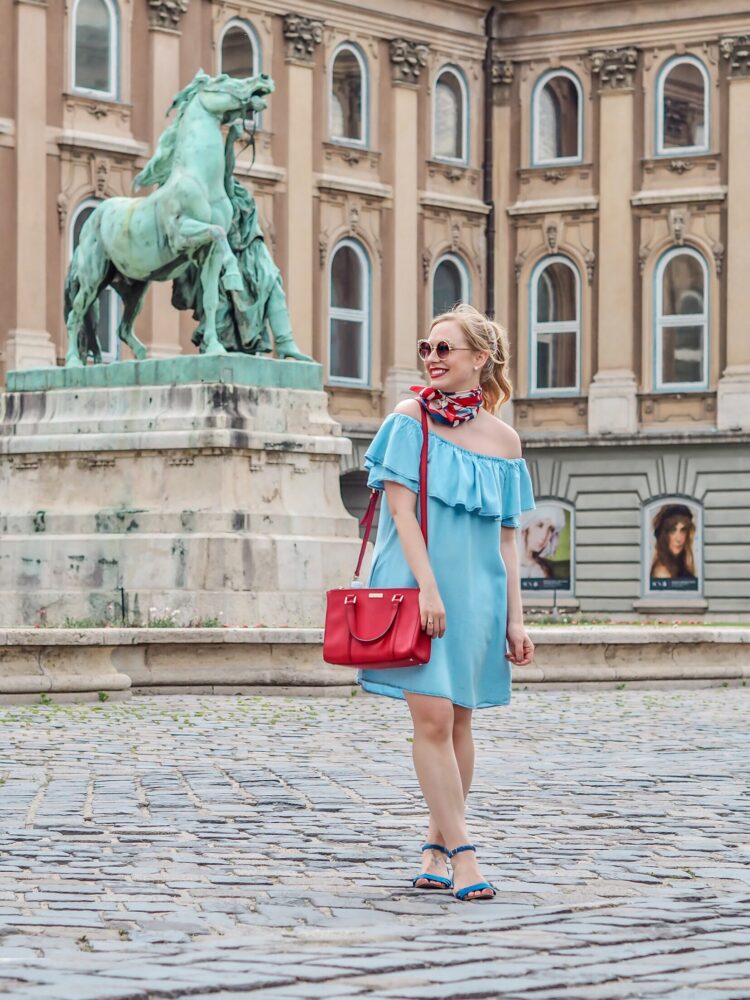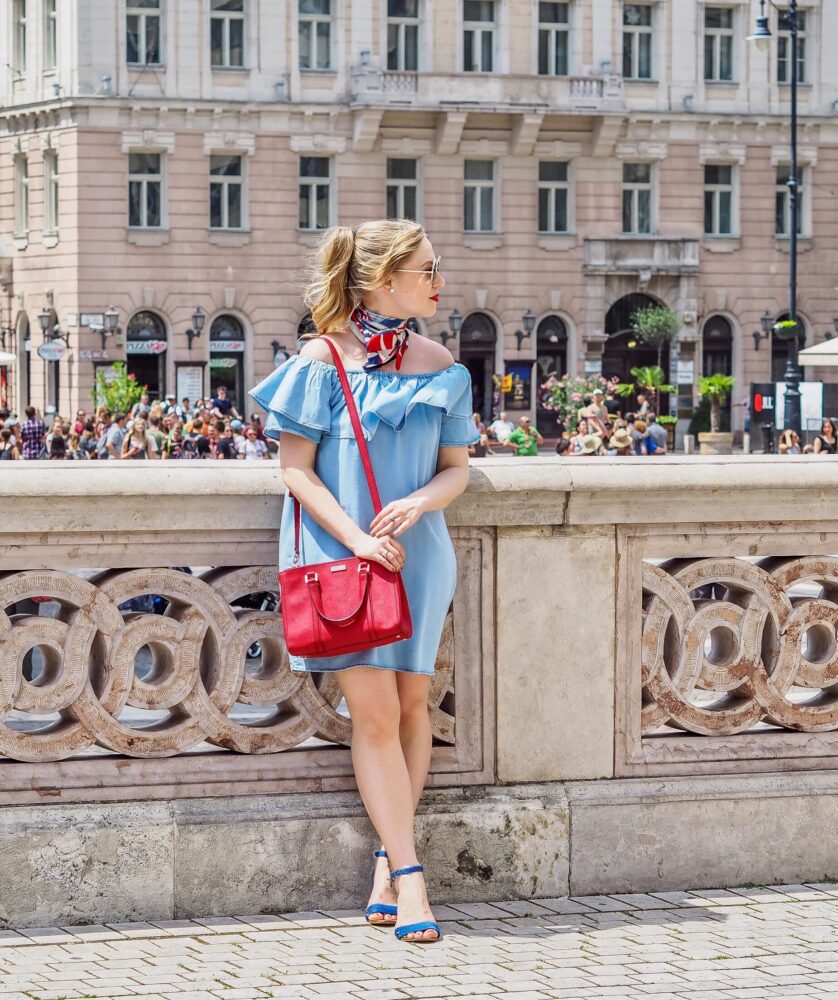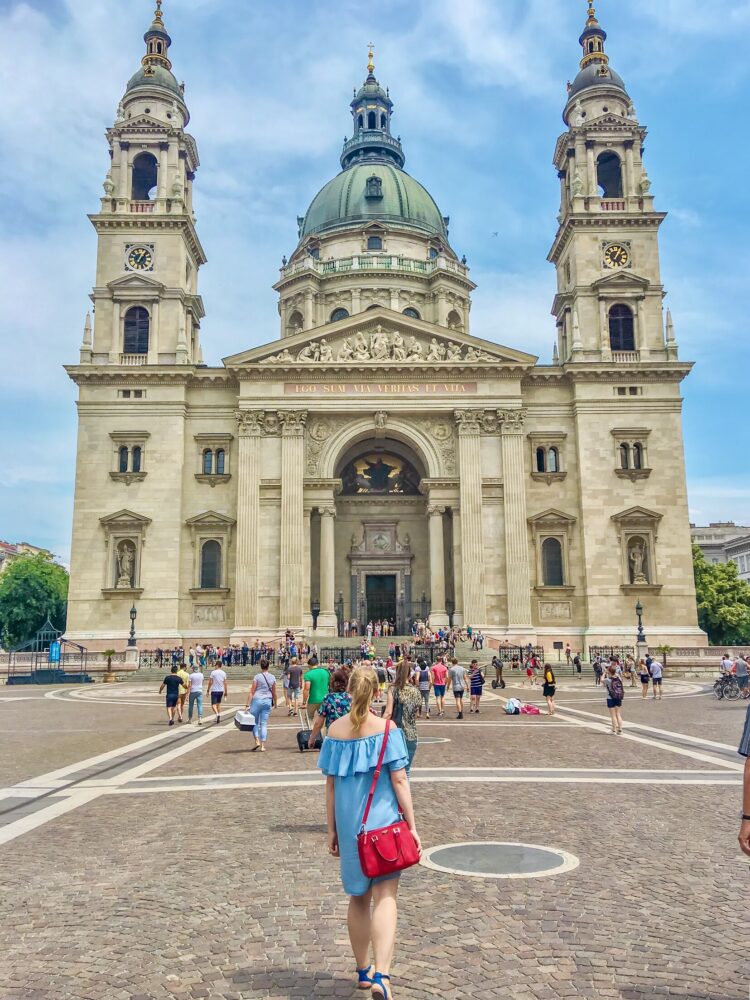 What to See: St. Stephen's Basilica
Although there are lots of beautiful churches in Budapest, St. Stephen's (dedicated to Hungary's first king, St. Stephen) is the biggest and definitely one you can't miss. For a small fee (200 Huf, or 1 Euro) you can check out inside of the Basilica on your own, or for a larger price you can get a guided tour. Fun fact – St. Stephen's Basilica houses Hungary's number one most sacred treasure… The mummified right hand of St. Stephen himself.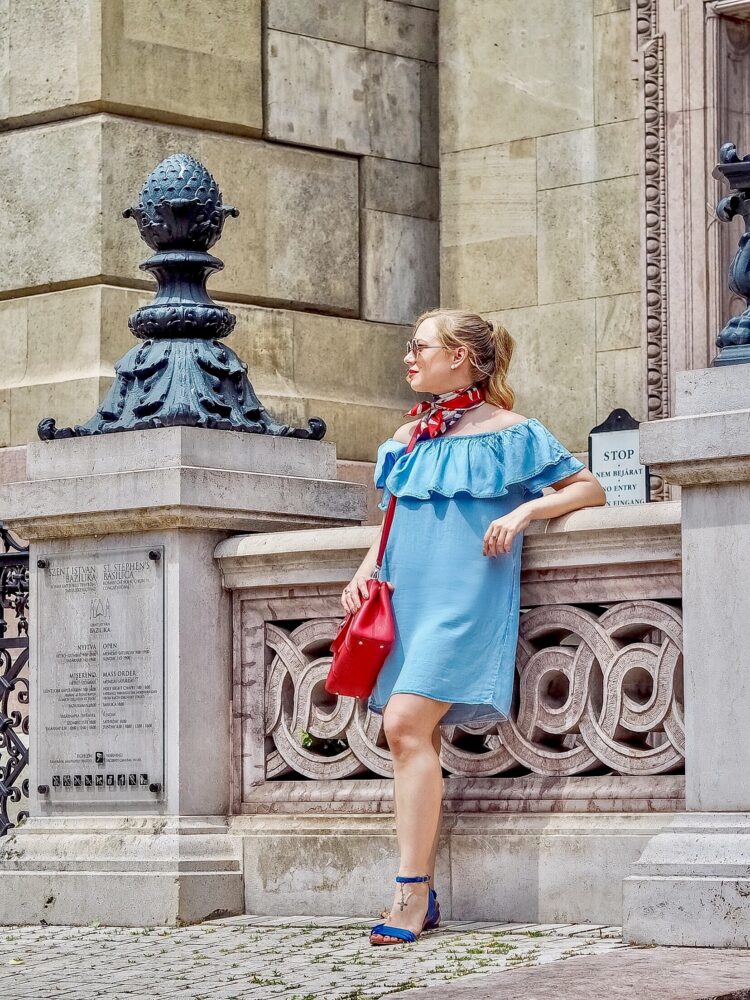 I think one of the best ways to experience a new city is to experience it at Night. While I didn't get any pictures at night, I didn't want to miss including some of my favourite things we did…
What to Do at Night: Ghost & Vampire Tour
One of the things I really wanted to do while in Europe was a ghost tour. I first saw people doing this while in Munich, and I had been dying to do one ever since. Finally, in Budapest, my sister-in-law and I had the chance to sneak away for a ghost & vampire tour of Buda Castle. We headed up to Buda Castle at night (which alone was more than enough fun to experience) where we met up with our guide for the evening. She led a small group of us through the castle grounds, telling us stories of the history of Hungary, and the many ghosts and vampires that haunt Hungary's past. It was so fascinating to learn all the gruesome details, and even more so to have the opportunity to do it while walking the grounds of Buda Castle and the Old Town in the dark of night.
What to Do at Night: Ride the Ferris Wheel  (& Drink Champagne in the Park)
One of the most magical parts of vacation are just going with the flow, having no plan and just doing whatever feels right at the moment. After our Ghost tour we weren't quite ready to head to bed yet so my sister-in-law and I stopped at Erzsebet Square to ride the Ferris Wheel. While (surprise surprise) it wasn't a cheap ride, it was so fun to see Budapest from those heights, especially at night.. and I definitely recommend doing it once! After riding the Ferris Wheel we stopped into a little shop across the square and bought a bottle of Champagne for ridiculously cheap, sat on a park bench and sipped Champagne while snacking on gummy bears into the wee hours of the night. Couldn't think of a better way to spend an evening in Budapest than people watching from a park bench, with bubbles of course!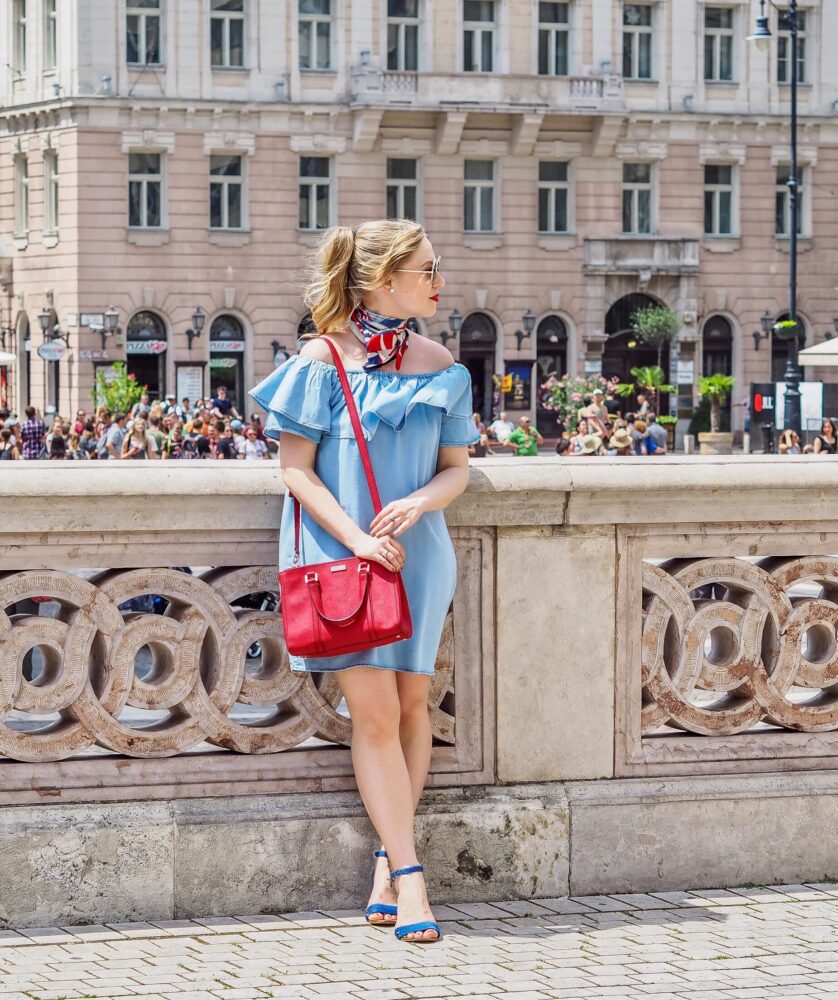 What I Wore Day 1 in Budapest
Dress – Zara // Scarf – Vintage // Sandals – Zara // Bag – Kate Spade // Sunglasses – Aldo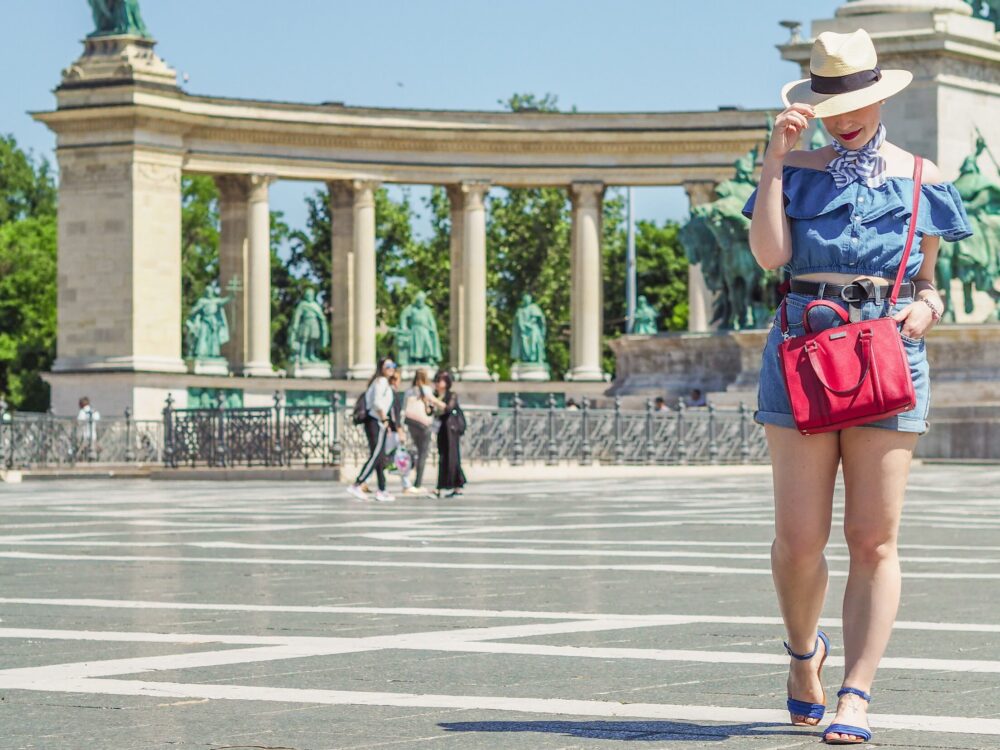 What to See: Hősök tere (Heroes Square)
Heroes Square is one of the major squares in Budapest, noted for its iconic statues featuring the Seven Chieftains of the Magyars and other important Hungarian national leaders. The square hosts the Museum of Fine Arts, and has played an important part in Hungarian history. It has been the host to many political events, and continues to host numerous events and concerts to this day. Heroes Square is located right next to City Park, so it's the perfect place to stop on your way to Vajdahunyad Castle.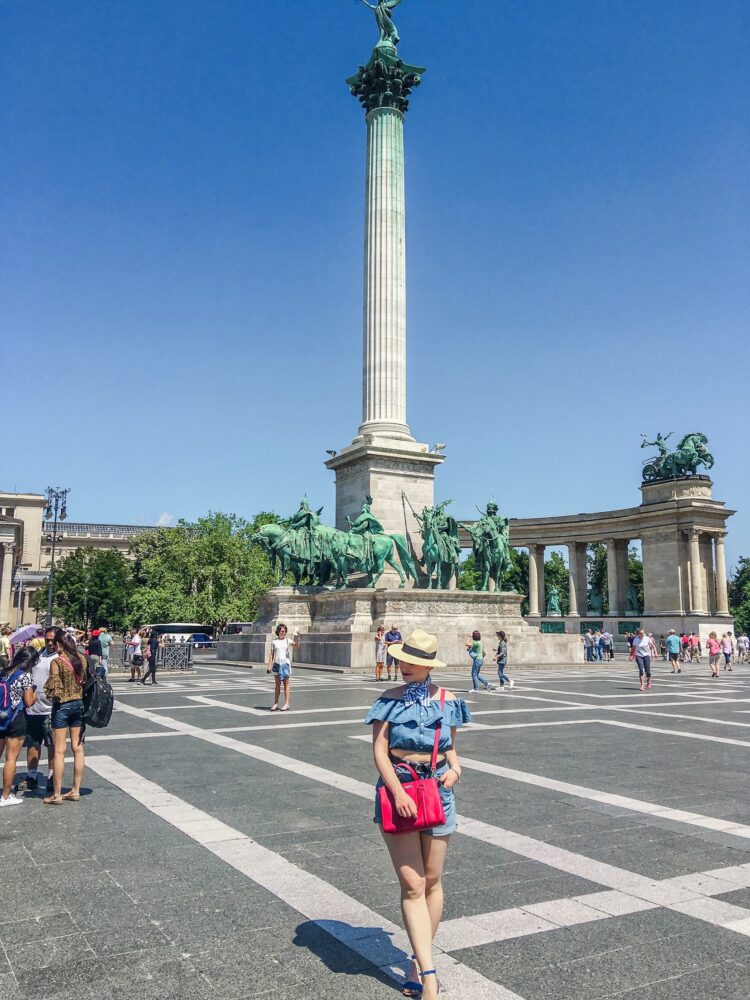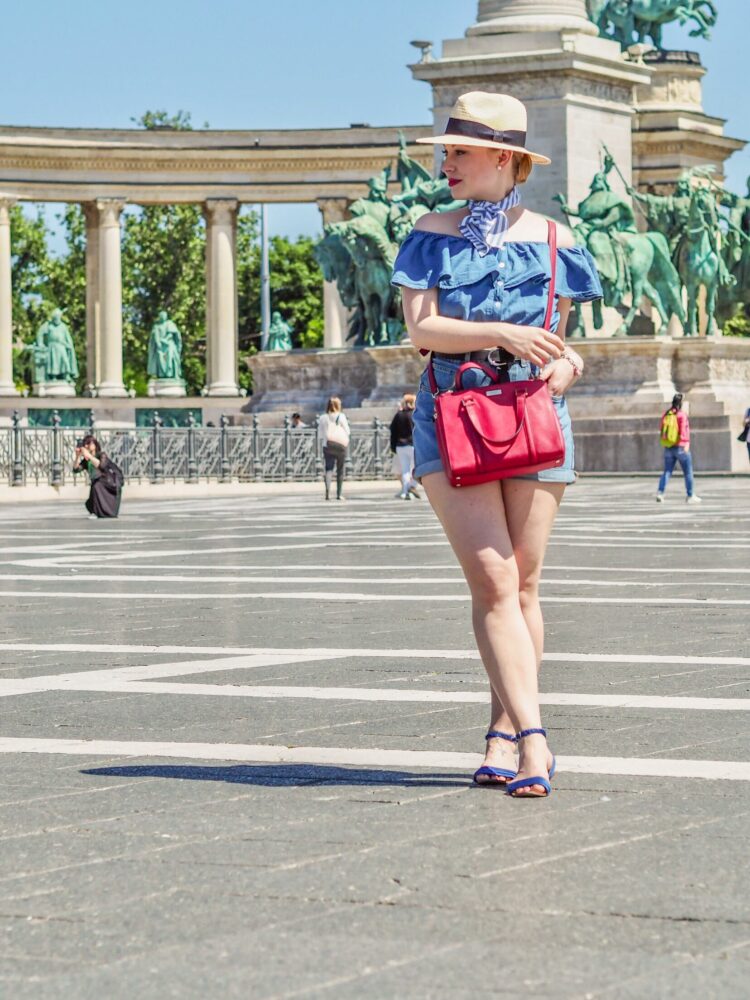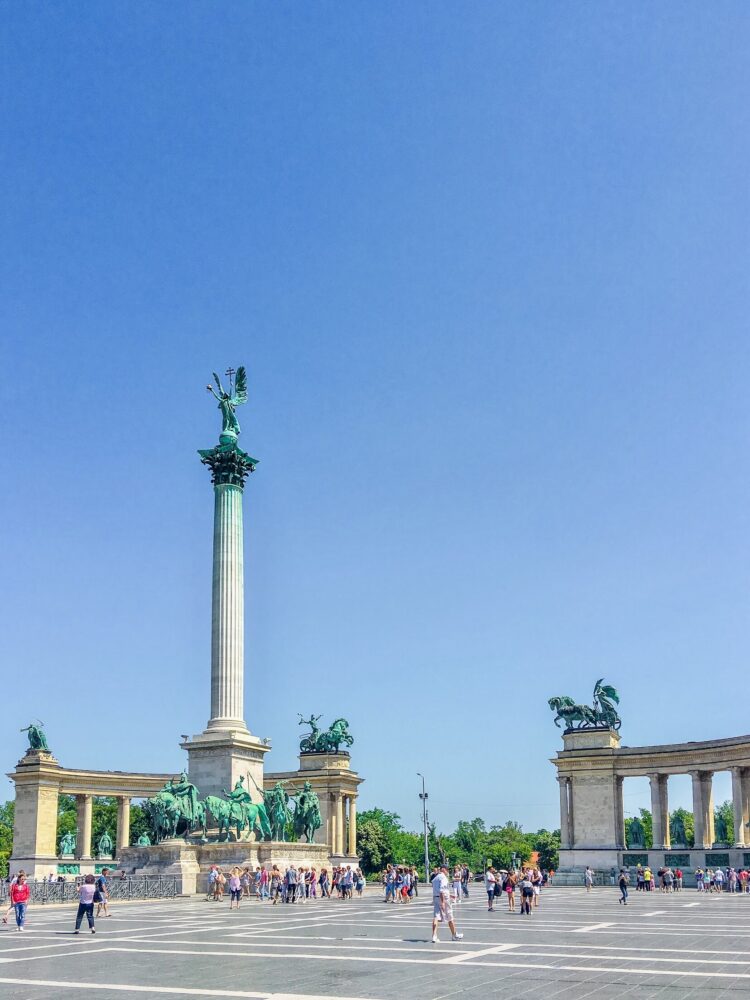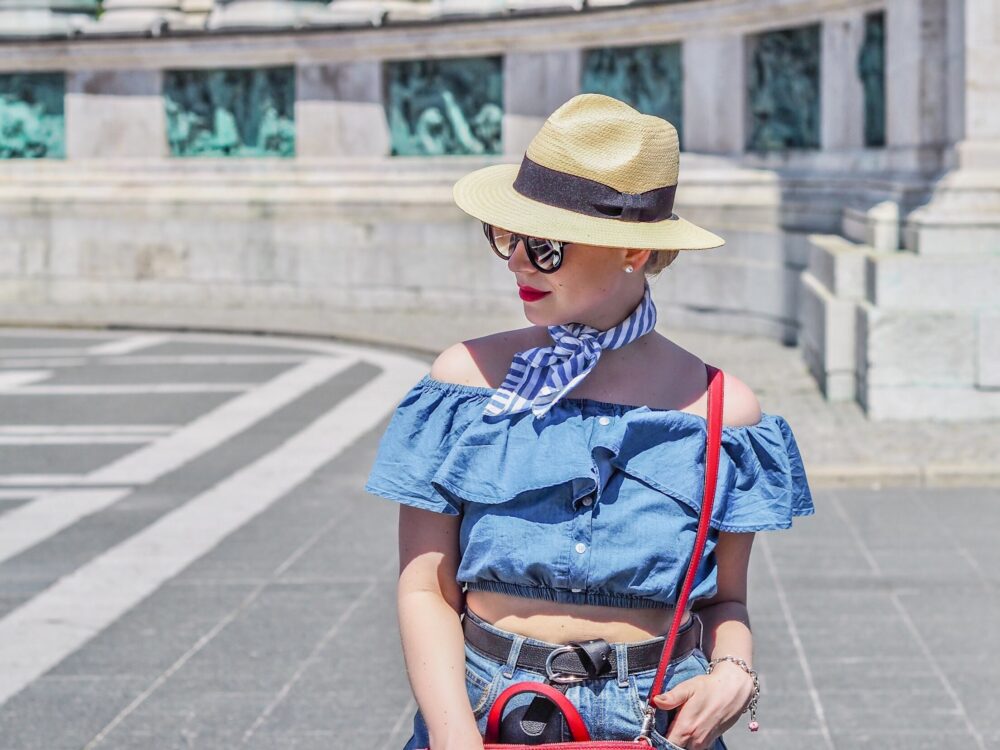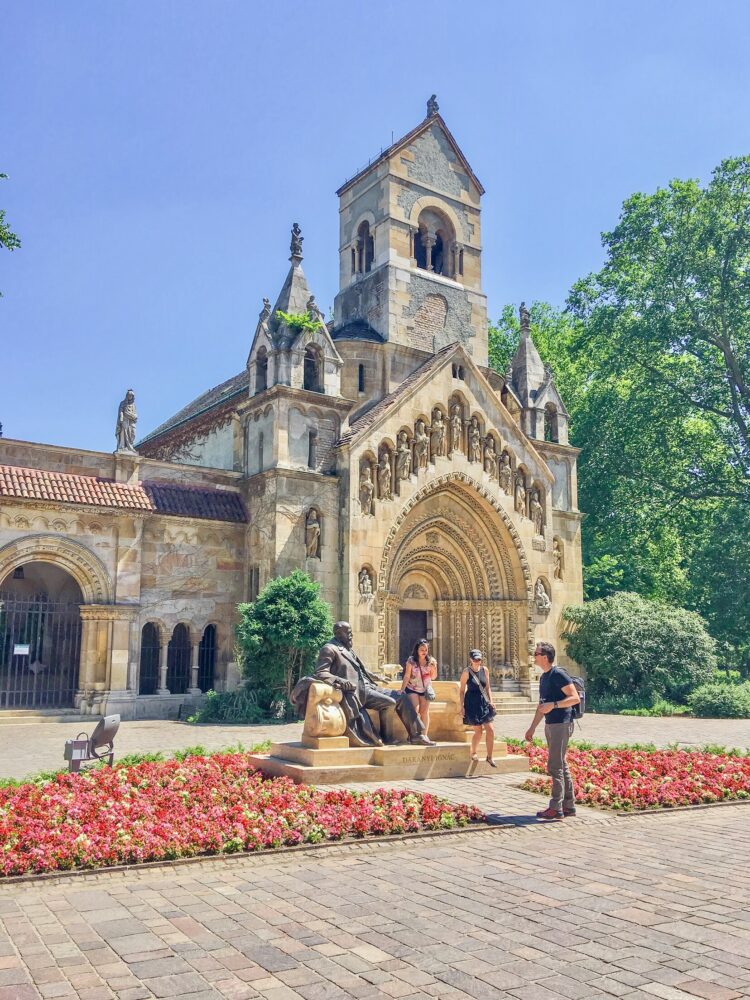 What to See: Vajdahunyad Castle
Vajdahunyad Castle is just a short walk away from Heroes Square in the City Park of Budapest. It was originally built in 1896 as part of the Millenial Exhibition, and remains a highly visited destination today. Rather than taking on one look, the castle was designed to feature copies of several landmark buildings from different parts of Hungary. The most fascinating part of Vajdahunyad Castle is that since it was modelled after many different buildings from different time periods, it's built using several different architectural styles. Parts of the castle display Romanesque styles, while others are Gothic, there's Renaissance, and even Baroque. It's absolutely stunning to see the four different styles and get a snapshot of what Hungarian architecture looked like over several different periods all in one place.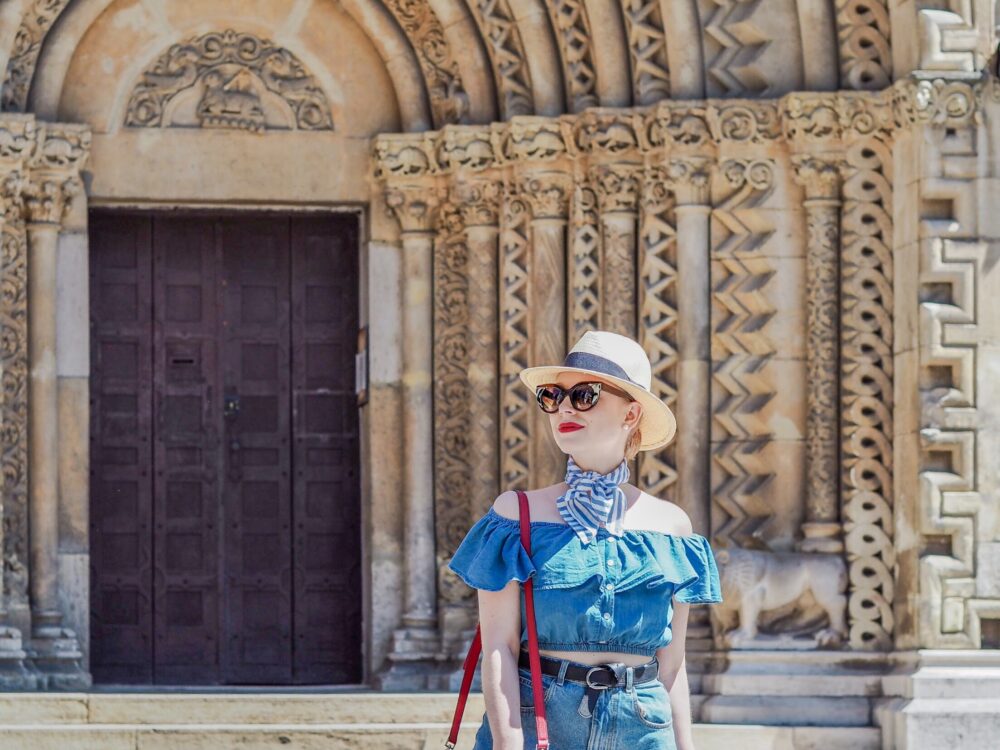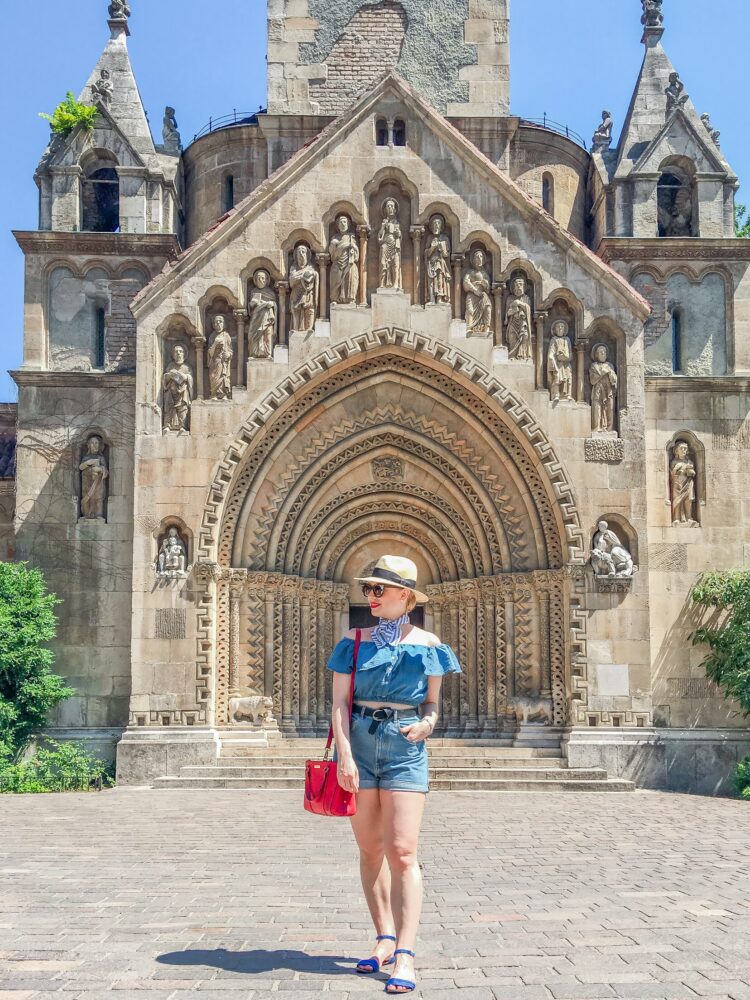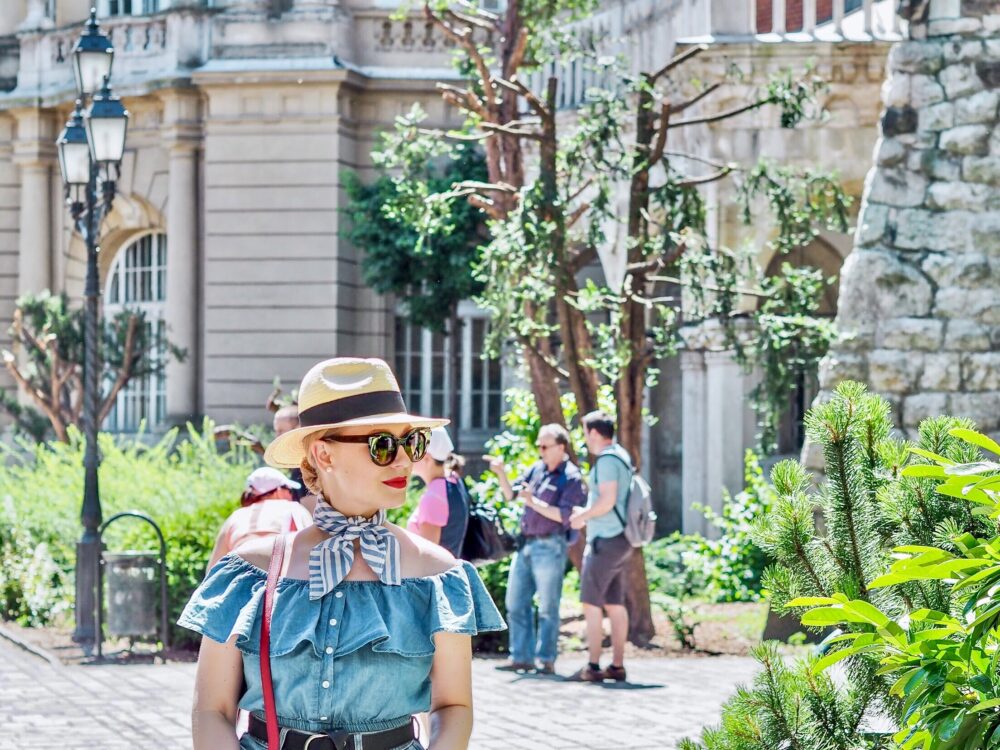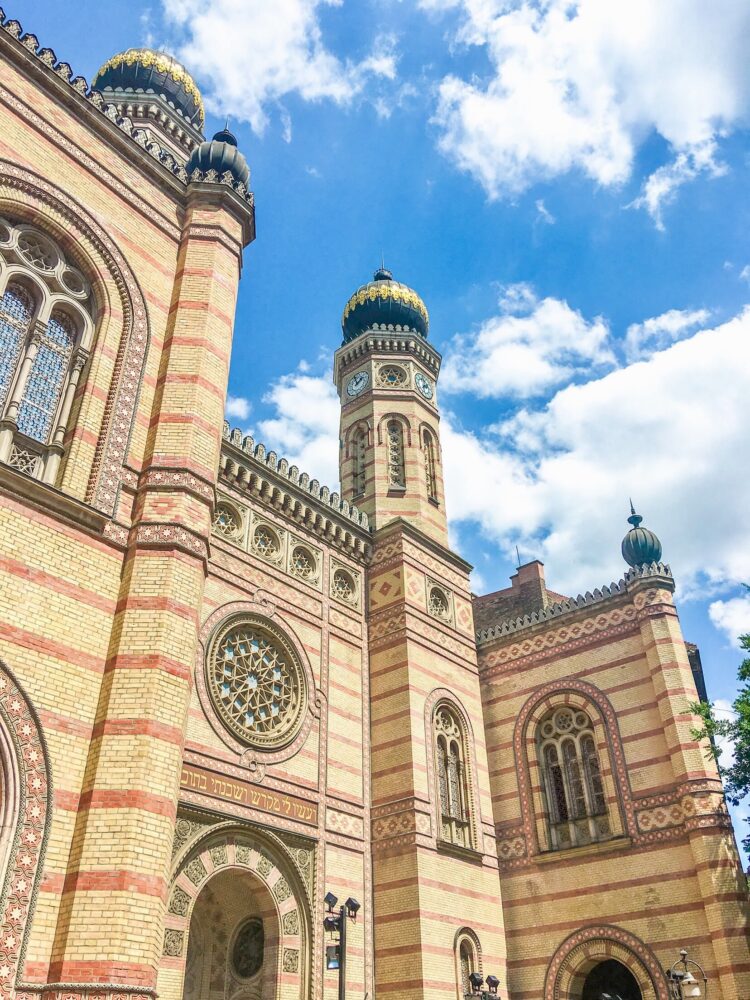 I couldn't get over all the amazing architecture in Budapest. I felt like everywhere I turned there was something different but equally beautiful to see.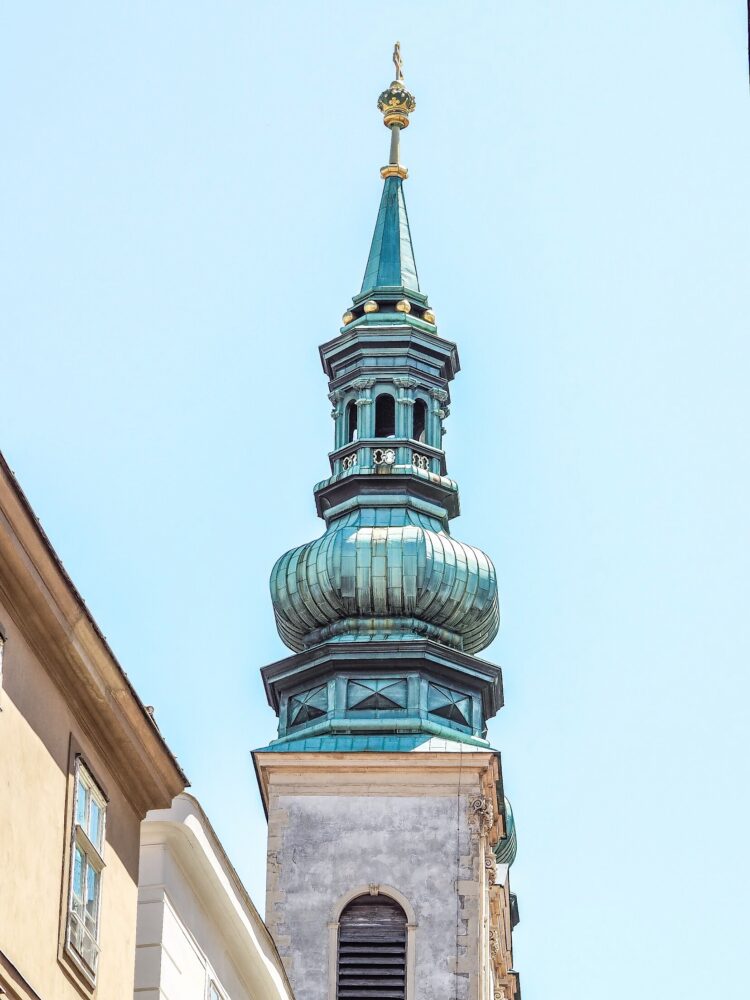 Where to Stop for Coffee: New York Cafe
The New York Cafe is an absolutely stunning ornate cafe and restaurant attached to the New York Palace Boscolo Budapest Hotel. Open since 1894, it became the most beautiful and beloved coffee house in Budapest at the turn of the 20th Century. At the time it was one of the favourite spots for numerous writers and editors, but unfortunately it fell apart after World War 2. It became a sporting goods stores for awhile, and then another cafe took over but didn't succeed. In 2006 the New York cafe was restored to it's original splendor, and has been a highly visited cafe by tourists and locals alike ever since. To this day it is considered one of the most beautiful cafes in the world and definitely worth a visit. If the exquisite decor and architecture isn't enough, the coffee at the New York cafe is probably the best coffee I've ever had in my life. From the presentation to the taste, don't visit Budapest without stopping here for a coffee!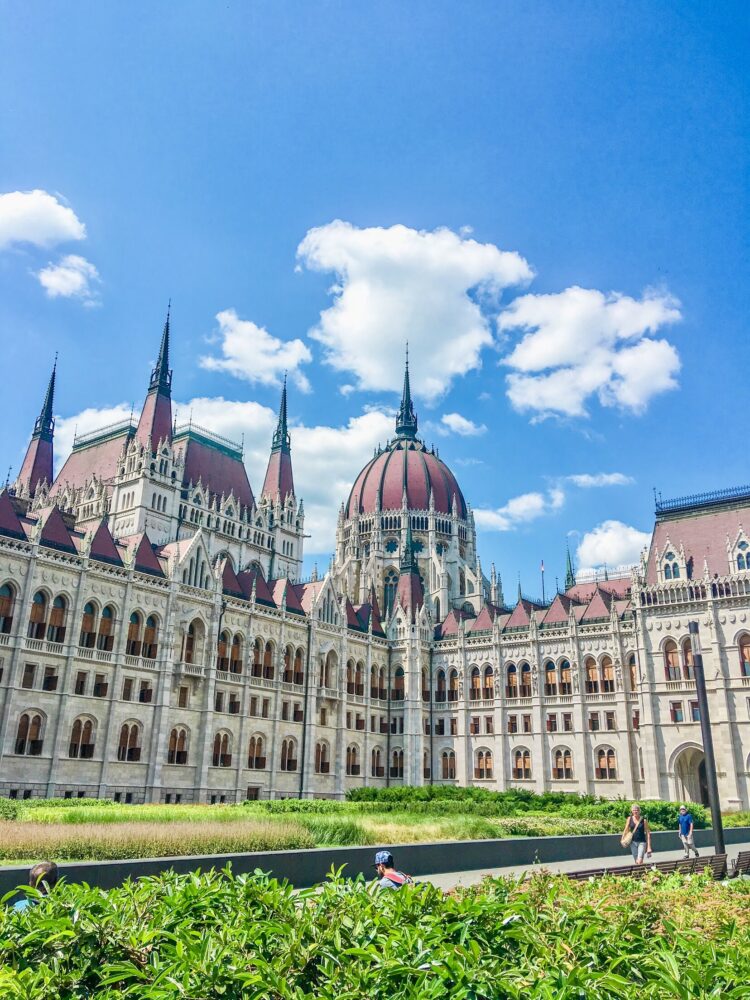 What to See: Hungarian Parliament Building
Right on the edge of the Danube, the Hungarian Parliament Building is definitely a sight to be seen. Built in the Gothic Revival style, the Parliament is split into two completely symmetrical sides with identical parliament halls. One hall is used for politics, and the other is used for tours for those that are interested in seeing the inside of the building. While we didn't get the chance to check out the interior, the exterior was absolutely stunning.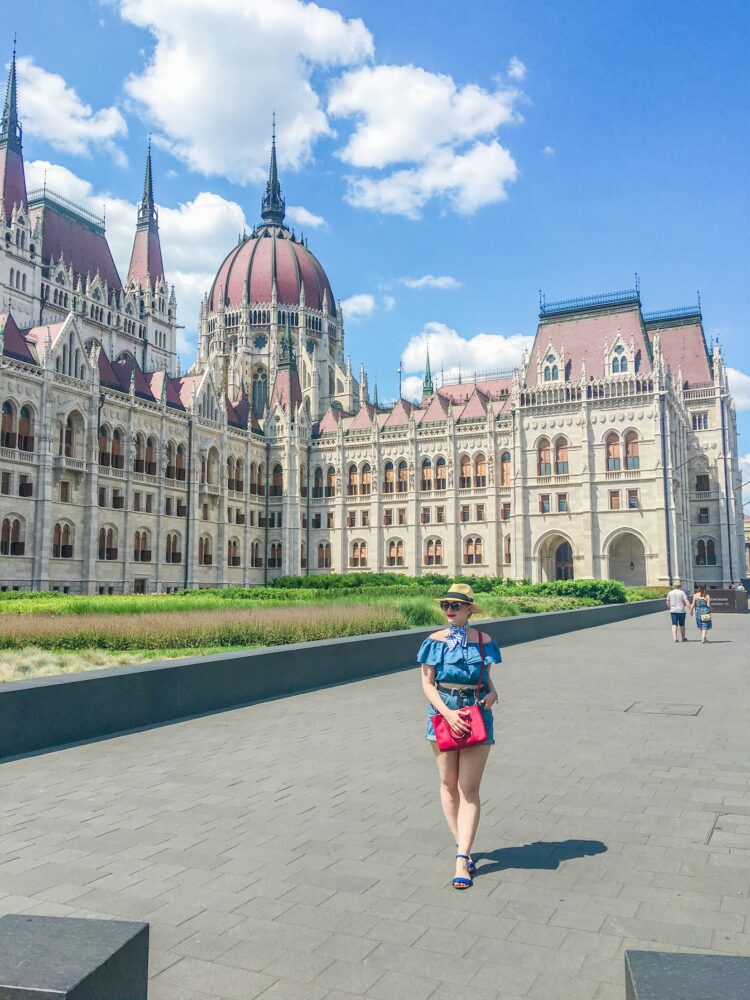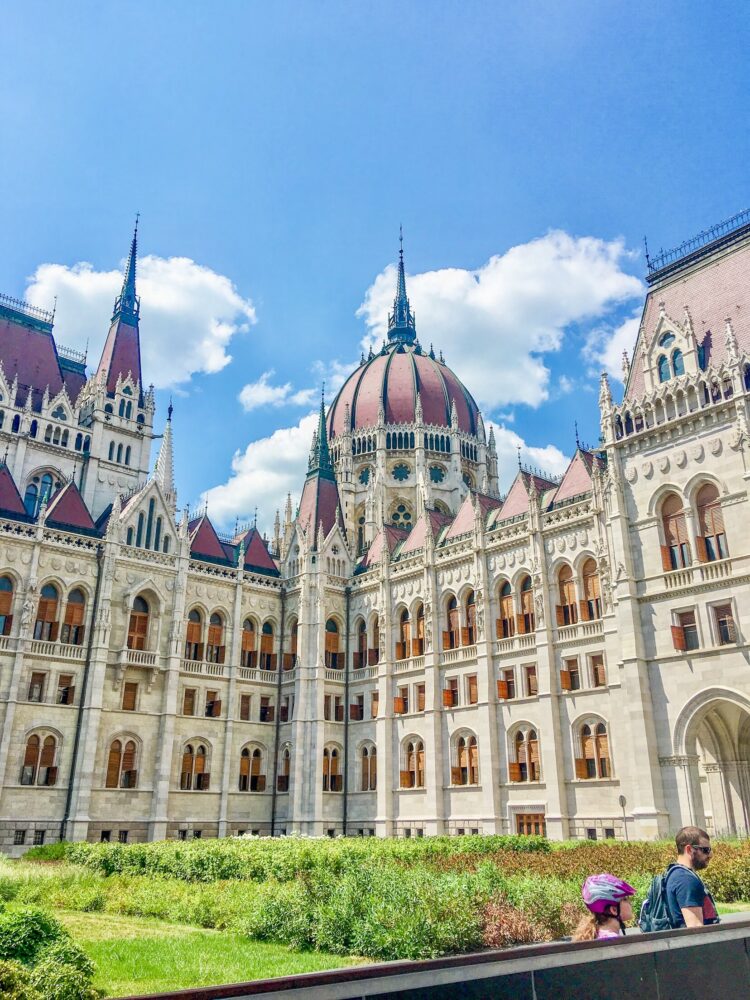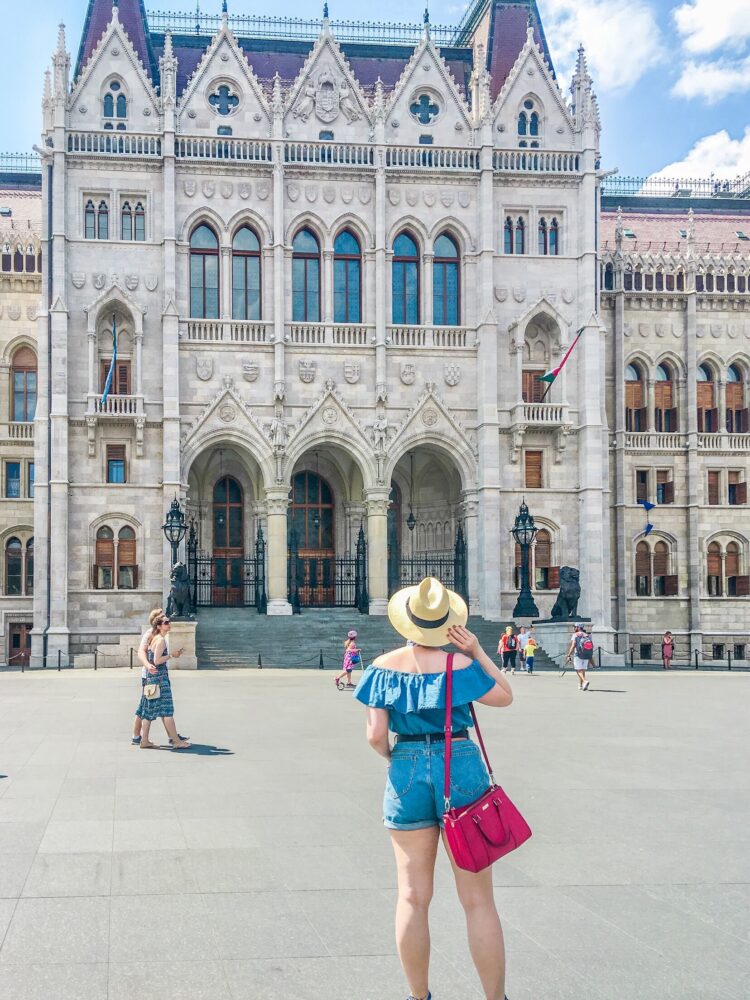 What to Do: Take a Cocktail Cruise down the Danube
A beautiful (and fun) way to really see the architecture across Budapest is taking a cruise down the Danube. The Danube runs through the middle of Buda & Pest, so a cruise is your best bet for experiencing both at once. There are all sorts of cruises you can take down the Danube, from lunch & dinner cruises, to party cruises, to cocktail, wine, and beer cruises. Although you can buy tickets in advance, it's easy to purchase them on site a few hours before. We boarded a cocktail cruise that took us on an hour and a half long journey down the Danube. The cruise included three cocktail, and it was really a great way to see all the sights at once!
What I Wore Day 2 in Budapest:
Shorts – Zara // Top – Urban Planet // Scarf – Zara // Hat – H&M // Sandals – Zara // Sunglasses – Thierry Lasry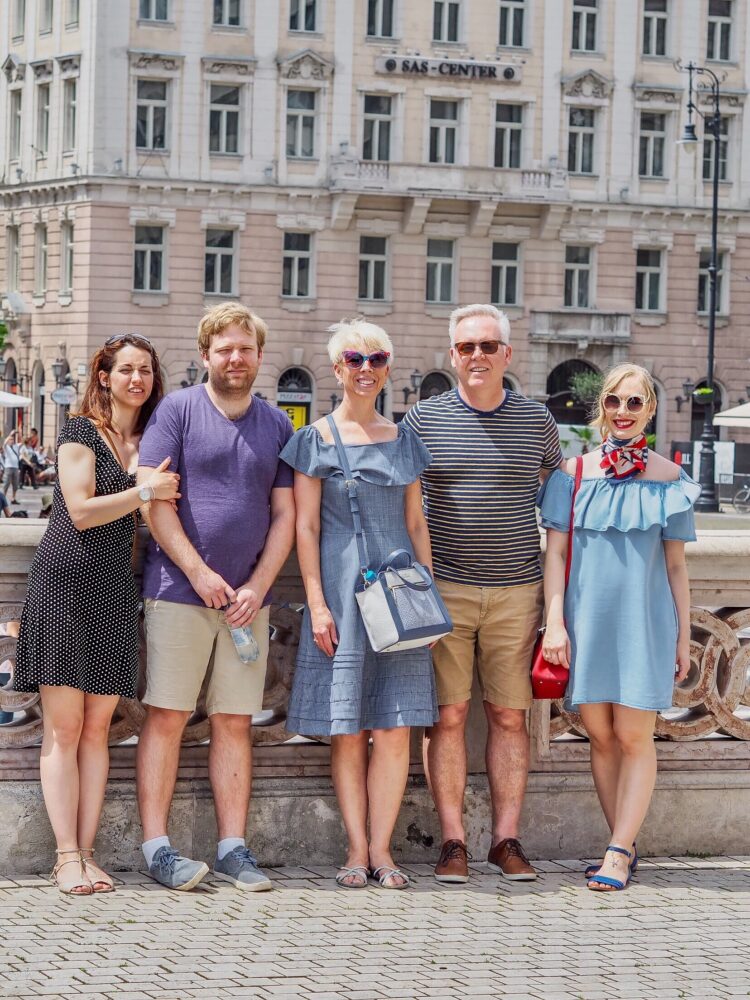 On day 3 after checking out of our Airbnb and stopping for coffee, we said goodbye to Hungary and boarded a train headed for Prague…
Next Stop: Prague, Czech Republic
Stay tuned for my Prague travel diary!
xoxo