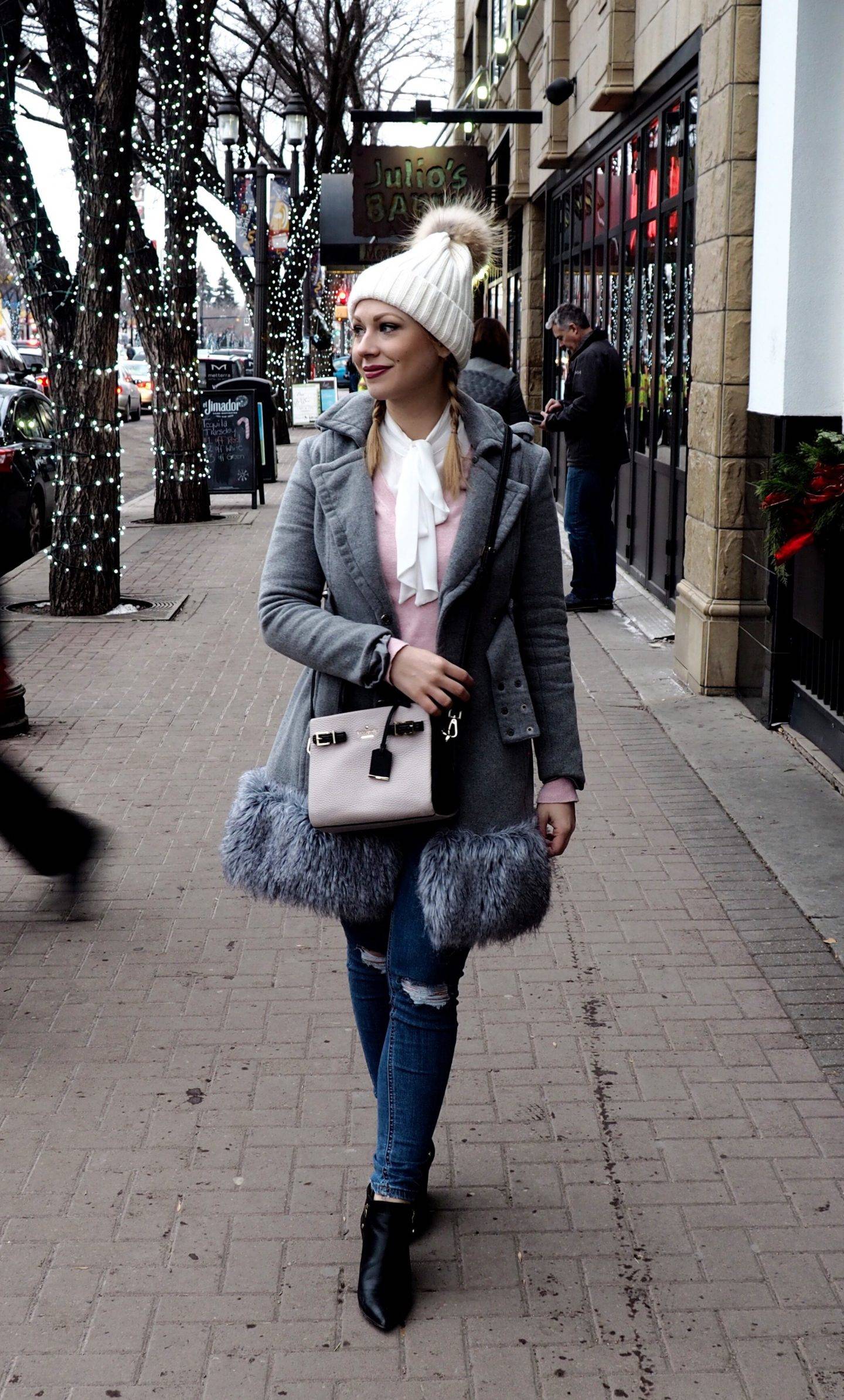 2016 may not have been a great year in general, but for me it was a pretty awesome and monumental year. 2016 was my first full year here in Toronto. In 2016, I got my first ACTRA acting gig here in Toronto, and I really started to settle in and feel like Toronto is home. In 2016 I got to attend tons of great events, from Grey Goose Boulangerie Blue at the Toronto Yacht club, to the Maison Moet and most recently, the Stella Artois Masquerade. I attended my very first TIFF, where I got the opportunity to meet so many amazing people from Toronto's Film & TV industry. In 2016 I continued to work on my craft, taking classes that ranged from Scene studies, to Improv, to Meisner.  I also got to be a part of an incredible project for the 48 Hour Film Project here in Toronto, and we took home 1st place (which still blows my mind). And finally, 2016 is the year I finally got a camera which really started to transform the quality and content of my blog and Instagram feed.
If you follow me on Instagram, you probably noticed the exact moment this transformation started to happen. It started with this shoot, when my friend Michael took these photos of me with his camera and I immediately fell in love with the look, feel, and quality of the pictures. Within a couple of days I had purchased the same camera, and my blog never looked back. My photos went from bright, cheerful, and girly to dark, moody, and full of contrast. I loved the aesthetic, the moodiness, and the overall look this new camera was giving my photos. Over the past 6 or so months I continued to love this look and aesthetic, I loved the consistency, I loved how good everything looked together. But I started to struggle with questioning whether this look was really 100% truly me.
Don't get me wrong I love dark & moody colours.. I'm a sucker for wearing burgundy, black, and greys.. I love photos that are full of contrast and I liked how my photos stood out in my feed. But for those of you that know me well and have had the opportunity to pop into my condo… my place is literally the opposite. My bedroom looks like something you would find in a Kate Spade store. It's a mixture of bright white, beige, baby pink and gold. I have gold polka dots on my wall, a picture of a deer with pink flowers in it's horns hanging on the wall above my (very girly) upholstered headboard. I have pink furry pillows and a pink fur rug draped over the edge of my bed. I have a pink and gold storage bench at the foot of my bed, and various teacups and pretty jars holding all the jewelry on my dresser. My perfumes are all nestled in a gorgeous white birdcage, and a sprig of lavender sits by my bed in the cutest little vase. Guys, I'm girly as fuck. 
What started to bug me over the past couple of weeks was the fact that I realized I just wasn't able to post photos taken in my condo because the look and feel of my place just didn't fit in with the aesthetic and shooting style I was currently using for my blog and Instagram. While my feed had become moody, dark and full of contrast and shadows… My condo is bright, peppy, and very (VERY) girly. I had tried taking photos for my blog in my room before, matching it to the current aesthetic of my feed, but what should have been bright and girly came out looking faded, overshadowed, and washed out. I started to realize that everything in my apartment was too bright and girly to photograph and use in my Instagram (and blog) because it didn't match with the rest of my feed. That's when I started really thinking about whether the current aesthetic I was using was 100% right for me. As much as I loved how my pictures were looking (and I still do!), I wasn't able to share photos taken in my condo.. and if I can't even post photos taken in my own home, the place that literally most represents me and who I am…. Doesn't that mean that my blog & Instagram's aesthetic doesn't really match who I am? Wouldn't it make sense to align those two so I can actually use my personal space in my posts and share that part of my life with you?
So, I realized it's time to start being true to myself. While I haven't quite figured out how my feed is going to look when I'm done (and I'm in this awkward middle stage where I'm trying all sorts of new things and my feed has absolutely zero consistency)… I hope that you will all bear with me while I play around and figure things out. It was so hard for me to take the plunge and start changing my style, taking risks, and trying out new things. It honestly makes me cringe to look at my feed now and see how it went from so incredibly consistent and polished to.. well.. the mish mash that it is right now. But I think in the end, once I have figured out a style that works for me, whether it ends up being lighter and brighter photos, or simply adding more colour into my feed… the changes will have been worth it. Eventually my feed will be consistent once again, but this time it will be a little more me. And when I finally get there I'll be able to share so much more of my life and who I truly am with you, and that's something that excites me :).
Here's to being true to ourselves in all aspects of our lives <3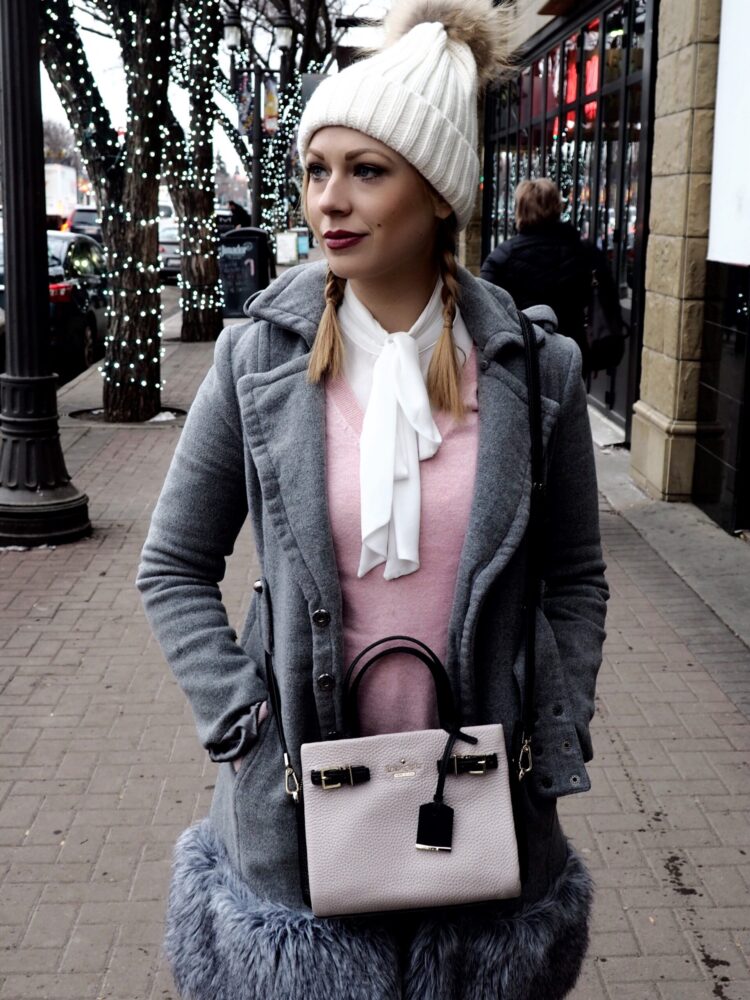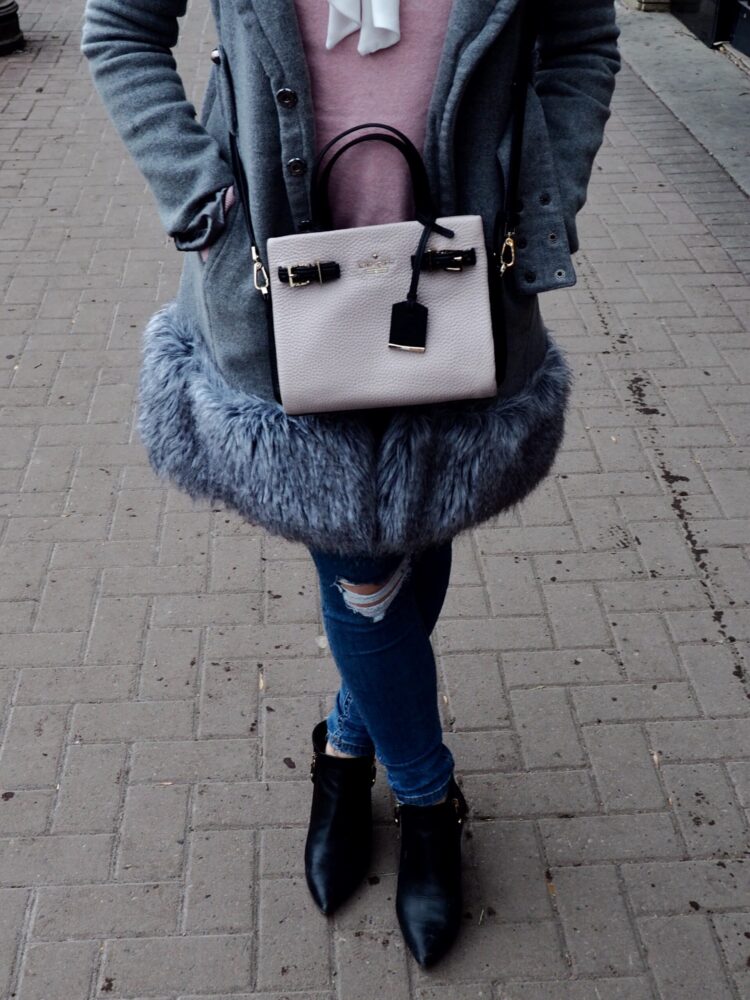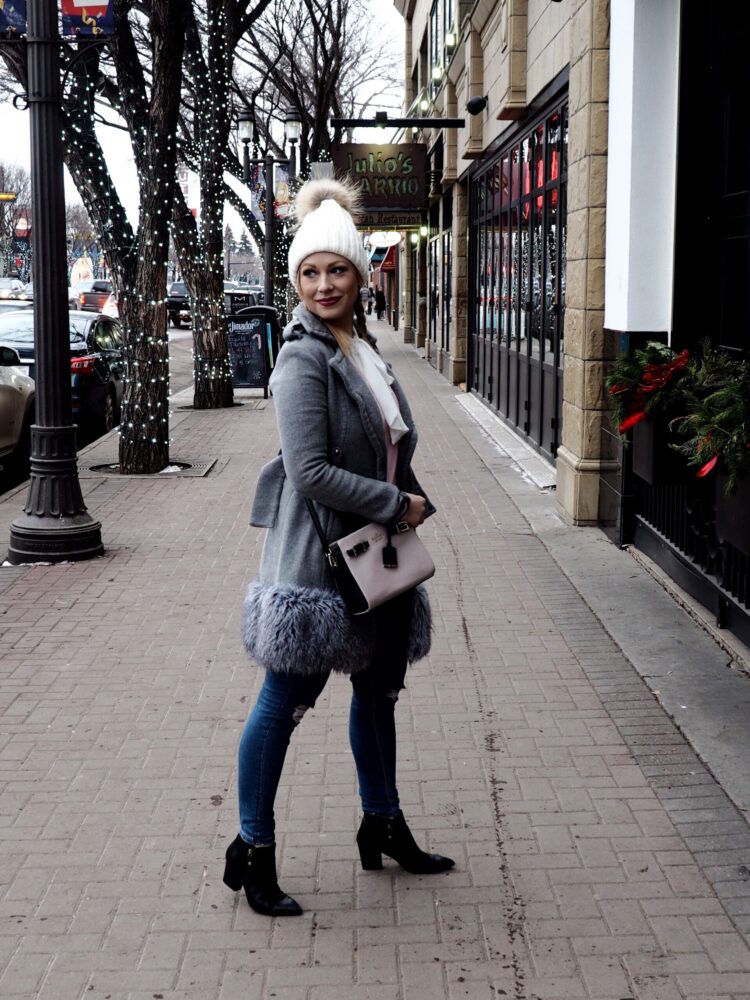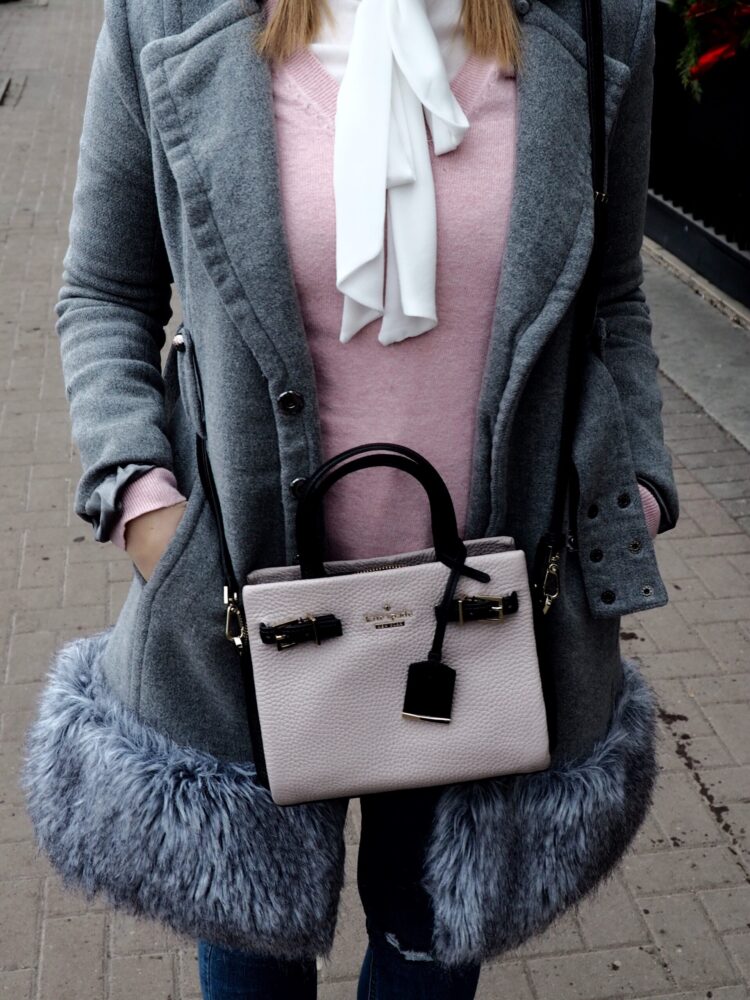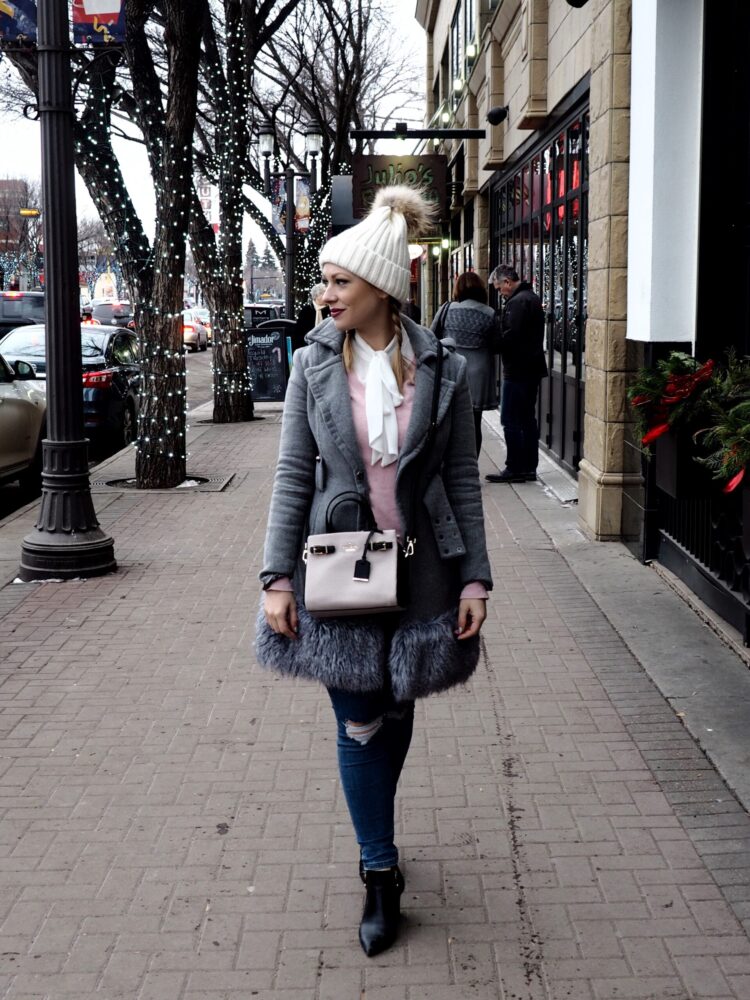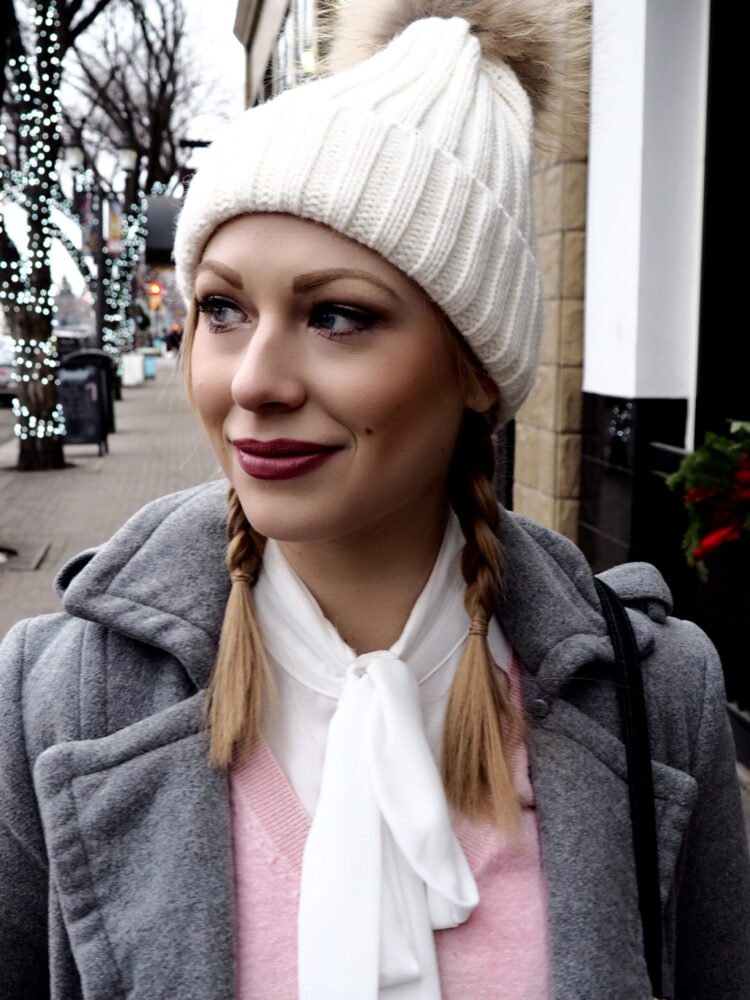 What I Wore:
Coat – Bebe (Old- DYING over this one) // Sweater – Joe Fresh (Old – Similar Here) // Blouse – Zara (Old – But LOVE this one which is on sale)// Jeans – Topshop // Boots – Le Chateau (Similar) // Bag – Kate Spade // Beanie – BB Dakota (Old – Love this one)
.
xoxo