This long weekend was one for the books. After what has felt like the winter that never ends, the sun came peeking out this weekend and warmed our city up to a comfortable 12 degrees. I can tell you I for one was more than excited to ditch my pile of winter coats in favour of something much lighter for the first time this year. Although it really wasn't THAT warm out, after months of hiding under massive coats I was more than up for feeling a little chilly in blazer rather than having to lug around 8lbs of wool and fur for yet another day. Lucky for me although it was chilly in the shade, I actually felt pretty comfortable with the sun beaming down on me… Hallelujah! Maybe this is a sign Spring is really on it's way?
It was so great to see the city come to life this weekend as everyone flocked outside to enjoy the sun and warmth. The streets were buzzing, you could see that everyone's spirits were lifted just feeling that little bit of spring sun and getting their fill of vitamin D… and I swear I even spotted a couple of guys t-shirts and shorts (what is it with guys wearing T-shirts and shorts when it definitely isn't hot out yet?). In typical Toronto fashion a few patios were open, and the line for Sweet Jesus ice cream was so long it went down the block for the first time in months, which made me chuckle because come ON guys 12 degrees is so not ice cream weather yet (but I'll applaud your enthusiasm).
I couldn't have asked for a better and more relaxing long weekend, or more perfect weather in which to enjoy it. I spent my days off strolling around outside, window shopping, brunching for hours with friends and eating one too many slices of bacon (wait, is there really such a thing?). Sadly after looking at the weather this week it doesn't look like the beautiful weather we had this weekend is here to stay just yet (spoiler alert: we're expecting snow again).. but at this point I'm just happy I got to enjoy such a beautiful & sunny long weekend.. I'll take what I can get :).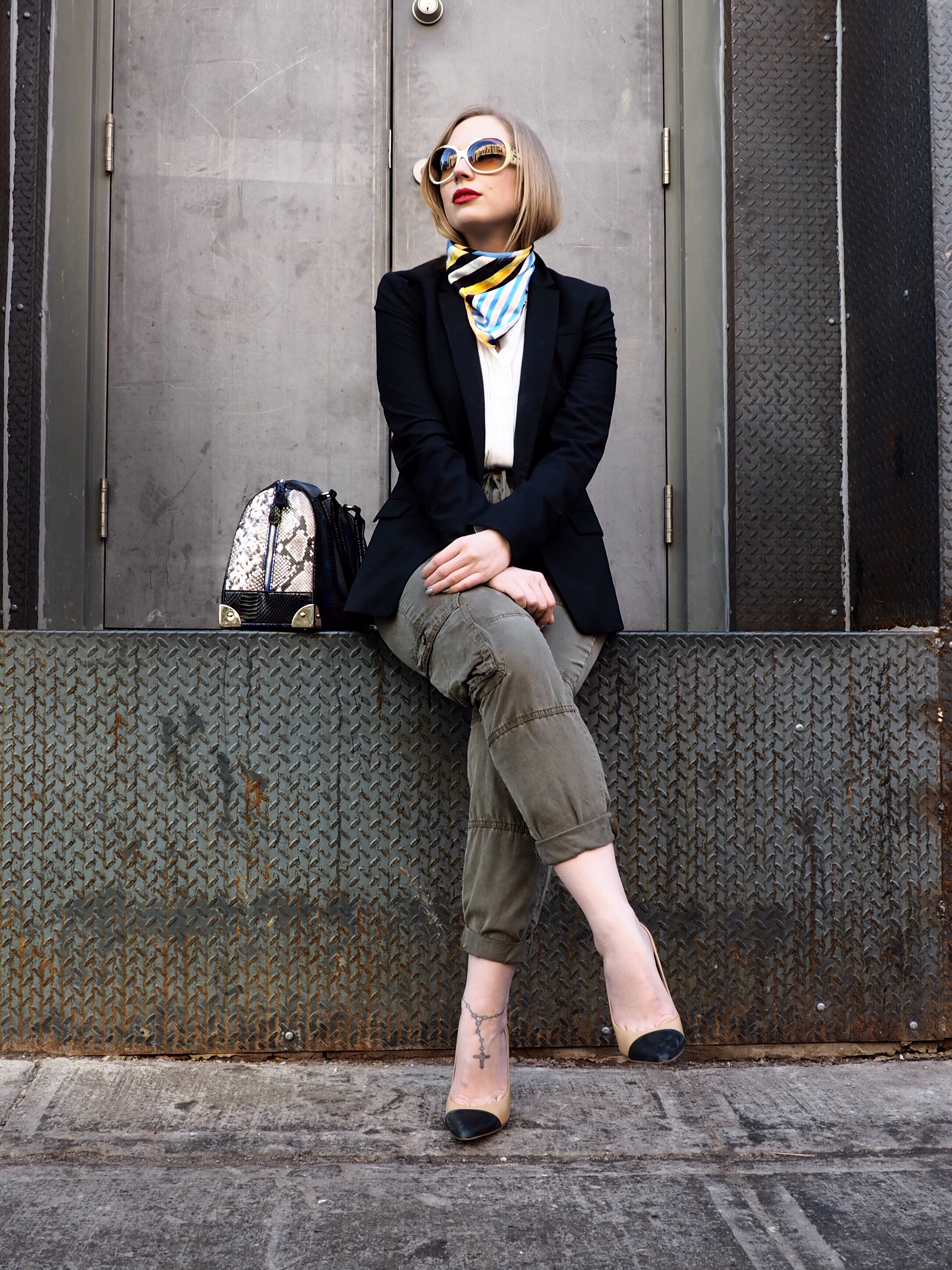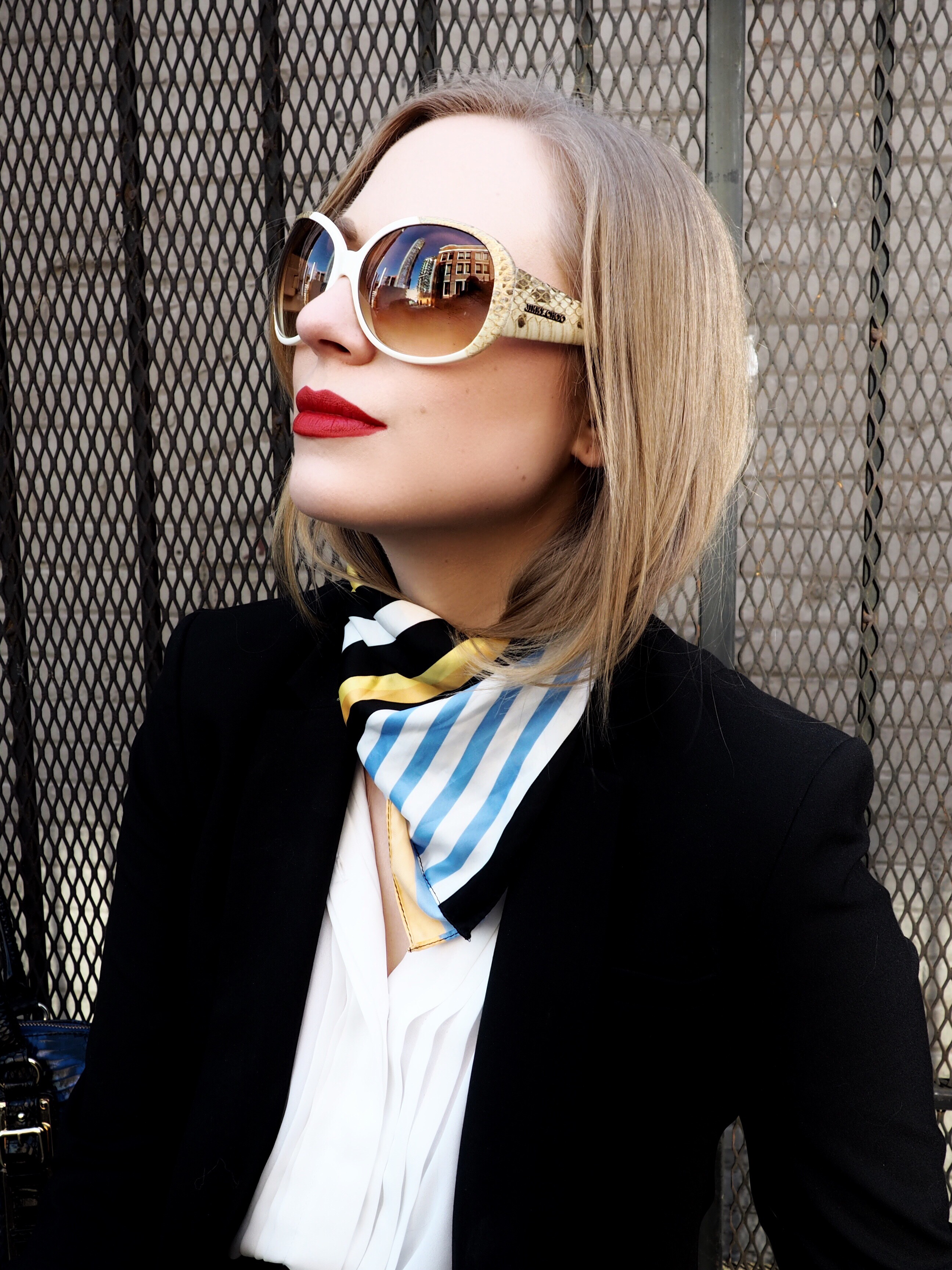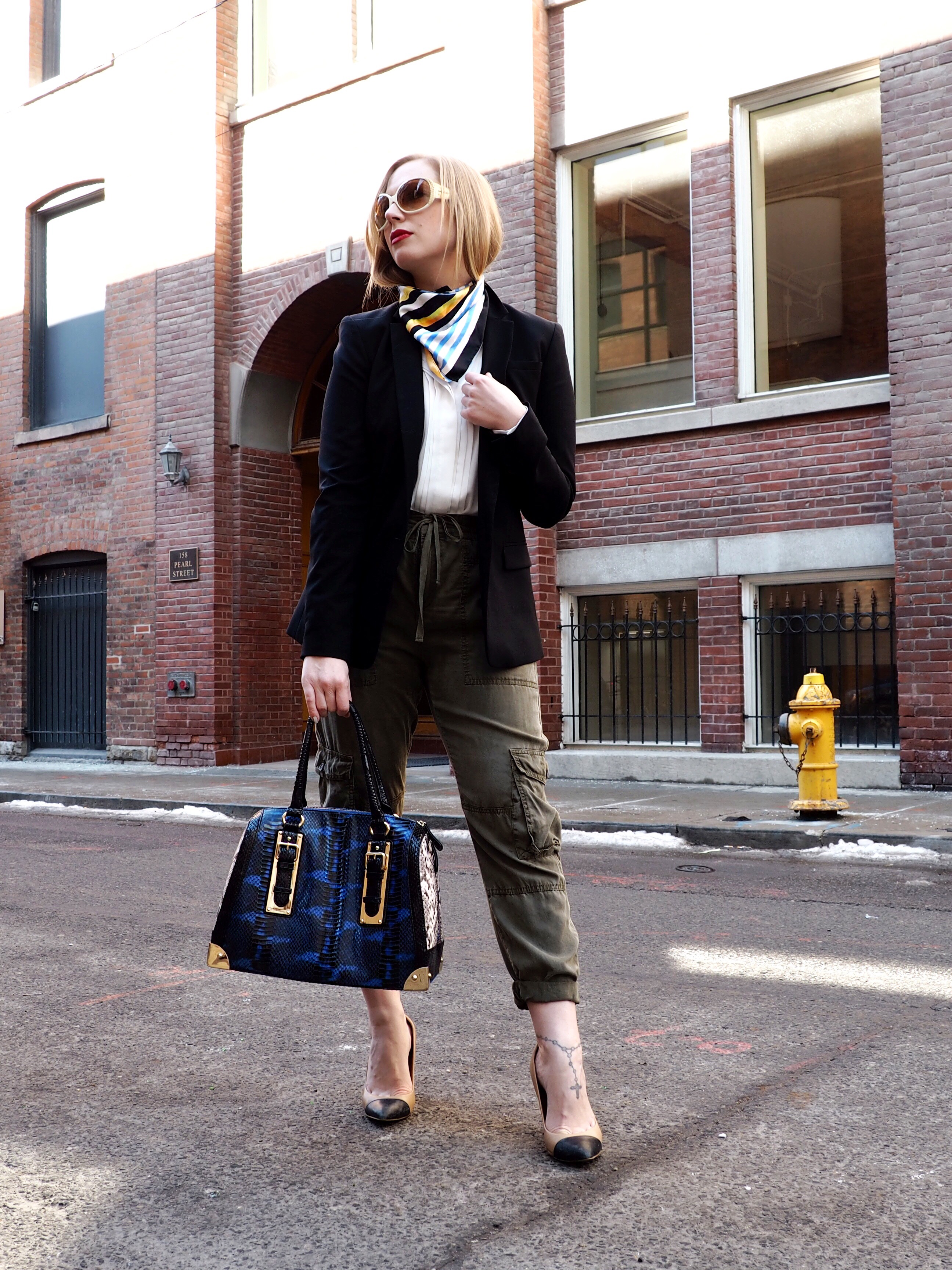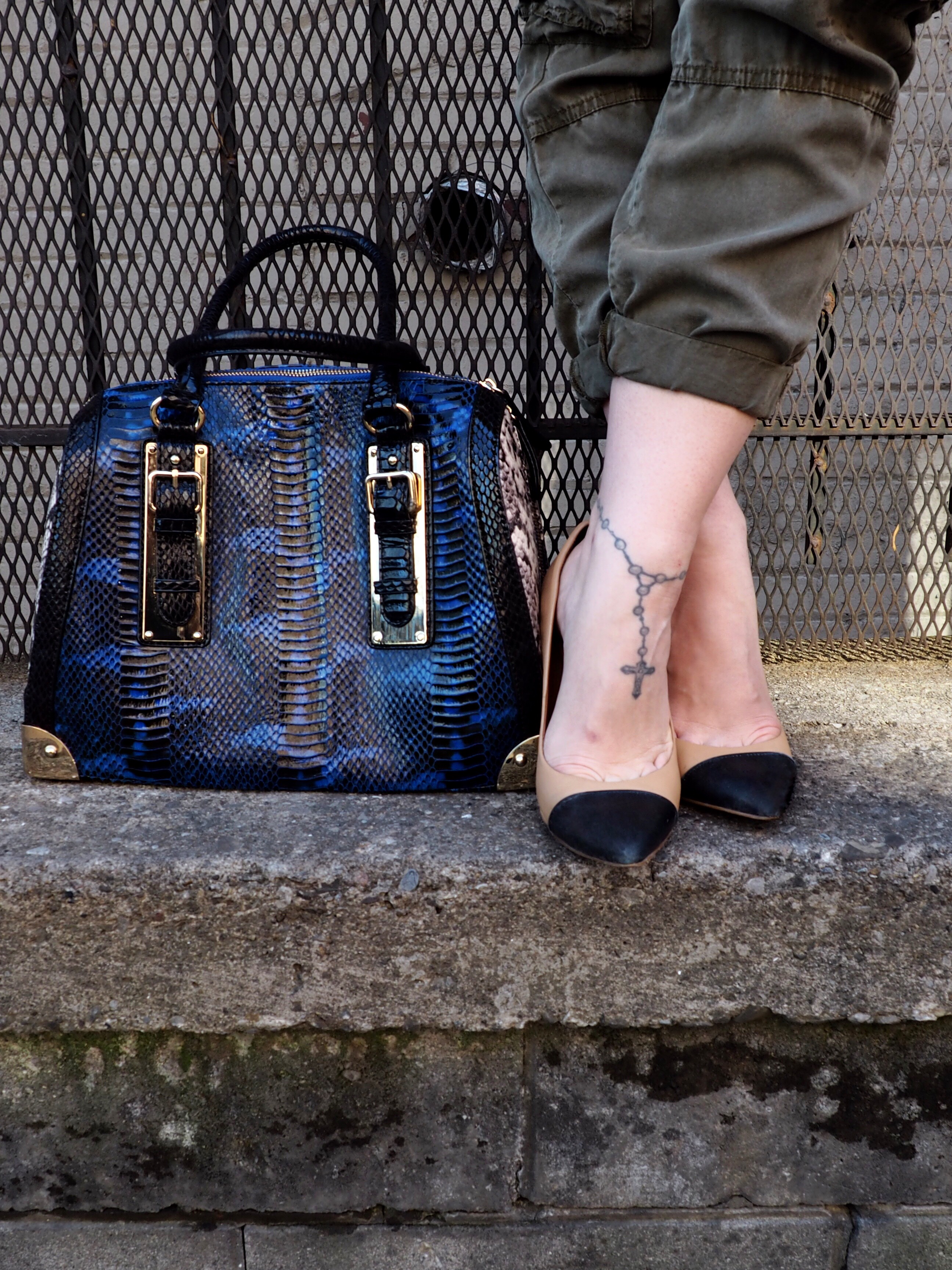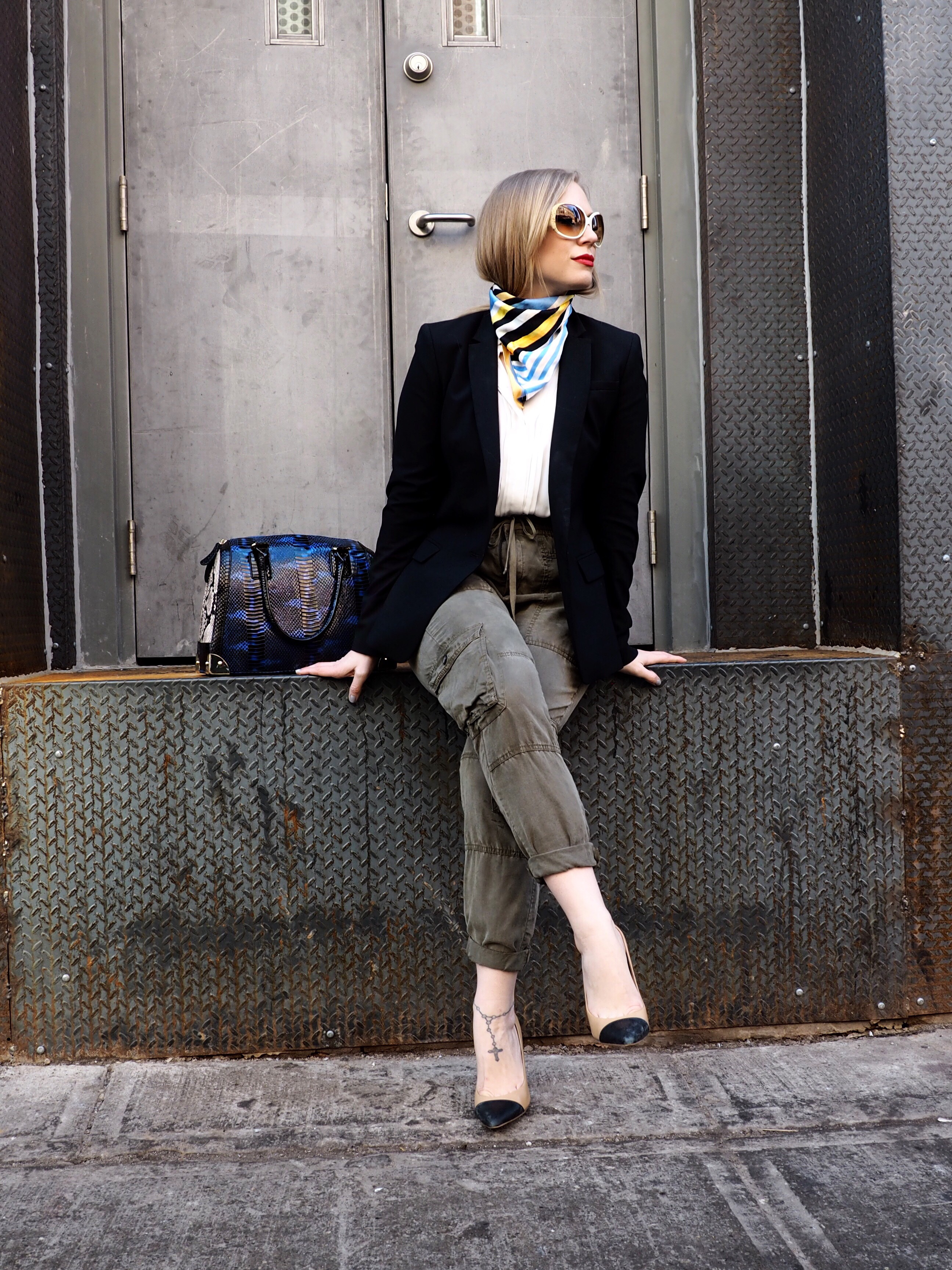 How did you enjoy the sun this weekend? Share in the comments below <3
.
What I Wore:
Blazer – Banana Republic // Blouse – H&M (Old – dying over this one with the detachable bow!) // Cargo Pants – Banana Republic (Similar Here) // Heels – Zara (Old – Love these too!) // Bag – Aldo // Neck Scarf – Zara (Old –  Also love this!) // Sunglasses – Jimmy Choo
.
Wishing you all a happy Tuesday,
xoxo